German Plum Kuchen- Pflaumenkuchen is a summer recipe that uses fresh plums in season. This German recipe is traditional in Transylvania, and it is easy to make and delicious.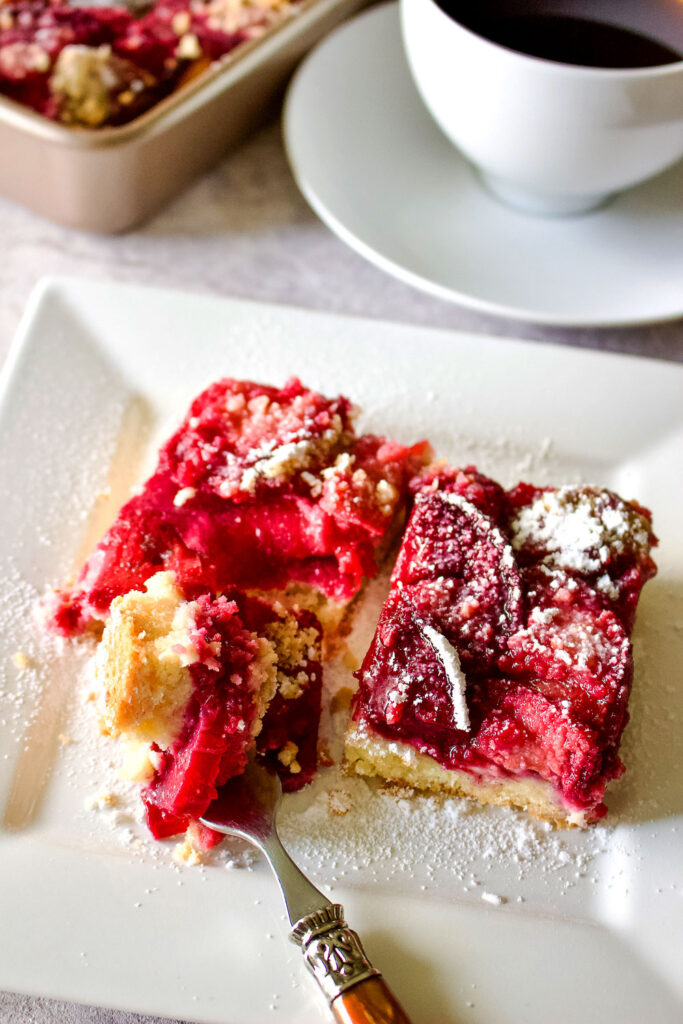 Jump to:
Why you will love this German dessert
I love this recipe. While plums are still in season, this recipe should be on the list of everyone who loves baking bars and using seasonal ingredients. The recipe comes from Transylvania, and it is specific to Saxon(German) cuisine.
Easy to make and incredibly delicious, the German Plum Kuchen is a little treasure, great for a lazy Sunday afternoon snack or dessert.
To make this recipe, I recommend Italian plums for a more traditional taste.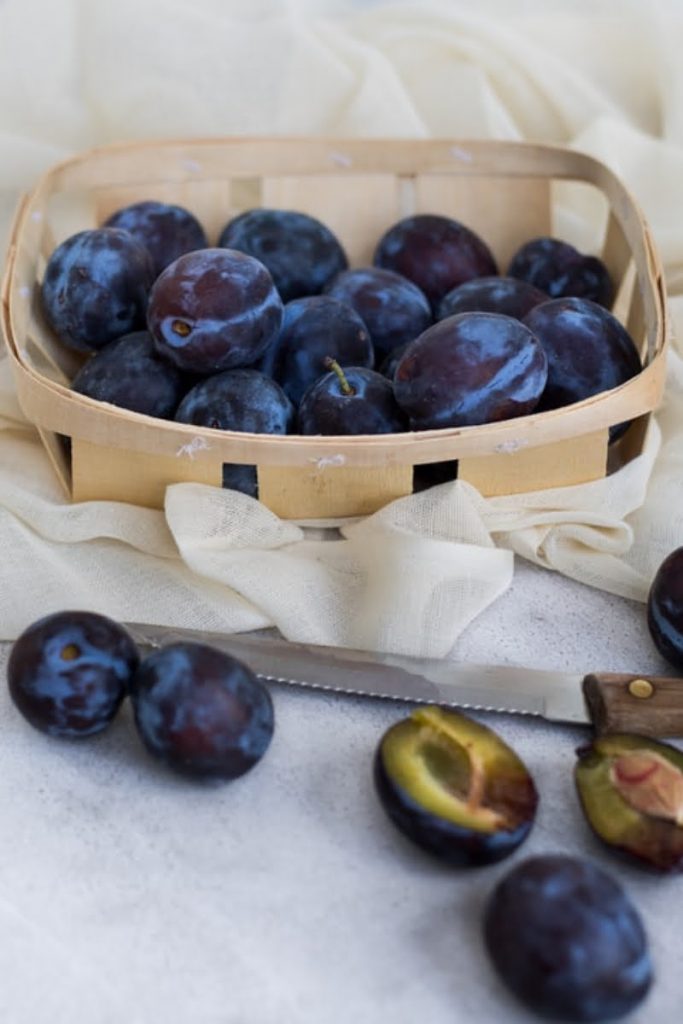 They are somewhat smaller and less juicy than American plums, that I find, in my opinion, a little too big for this recipe.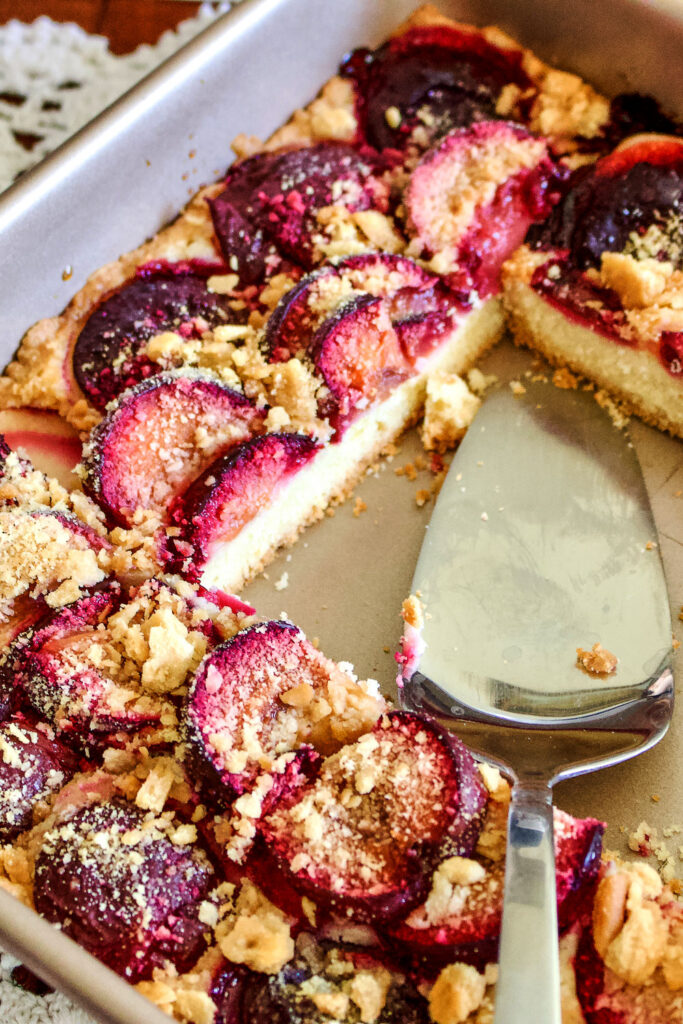 When I was growing up, bars or cookies used to be baked in my grandmother's home only over the weekends and served during the week as snacks or on special occasions.
The tray or the platter of desserts would sit quietly in the pantry, waiting for a guest to stop by and say hi.
She would then make coffee and serve desserts with it.
I love to share old recipes that come from my family or from the places I grew up. I think that old recipes teach us about old times. They provide a window into everyday life long ago.
You can learn what people ate, what utensils they used in the kitchen, what ingredients they could buy in the stores, and what cultural and culinary influences shaped them.
Sometimes you can also learn about their social lives because handwritten recipes frequently include the person's name from whom the writer got the recipe.
Such recipe collections are essential parts of family traditions but also of broader cultural traditions. They tell us stories of a vanished world and connect us to our past and our roots.
Here are some more recipes from Transylvania
Traditional Saxon Potato Tarragon Soup
Easy Plum Coffee Cake-Summer Dessert
What kind of ingredients go into this dessert
All-purpose flour- this is a flour that works for most baked goods, and most people have it in their pantries.
Baking powder
Granulated sugar
Unsalted cold butter- as we will make a shortbread-type crust for this dessert, we will need very cold butter for the dough. Cut it into small pieces and work them into the flour and sugar.
Large egg
Italian plums- smaller fruits but full of flavor. If you cannot find them, use the type of plums you have available.
Sweet graham crackers crumbs
Powdered sugar to sprinkle on top of the bars
This dessert is straightforward. It has a shortbread crust on the bottom and fresh fruits on top. Bread crumbs are sprinkled over the plums to absorb the excess juice. That's it!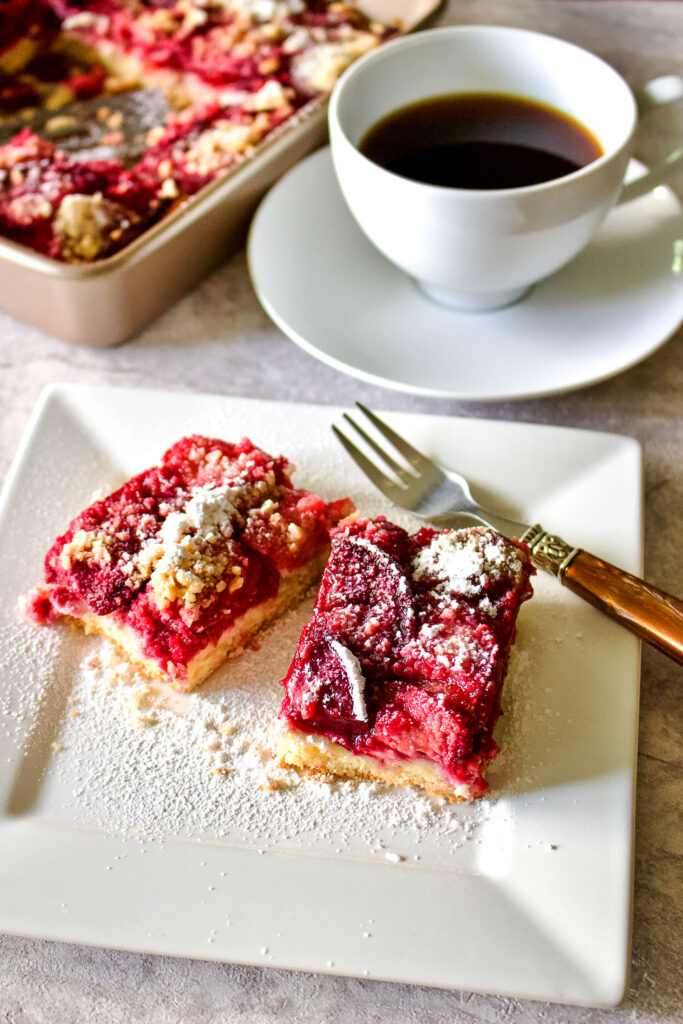 I think that you can replace the plums with peaches. For example, I do not see why they would not work.
There is not a ton of sugar in these bars, and I am not going to pretend that it is a fancy recipe. The ingredients are accessible and easy to put together, and the result is delicious.
Tip: The dough can be made in a food processor! It is a lifesaver in the kitchen! Amazon is an excellent place to start looking for a cheaper, reliable one if you don't have one!
If you make the recipe, share it with the hashtag #thebossykitchen on Instagram, Facebook, and Twitter so we can all see what you're cooking!
Or maybe you want to join The Bossy Kitchen community group, where you can share your creations made from this blog or your favorite recipes!
More recipes to love
Decadent German Chocolate Cake
Triple Layer Chocolate Peanut Butter Cookie Bars
📖 Recipe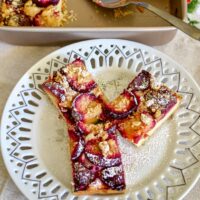 German Plum Kuchen- Pflaumenkuchen
German Plum Kuchen- Pflaumenkuchen is a summer recipe that uses fresh plums in season. This Transylvanian recipe is easy to make and delicious.
Print
Pin
Share
Grow
Saved!
Rate
Ingredients
2

cups

all-purpose flour

½

teaspoon

baking powder

½

cup

granulated sugar

1

stick

unsalted cold butter

1

large egg

2.2

pounds

plums

1

tablespoon

sweet graham crackers crumbs

powdered sugar to sprinkle on top of the bars
Instructions
Sieve the flour together with the baking powder and sugar.

Work the cold butter into the mixture until it looks like bread crumbs.

Add the egg.

Mix to make a dough. Cover in plastic wrap and let it rest for an hour in the refrigerator.

Tip

Use a food processor to mix the ingredients together. Pulse a few times for flour, baking powder, sugar, and butter to create a mixture that resembles bread crumbs. Add the egg and pulse a few more times until you obtain a dough.

In the meantime wash and dry the plums, cut them in halves and remove the pits.

Preheat the oven to 350F/180C.

Use an 8x8 inch pan. (You do not need to butter the pan, as the dough has enough fat in it).

Spread the dough on the bottom of the pan and place the plums on top of the dough in dense rows. Sprinkle them with the crumbs and bake for 40-45 mins. (the dough has to be baked, plums should still sweat)

Let the pan cool, then cut the bars in squares and serve. Sprinkle powder sugar on top if you prefer.
Nutrition
Serving:
1
g
|
Calories:
168
kcal
|
Carbohydrates:
26
g
|
Protein:
3
g
|
Fat:
6
g
|
Saturated Fat:
4
g
|
Polyunsaturated Fat:
0.4
g
|
Monounsaturated Fat:
2
g
|
Trans Fat:
0.2
g
|
Cholesterol:
25
mg
|
Sodium:
21
mg
|
Potassium:
122
mg
|
Fiber:
1
g
|
Sugar:
13
g
|
Vitamin A:
407
IU
|
Vitamin C:
6
mg
|
Calcium:
19
mg
|
Iron:
1
mg
Tried this recipe?
Please leave a comment on the blog or like us on Facebook!