This Authentic Hungarian Goulash is a traditional hearty soup, closer to a stew, cooked with beef or pork, lots of onions, Hungarian paprika, tomatoes, and sweet peppers. This easy to make savory dish is also flavored with caraway seeds and garlic and is perfect for chilly days. It isn't just a meal. It is a warm embrace in a bowl.
Jump to:
🇭🇺 Traditional Beef Goulash or gulyás
Hungarian Goulash, or "gulyás," is Hungary's national dish, a classic dish that sits somewhere between a stew and a soup. It's got more broth than a stew, but it's not as thin as a soup.
However, the broth isn't thick like in some stews, as we don't use flour or cream to thicken it. Traditionally, it's ladled into bowls, creating a comforting, rich experience.
The flavor is special - imagine a beef stew made with generous amounts of paprika, garlic, bell peppers, and onion. It's a bolder, more robust version of the beef stews you might be used to.
As it requires a slow cook, it is versatile enough to be made on the stove, in the crockpot, or Instant Pot. It is an accessible, nutritious meal that satisfies a crowd. And remember, authentic Hungarian goulash is a far cry from its American cousin, which typically features ground beef and macaroni. True gulyás is in a league of its own.
Now, let's talk about the authenticity of this recipe: I've done my homework to ensure this recipe respects the traditional Hungarian way of making goulash. First of all, I was born in Romania, with grandparents from Transylvania, a region once under the Austro-Hungarian Empire. I lived there, ate the traditional foods and learned how to make them. I know my stuff.
Transylvania's cuisine has a strong Hungarian influence, and the Hungarian goulash, with its essentials like paprika, onions, and red peppers, reflects the history beautifully.
But here's the thing - in every kitchen, goulash can vary. Some cooks prefer lard, others oil. Potatoes, tomatoes, and caraway seeds might be used differently, depending on who you ask.
In my version of Hungarian beef goulash, I honor these essentials - paprika, onions, and peppers - while also embracing the regional nuances that make every goulash recipe distinct. I made this recipe with care, aiming to bring you a taste that's authentic and reminiscent of my heritage, a nod to the Hungarian flavors that remind me of home.
This goulash is part of my Eastern European recipe collection, where you can find some other Hungarian recipes. If you enjoy this dish, you might also like the Walnut and Jam Bars - Hungarian Londoni Szelet, the Decadent Chocolate Cake - Rigo Jancsi, or the Lecsó - Hungarian Pepper-Tomato Stew. Each offers a unique taste of Hungary's rich culinary heritage.
🌶️ Paprika, the heart of Hungarian cuisine
Paprika is Hungary's signature spice, and it is made by grinding up dried red peppers. In America, paprika is used more like a garnish, like in these Deviled Ham Stuffed Eggs, but in Hungarian cuisine, it adds a unique flavor and color to its dishes.
Available in sweet (affiliate link), semisweet, and hot (affiliate link) variants, it allows for taste exploration in dishes like goulash. Whether you prefer a spicy kick or a gentle warmth, the paprika you choose can fine-tune your goulash to your palate.
💝Why You Will Love This Traditional Goulash
Tradition on a Plate: Cooking up a pot of this Traditional Hungarian Goulash is like stepping into a rich tapestry of Eastern European culinary tradition.
Comfort in a Bowl: With its warm, hearty ingredients, goulash is the perfect companion to a chilly day.
Versatile and Adaptable: Whether you prefer beef or pork, like it spicy or mild, goulash can be tailored to suit your palate.
📝 Key Ingredients
This easy Hungarian goulash uses simple ingredients. Here's a look at the main ones, but be aware that you will find the full list and quantities of each in the recipe card.
Beef stew meat: Chuck roast is ideal due to its marbling, which keeps it tender during slow cooking. As an alternative, use brisket or round. You can also use pork; shoulder cut is best as it remains tender over long cooking.
Lard or vegetable oil: Lard is traditional; vegetable or sunflower oil is a lighter alternative.
Onions: Fundamental for a rich flavor base; yellow or white onions are preferred.
Sweet bell pepper: Adds a mild sweetness and color; any color will do, or try a banana pepper for a different flavor. I used red bell pepper, as this is what was available.
Hungarian sweet paprika: Essential for authentic flavor; you can also use hot paprika or smoked. Play with them based on your preferences and how spicy you want your dish to be.
Tomato sauce or tomato paste: Adds richness and a slight tang; tomato paste use will make a thicker sauce.
Bay leaves: bring a hint of woodsy flavor, essential for the goulash's aromatic depth.
Ground caraway seeds: Provide a warm, slightly anise flavor characteristic of goulash. Traditional goulash uses caraway, but if it is not available, you can leave it out.
Beef stock or water: Beef stock adds more flavor, but water works if stock is unavailable.
❤️ Are you a huge fan of stews? Check out my 44 Easy Stew Recipes collection.
👩‍🍳 How to make the Hungarian Goulash
(For more details, check out the full instructions in the recipe card.)
Before you start cooking, there is a bit of prep for you. Chop the meat into one or two-inch pieces. Dice the onions and garlic and chop the peppers.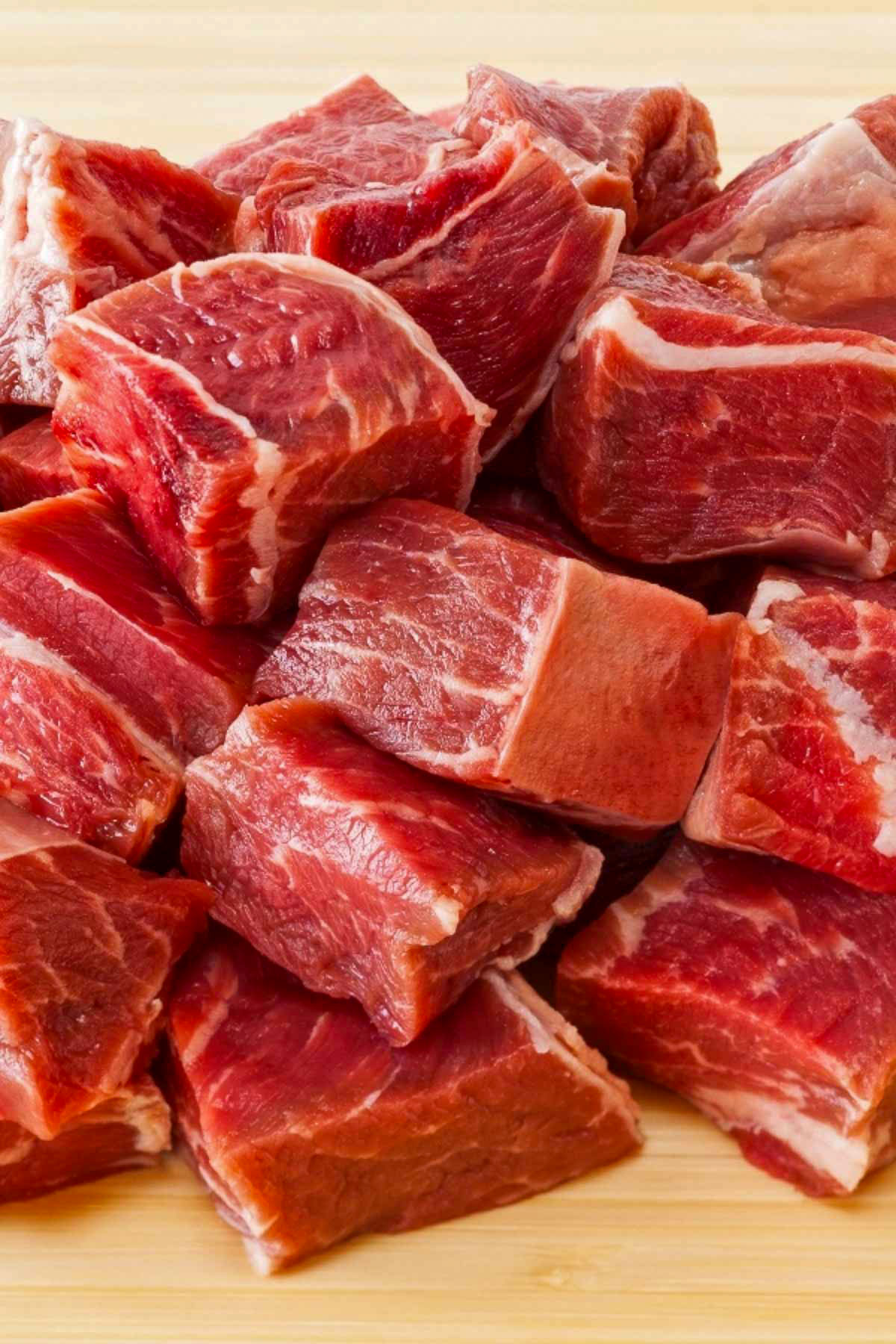 Step 1. Heat the lard or vegetable oil in a large Dutch oven (affiliate link) over medium heat, adding the meat cubes to brown on all sides.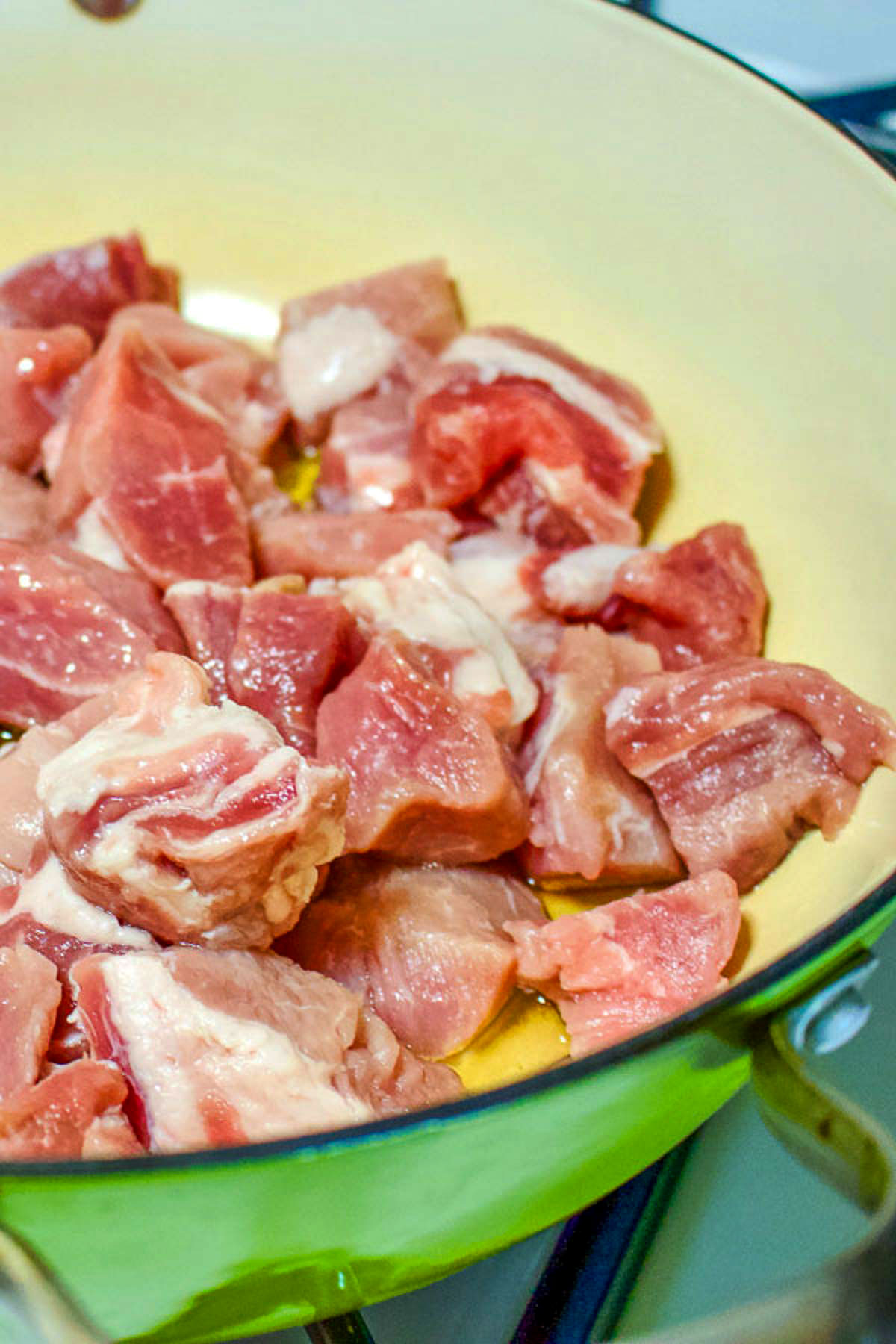 Step 2. Add the onions, garlic, and bell pepper, sautéing until the onions turn translucent.
Step 3. Mix in the Hungarian paprika, ground caraway seeds, bay leaves, salt, and pepper, coating the meat and veggies well.
Step 4. Pour in the tomato sauce/ tomato paste and beef broth, or water, stirring thoroughly.
Step 5. Cover the pot, reducing heat to low, and allow the goulash to simmer gently until the meat is tender, about 2 hours.
Step 6. Taste and adjust the seasoning before serving.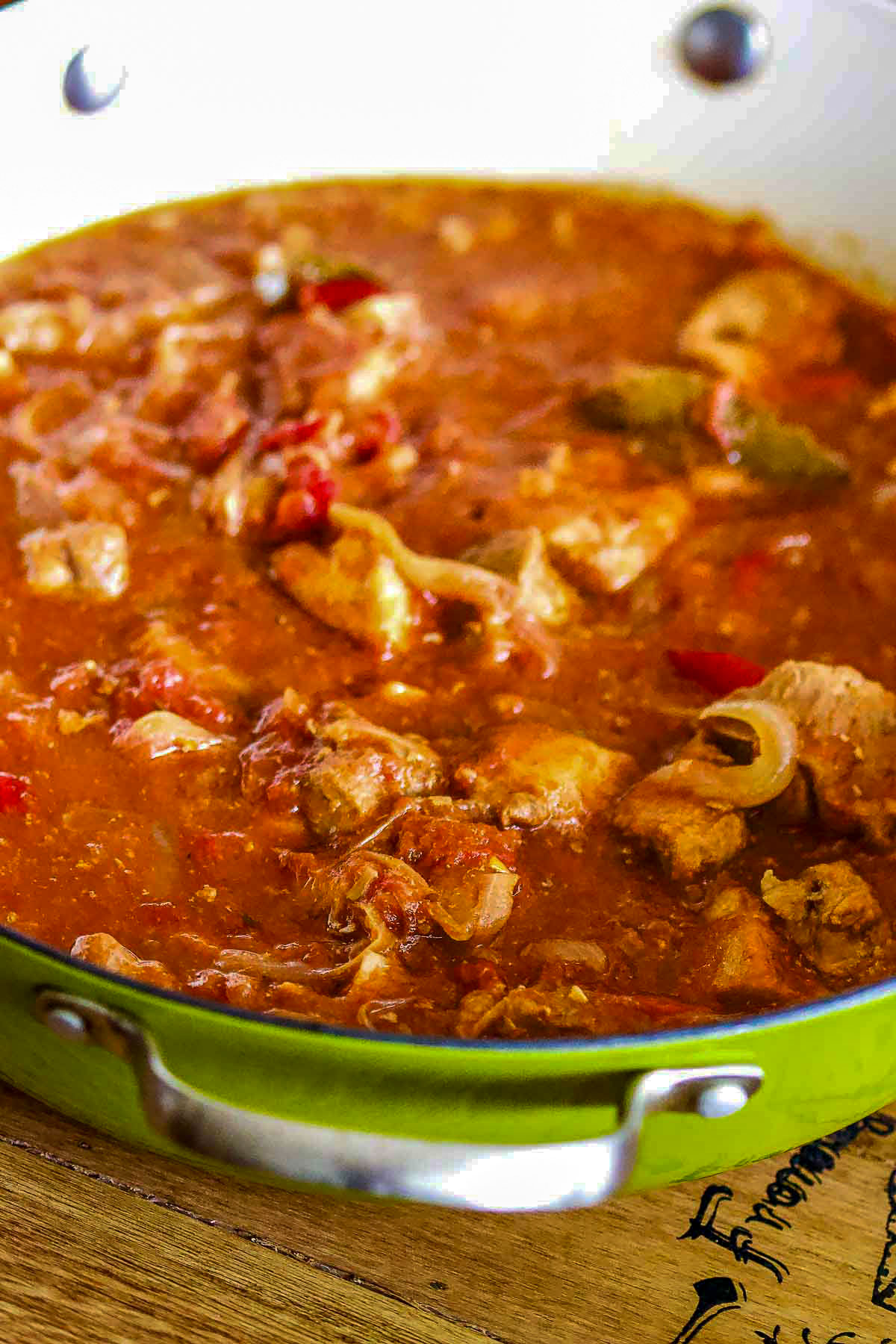 💡 Expert Tips
Brown the meat in batches: For a deeper flavor, consider browning the meat in batches to ensure a good sear, which will enhance the richness of the goulash.
Oil Indicator: Keep an eye out for the oil to float to the surface of the stew. This is a traditional and easy way to tell when your goulash is done, as it indicates the fat has rendered and flavors have melded together.
Storage and Reheating: Store leftovers in an airtight container in the refrigerator for up to 4 days. Reheat on the stovetop over medium-low heat, adding a splash of water or beef stock to loosen the stew if necessary.
🍽️ How to serve Hungarian Goulash
Enjoy this classic Hungarian Goulash with egg noodles, crusty bread, or potatoes for a truly comforting meal. Top with sour cream for added authenticity, and share the warmth with friends.
Pair it with a robust red wine like Egri Bikavér, Cabernet Sauvignon, Merlot, or Zinfandel to enhance the experience. If pork is your meat of choice, a full-bodied Chardonnay will complement its rich flavors perfectly.
Check out my recipes for No-Knead Bread and Roasted Potatoes With Green Garlic And Dill, perfect for this stew.
ℹ️ Recipe faqs
Can I make this Authentic Hungarian Goulash recipe in the crock pot:
Of course! Follow the same recipe, but start by browning the meat in a pan, sauté the onion, garlic, and peppers, then transfer everything to the crockpot, add the rest of the ingredients, cover, and cook for 4 hours on "High" or 6 hours on "Low."
Can I make this Authentic Hungarian Goulash recipe using an Instant Pot:
Yes! See the instructions below or follow the instructions on your Instant Pot (affiliate link). For tender and juicy meat, I recommend cooking it for about 20 minutes per pound(you have 3 pounds of meat in this recipe) of high pressure (the manual setting), plus 15 minutes of natural release.
Can I freeze this Authentic Hungarian Goulash recipe:
Yes, you can absolutely freeze it! Transfer the stew to a freezer bag and freeze it for up to 3 months.
It is best to defrost it overnight in the refrigerator before serving. Heat in microwave or stovetop for a few minutes and stir occasionally.
Some other recipes to try:
📖 Recipe
Authentic Hungarian Goulash Recipe
Hungarian Goulash is a savory dish bubbling with tender beef, melded with onions, Hungarian paprika, tomatoes, and sweet peppers, a hearty soup closer to a stew. It's not just a meal; it's a taste of Hungarian tradition, enjoyed across Central and Eastern Europe.
Print
Pin
Rate
Ingredients
3

pounds

beef stew meat

cut into 1-inch cubes

2

tablespoons

lard or 6 tablespoons vegetable oil

sunflower oil is a good choice

4

large onions

finely diced

5

garlic cloves

minced

1

sweet bell pepper

red, yellow, or green, seeds and ribs removed, then diced

4

tablespoons

sweet Hungarian paprika powder

2

bay leaves

1 ½

cups

tomato sauce or 3 tablespoons tomato paste

1

teaspoon

ground caraway seeds

1

cup

beef stock or water

Salt and black pepper to taste

Optional: sour cream for serving
Instructions
In a large Dutch oven or pot, heat the lard or vegetable oil over medium heat. Add the beef cubes and brown them on all sides, stirring occasionally to ensure even browning.

Once the meat is browned, add the onions, garlic, and bell pepper. Sauté until the onions become translucent, adding a splash of water or beef stock if needed to prevent sticking.

Stir in the Hungarian paprika, ground caraway seeds, bay leaves, salt, and pepper, ensuring the meat and vegetables are well-coated with the spices.

Pour in the tomato sauce (or tomato paste) along with the beef stock or water. Stir well to combine.

Cover the pot and reduce the heat to low. Let the goulash simmer gently for about 2 hours, or until the meat is tender and the flavors meld together beautifully.

Before serving, taste the goulash and adjust the seasoning if necessary.

Optional: Serve hot, garnished with a dollop of sour cream.
Notes
Meat Selection:

Beef: Opt for a well-marbled cut-like chuck for best results, as it remains tender during slow cooking.
Pork: If using pork, the shoulder cut is ideal due to its tenderness and flavor.

Spices:

Hungarian paprika is key for authentic flavor, though a mix of sweet and smoked paprika can be a workaround if needed.
Ground caraway seeds are traditional in goulash but can be omitted if unavailable.

Cooking:

Browning the meat well before simmering is crucial for a rich flavor base.
If the stew seems too thick as it cooks, add a little more beef stock or water.

Serving Suggestions:

Hungarian goulash pairs well with a variety of starches. Consider serving it with egg noodles, spaetzle, or a slice of crusty bread.
A dollop of sour cream on top of each serving can provide a pleasant, cooling contrast to the hearty stew.

Storage:

Goulash stores well and the flavors often deepen the next day. Refrigerate in an airtight container for up to 4 days.
To reheat, warm on the stovetop over medium-low heat, stirring occasionally, until heated through.
Nutrition
Calories:
352
kcal
|
Carbohydrates:
18
g
|
Protein:
42
g
|
Fat:
13
g
|
Saturated Fat:
4
g
|
Polyunsaturated Fat:
3
g
|
Monounsaturated Fat:
4
g
|
Trans Fat:
0.02
g
|
Cholesterol:
105
mg
|
Sodium:
548
mg
|
Potassium:
1336
mg
|
Fiber:
5
g
|
Sugar:
9
g
|
Vitamin A:
2943
IU
|
Vitamin C:
35
mg
|
Calcium:
79
mg
|
Iron:
6
mg
This article was initially published in 2021 and updated on November 10, 2023 with new images and content.