This collection of 25 Savory Quick Bread Recipes is all you need to make every meal better. From dinner rolls to popovers, Irish bread to biscuits, there is something for everyone.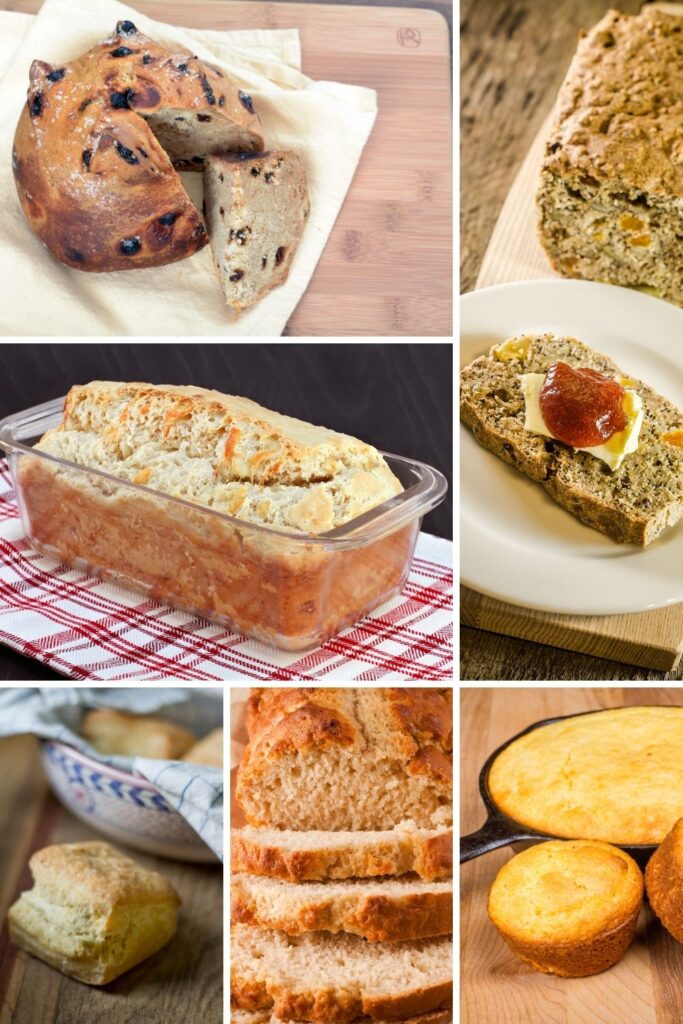 What is a quick bread?
A bread leavened with a chemical agent (like baking powder or baking soda) instead of yeast or sourdough starter is called quick bread.
Quick bread could be savory or sweet and makes an excellent addition to any meal. If you make savory bread, you can have it for soups, stews, or sandwiches. If you make sweet quick bread, you can have it as a dessert or as a snack.
Why should you bake quick breads
You have never baked before, and making bread from scratch is something you have always wanted to try, but you are intimidated by yeast.
You do not have the time or the skills needed for traditional yeast breads.
Maybe you are out of bread, and the store is either closed or too far away. Maybe there is a winter storm, you are stuck inside, and that awesome soup you have for dinner needs a slice of bread.
Quick breads are delicious when served warm, so they are perfect for cozy, hearty meals.
The breads are usually easy to make and use simple ingredients that most people have in their pantries.
How many types of quick breads are out there
All these quick types of bread could be savory or sweet, like a loaf of beer bread or a loaf of banana bread.
How the quick bread rises if you don't use yeast
As you already know, baking is a science. For the bread to rise, you need to use a weak base combined with a weak acid. The weak base is either baking powder or baking soda, and the weak acid is either buttermilk, lemon juice, vinegar, or cream of tartar.
When these two ingredients combine, they produce a chemical reaction that releases carbon dioxide. Carbon dioxide increases the baked good's volume and brings a lighter, porous texture to it.
This collection is meant to bring you only savory quick bread recipes that you can use to accompany meals, like soups, stews, salads, etc.
Pin this for later: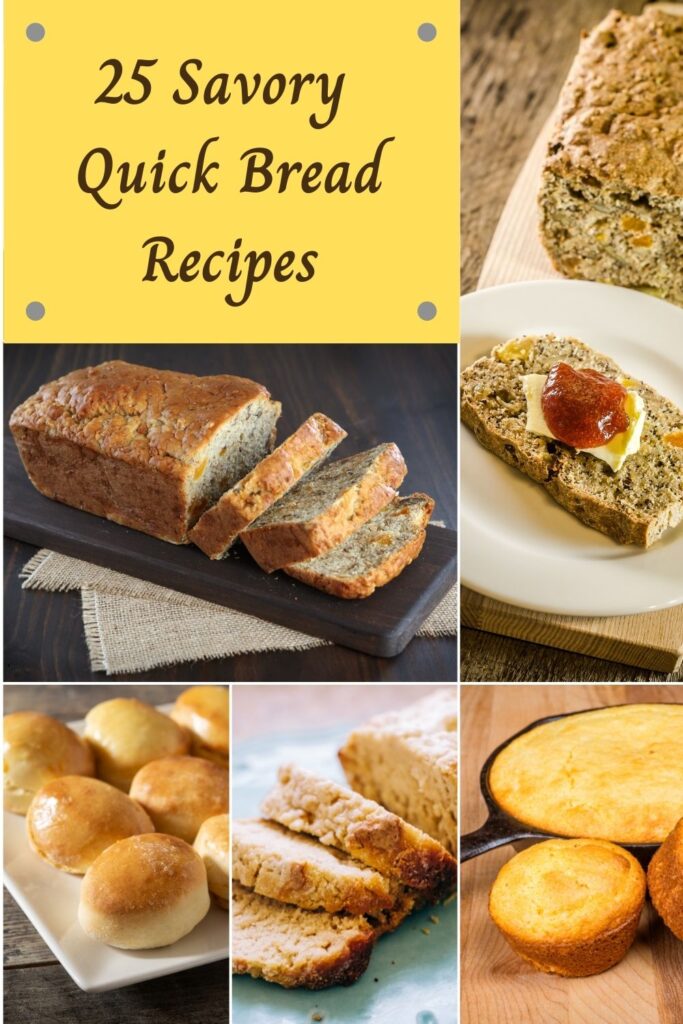 More recipes to love:
43 Chicken Soup Recipes Made From Scratch
Delicious Savory Recipes With Fresh Cherries
Craving more? Subscribe to The Bossy Kitchen to get new recipes and a newsletter delivered straight to your inbox! Stay in touch on Facebook, Twitter, Pinterest, and Instagram for all of the latest updates. Don't forget to use the star rating and leave a review.
Check out the web story for these quick bread recipes: Collection Of Savory Quick Bread Recipes
25 Savory Quick Bread Recipes
These 25 Savory Quick Bread Recipes are great for any day of the week. SErved with soups, stews or just with butter and jam, these bread recipes are easy to make and versatile.