This Pumpkin Bread With Walnuts And Raisins Recipe is a great one for chilly days in the fall or winter. Serve it with a cup of your favorite coffee or tea.
Yes, it is that time of year when pumpkin is "the thing" again. From lattes to pies, from breakfast to dinner, Americans love their pumpkin and pumpkin flavor in anything.
It is the symbol of Fall and the beginning of the holiday season.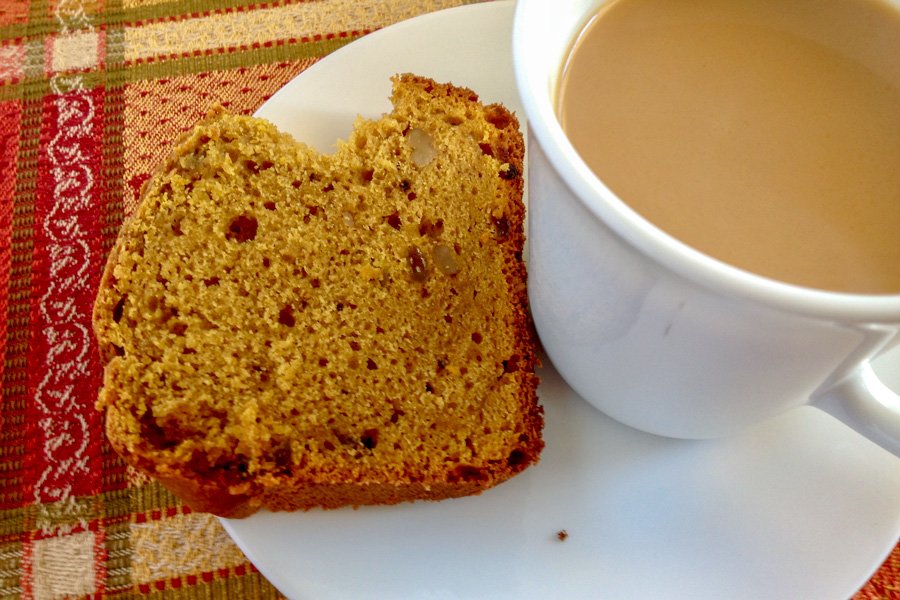 I have had this easy Pumpkin Bread recipe in my collection for a while now, but I never made it before. You see, I have this love-hate relationship with pumpkin.
I grew up with pumpkin pie, but besides that, in my family we did not do much with it.
Last night though, I went through my pile of recipes looking for new ideas and found this one. I decided to make it.
Oh my, how many other treasures I have in this pile of recipes that I never made before?
This recipe is a jewel hiding for such a long time from me. We loved the bread so much that we had some last night, then again for breakfast with coffee and one later in the afternoon.
Between me and my husband, we almost finished the whole loaf…
I usually make banana bread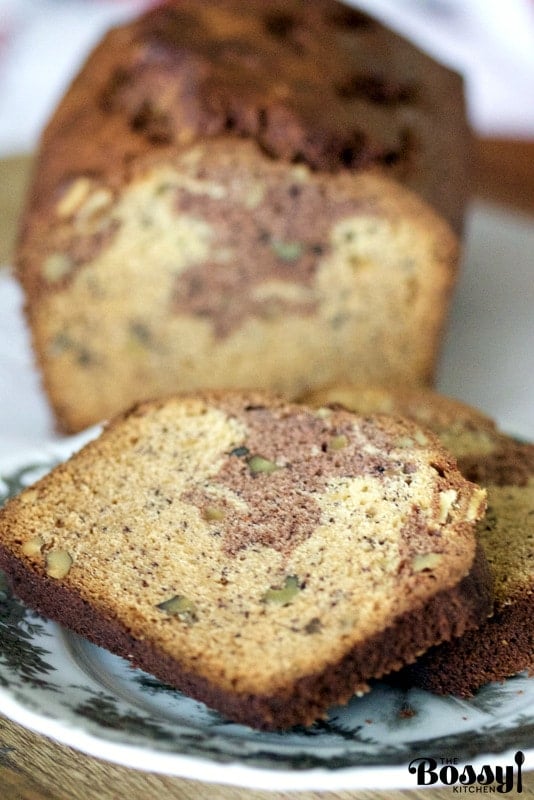 or banana bread with cream cheese in the middle, which is to die for, but this pumpkin bread is so much better!
You will need a can of pumpkin puree , which I chose to be organic. The taste is divine and there are so many flavors and textures in this bread.
Cinnamon, cardamom, walnuts, raisins, vanilla… So easy to make and so delicious!
This sweet bread can also be sliced, wrapped in foil and frozen for up to 3 weeks. It is a great snack for days when you want a snack to take with you for breakfast or snacking during the day.
I am sure it is healthier than a candy bar, so go for it!
For the holidays, you can bake up mini loaves of different sweet breads for family and neighbors and use this as your new go-to recipe.
Hope you will enjoy it!
Interested in more recipes with pumpkin? Here you have some ideas.
Yield: 1 loaf
Pumpkin Bread With Walnuts And Raisins Recipe
This Pumpkin Bread With Walnuts And Raisins Recipe is a great one for chilly days in the fall or winter. Serve it with a cup of your favorite coffee or tea.
Total Time
1 hour
15 minutes
Ingredients
1 3/4 cups all purpose flour
1/4 teaspoon baking powder
1 teaspoon baking soda
1 teaspoon salt
1/2 teaspoon ground cinnamon
1/4 teaspoon ground allspice
1/2 teaspoon of cardamom
1 cup granulated sugar
1/3 cup soft unsalted butter(or 5 1/2 tablespoons)
1 cup pumpkin puree
2 eggs slightly beaten
1/3 cup milk
1/2 teaspoon vanilla extract
Optional: 1/2 cup chopped pecans or walnuts
Optional: 1/3 cup raisins 
Instructions
Preheat the oven to 350F.
In a medium bowl mix the flour, baking powder, baking soda, salt, cinnamon, allspice and cardamom together. Set aside.
In a large bowl, beat the sugar and butter together until light and fluffy. Beat in the pumpkin, and add the eggs.
In a small bowl, mix together the milk and vanilla. Add the flour mixture alternatively with the milk mixture into the pumpkin mixture.
Fold in the nuts and raisins (if using). Pour into a greased loaf pan.
Bake 1 hour, until a toothpick inserted into the center comes out dry.
Remove from pan and place it on a rack to cool down.
Nutrition Information:
Yield:
12
Serving Size:
1
Amount Per Serving:
Calories:

244
Total Fat:

10g
Saturated Fat:

4g
Trans Fat:

0g
Unsaturated Fat:

5g
Cholesterol:

45mg
Sodium:

309mg
Carbohydrates:

37g
Fiber:

2g
Sugar:

20g
Protein:

4g