Note: "We are a participant in the Amazon Services LLC Associates Program, an affiliate advertising program designed to provide a means for us to earn fees by linking to Amazon.com and affiliated sites."
One of the first traditional Minnesota recipes I learned how to make when I moved to this state was banana bread. I used to make sweet bread before, like this Marbled Pound Cake for example.  As I have to put my stamp on everything I made, I added cocoa powder and walnuts, just to make it more interesting.
Banana Bread is a very popular recipe in the U.S. There are thousands of banana recipes out there, so you just have to find the PERFECT one for you and stick with it. Delicious and easy to bake, banana bread is an easy way to use up the leftover bananas sitting in your kitchen. You know, the ones that everyone avoids because they are too dark.
The Midwest is all about casseroles and bread that bring comfort to long, cold winters and banana bread definitely is one of these recipes that fit into the picture.
And who doesn't like a warm home where the aroma of the freshly baked bread brings the family together?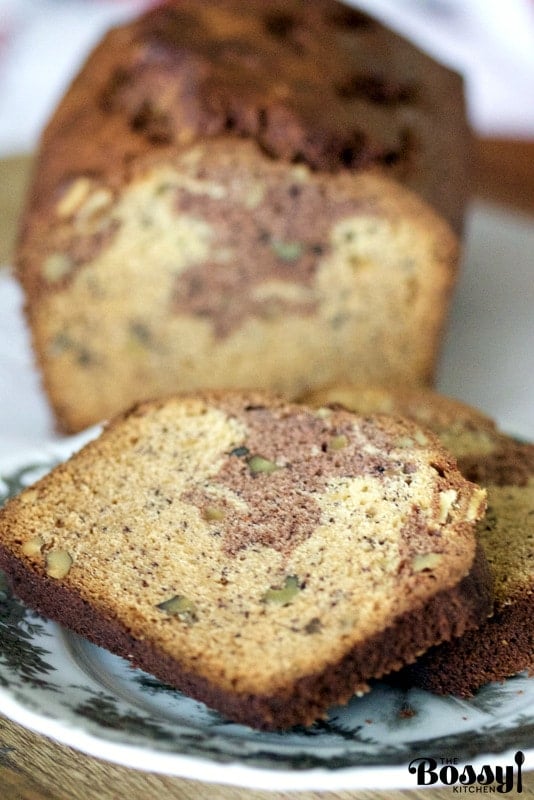 If you make the recipe, share it with the hashtag #thebossykitchen on Instagram, Facebook, and Twitter so we can all see what you're cooking!
Cocoa Walnuts Banana Bread Recipe
Author:
The Bossy Kitchen
Ingredients
½ cup melted butter or oil
1 cup granulated sugar
2 eggs
2 ripe bananas peeled
1¼ cups all-purpose flour
½ teaspoon baking soda
1 teaspoon baking powder
⅓ cup raw walnuts(optional)
2 teaspoons unsweetened cocoa powder
Instructions
Preheat oven to 350F/180C.
Grease a 9x5 inch(23x13cm) loaf pan.
In a large bowl, cream together butter(oil), sugar and eggs.
Mash the bananas and add them to the mixture.
Separately, mix together flour, baking soda, and baking powder.
Put the wet mixed ingredients into the dry ones and mix well. Add nuts.(optional)
In a separate bowl place ⅓ of the batter and mix it with cocoa powder. Get rid of any lumps by stirring well.
Spoon the first batter(without cocoa) into the prepared loaf pan, then add the cocoa mixture over it.
Take a fork and make swirls in the batter to slightly combine the mixtures.
Bake at 350F for 55 to 65 minutes, until a toothpick inserted into the middle of the loaf comes out clean.
Remove from the pan and place the bread on a rack to cool.