Here you have a no-fail easy banana nut muffins recipe that is delicious and perfect for breakfast or as a snack.
Easy Banana Nut Muffins
I am not a muffin or cereal eater for breakfast unless it comes with some eggs or other types of protein. I grew up mostly eating protein for breakfast, and I was never exposed to cereals when I was young.
It is not that I grew up eating some fancy diet. I was raised in Eastern Europe, and cereals were very limited or mostly nonexistent in the stores.
Also, my mother thought that baked goods were only for dessert. Therefore we were not allowed to eat them unless we had some "real food" first.
For breakfast, we used to have a soft-boiled egg, a slice of bread with butter and cheese, or some cold cuts, a glass of milk or a cup of tea, and sometimes some marmalade or honey on toast.
However, I am not opposed to having them once in a while.
People are always in a hurry in the morning. Therefore it is nice to grab a muffin and a cup of coffee and start your day with something nice to eat.
I love baked goods made with bananas. They fit right in my alley, as I hate wasting food.
I don't like the idea of throwing bread in the garbage, or any other food, from fruits to vegetables and meats.
There is always something to do with them and repurpose them. You have to be creative a little bit and follow a few rules.
You all know those ripe bananas that get old on the counter, and everyone avoids them, right?
They are perfect for making banana bread, banana cookies, or banana muffins. I even have on my blog a recipe to make DOUGHNUTS, people! With old bananas!
How awesome is that?
Baked Goods Made With Bananas
Do you have ripe bananas and you don't know what to do with them? Here you have some ideas.
This easy banana nut muffin recipe is moist and nutty and has a wonderful buttery flavor.
The buttermilk in this recipe gives the muffin lovely moisture making it delicious. (Learn more about how to bake with buttermilk and grab more recipes that use it)
And what is better than a sliced muffin with cream cheese on top or butter melting down your fingers?
On a snowy day? With a cup of tea to brighten your life?
The nuts bring crunchiness and incredible texture to the muffin. You can use either walnuts or pecans.
I personally love walnuts more than pecans because I grew up with them and ate them all the time, but you can choose whatever you have available.
Did I tell you that when I was a child, one of the snacks in the winter was apples and walnuts? I remember my grandfather cracking walnuts for us to eat with slices of apples!
The winters were harsh and snowy, but their house was warm and cozy. We were sitting at the table, closer by the fire, eating this wonderful dessert, as we called it.
If you are allergic to nuts, or don't have them around, swap them for chocolate chips in the same amount.
This recipe does not use baking powder or baking soda
The recipe is a little bit different than the regular recipes around. This one doesn't have any baking powder or baking soda.
Why?
This recipe comes from Europe, and on many occasions, the baking powder or the baking soda is replaced by separating the eggs and beating the egg whites.
The muffins will rise if you beat the egg whites stiff, then add them to the rest of the ingredients. The air incorporated in the egg whites ensures the rising of the batter in the oven.
This was an old method when people did not have access to baking powder or baking soda. It requires a little bit of work, but nowadays, we have mixers to do the job for us.
It doesn't take more than 10 minutes to beat the egg whites anyway, so it is really not a big deal.
If you don't want to beat the egg whites, you will have to add some baking powder. There is no other way around it.
Make these Savory Fresh Cranberry Muffins.
Can I freeze these muffins?
Yes, you can freeze them. Wrap them individually in plastic film and freeze them for up to 3 months.
Make a double batch and freeze some for later use. How cool is that?
I will stop now, so you can get in the kitchen and start baking. How many things can I tell you about some easy banana nut muffins anyway, right?
The only thing I have to say is that you need to try them and see if they could become a keeper or not. Happy baking, and see you next time!
More recipes to love:
Easy Marbled Pound Cake Recipe
Easy Banana Bread With Sour Cream
Pin this for later: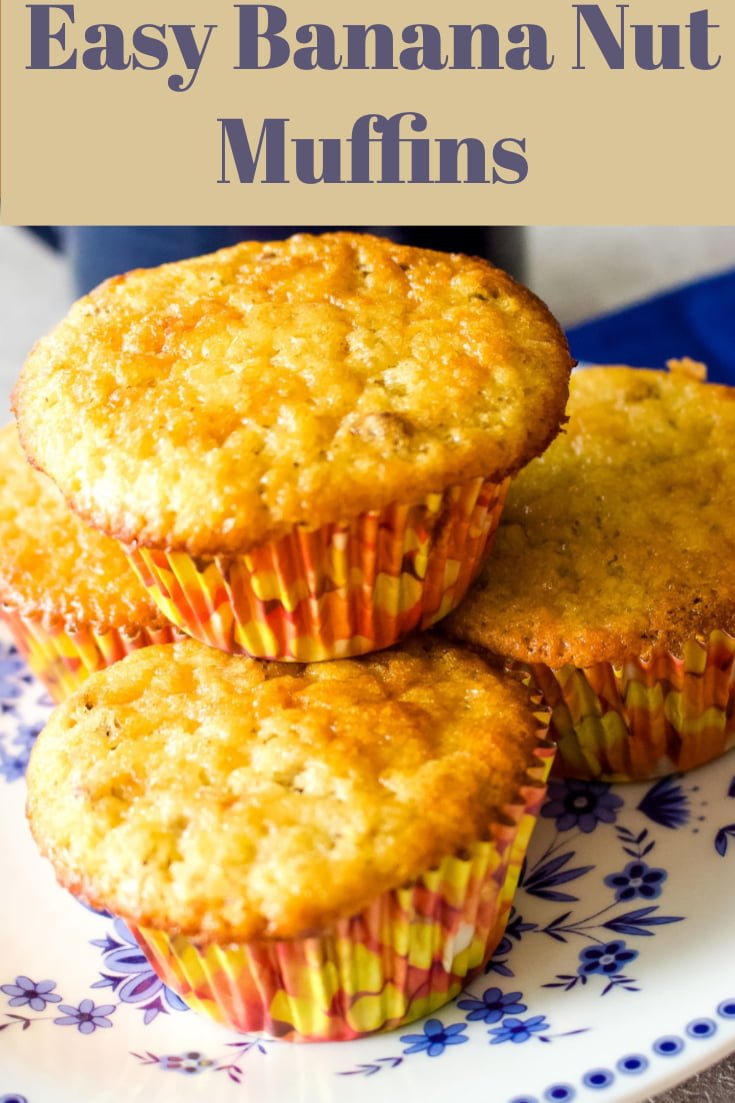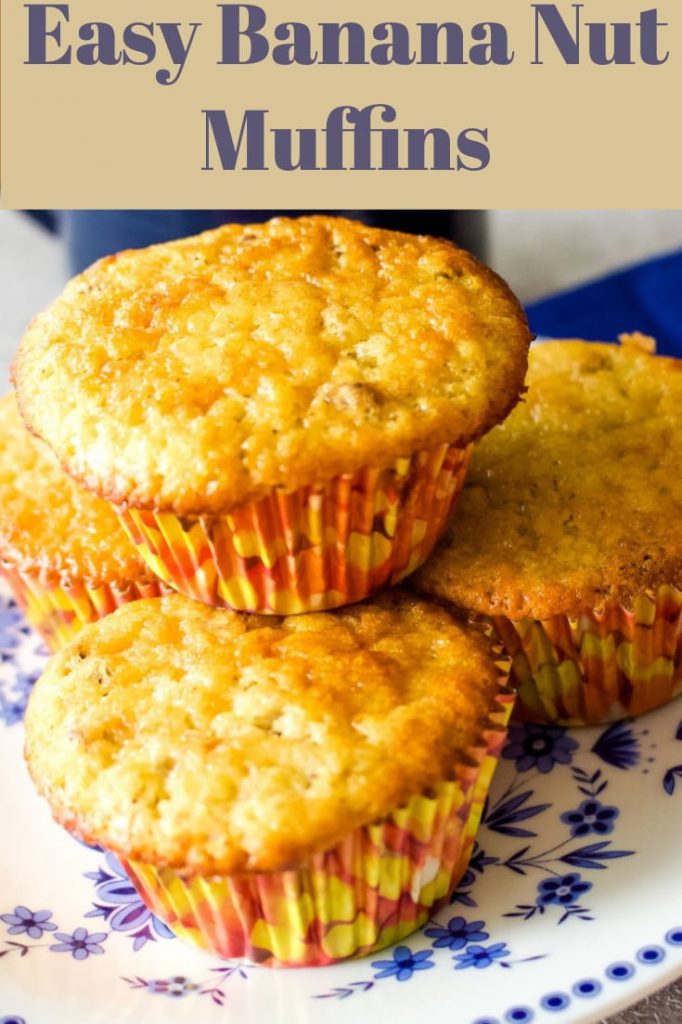 Easy Banana Nut Muffins
Here you have a no fail easy banana nut muffins recipe that is delicious and perfect for breakfast or as a snack. 
Print
Pin
Share
Grow
Saved!
Rate
Ingredients
3

large eggs separated

1

stick unsalted butter

⅔

cup

granulated sugar

¼

teaspoon

salt

½

cup

nuts

pecans or walnuts chopped

1

cup

PLUS 1 tablespoon all-purpose flour

¼

cup

buttermilk

2

medium bananas
Instructions
Preheat oven to 350F/180C.

Line a muffin pan with paper liners.

Melt the butter in microwave and set aside to cool.

Separate the eggs.

In a large bowl, place the egg yolks with sugar and salt and beat with a hand mixer until creamy. Set aside.

Separate, mix the nuts with the flour.

Chop the bananas small and add them to the egg yolks.

Add the melted butter, buttermilk and flour mixed with nuts.

Beat the egg white stiff, for about 5minutes.

Add the egg whites to the mixture, folding them gently into the batter and careful to not lose the air.

Divide batter evenly over 12 muffin cups.

Bake the muffins on the middle rack of the oven for about 25-30 minutes or until golden brown on top and a toothpick inserted in the middle of one of the muffins comes out clean.

Remove from the oven and cool the muffins on a metal rack.
Nutrition
Serving:
1
g
|
Calories:
153
kcal
|
Carbohydrates:
25
g
|
Protein:
4
g
|
Fat:
5
g
|
Saturated Fat:
1
g
|
Polyunsaturated Fat:
1
g
|
Monounsaturated Fat:
2
g
|
Trans Fat:
0.01
g
|
Cholesterol:
42
mg
|
Sodium:
71
mg
|
Potassium:
140
mg
|
Fiber:
1
g
|
Sugar:
14
g
|
Vitamin A:
83
IU
|
Vitamin C:
2
mg
|
Calcium:
19
mg
|
Iron:
1
mg
Tried this recipe?
Please leave a comment on the blog or like us on Facebook!