This is a classic banana bread recipe made with sour cream instead of butter. Slightly sweet and packed with flavor, this quick loaf is terrific toasted and served with butter and a cup of coffee.
Jump to:
Moist, fluffy, and delicious
If you have never made a loaf of quick banana bread before, now is the time to start. It smells divine as it bakes, but the taste is also heavenly. Besides, you can control what goes into it and make it as healthy or indulgent as you want.
If you are looking for an easy banana bread recipe, look no further. This banana bread with sour cream is all you need for that cup of coffee on a Sunday afternoon.
I don't know if people need another banana bread recipe, but here I am sharing this easy recipe with you. I love a good loaf of banana bread now and then and have various recipes that I like to make. Banana bread is such a tremendous comforting bread that everyone loves.
The secrets to making a good banana bread:
There is banana bread, and there is banana bread made with sour cream. My favorite banana bread is made with sour cream, and there are only two secrets to making a great loaf: really ripe fruit and sour cream. Let's talk about each of them.
Ripe bananas.
There is no question that the best banana bread is made with ripe bananas, usually the ones that have darker brown spots, and everyone avoids them.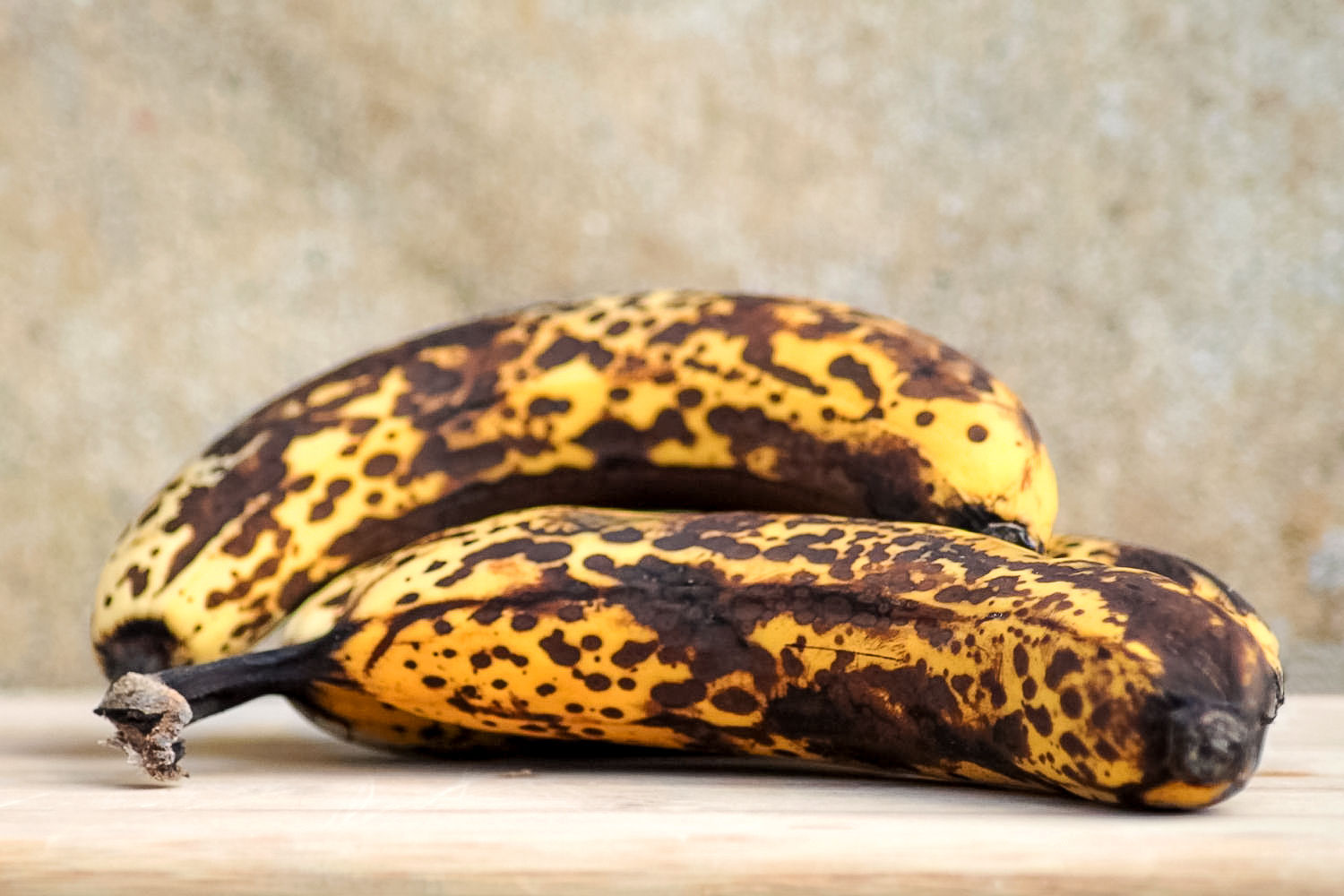 Green-yellow bananas will add little or no flavor. A bright yellow banana that otherwise would be perfect for snacking would not do either. Can you use them in the recipe? Technically yes, but the results will be very boring.
You have to use only bananas that are past their eating prime- light brown with darker brown spots will have the moisture and rich taste necessary for a fine quick bread like this one.
Don't throw out those overripe bananas; just place them in the refrigerator to stop the ripening process until you are ready to make your banana bread. You can also freeze them and use them later.
Sour cream and why we use it here.
Sour cream is a combo of acid and fat. It adds moisture to the batter without thinning it, making the bread very tender with a delicious fine crumb.
Please do not replace the sour cream with buttermilk, as the recipe will not work. Buttermilk is much thinner than sour cream, and it will add too much moisture to the batter.
Most banana bread recipes made with sour cream also have oil or butter on the list of ingredients. This recipe has only sour cream and no other type of fat in it.
However, don't think that the recipe will be dry. This bread has a delicate, beautiful crumb, it is moist and delicious and effortless to make. You cannot go wrong with it.
Baked goods made with sour cream last longer, but to tell you the truth, I never saw this bread last more than three days in my household. The legend says it could last for a week on the kitchen counter, but I cannot tell if this is true.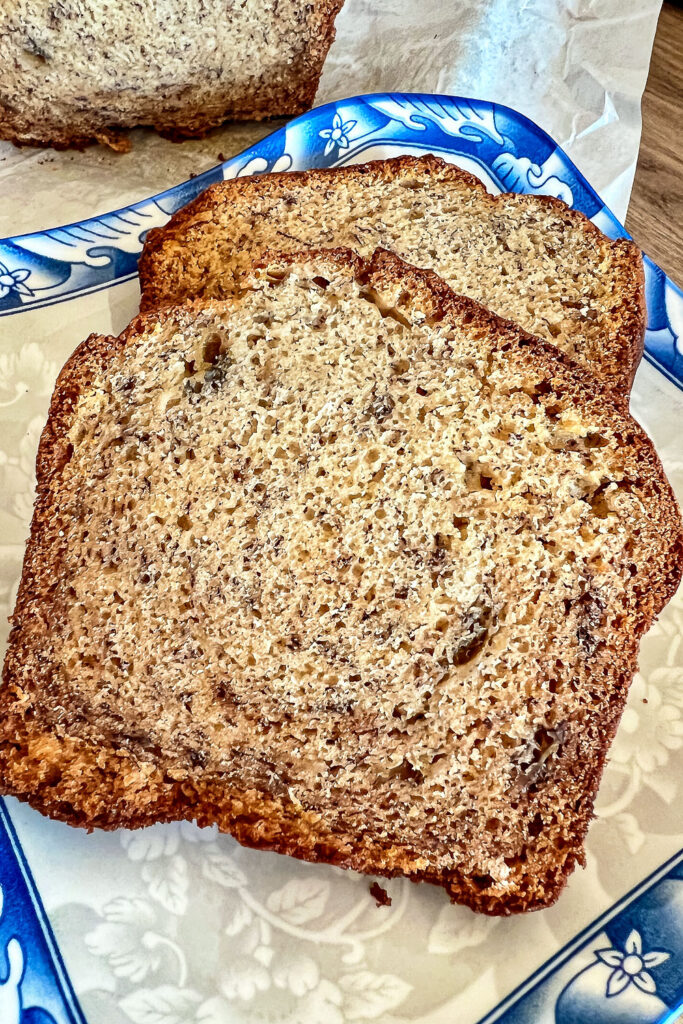 Sour Cream Replacement
I don't have sour cream but I still want to make the bread. What can I use?
While things will not be the same, you can use yogurt. Please use plain, unsweetened, full-fat yogurt or Greek yogurt.
Do NOT use flavored yogurt with added sugars and artificial flavors, buttermilk, milk, or non-dairy milk. Remember, we are looking to replace the sour cream with something almost similar in thickness. We do not want to add extra liquid to the batter.
Also, yogurt is more acidic than sour cream so the bread will have a tangier taste.
Other ingredients
Most baked goods that use sour cream also use baking soda. The acid in sour cream activates the baking soda, which acts as a leavening agent. The combination contributes to the softer texture of the bread.
My choice for this recipe is regular granulated sugar. You can replace it with other types of sugar if you want a different flavor, like coconut sugar or brown sugar.
If you want a more caramelized taste, use dark brown sugar that has more molasses. You can even use half regular sugar and half brown sugar.
Large eggs are standard in the US for baking, so this is what we will use.
The nuts are optional, and my favorites are walnuts or pecans. However, you can replace them with macadamia nuts or even almonds. If you are allergic to nuts, feel free to skip them entirely.
Use the best vanilla you can get. I know vanilla is not a cheap ingredient anymore, but fake vanilla just doesn't taste good, and you might end up with a loaf of banana bread that has a weird chemical aftertaste.
Nuts Substitutes
I don't want to use nuts, can I replace them with dried fruits?
Yes, you can definitely replace the nuts in this recipe. Here you have some ideas:
Dried cranberries, cherries dried figs, dates, candied pineapple- Prepare the basic recipe and add ¼ cup dried fruits to the batter.
Candied pineapple and unsweetened shredded coconut- Prepare the basic recipe and add ¼ cup chopped candied pineapples and ¼ cup unsweetened shredded coconut.
Cranberries and ginger- Prepare the basic recipe and add two teaspoons of ground ginger and ¼ cup of dried cranberries.
How to store
Some people asked me if they have to keep the banana bread made with sour cream in the fridge. No, you don't have to do that. Keep it wrapped in parchment paper and then in a bag, on the counter, or in your kitchen's dark, cool place. It will be delicious for up to three days.
If you live in a very humid environment, refrigerating it is a good idea. From my experience, during the summer and when it is humid outside, any bread that sits on the counter for more than two days will get moldy.
Can I freeze banana bread?
Yes. Wrap it in parchment paper and a freezer bag, then place it in the freezer for up to three months. When ready to consume the bread, thaw it in the refrigerator overnight or on the kitchen counter.
Slice it and toast it, then add butter on top and serve it with tea or coffee. Yum!
How long to bake
If you use ripe bananas that you grab from the kitchen, you will need to bake the bread for an hour. However, if you use very ripe bananas or frozen ones, then thawed, you will have to bake the bread for 10 minutes more.
These bananas contain more moisture, and the bread will need to bake longer in the oven. Use a wooden skewer to check the middle of the bread by sticking it in the center of the loaf.
It should come out with just a few crumbs. If the batter is wet, allow the bread to bake for a few minutes more.
More recipes to love
Cocoa Walnuts Banana Bread Recipe
📖 Recipe
Easy Banana Bread With Sour Cream
This is a classic banana bread recipe made with sour cream, instead of butter. Slightly sweet and packed with flavor, this quick loaf is terrific toasted and served with butter and a cup of coffee.
Print
Pin
Share
Grow
Saved!
Rate
Ingredients
1

cup

sour cream

1

cup

granulated white sugar

2

large eggs beaten

1

teaspoon

vanilla extract

¼

teaspoon

salt

1

teaspoon

baking soda

2

cups

all purpose flour

2

over ripe medium size bananas

mashed

Optional: ¼ cup chopped nuts

walnuts or pecans
Instructions
Preheat the oven to 375F. Butter a baking loaf pan. Set aside.

In a large bowl, place sour cream and sugar. Mix well.

Beat the eggs and incorporate them into the sour cream. Add vanilla.

Separately, mix flour with salt and baking soda. Add the mixture to the eggs and sour cream.

Mash the bananas and add them to the bowl. Mix well.

Optional, add nuts and fold them gently into the mixture.

Pour the batter into the prepared baking pan. Bake it for one hour or until a toothpick inserted into the middle of the loaf comes out clean.

Remove the bread from the pan and place it on a rack to cool.
Notes
Sour cream is the ingredient that makes this bread stand out from the crowd.
The bread can be kept in the freezer for up to three months. If you don't plan to freeze it, keep it at room temperature, wrapped in parchment paper for up to three days.
This recipe is versatile as you can add nuts, chocolate chips, or dried fruits, like raisins or cranberries.
Nutrition
Serving:
1
g
|
Calories:
155
kcal
|
Carbohydrates:
28
g
|
Protein:
3
g
|
Fat:
4
g
|
Saturated Fat:
2
g
|
Polyunsaturated Fat:
0.3
g
|
Monounsaturated Fat:
1
g
|
Trans Fat:
0.002
g
|
Cholesterol:
29
mg
|
Sodium:
118
mg
|
Potassium:
96
mg
|
Fiber:
1
g
|
Sugar:
15
g
|
Vitamin A:
129
IU
|
Vitamin C:
1
mg
|
Calcium:
21
mg
|
Iron:
1
mg
Tried this recipe?
Please leave a comment on the blog or like us on Facebook!