This pumpkin bread with fresh cranberries is an easy-to-bake bread that will bring joy to you and your family during the cold season. 
Jump to:
A Recipe to Appreciate
Pumpkins and cranberries are the stars of the cold season in the US. We use them in savory and sweet recipes, and holidays would not be the same without them.
I always keep some cans of pumpkin puree in the pantry and always have fresh cranberries that I use for Thanksgiving and sometimes for Christmas.
However, I like freezing cranberries as I use them later in the season to make different recipes.
This is one of these recipes that I make after all the craziness of everything pumpkin season goes away. It is an easy recipe where all the ingredients are mixed and fresh cranberries are added to the mixture.
I did not see a lot of pumpkin bread recipes to carry fresh cranberries. The cranberries could be very tart; therefore, the bread has, by default, a little bit more sugar than the regular pumpkin bread recipes you will find around.
Honestly, if I have to choose between pumpkin bread with raisins or dried cranberries and fresh cranberries, I would probably choose fresh cranberries.
I like the fact that there is a balance between the sweetness of the bread and the fresh cranberries. I also like the addition of nuts as they bring texture to the bread.
Can I use pumpkin spice?
I used cinnamon, ginger, nutmeg, and allspice. You might not have these spices in the house, but you might have pumpkin spice, which seems to be very popular in many households.
Yes, go ahead and use it. As a secret, pumpkin spice has all the spices I used in my bread version, so you are in the clear.
How many loaves of bread does this recipe make?
This recipe makes two beautiful loaves of pumpkin bread with fresh cranberries. You can gift one loaf, or you can freeze it and eat it later.
It should taste good for up to three months if you keep it in the freezer, wrapped in foil. I usually wrap my breads in parchment paper and then in foil and freeze them like that.
Ingredients
I feel like this recipe uses mostly pantry staples or at least ingredients that are easy to find.
All-purpose flour
This is a popular flour that is good for most baked goods. I like the unbleached all-purpose flour, and if you can find organic one, you will become my best friend.
Granulated sugar
Again, an easy ingredient to find everywhere. It is the sugar that is most commonly used in baking.
Eggs
I used large eggs. Most recipes are designed to use large eggs, as they are considered the norm for most baked goods.
Pumpkin puree
I used a can of pumpkin puree, and I believe most people will do the same. If you are more ambitious, you can make your own pumpkin puree from real pumpkins you like.
Vegetable oil
I used sunflower oil. The idea is to use an oil that is neutral in
Fresh cranberries
To make this bread all year round, you can freeze fresh cranberries when they are in season. Otherwise, you can use dried cranberries. Just keep in mind that using dried cranberry will add sweetness to the bread.
Nuts
I used pecans, but you can replace them with walnuts if pecans are not available. Or you can skip them entirely.
Baking powder
Baking powder helps the bread rise. Do not replace it with baking soda as they are not the same.
Salt
Every baked good benefits from a pinch of salt that enhances the taste of the final product. Do not be afraid to use it.
Cinnamon powder, ginger powder, allspice, nutmeg
These spices are popular in fall and winter, and almost all pumpkin bread recipes carry them. I personally love them but feel free to skip some of them if not a fan.
How to make this pumpkin bread with fresh cranberries
This recipe doesn't raise any difficulties. If you have two bowls, ingredients, and an oven, you can make it, even if you are not a baker or never baked before in your entire life.
First, gather all ingredients and make sure you have everything you need for the recipe. There is nothing more annoying than wanting to make a delicious dessert and discovering that there are no eggs, or enough flour, or whatever it is to prepare the recipe.
When you have everything on the table, preheat the oven to 350F. Always make sure that your oven is warming up while you are working on the recipe.
If you are not an experimented baker or never baked before, this is one piece of advice you really need to follow. When you are done putting the recipe together, your oven will be ready for use.
The dry ingredients, like flour, sugar, salt, baking powder, and spices, are going in one large bowl. In the other bowl, you mix the eggs, oil, and pumpkin puree and pour this mixture over the dry ingredients.
So far, so good, right? Easy-peasy.
Gently, fold the cranberries and nuts in the batter. The last step is to grease two baking pans using a little bit of oil or butter and spoon the batter between these two pans.
You bake them in the oven for about 70-80 minutes or until a toothpick inserted in the middle of the bread comes out clean. If it is sticky and with batter on it, bake some more.
Remove the pans from the oven and allow them to cool for 5-10 minutes. After that, take the bread out of the pan and place them on a metal rack to cool off completely.
What do you eat pumpkin bread with?
Well, it is a sweet bread, so you can have it in the morning, with a little bit of butter or cream cheese and a cup of coffee or tea. Or you can eat it by itself. It is absolutely delicious.
If you have kids in school, they can take a slice in their lunch bag and have it as a snack or even as dessert during the day.
Drizzle some honey over the bread and enjoy it for a pick-me-up snack at work.
More pumpkin & cranberry recipes
Sweet and Savory Cranberry Recipes
Cranberry Custard Pie with Cream Cheese Crust
Pumpkin Seed And Apricot Pumpkin Sweet Bread
Easy Baked Pumpkin Mac And Cheese
Pumpkin Bread With Walnuts And Raisins
📖 Recipe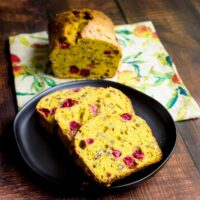 Pumpkin Bread With Fresh Cranberries
Delicious pumpkin bread with fresh cranberries to make when both pumpkin and cranberries are in season.
Print
Pin
Rate
Ingredients
3 ¾

cups

all purpose flour

2

cups

granulated sugar

2

teaspoons

baking powder

1

teaspoon

salt

1

teaspoon

cinnamon

1

teaspoon

ginger

1

teaspoon

nutmeg

1

teaspoon

allspice

4

eggs

15

ounces

pumpkin puree

½

cup

vegetable oil

like sunflower or canola oil

2

cups

fresh or frozen cranberries

thawed

1

cup

chopped pecans or walnuts
Instructions
Preheat oven to 350F.

in a large bowl, mix together flour, sugar, baking powder, spices and salt.

In another bowl, whisk together the eggs, oil and pumpkin puree.

Stir into dry ingredients.

Gently, fold in cranberries and nuts.

Grease two 9x5-in.loaf pans.

Spoon the batter into the pans and bake for 70-80 minutes or until a toothpick inserted in the center of the bread comes out clean.

Cool for 5-10 minues before removing the breads from the pans.

Allow them to cool completely on a wire rack.
Notes
Instead of using cinnamon, ginger, nutmeg and allspice, you can use pumpkin spice, if you already have in the pantry.
Instead of using walnuts, use pecans or chopped almonds.
Nutrition
Serving:
1
g
|
Calories:
169
kcal
|
Carbohydrates:
26
g
|
Protein:
3
g
|
Fat:
6
g
|
Saturated Fat:
1
g
|
Polyunsaturated Fat:
3
g
|
Monounsaturated Fat:
2
g
|
Trans Fat:
0.03
g
|
Cholesterol:
20
mg
|
Sodium:
101
mg
|
Potassium:
70
mg
|
Fiber:
1
g
|
Sugar:
13
g
|
Vitamin A:
2104
IU
|
Vitamin C:
1
mg
|
Calcium:
31
mg
|
Iron:
1
mg