16 Sweet and Savory Cranberry Recipes is a collection of my favorite recipes that use cranberries. These recipes are great to make during the holidays when the cranberries are in season.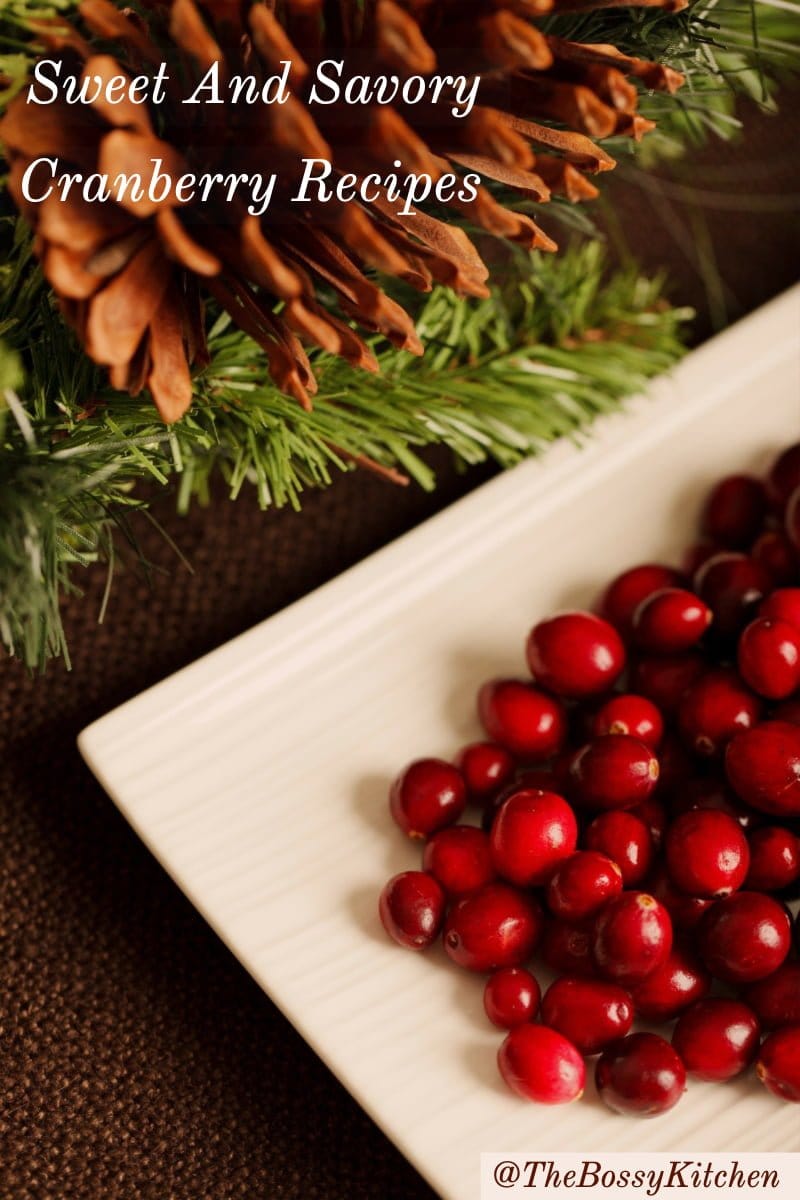 I love cranberries. They are the symbol of the seasons changing and holidays coming, especially on the American continent, where cranberries are a staple on Thanksgiving dishes.
I like using them in both savory and sweet dishes, so for this reason, I thought it would be cool to bring you my little collection of recipes that use cranberries so you have them all in one place.
Get ready to elevate your culinary game with these versatile cranberry-infused creations! Sink your teeth into the gooey decadence of a Grilled Ham and Cheese Cranberry Sandwich, a perfect blend of savory and tart. If you're looking for a side with a twist, our Cranberry Chutney with Apples adds a delightful burst of flavor to any dish.
For those with a sweet tooth, the Cranberry Custard Pie with Cream Cheese Crust is a dessert that will steal the show. And let's not forget a holiday essential: our Easy Sausage, Cranberries, and Walnuts Stuffing brings a mix of textures and flavors that make it a seasonal favorite. Whether you're new to cranberry cooking or a seasoned pro, these recipes are sure to impress!
A few notes about cranberries:
Cranberries are indigenous to North America, particularly thriving in the cooler climates of Wisconsin and Massachusetts, which are the leading U.S. producers. Harvest season runs from September through November, making it the best time to find them in stores.
While fresh cranberries are notably hard and sour, they're frequently processed into various products like juice, jams, and sauces, or dried to be used in salads, and baked goods such as scones and muffins (try my recipe for Easy British Style Scones). In addition to their culinary uses, cranberries have a historical role as a natural dye and for their medicinal properties.
Faqs about cranberries and their use in recipe:
How should I store fresh cranberries?
Fresh cranberries can be stored in the refrigerator for up to 2 months or can be frozen for longer-term storage.
What can I do with leftover cranberries?
You can turn leftover cranberries into smoothies, add them to oatmeal, or even use them as a topping for yogurt or ice cream.
Is cranberry sauce just for Thanksgiving?
While it's a Thanksgiving staple, you can use cranberry sauce year-round as a condiment for other dishes like roast chicken, sandwiches, or even desserts.
Also, come and check out my collection of turkey recipes that might inspire you to get in the kitchen and make something spectacular and delicious for your family and friends.
Happy holidays everyone!
More recipes to love:
Craving more? Subscribe to The Bossy Kitchen to get new recipes and a newsletter delivered straight to your inbox! Stay in touch on Facebook, Twitter, Pinterest, and Instagram for all of the latest updates. Don't forget to use the star rating and leave a review.
16 Sweet And Savory Cranberry Recipes