This round-up collection has The Best Thanksgiving and Christmas Turkey Recipes around. From small dinners to big ones, there is something for everyone.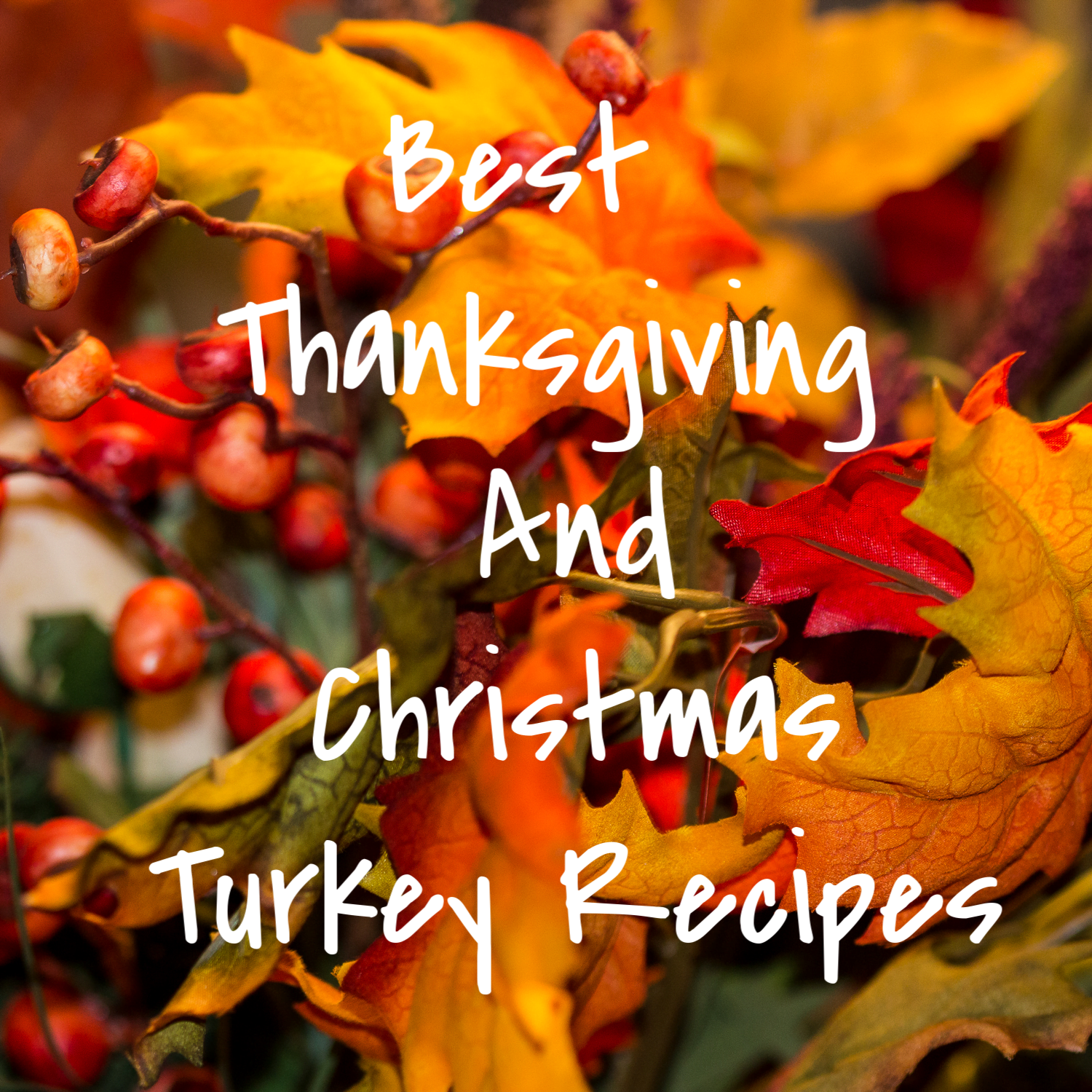 Holidays are around the corner and this is the time when we start looking for all kind of recipes more often trying to plan meals for family and friends.
From turkey to sides and desserts, there is an abundance of recipes you can choose from the internet.
My collection of turkey recipes is created with the thought of helping you decide for different scenarios, from smaller celebrations to bigger ones. I hope you find something here to try.
This is a round-up where many bloggers contributed with their creations. There are so many beautiful recipes to choose from and all of them are amazing.
Thank you all for participating!
Turkey recipes for smaller families or just two people:
TURKEY SCHNITZEL WITH LEEKS AND BUTTER SAGE SAUCE– By Cristina's Cucina (Recipe Here)
Winner of a Community Pick award on Food52, this turkey schnitzel recipe is perfect for a smaller Thanksgiving get together. The leek, sage and butter sauce is marvelous!
STUFFED ROASTED TURKEY BREAST–By Little Sunny Kitchen (Recipe Here)
Stuffed Roasted Turkey Breast is a scrumptious and easier alternative than roasting a whole turkey for Thanksgiving dinner especially if you're cooking for a smaller group of people.
ROASTING A TURKEY FOR TWO: TURKEY BREAST WITH AN APPLE CIDER BRINE– By Soup Addict (Recipe Here)
A small Thanksgiving dinner party is perfectly suited for a roasted whole bone-in turkey breast. Brined in a rich apple cider solution and basted in butter, a golden, roasted turkey breast will be the centerpiece of your celebration. Even if it's just turkey for two!
GARLIC AND HERB ROAST TURKEY BREAST– By The Seasoned Mom (Recipe Here)
This Garlic and Herb Roast Turkey Breast is crispy on the outside and tender, juicy, and flavorful on the inside. What more could you ask for in the centerpiece of your holiday meal?
HERB ROASTED TURKEY LEGS– By Pups With Chopsticks (Recipe Here)
Herb roasted turkey legs when you don't have enough people to make an entire turkey for!
HOLIDAY STUFFED TURKEY BREAST ROULADE RECIPE– By Eating Richly (Recipe here)
Whether you're trying to have a low calorie Thanksgiving meal, or Thanksgiving dinner for two, this turkey roulade is the answer. A sweet and savory sausage stuffing is wrapped inside a turkey breast to give you an easy way to portion control the stuffing.
TURKEY BREAST ROULADE WITH SAUSAGE FIG STUFFING– By Just A Little Bit Of Bacon (Recipe Here)
This turkey breast roulade makes beautiful slices of turkey and stuffing all swirled together. It is easy to make ahead and sidesteps the whole issue of trying to get the dark meat cooked without overcooking the light meat.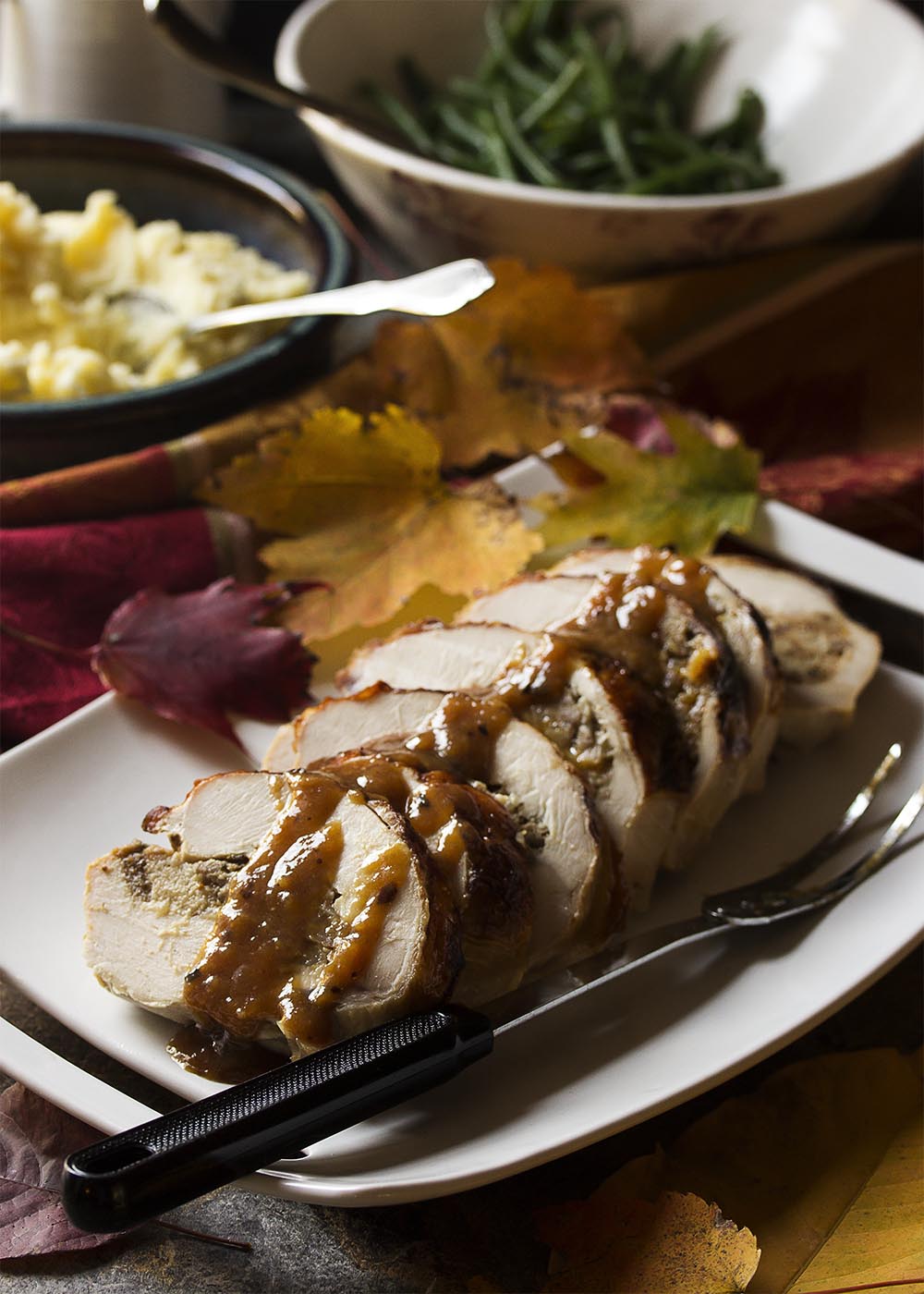 BACON WRAPPED TURKEY BREAST WITH CHORIZO, CRANBERRIES, AND LITTLE POTATOES- By Salt&Lavender (Recipe Here)
Don't want to roast a whole turkey? Try this easy bacon wrapped turkey breast with chorizo, cranberries, and little potatoes!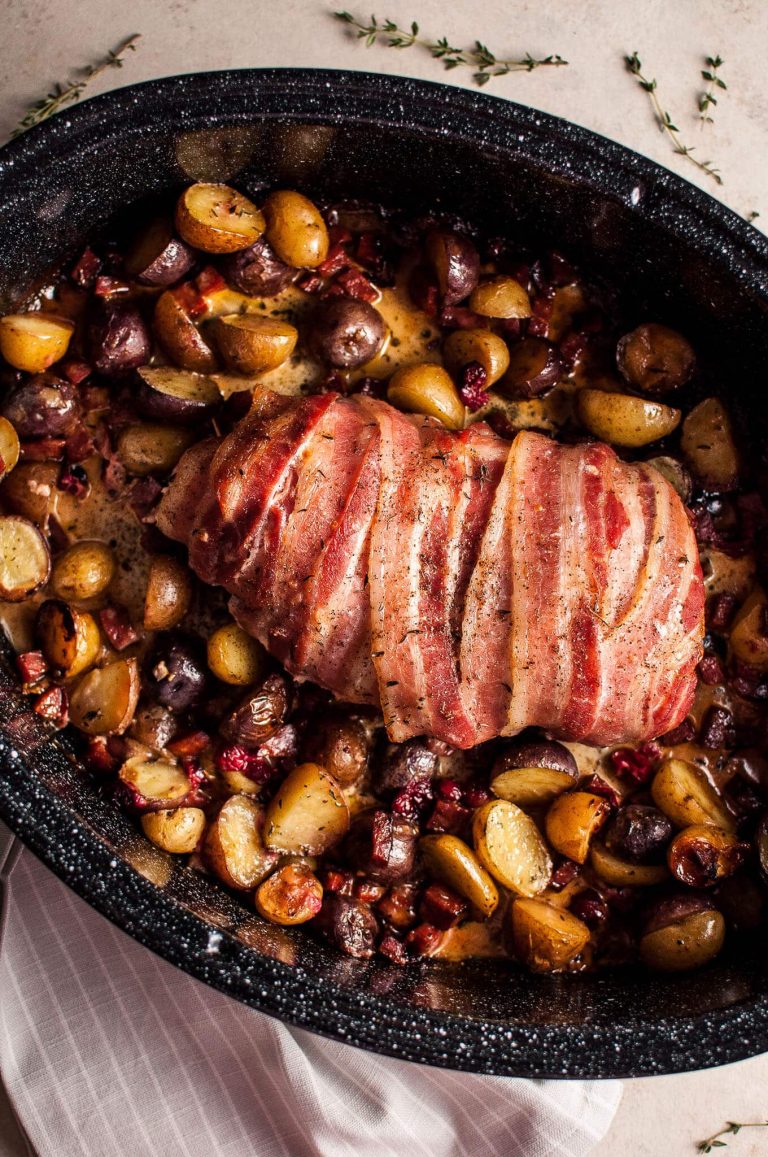 INSTANT POT TURKEY BREAST- By Soulfully Made (Recipe Here)
Instant Pot Turkey is a wonderful alternative to making a big Whole Turkey for your Holiday Meal, especially when you don't have a big crowd to feed. Plus is't a great way to make Turkey year round! Who doesn't love a good turkey sandwich now and again, right!
Turkey recipes for bigger celebrations:
HOW TO COOK A TURKEY– By Ann's Entitled Life (Recipe Here)
Making a delicious turkey for the holidays is easier than you think. By following this simple step by step turkey roasting tutorial even the most novice cook will produce a tender, tasty and juicy bird sure to impress your guests!
HOW TO SMOKE A TURKEY– By Away From The Box (Recipe Here)
Free up your oven and use this ultimate guide to smoking your Thanksgiving Turkey. Simple, savory and irresistibly juicy – it's a Thanksgiving you won't forget!
PRESSURE COOKER TURKEY BREAST WITH DELICIOUS HOMEMADE GRAVY– By This Old Gal (Recipe Here)
Pressure Cooker Turkey Breast with Delicious Homemade Gravy is moist and tender. It cooks in under one hour in the Instant Pot or Pressure Cooker.
SIMPLE AND PERFECT ROAST TURKEY- By Grits And Pine Cones (Recipe Here)
Simple and Perfect Roast Turkey is the stuff of Thanksgiving dreams are made of! It resembles the moist and delicious turkey you remember from your childhood!
GARLIC SMOKED TURKEY FOR THANKSGIVING- By Grits And Pine Cones (Recipe Here)
Garlic Smoked Turkey for Thanksgiving with fresh herbs is a delicious choice for any holiday that your oven is space challenged! And, if you have never smoked a turkey before, you will be surprised at just how easy it is.
SPATCHCOCKED TURKEY WITH ORANGE AND SAGE FOR YOUR HOLIDAY TABLE- By Family Spice (Recipe Here)
Butterflying a turkey takes a little extra time, but there is plenty of crispy skin in this Orange and Sage Spatchcocked. You also cut the roasting time in half.
HERB ROASTED TURKEY- By Julia's Simply Southern (Recipe Here)
Roasting a turkey is easy following a few simple steps and using an oven thermometer. Aromatics such as herbs, lemon, celery and carrots with a few seasons infuse so much flavor into your holiday turkey.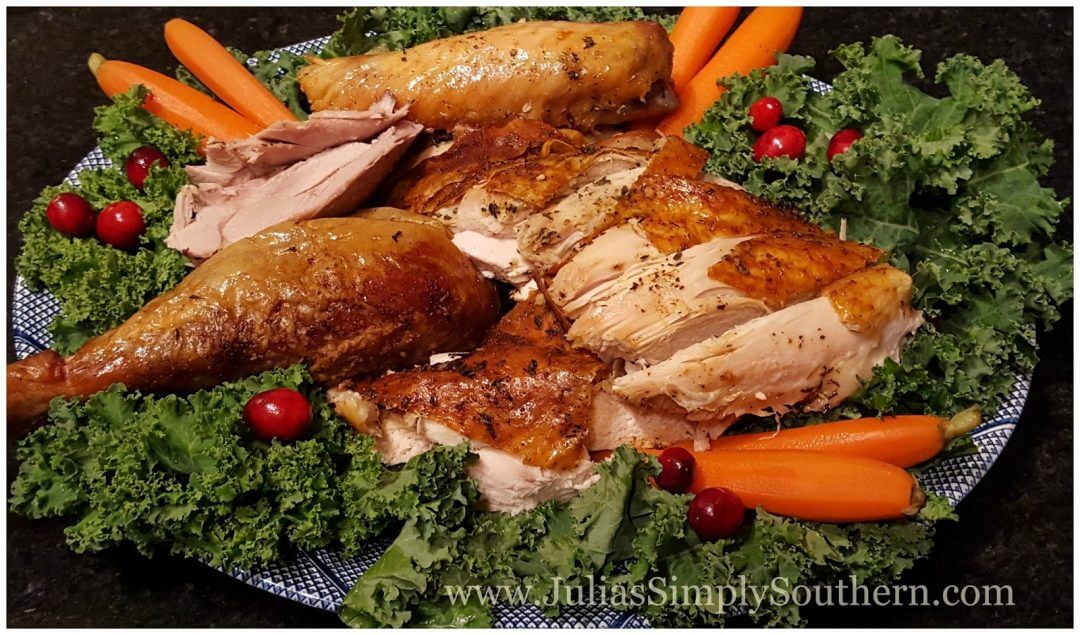 SPATCHCOCK CRANBERRY ORANGE GLAZED TURKEY- By Culinary Ginger (Recipe Here)
Spatchcock cranberry orange glazed turkey is one of the fastest and easiest ways to get your Thanksgiving dinner on the table. The cranberry orange glazed gets a delicious flavor boost from soy sauce and seasonal spices.
SLOW COOKER WHOLE TURKEY- By The Little Kitchen (Recipe Here)
Cooking your whole turkey in a slow cooker is amazingly easy and it frees your oven up for side dishes and pies!
BRINED AND ROASTED TURKEY ~ PERFECT EVERY TIME!- By Lemon Blossoms (Recipe Here)
Incredibly moist, delicious, golden and perfectly roasted turkey. The secret is in the brine!!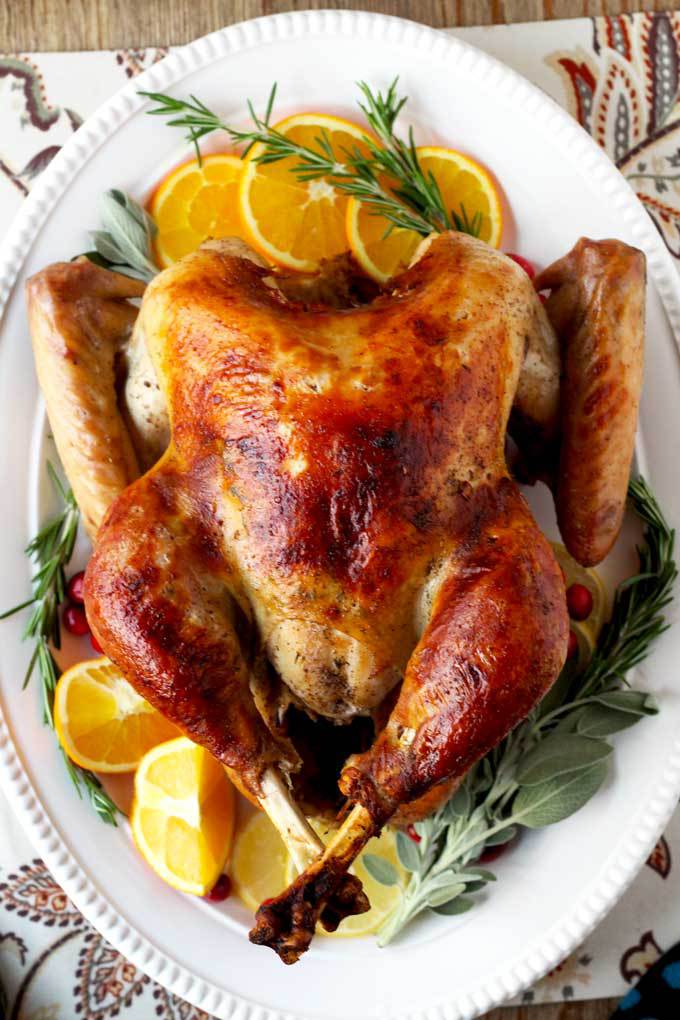 INSTANT POT TURKEY BREAST- by Soulfully Made (Recipe Here)
Ready in no time at all this Instant Pot Turkey Breast is melt in your mouth juicy and made with deliciously spices. They will never know if the turkey wasn't roasting in the oven all morning.
EASY SPICY HONEY GLAZED TURKEY– By Savory Spin (Recipe Here)
Looking to jazz up your turkey this Thanksgiving? Well, then this slightly spicy, slightly sweet, fully-flavor-packed, Easy Spicy Honey Glazed Turkey is for you!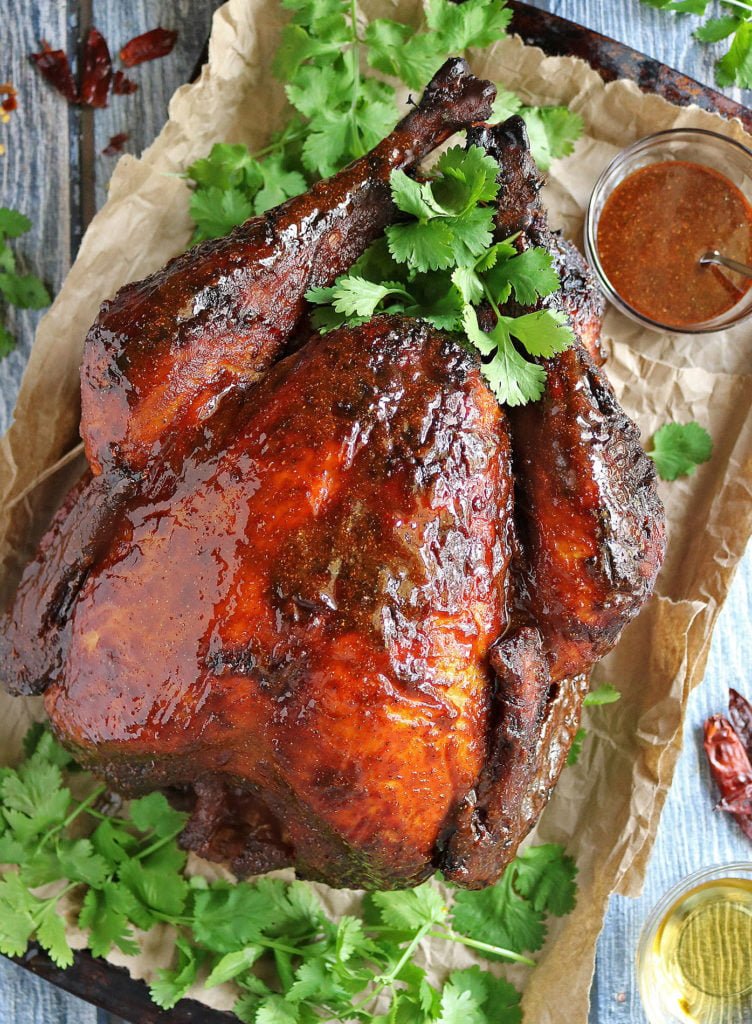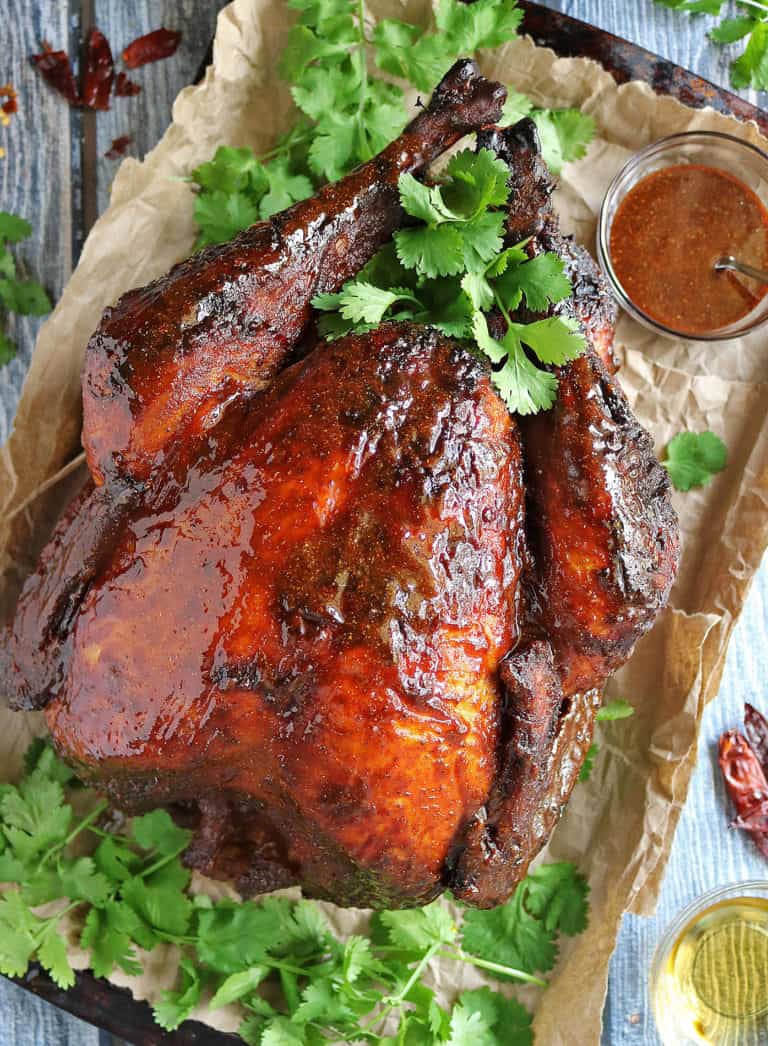 BROWNED BUTTER SAGE TURKEY- By The Speckled Palate (Recipe Here)
Prepare a showstopping entree for the holidays this year! Browned Butter Sage Turkey is a decadent twist on the classic roasted turkey. This turkey makes a flavorful entree for Thanksgiving or ANY holiday celebration.
CITRUS AND HERB BUTTER ROAST TURKEY- By Suburban Soapbox (Recipe Here)
The easiest turkey ever made. This Citrus and Herb Butter Roast Turkey is moist, tender and juicy. So simple to make and will definitely steal the show at your Thanksgiving dinner.
HOW TO COOK A TURKEY WITH MAPLE BUTTER- By Eating Richly (Recipe Here)
This delicious whole turkey is roasted in a flavorful maple butter packed with fresh herbs and lemon zest.
GRILLED TUSCAN STYLE TURKEY- By Just A Little Bit Of Bacon (Recipe Here)
Grill your turkey this year! Tuscan grilled turkey is rubbed with rosemary and citrus zest, then grilled to golden brown on the outside and juicy on the inside.
ROAST TURKEY WITH APPLE CIDER BRINE- By Flavor Mosaic (Recipe Here)
This Roast Turkey with Apple Cider Brine is our family's recipe for a moist, juicy, and golden roast turkey for our Thanksgiving or holiday table. The secret to this turkey recipe is the Apple Cider Brine and lots of butter.
DRY BRINED ORANGE ROSEMARY ROASTED TURKEY- By Flavor The Moments (Recipe Here)
Dry Brined Orange Rosemary Roasted Turkey is the easy way to brine your turkey with no messy liquid! Roast it to perfection for a juicy, flavorful turkey with the crispiest skin ever.
HOW TO BARBEQUE A TURKEY- By Coupon Clipping Cook (Recipe Here)
This turkey is easy to make and looks so pretty on the table. It has a light smokey flavor and is tender as can be. The drippings from this turkey makes such a delicious gravy too.
THE BEST BRINED WHOLE TURKEY AND TIPS FOR A JUICY BIRD- By Easy And Delish (Recipe Here)
A very popular seasonal recipe in my blog teaching how to brine and roast a whole turkey to come out juicy.
Well, this is it, my friends! I had so many recipes to choose from and such a hard time to pick the best ones, but here I am at the end of this post, hoping you will find the perfect recipe for your Thanksgiving or Christmas celebrations! I hope your house is full of family and friends and your table full of beautiful dishes!
Happy holidays, everyone!