The best next thing to the turkey for Thanksgiving is the side dish. This round-up will bring you some of the best easy side dish recipes from around the web. I hope this makes you really hungry and inspired to get in the kitchen and make some of them.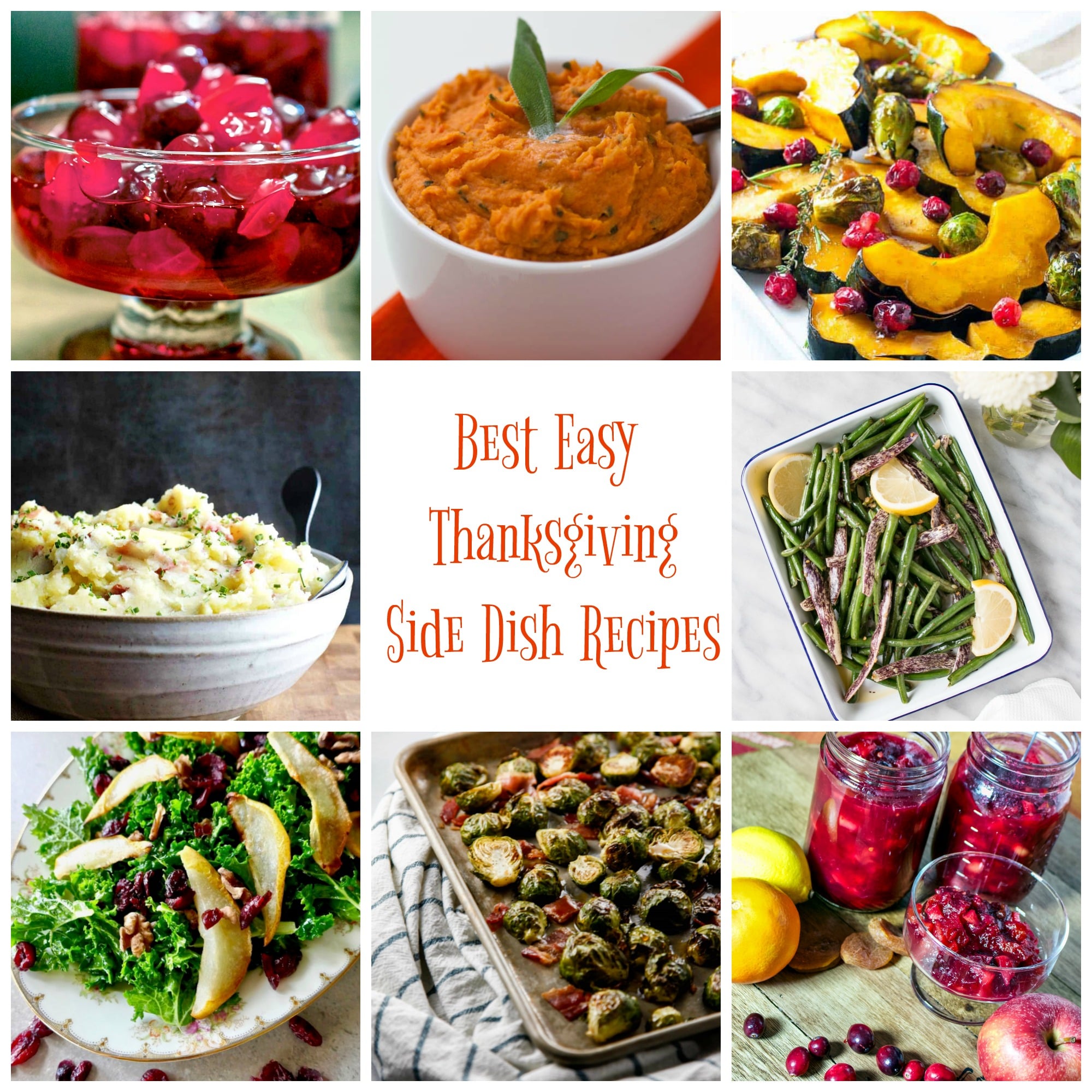 If you are new to cooking a Thanksgiving meal, this post is a good place to start.  If you also need to make a turkey recipe, you might find some recipes here. 
Thank you to all the bloggers who participated in this round-up. You are all amazing!
Best Easy Thanksgiving Side Dish Recipes:
This delicata squash salad with persimmons is the perfect seasonal addition to your Thanksgiving spread.
This honey balsamic roasted acorn squash makes a tasty, colourful side dish for any special dinner. Takes less than 30 minutes to make. Great for holiday meals!
Garlicky Green Beans are a tasty way to brighten any (holiday) table. This sautéed green beans recipe results in crunchy and flavourful green beans. 
Got the cranberry blues? Looking for a change-up? Either way, this relish will brighten any holiday meal. Crunch of the pomegranate, refreshing mint, and some tang from the vinegar and lemon juice is enough for this dish to earn a permanent spot on my holiday menu.
Browned butter mashed sweet potatoes with sage is an easy Thanksgiving side dish recipe, but it's delicious to eat any time of the year.
Delicious fall vegetables and chestnuts are roasted and then quickly glazed in a bit of maple and butter for a luscious side. It tastes amazing and sounds sinful but is a delicious and nutritious side dish.
This roasted pear, walnut, and cranberry salad is a great side for a holiday dinner or any weekday meal. The salad is paleo, vegan, gluten free, dairy free, and Whole30 friendly.
Swap out the heavy cream and carbs of mashed potatoes for this paleo mashed cauliflower kale. It's dairy free, gluten free and also includes an easy Instant Pot cooking option.
You can't have Thanksgiving dinner without cranberry sauce…at least that's true in my house.  Whole berry cranberry sauce is my favorite and it's easy to make.  I always think anything you can make from scratch is so much better and healthier than what you can buy, already prepared in the store.
Mashed Red Potatoes are delicious enough to serve as a holiday side dish, but easy enough to make on a busy weeknight. Lightly salty and rich with olive oil, butter and garlic, you'll want to serve these potatoes with everything!
This recipe for Roasted Brussel Sprouts with bacon is easily the best by far. Quick and delicious, brussel sprouts will become your favorite vegetable!

A simple, healthy, and tasty side dish, Roasted Shredded Brussels Sprouts with Pancetta and Pecorino is a perfect side for your Thanksgiving table, or any time your menu calls for it!
Vegan Sweet Potato Casserole topped with a crunchy pecan crumble. It's THE perfect holiday, or anytime, side dish. Low-fat, plant-based, healthy, and delicious.
Farro and Wild Rice Pilaf (or Stove Top) with dried cherries, fresh herbs, and toasted hazelnuts adds delicious flavor and texture to your holiday table.
Looking for a healthy and delicious side dish? Look no further! This Butternut Squash and Kale recipe is easy to make, HEALTHY, and so yummy!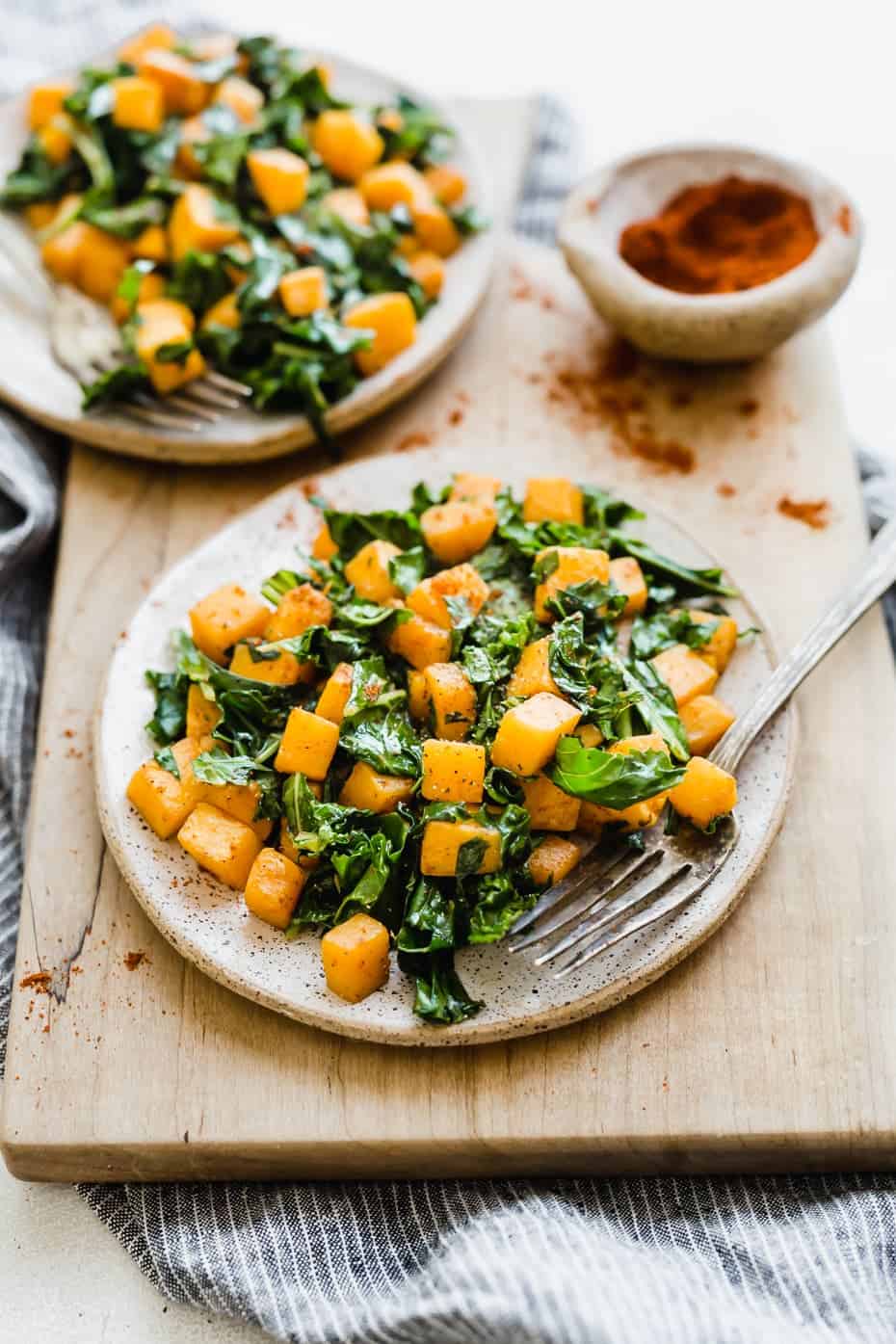 Sautéed rapini is a simple side dish of Italian style broccoli. It is very nutritious, a tiny bit bitter, and definitely one of my favorite green vegetables. Use it in pasta and polenta dishes, too!
Grand Marnier Orange Cranberry Sauce makes traditional cranberry sauce a new favorite side dish for Thanksgiving, or any other time of year!
Cranberry pear salad with fresh pear vinaigrette is an addicting blend of crisp romaine, juicy pear, dried cranberries, feta cheese, and toasted almonds tossed in a fresh pear vinaigrette!
A quick and delicious vegetable side dish recipe. Tender, crisp, colourful French green beans get a flavour boost from the addition of garlic and ginger.
Just like any good American Thanksgiving squash dish, this one is sweet. But not overwhelmingly so. The sweetness enhances, not dominates, the squash.
In this Massaged Kale Salad with Roasted Squash, Goat Cheese, and Pepitas kale is lightly massaged with olive oil, salt and pepper, before being tossed with roasted delicata squash, roasted red onions, herbed goat cheese, and pepitas.
Quinoa-Cranberry Pilaf is filled with good-for-you ingredients of fresh fennel, kale, onion, cranberries and pecans mixed with the fluffy quinoa.
This Orange Pistachio Pomegranate Couscous Salad recipe is very easy to make with pantry staples and comes together in just 15 mins. A colourful vegan couscous salad suitable for Thanksgiving and Christmas. Suitable for Vegan diets. Post includes Weight Watchers points.
This Fall Harvest Salad with Pumpkin Goddess Dressing celebrates the bounty of the season in a beautiful combination of tastes and textures!
Zucchini Chickpea Quinoa Salad mixes zucchini, chickpeas, quinoa, fresh parsley and green onions, all tossed in a spiced olive oil dressing.  This quinoa salad recipe has the rich, warm flavors of cumin, turmeric and paprika and makes a healthy, filling lunch.
Easy to make, colorful and flavorful, this butternut squash wild rice salad would be perfect for a potluck, on a Holiday table or in your lunch box.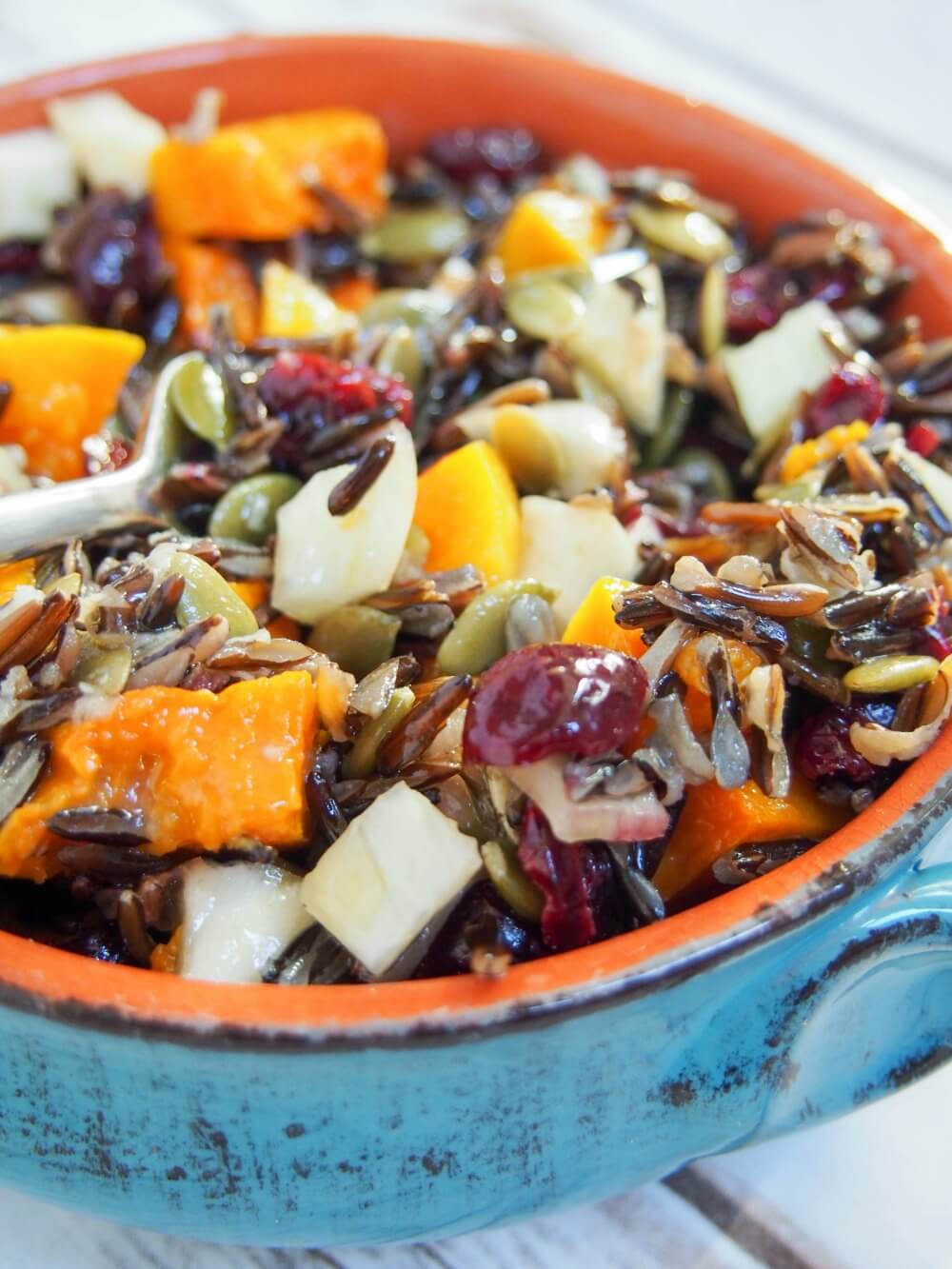 Roasting Brussels sprouts and delicata squash brings out their natural sweet flavors. This easy side dish is delicious, colorful and a perfect side dish for a fall or Thanksgiving dinner.
Stuffed acorn squash makes your Thanksgiving (or any) meal complete! This easy, vegan side dish can be prepped in advance, tastes amazing, and looks beautiful on the table 365 days a year.
This delicious broccoli casserole from scratch is filled with fresh broccoli, mushrooms, cheddar cheese, and a homemade cream sauce. A buttery, cheesy breadcrumb topping adds a crispy finishing touch to this classic dish.
This maple roasted beets and carrots recipe is an easy, colorful, and healthy side dish. Perfect for your holiday table! Only 5 everyday ingredients are needed for this tasty recipe.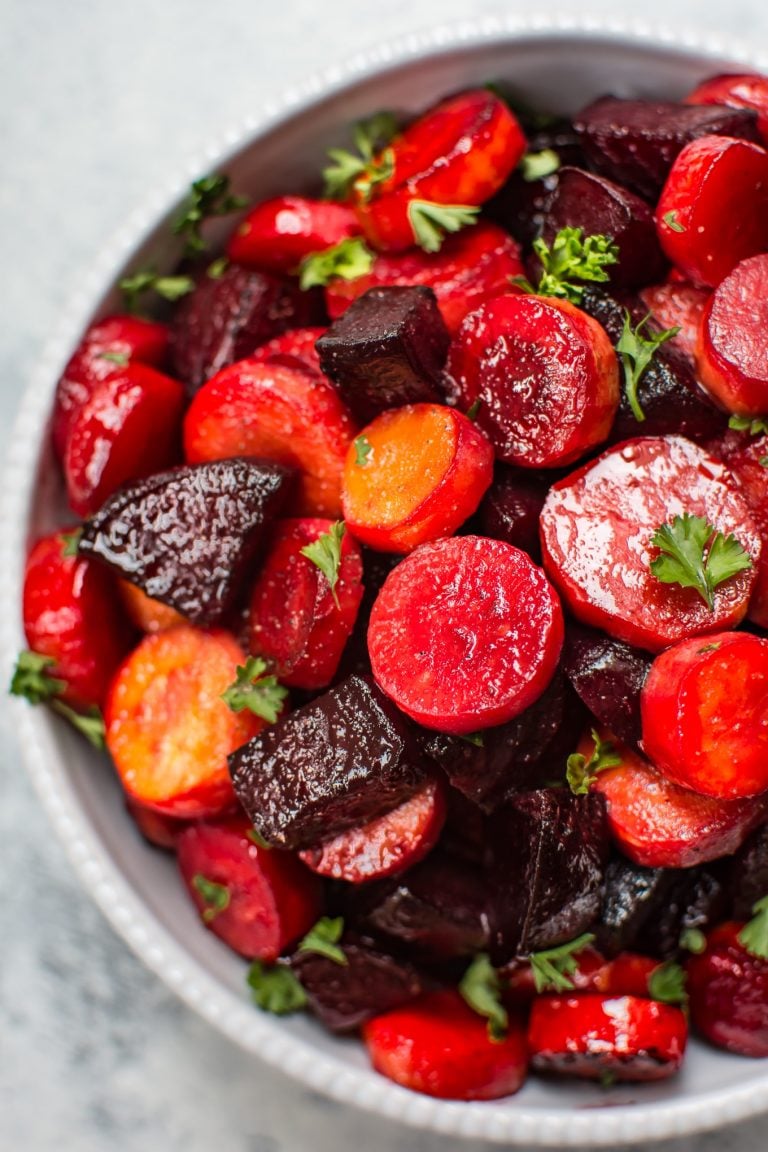 This fall fattoush salad recipe is fresh, bright, healthy, and given an autumn twist with roasted acorn squash. A beautiful addition to your dinner table!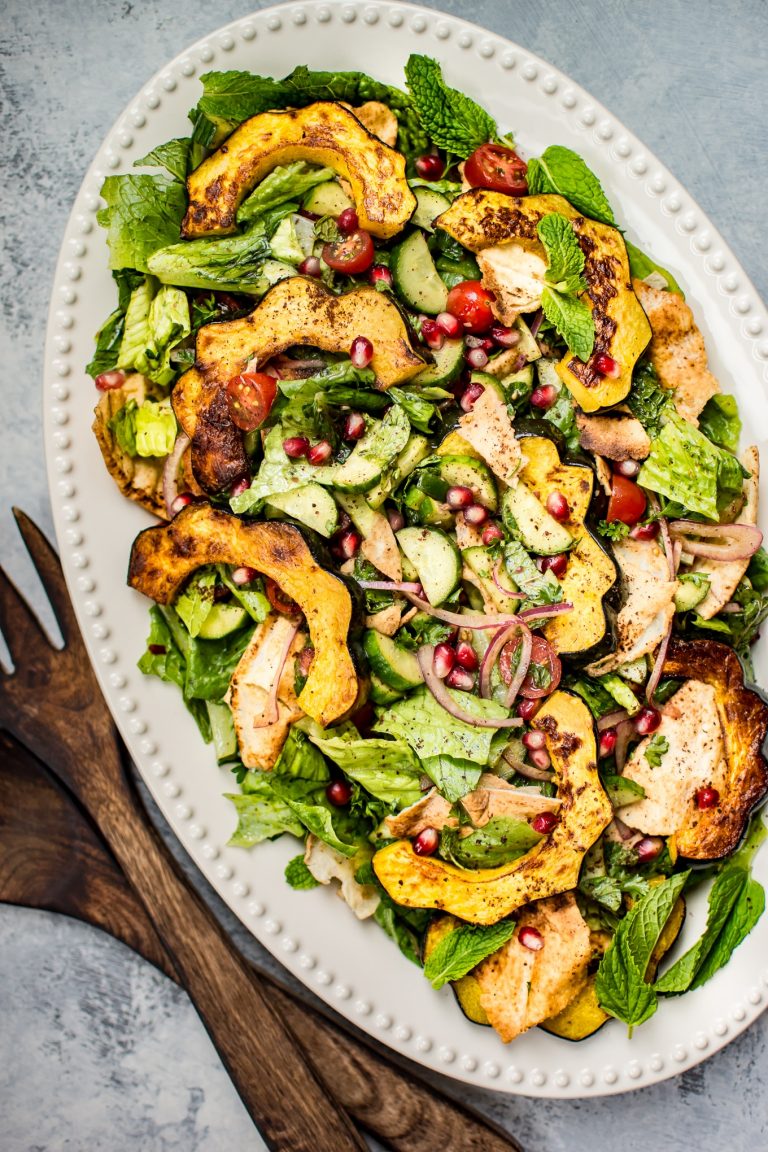 Roasted new potatoes and brussels sprouts, mixed with pomegranate, roasted garlic, and lots of spices, make for a beautiful holiday side dish with festive colours. Meaty brussels sprouts and crispy potatoes combine with bright pops of pomegranate here for a special vegan side.
This fast and easy roasted lemon-chili broccoli makes a delicious side dish. There isn't anything boring about this recipe! 
Are you ready for the holidays cooking? Here you have a great, easy sausage, cranberries and walnuts stuffing recipe.
 Scalloped Corn with vegetables is one of my favorite recipes for Thanksgiving dinner. Very easy to put together and delicious, this recipe is perfect for the holidays.
PIN this post for later: