Are you looking for a Savory Sweet Potato Casserole? Look no more! This is a recipe of a delicious side dish that could be served for the holidays.
It is that time of year, again, people, when we are getting ready for the holidays. We start with Thanksgiving that sometimes can be very stressful if you don't get organized.
I try to stay focused and plan a little bit in advance. From grocery shopping to menu, I kind of like to know what I am going to do the week of Thanksgiving.
To tell you the truth, having a food blog puts me into the Thanksgiving mood way too early, as I try to prepare, take photos and write as many recipes I can for Thanksgiving, with enough time in advance.
Some years we get so tired of Thanksgiving dishes cooked in advance for the blog, that I have to scratch my head again that week and come up with something we did not have in a while. #lifeofablogger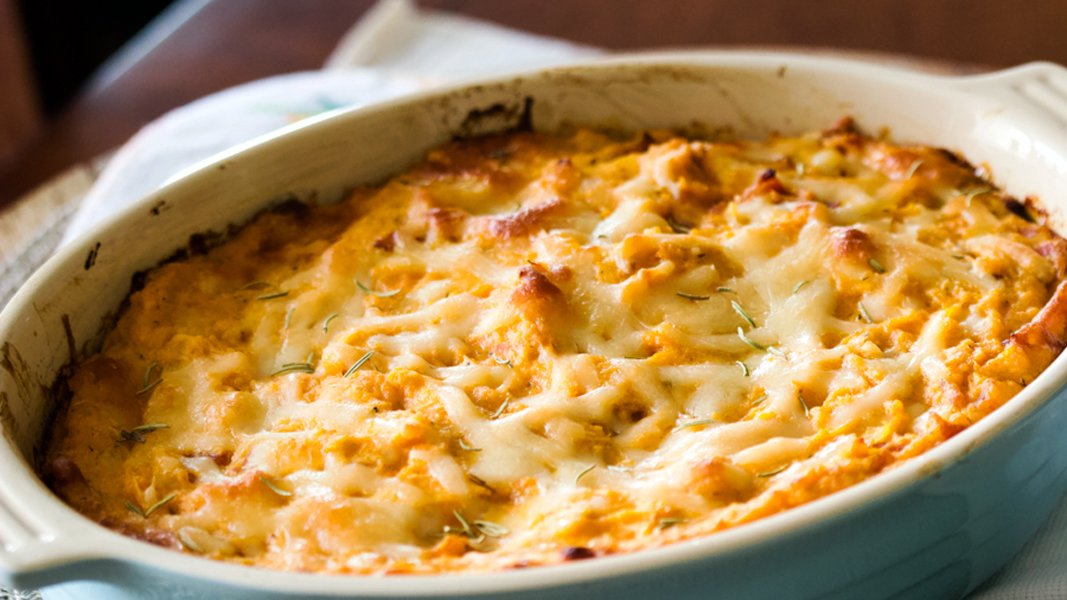 However, for you, that you don't need to worry about cooking Thanksgiving dishes in October, you always need to make a plan on what are you going to serve and make sure you have everything you need if you entertain in your house.
You can take a look at my list of kitchen gadgets and make sure you have everything you need. There is still some time to order few things online if not.
After you make sure you have the tools, then you can start planning the menu. How many people are coming, who brings what, what are you going to prepare, these questions are very important when it comes to organizing a party.
I have plenty of ideas to get inspired from, so click here.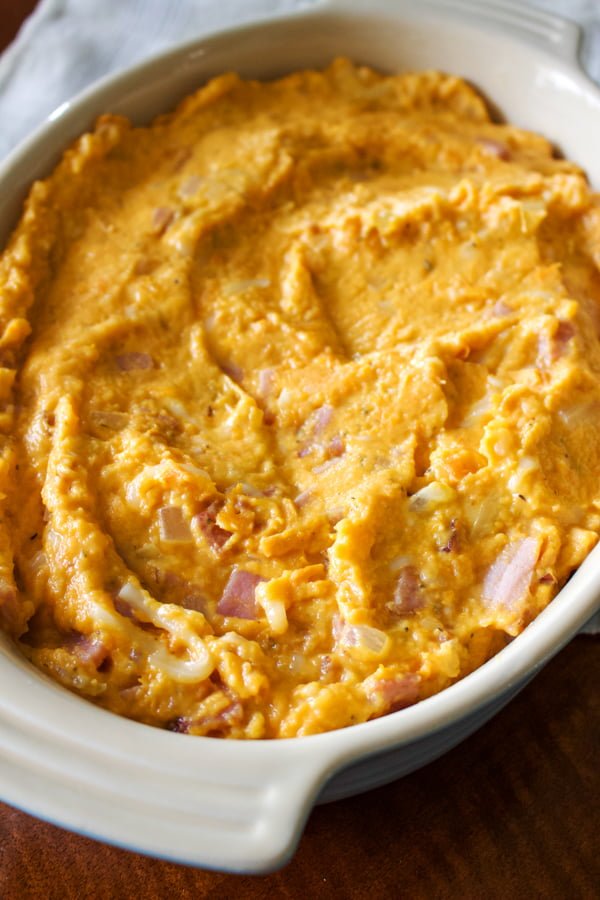 ANYWAY. I am not a fan of the typical sweet potato casserole, you know, the one with brown sugar and marshmallows and made with cans of candied sweet potatoes. I cannot handle a lot of sugar, so I prefer to stay away from it.
I am sure I am not alone out there. Lots of people are trying to avoid too much sugar and carbs and Thanksgiving meal can be really tricky and challenging sometimes, when you have health issues.
However, I absolutely love sweet potatoes. They are already sweet and good for you. Sweet potatoes contain nutrients, fibers, complex carbohydrates, vitamin B6 and believe it or not, Vitamin C, when baked.
This dish is savory, does not have any sugar and it is made from fresh potatoes. It can also be made with leftover mashed potatoes, after holidays, when we look to use up the leftovers.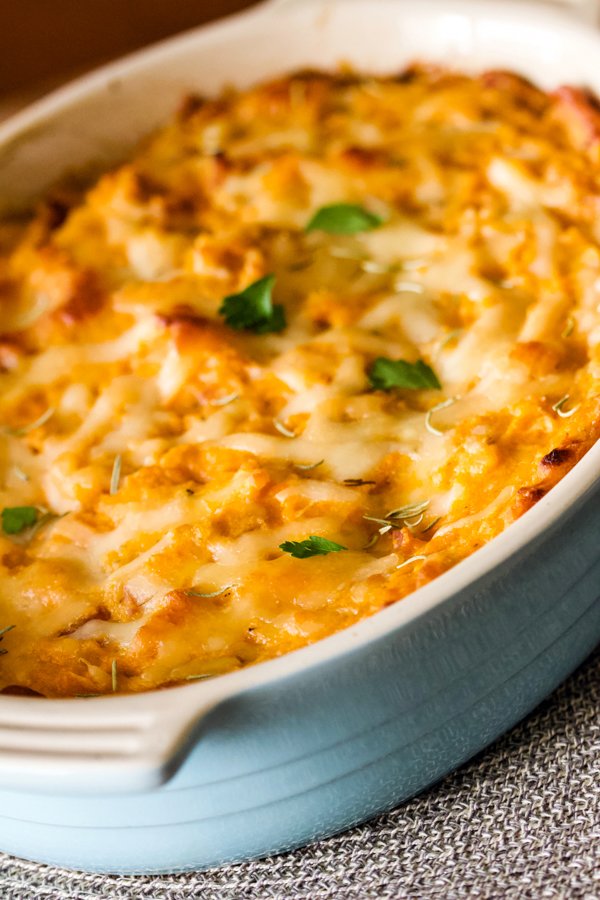 In general, I don't use the microwave that much, because I did not have one when I was growing up, but I like baking potatoes in it.
For this dish, I preferred to peel the potatoes and place them in the microwave. I baked them accordingly using the baked potato setting. It was an easy operation, pretty much painless.
After that, I just mashed them and continued with the recipe. I saw this recipe out there made with bacon instead of ham.
My husband has a hard time digesting fats lately, therefore I chose ham because it is lean and easier to digest.
I am sure there are a lot of people out there who have different dietary needs, so I would say, use what you like. You can even skip the ham or the bacon and make this dish vegetarian.
It is an easy recipe and perfect to bake with a day before. You could skip the last step of adding the cheese on top of the dish until the day you are actually going to serve it.
I kind of like cooking for Thanksgiving. Most of my recipes are baked in the oven, so I can make most of them on the day before and just reheat before the guests arrive.
It makes my life super easy that day!
FEW SUGGESTIONS OF THANKSGIVING SIDE-DISH TO MAKE IN ADVANCE:
Easy Baked Pumpkin Mac And Cheese
Vegetarian Wild Rice And Mushroom Stuffing
Easy Sausage, Cranberries and Walnuts Stuffing
Baked Brandied Cranberry Sauce(my favorite)
Scalloped Corn With Vegetables(also my favorite)
On the Thanksgiving Day, I usually prepare the appetizers, the turkey, maybe a salad, while my husband helps with the table and the last details around the house.
Getting back to the recipe I was describing earlier, after the potatoes are cooked, you just have to place them in a bowl and mash them.
Separately you cook the ham and the onions together and add them to the potatoes.
Then you add the rest of the ingredients. Do not add all the cheese at once, mix a cup of cheese with the potatoes and keep the rest of it to sprinkle with 5 minutes before you remove the dish from the oven.
The total time for baking this dish is about 30 minutes, so not too bad.
The result is a delicious, full of flavor casserole that everyone will love. Serve it with your favorite meat, salads and everything else in between and have a lovely, healthier, delicious Thanksgiving, my friends! See you next time!
Yield: 8 servings
Savory Sweet Potato Casserole- Delicious Thanksgiving Side Dish
Are you looking for a Savory Sweet Potato Casserole? Look no more! This is a recipe of a delicious side dish that could be served for the holidays. 
Total Time
1 hour
20 minutes
Ingredients
4 big sweet potatoes uncooked(or 6 cups mashed cooked sweet potatoes)
4-5 slices of ham, chopped small
1 tablespoon oil
1 large onion, thinly sliced
1 teaspoon thyme
1 teaspoon marjoram
4 tablespoons unsalted butter, melted
1 1/2 cups shredded cheese(mixture of Swiss and Gruyere works well)
1/2 cup heavy whipping cream
1 large egg
1 1/2 teaspoon salt
1/4 teaspoon ground black pepper
Instructions
Preheat oven to 350F.
Butter a baking dish and set aside.
To cook the potatoes, choose one of these methods: If you boil them, peel the potatoes and chop them in big cubes. Cook them in salted water until soft and a fork goes through them.
If you bake them, then peel the potatoes and place them in the microwave. Cook them on high according to your microwave instructions for baked potatoes.
When potatoes are cooked, mashed them and place them in a large bowl.
In a large skillet, heat up the oil and add the chopped ham. Cook for 4-5 minutes, then add the onion and continue cooking, stirring frequently, until golden brown, approximatelly 10 minutes. Stir in thyme and marjoram. Remove from heat.
In the bowl with the potatoes, add the cooked ham and onion mixture, melted butter, 1 cup cheese, heavy cream, beaten egg, salt and pepper. Stir everything together.
Spoon mixture into the prepared dish.
Bake until heated through, for about 30 minutes. Sprinkle the rest of the cheese and bake until melted, approximately 5 minutes or more.
Serve warm as a side dish.
Recommended Products
As an Amazon Associate and member of other affiliate programs, I earn from qualifying purchases.
Nutrition Information:
Yield:
8
Serving Size:
1
Amount Per Serving:
Calories:

503
Total Fat:

26g
Saturated Fat:

14g
Trans Fat:

0g
Unsaturated Fat:

11g
Cholesterol:

108mg
Sodium:

1080mg
Carbohydrates:

48g
Fiber:

7g
Sugar:

15g
Protein:

20g