Note: "We are a participant in the Amazon Services LLC Associates Program, an affiliate advertising program designed to provide a means for us to earn fees by linking to Amazon.com and affiliated sites."
Last year, I received a jar of these baked brandied cranberries sauce from my good friend, Audrey. Audrey "adopted" me long time ago, when I arrived to United States. She shared with me, over the years, many of her favorite recipes for the holidays. Some of these recipes also became part of my Thanksgiving collection that we cherish and love so much.
This year, I think the sauce will be incorporated into my growing recipe collection for Thanksgiving. It is a lovely and super easy recipe to make. It is so easy to put together that you have no excuse to keep buying that can of cranberry sauce from the store! Why? Because this is the best cranberry sauce you will ever eat!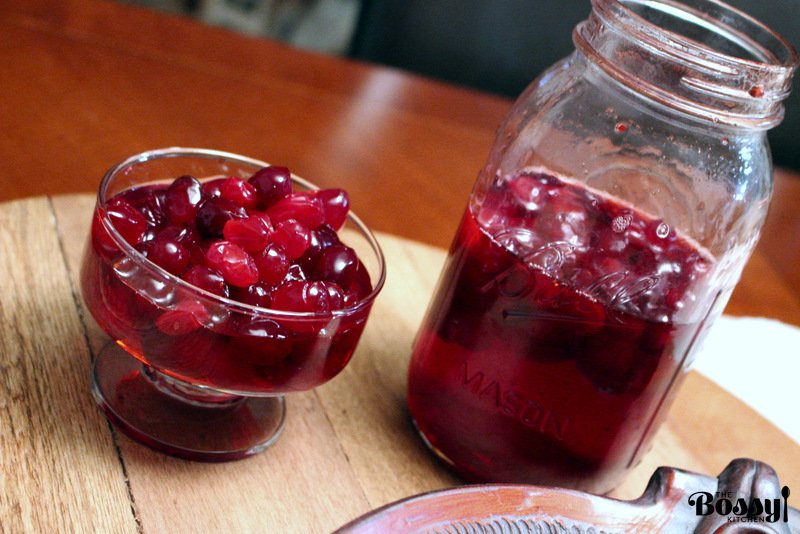 It keeps in the refrigerator for a long time and it goes well with all kind of meats.
A very handsome and delicious treasure! Happy Thanksgiving everyone!

Baked Brandied Cranberries Sauce
Author:
The Bossy Kitchen
Ingredients
12 oz (one) bag of cranberries
1 cup brandy
1½ cups granulated sugar
Optional: zest from one orange
Instructions
Put cranberries in a 9x13 pan.
Mix brandy and sugar and pour over the cranberries. Optional add the orange zest.
Cover with tinfoil. Bake at 350 degrees for 1 hour – no peeking.
Pour into pint jars and store in the refrigerator.