Note: "We are a participant in the Amazon Services LLC Associates Program, an affiliate advertising program designed to provide a means for us to earn fees by linking to Amazon.com and affiliated sites."
I am sure many of you already know at least one version of this recipe of broccoli salad with bacon that is so popular in United States. For the rest of you out there who like to try something new, this is a great recipe that can be made all year around.
In Minnesota, we make it a lot in the winter, around holidays like Thanksgiving or Christmas. However, you can make this salad for lunch and it travels really well if you take it to a potluck.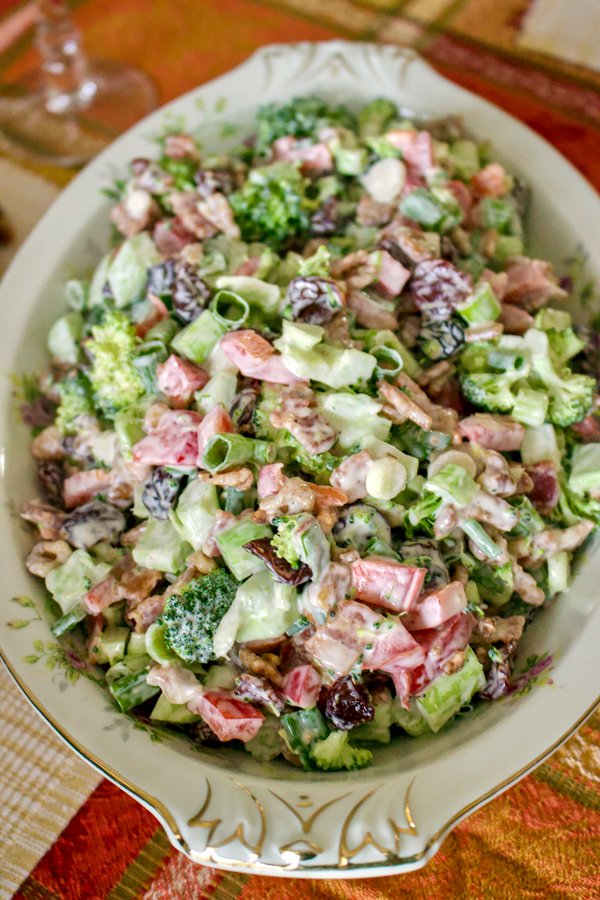 The main ingredients are broccoli, red bell pepper, red onion, bacon, nuts and dried fruits, like cranberries, raisins or tart cherries. The salad is tossed in a lovely dressing made out of mayo, white vinegar and a little bit of sugar.
Be creative and make the salad with the ingredients you have available in the kitchen. For example, if you don't have dried cranberries, use raisins or tart cherries. If you do not have sunflower seeds, use pecans or walnuts. If you don't have red onion, use green onion or regular.  The flavors are obviously not identical, but the idea is the same.
The textures of this salad are awesome, crunchy vegetables combined with the smoked bits of bacon, the nuts and the delicate, sweet dried fruit. The ingredients complement each other and create a beautiful salad that everyone will enjoy.
It is also very easy and fast to make, so no excuse to skip it! Enjoy!

Classic Broccoli Bacon Salad
Author:
The Bossy Kitchen
Ingredients
2 medium broccoli heads cleaned and chopped bite size
1 red bell pepper chopped bite size
½ pound bacon cooked and chopped
½ cup unsalted sunflower seeds , pecans or walnuts
½ cup dried cranberries , raisins or tart dried cherries
1 medium red onion cut julienne (or 2-3 medium green onions)
½ cup mayo
1 Tbsp white wine vinegar
1 tsp sugar
salt and pepper to your taste
Instructions
Chop the broccoli, red bell pepper, and bacon. Toss them in a salad bowl.
Slice the onion julienneand add it to the bowl.
Add sunflower seeds or nuts and the dried fruit.
Make a dressing out of mayo, salt, pepper, sugar and white wine vinegar.
Pour the dressing over the other ingredients and toss to coat.
Refrigerate until ready to eat.