Romanian Beef Salad (Salada de boeuf) is a traditional, popular recipe usually made during the holidays, like Christmas, New Year's Eve, or Easter.
The main ingredients are root vegetables, cooked beef, or chicken mixed with pickled vegetables and mayo.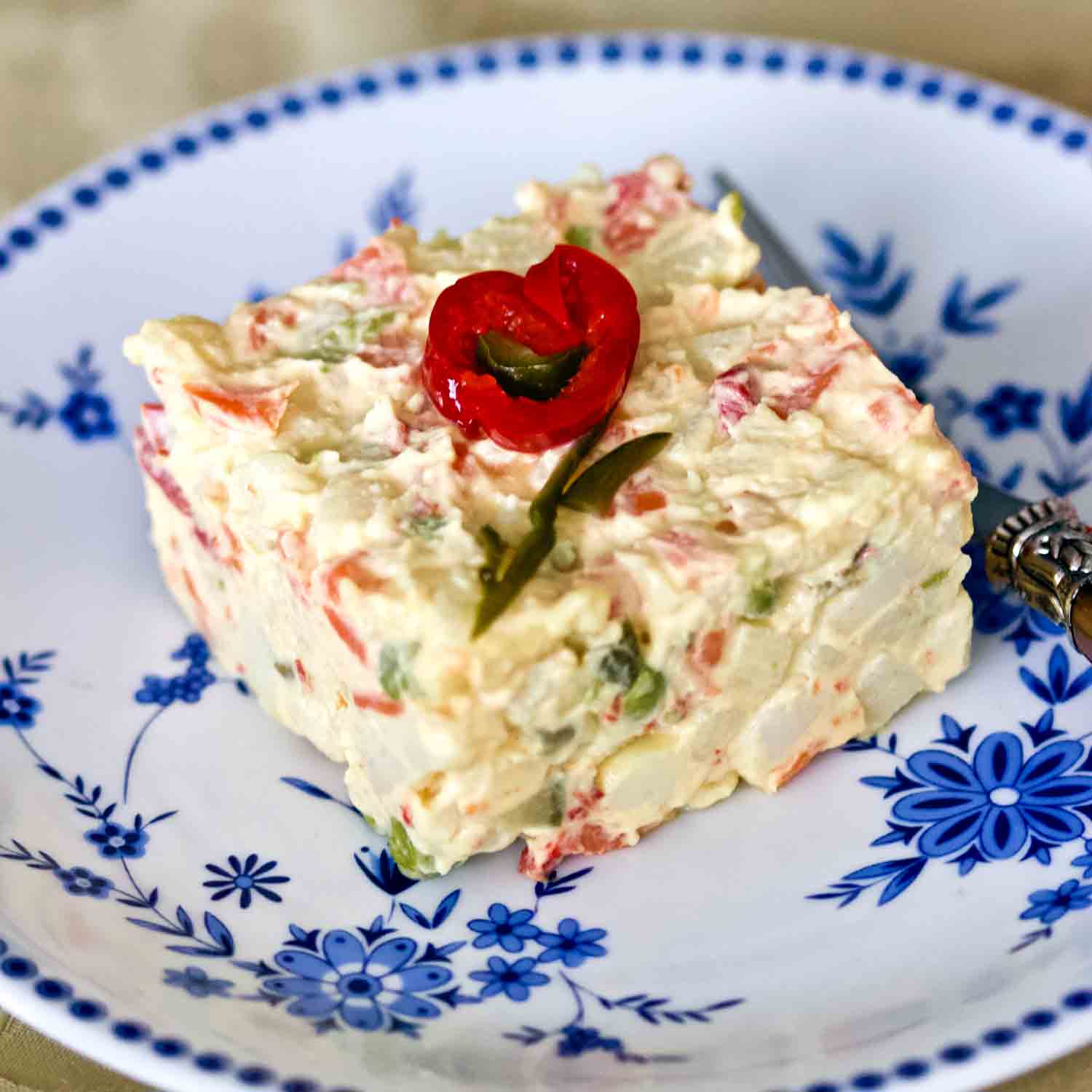 I would not be truly Romanian if I would not share with you this salad recipe. The Romanian beef salad or "Salada de boeuf" is considered a traditional recipe for Christmas, New Year's, and Easter.
No matter where Romanians live worldwide, this salad will be on the table for these celebrations.
There is no right or wrong way to make this salad. Every family has its own recipe, and all of them are delicious.
Jump to recipe
What goes into this Romanian beef salad:
Meat- Beef, chicken, or turkey are wildly accepted
Potatoes- I use Russet potatoes or Yukon
Carrots
Parsnip
Celeriac
Peas- I like using frozen peas and cook them a little bit, but canned peas would also work. Just make sure you drain them very well before you add them to the salad.
Pickles- like pickled cucumber and red peppers in vinegar
Mayo
Mustard
Salt and pepper
Other ingredients you can use:
Hard-boiled eggs
Olives
Ham instead of cooked beef, chicken, or turkey
What other countries add to this salad:
The salad is also widely popular in the Balkans/Eastern Europe, but you can also find it in other European countries. In Bulgaria, for example, people add salami or ham.
In Spain, this salad is trendy and often served as tapas. It is called Ensaladilla Rusa and has tuna, boiled eggs, and roasted peppers.
By the way, I am not an artist, so please be kind with my Christmas tree on top of the salad (see picture below). It is not the perfect one, but it was edible, so we were happy with it! 🙂
"Boeuf" means beef in French; for that reason, the salad is called beef salad. However, I also noticed that many Romanians use chicken meat instead, which is wildly accepted.
When I was growing up, though, the times were difficult, and the meat was scarce, so I do not remember my mother ever adding meat to this salad, but I remember having this salad with beef on other occasions outside of the house.
If you need a vegetarian salad, you can definitely leave the meat out and use only vegetables.
As you can see, we have here a star that deserves your attention. It is versatile, easy to make, and so delicious.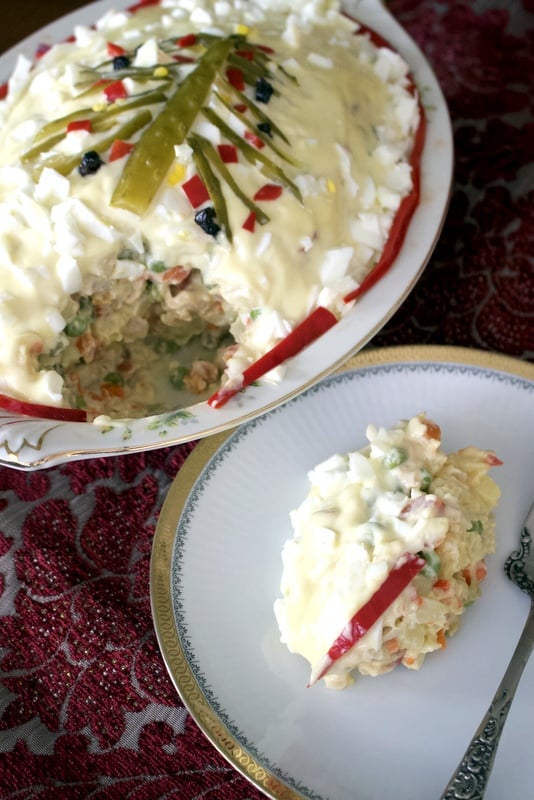 The secret to a successful Romanian beef salad is to dice the ingredients very small.
My daughter loves this salad for the holidays, and she is happy to help chop the ingredients, but she still has this memory from her younger years, when my bossy attitude came out, and I asked her to chop the vegetables again because they were too big.
I know I am not perfect. As I get older, I understand that it doesn't really matter how the vegetables look in the salad.
When you smother them in mayo, you cannot tell. However, my daughter still works hard to dice them properly and now, that she is an adult and we love to have fun together in the kitchen, she scolds me if the carrots are not the right size!!! 🙂
If I compare this salad to an American salad, this recipe would be the closest to the classic potato salad.
I used pickled cucumbers from the jars I canned in the fall, which I usually buy at the Farmers Market.
I also used pickled red peppers I made last summer.
Oh, the pile of recipes I want to share with you seems to grow every day, to my desperation! However, looking at the positive side, sharing recipes with you can keep us all entertained for a long time! 🙂
These beautiful pickled vegetables are an excellent way to preserve goodies from the Farmers Market.
Sweet peppers, cauliflower, carrots, horseradish are all sitting happily in a vinegar juice combined with spices and herbs, waiting for the day when they can see the light of the day in this beautiful beef salad.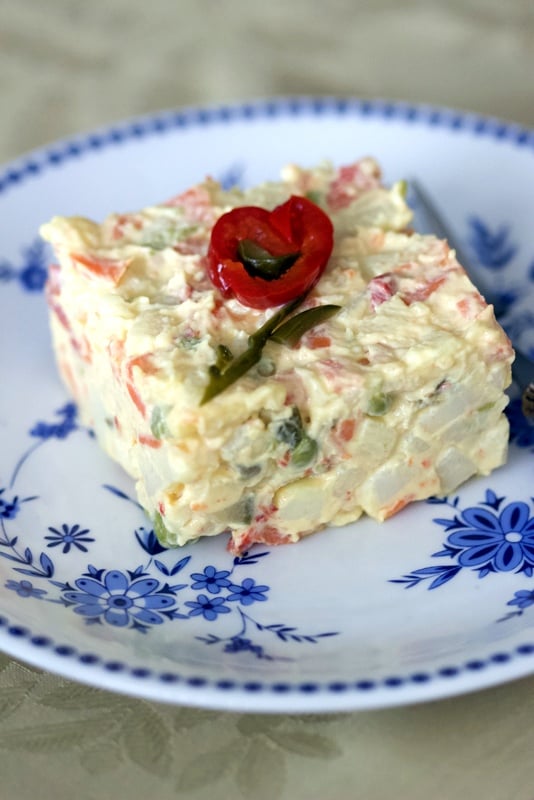 Soooo, if you love this recipe, and most importantly, make it yourselves, please let me know. Take a picture and tag it with #thebossykitchenggk on Instagram so we can all see it. I always love to see what you come up with!
And don't forget to follow me on Facebook, Pinterest, and Twitter. This is the easiest way to stay connected with my work. You can also join The Bossy Kitchen community group to share their creations made from this blog or their favorite recipes!
See you next time!
Yield: 6-8 servings
Romanian Beef Salad(Salata De Boeuf)
Romanian Beef Salad (Salada de boeuf) is considered a traditional recipe for Christmas, New Year's, and Easter. The salad is also widely popular in the Balkans/Eastern Europe. Root vegetables, cooked beef, or chicken mixed with pickled vegetables and mayo are the main ingredients.
Ingredients
1 pound beef (chicken or turkey are also accepted)  
1 pound potatoes peeled
½ pound carrots peeled
½ cup frozen green peas
1 cup mayonnaise
3-4 tablespoons mustard
1 cup pickled cucumbers chopped
1 cup pickled red peppers chopped
salt and pepper to taste
Optional for decorating the salad:
olives, pickled vegetables, boiled eggs, parsley leaves, etc.
Instructions
Place the meat in a pot of salted water and cook until tender for about an hour. Remove the meat from the water and set it aside to cool.
In the same pot where you boiled the meat, place whole potatoes and whole carrots and bring to a boil. Reduce the heat and simmer them until a fork goes through them for about 25 minutes or so.
Cook the peas in salted water for about 5 minutes or until soft but not mushy.
Dice the meat, potatoes, and carrots. You should have small pieces.
Place meat, potatoes, carrots, and peas in a big bowl.
Drain the pickled vegetables very well, dice them, and add them to the rest of the ingredients.
Add mayo and mustard, season with salt and pepper, and mix everything.
Season with more salt and pepper if necessary.
Traditionally, the top of the salad is smoothed out with a spatula, then a thin layer of mayo is spread to cover the surface, then decorated.
Refrigerate, then serve. The leftovers are good for 3-4 days.
Serve the salad cold.
Nutrition Information:
Yield:
8
Serving Size:
1
Amount Per Serving:
Calories:

435
Total Fat:

31g
Saturated Fat:

7g
Trans Fat:

0g
Unsaturated Fat:

22g
Cholesterol:

84mg
Sodium:

363mg
Carbohydrates:

20g
Fiber:

4g
Sugar:

4g
Protein:

19g