Romanian Beef Salad (Salada de boeuf) is a traditional, popular recipe usually made during the holidays, like Christmas, New Year's Eve, or Easter.
The main ingredients are root vegetables, cooked beef mixed with pickled vegetables, and mayonnaise.
Jump to:
❓What is this Beef Salad (Boeuf Salad)
I would not be truly Romanian if I did not share this salad recipe with you. Boeuf Salad is usually made with cooked meat (that could be boiled meat, chicken, or even pork), potatoes, root vegetables, pickles, mustard, and mayonnaise. It is a staple at Romanian holiday tables, especially during Christmas, New Year's, and Easter. This salad is served as an appetizer or as a side dish next to fried or roasted meats.
The name "Salata de Boeuf" is quite intriguing because, although it's considered a traditional Romanian dish, the name itself is French. "Salata" means "salad" in Romanian, while "de Boeuf" translates to "of beef" in French.
However, its roots are more cosmopolitan than one might think. The dish was likely influenced by French or Russian cuisine, possibly as a simplified or localized version of the Russian Olivier Salad.
Salads that are similar to Salata de Boeuf are known by different names and variations in several countries. The closest cousin is probably the Russian Olivier Salad, which is immensely popular in Russia and many other former Soviet states like Ukraine, Belarus, and Kazakhstan.
The Olivier Salad typically includes boiled potatoes, carrots, peas, eggs, and some form of protein, which can be chicken, ham, or even bologna. You'd also find adaptations in the Balkans, like the Serbian "Ruska Salata" (Russian Salad).
In Spain and many countries in Latin America, this salad is trendy and often served as tapas. It is called Ensaladilla Rusa and has tuna, boiled eggs, and roasted peppers.
One thing is for sure, no matter where Romanians live worldwide, this salad will be on the table for the holidays. There is no right or wrong way to make this salad. Every family has its own recipe, and all of them are delicious.
💝Why you will love this Romanian Salad?
Flavorful Combination: The mix of tender beef (or other meats), root vegetables, pickles, and a creamy mayo-mustard dressing creates a harmonious balance of flavors that is rich and satisfying.
Versatile and Customizable: This salad is adaptable to various tastes and occasions. You can use different meats or adjust the quantity of pickles and mayo to suit your preference.
Festive and Colorful Presentation: Its visually appealing presentation, especially when decorated with olives, boiled eggs, and parsley, makes it an attractive addition to any meal, particularly during celebrations and holidays. It also feeds a crowd.
📝 Key Ingredients
Here is what you need for this delicious Boeuf salad. Make sure you scroll to the recipe card for the complete list of ingredients and instructions.
Meat: The original recipe requires beef, but chicken or turkey are widely accepted. Ham is also an option.
Potatoes: I use Russet potatoes or Yukon.
Root vegetables: Carrots, parsnip, celeriac
Peas: I like using frozen peas and cooking them a little bit, but canned peas would also work. Just make sure you drain them very well before you add them to the salad.
Pickles: I like pickled cucumber and red peppers in vinegar.
Mayonnaise: Homemade mayonnaise or store-bought are both accepted.
Mustard: Use regular mustard. You can also use a spicy mustard if you like your salad to have some kick.
Salt and pepper
To decorate the salad, you can use the following:
Hard-boiled eggs
Black or Green Olives
Pickles
By the way, I am not an artist, so please be kind with my Christmas tree on top of the salad (see picture below). It is not the perfect one, but it was edible, so we were happy with it! 🙂
👩‍🍳 How to make this Boeuf Salad
Step 1. The meat and the root vegetables should be cooked. If you use peas, they should be cooked as well. Frozen peas cook for a few minutes in salted water, while canned peas should be drained well before using them.
Step 2. Dice the cooked meat and vegetables and place them in a large salad bowl.
Step 3. Dice the pickled vegetables and add them to the bowl.
Step 4. Add mayo and mustard, and season with salt and pepper. Mix.
The finishing touches on a traditional Romanian Boeuf Salad usually involve a couple of key steps. After assembling the salad, its surface is smoothed out, often using a spatula to create an even layer. Then, a thin layer of mayonnaise is spread over this smoothed surface to cover it completely.
The final step is decoration, which can vary according to personal preference or tradition. This might include garnishes like olives, red peppers, or egg slices, artistically arranged to make the salad visually appealing.
💡 Expert tip:
The secret to a successful Romanian beef salad is to dice the ingredients very small.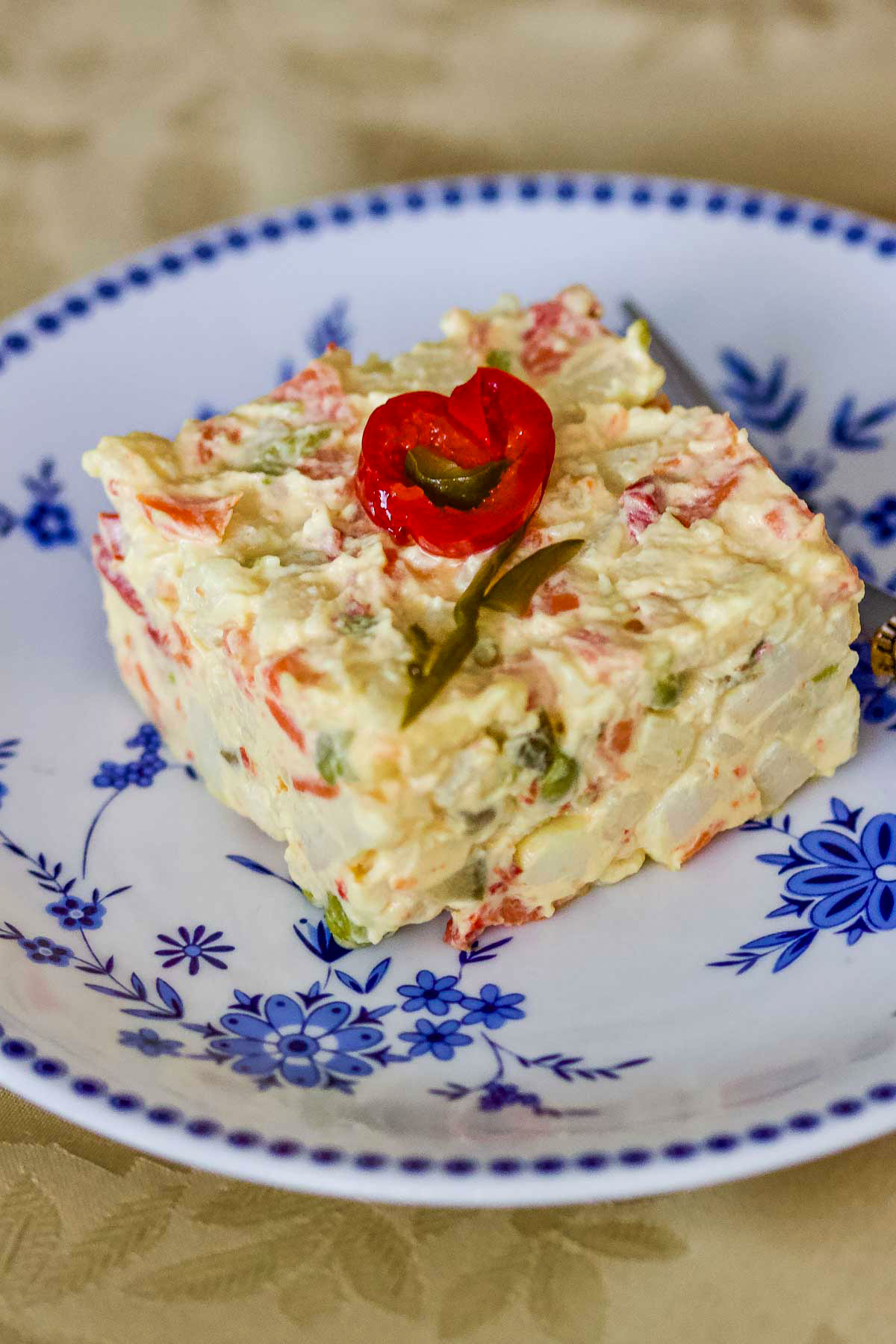 🍽️ How To Serve
Romanian Beef Salad (Salata de Boeuf) is typically served as a starter or a side dish during festive occasions like Christmas, New Year's Eve, and Easter. It's often enjoyed as part of a larger spread of dishes. Here's how it's commonly served:
As an appetizer: It can be served on small plates or as part of a platter, sometimes on lettuce leaves, for an elegant presentation.
With Bread: Often accompanied by crusty bread or dinner rolls, which complement the creamy texture of the salad.
As part of a buffet: During festive gatherings, it might be served alongside other traditional dishes like stuffed cabbage rolls (sarmale), various cold cuts, cheeses, and pickles.
With Wine: A glass of wine, typically a light white or rosé, can be a great pairing.
As a Standalone Dish: Sometimes, it's enjoyed on its own, especially when served as a light meal or snack.
🙋‍♀️ Recipe faqs
How do I store Boeuf Salad?
Store the salad in an airtight container in the refrigerator for up to 4 days. Freezing is not recommended, as the texture of the mayonnaise and vegetables can change after thawing.
Can you make Boeuf Salad vegetarian?
Yes, you can definitely leave the meat out and use only vegetables.
Can you make this Boeuf Salad lighter?
Yes, you can use light mayo and replace the beef with turkey or cooked chicken breast.
Is it okay to prepare the Boeuf Salad in advance?
Absolutely, making it a day ahead allows flavors to meld together.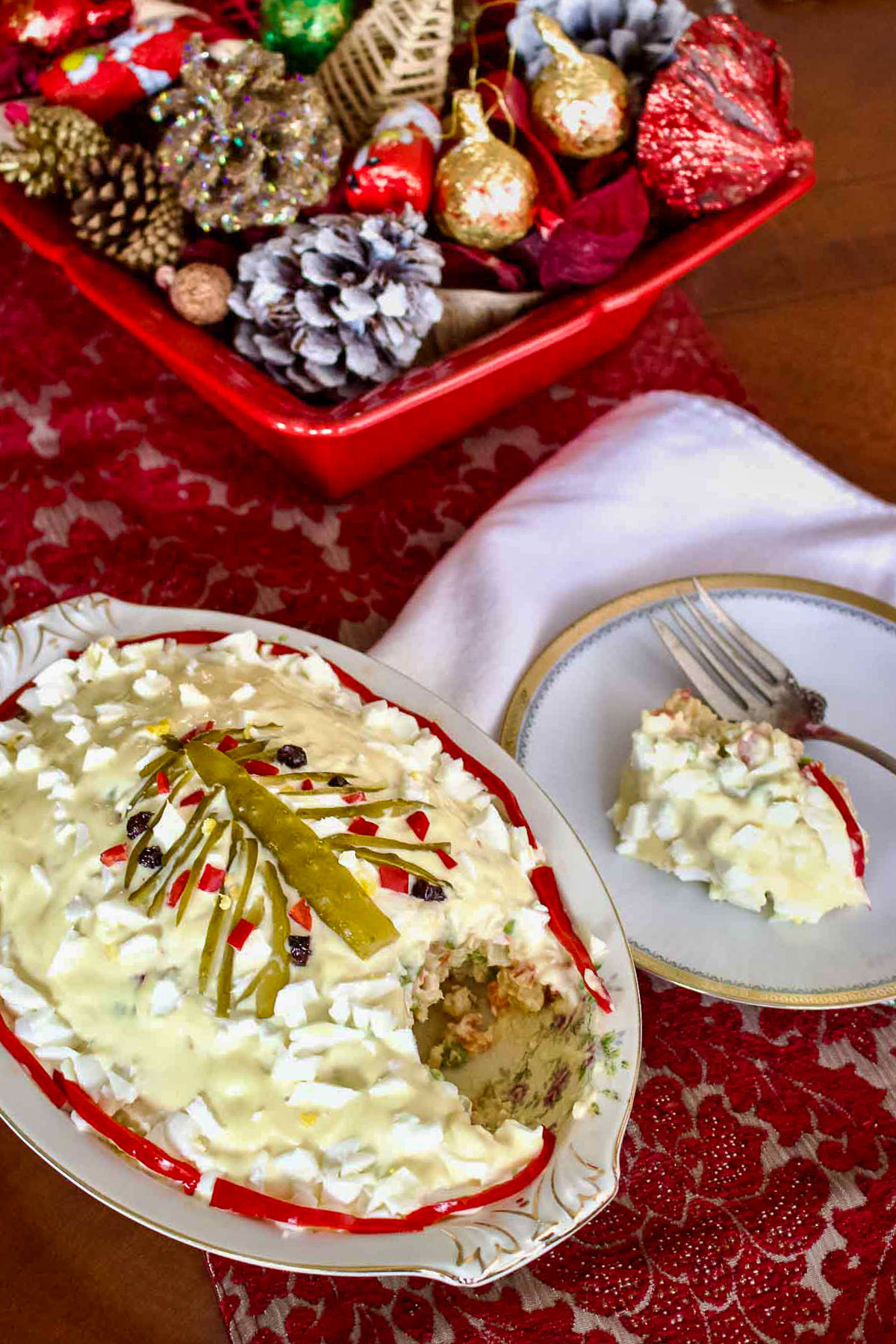 🇷🇴More Romanian recipes to love:
Craving more? Subscribe to The Bossy Kitchen to get new recipes and a newsletter delivered straight to your inbox! Stay in touch on Facebook, Twitter, Pinterest, and Instagram for all of the latest updates. Don't forget to use the star rating and leave a review.
See you next time!
📖 Recipe
Romanian Beef Salad(Salata De Boeuf)
Romanian Beef Salad (Salada de boeuf) is considered a traditional recipe for Christmas, New Year's, and Easter. The salad is also widely popular in the Balkans/Eastern Europe. Root vegetables, cooked beef, or chicken mixed with pickled vegetables and mayo are the main ingredients.
Print
Pin
Rate
Ingredients
1

pound

cooked beef (boiled)

Chicken, turkey, or even ham are also accepted.

1

pound

potatoes

cooked

½

pound

carrots

cooked

1

parsnip

cooked

1

small celeriac

cooked

½

cup

green peas

cooked

1

cup

mayonnaise

3-4

tablespoons

mustard

1

cup

pickles

chopped

1

cup

red peppers in vinegar

chopped

salt and pepper to taste
Optional for decorating the salad:
olives

pickled vegetables, boiled eggs, parsley leaves, etc.
Instructions
Dice the cooked meat, and vegetables (potatoes, carrots, parsnip, celeriac) and place them in a large salad bowl.

Drain the pickled vegetables very well, dice them, and add them to the rest of the ingredients.

Add mayo and mustard, season with salt and pepper, and mix everything.

Season with more salt and pepper if necessary.

Traditionally, the top of the salad is smoothed out with a spatula, then a thin layer of mayo is spread to cover the surface, then decorated.

Refrigerate, then serve. The leftovers are good for 3-4 days.

Serve the salad cold.
Notes
Beef:
For this salad, look for a beef cut that's lean and will become tender when boiled. You're not searing or roasting the beef, so there's no need to go for cuts that are meant for those cooking methods. Here are some good options: Chuck, flank, or shank.
The beef is usually boiled in water with a bit of salt. Once it's tender, it's cooled, diced, and added to the salad. If no beef is available, use chicken, turkey breast, or even ham.
Nutrition
Serving:
1
g
|
Calories:
456
kcal
|
Carbohydrates:
27
g
|
Protein:
14
g
|
Fat:
33
g
|
Saturated Fat:
8
g
|
Polyunsaturated Fat:
13
g
|
Monounsaturated Fat:
10
g
|
Trans Fat:
1
g
|
Cholesterol:
52
mg
|
Sodium:
529
mg
|
Potassium:
894
mg
|
Fiber:
6
g
|
Sugar:
6
g
|
Vitamin A:
5445
IU
|
Vitamin C:
50
mg
|
Calcium:
87
mg
|
Iron:
3
mg