The Mexican Beans Salad with Jalapeño Pepper is a super easy meatless recipe that can be made in no time. It is suitable all year round, and it is a good source of protein and fiber for all of us.
Jump to:
Why You Should Try This Recipe
There is no other ingredient as essential and humble as the bean in the diet of Mexican people. Chiles add fun, but beans provide the nourishment needed to survive. 
Beans are one of the first domesticated crops in Mexico and, along with rice and corn, have been central to the Mexican diet for centuries. No matter where you are in Mexico, you will be served a savory portion of red, black, white, yellow, or speckled beans in one form or another.
Many Mexican people might not understand the science that makes beans and rice combined with some meat or cheese, such a complete protein, but they know it tastes good and it is an affordable way to feed their families.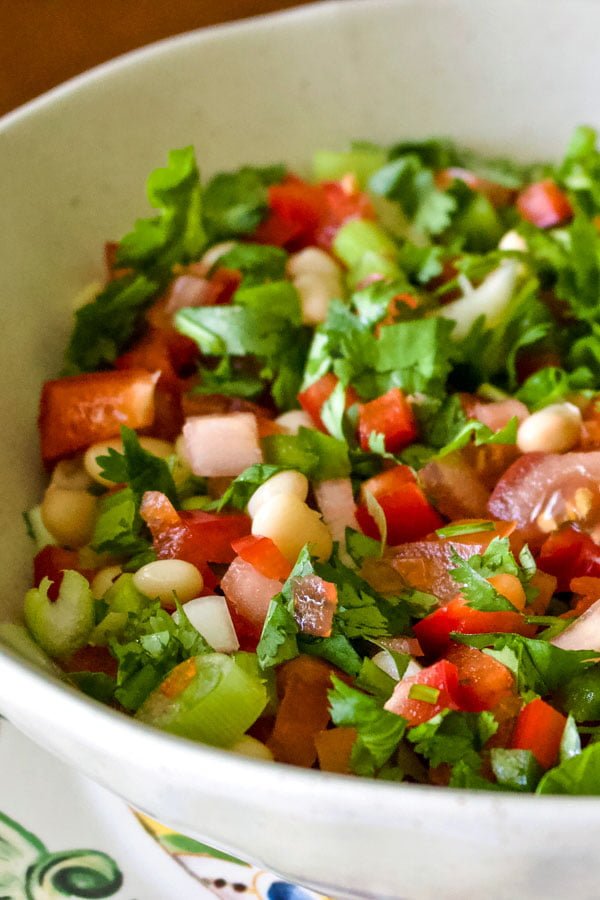 In homes and restaurants throughout Mexico, beans simmer in large pots or ollas, and their aroma is filling the air. The beans are cooked in large amounts as they are used for all kinds of dishes like moles, salads, salsas, etc.
The beans are cooked with lots of water, onions and garlic, herbs and are a classic dish in Mexico(I have a recipe for traditional Mexican beans right here on the blog)
There are many varieties of beans, and we are all familiar with them here, in the United States. Black beans, white beans, pinto beans, Lima beans, chickpeas, and other varieties are available in all stores.
I chose pinto beans for this salad because they are, in my opinion, very popular in American cuisine also. Pinto beans are part of the kidney bean family, and they are native to Latin America.
The skin of the pinto beans softens on cooking, which makes them easy to mash if you want to make frijoles refritos or refried beans.
This Mexican pinto bean salad is an awesome recipe to make all year round, and it is effortless to make. Beans are a good source of protein and fiber for all of us, but they are a perfect source of protein for vegans and vegetarians.
Main Ingredient - Cooked Beans
I love beans in any form. I do not usually take shortcuts in my cooking, but I do have to confess that in terms of beans, I buy the cans because they are a fast way to put meals on the table in no time, like this salad that can be made in less than 10 minutes.
I prefer organic beans, but if you don't find them, you can use any can of beans you have in your pantry. I consider these cans a staple in my house, and I always have 1-2 cans of different types of beans.
Buy only the ones with water and salt (usually found in the ethnic area of the grocery store), and rinse them well before using.
If you have cooked beans already that you made from scratch, I salute you. Obviously, you can use these beans to make the salad instead of cans.
So, the process is very simple.
How to make
You will need only a few ingredients: cooked beans, tomatoes, bell peppers, green onions, cilantro, lemon/lime juice, and jalapeno pepper.
Notes
You can use lime, which I totally encourage you to do, but lemon is totally fine if you are in an area where limes are not available or popular.
Wash and drain the beans and place them in a salad bowl. Clean and chop the tomato, pepper, jalapeno, green onion, and cilantro.
How to clean the jalapeno
Take great care when handling chilies, as the capsaicin they contain is an extremely powerful irritant. The ideal is to use rubber gloves while working with hot peppers or clean your hands in soapy water really well afterward.
If you touch your skin by mistake, splash the affected area with cold water. Avoid scratching or rubbing that area. While Jalapeno pepper is not a very hot pepper, you might find one that is really spicy.
Cut the chilies in half lengthways, remove the seeds, and carefully scrape the white membrane and the core. Finely slice or chop each piece.
To make the salad, chop the tomatoes, bell pepper, green onion, cilantro and add that chopped jalapeno pepper. Mix everything with the beans, add salt, pepper, olive oil, and lemon/lime juice.
Isn't that pretty? I can tell you how delicious it is too, but you have to make it yourself to believe me.
Ingredients Suggestions
Beans: if you do not have pinto beans, replace them with what you have. It could be black beans, red beans, white beans, or even chickpeas. Here you have a photo of the same salad made with black beans. Delicious!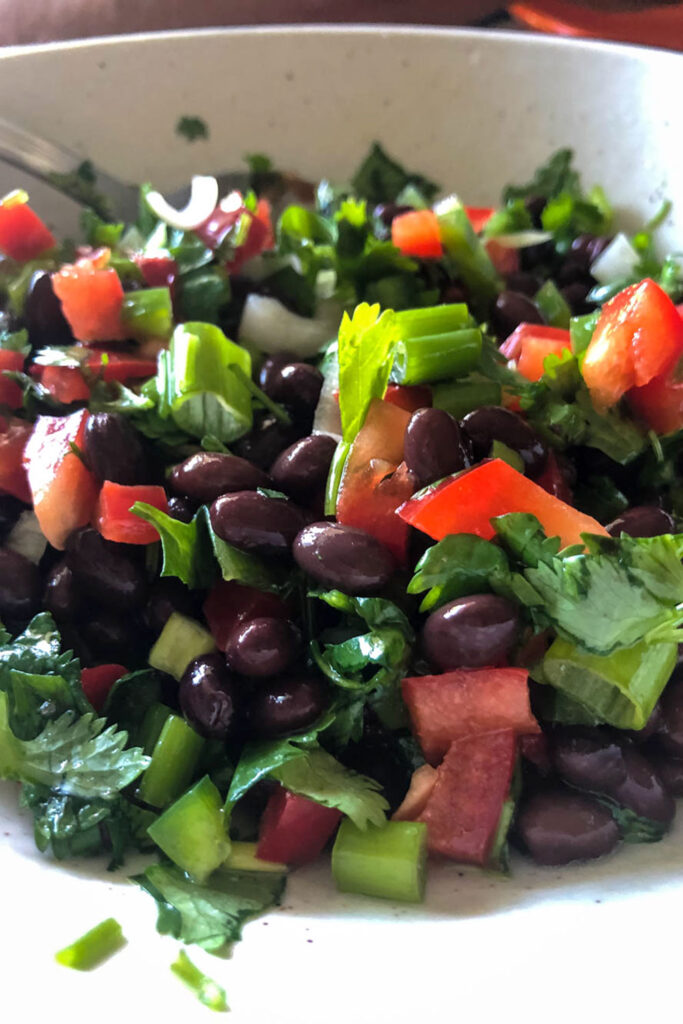 Onion: I am using green onions in this recipe, but red onion works great as the next option. If you don't have that either, use some regular onion.
Cilantro: Some people have a love/hate relationship with cilantro. It is one of these herbs that you either love or hate. If you are one of these people, use parsley instead.
Peppers: I am using bell pepper and jalapeno. The bell pepper can be any color you like. I prefer the red, yellow, or orange ones, but green bell peppers are fine to use. Also, if the jalapeno pepper is not available, or you don't like it, skip it.
All these replacements will definitely change the profile flavor on the salad but will also create a version that will be very yours.
Enjoy!
More recipes to love
Romanian Garlic Green Beans Salad

📖 Recipe
Mexican Beans Salad
The Mexican Beans Salad with Jalapeno pepper is a super easy meatless recipe that can be made in no time. It is suitable all year round, and it is a good source of protein and fiber for all of us.
Print
Pin
Rate
Ingredients
15

oz.

can of pinto beans

or black beans, drained

1

Tomato

medium size, chopped small

½

Bell Pepper

red, yellow or orange, chopped small

2-3

Green Onions

or ½ medium red onion, chopped

1

Jalapeno Pepper

small size, deveined and chopped

¼

cup

Cilantro

chopped

1

lime or lemon juice

2

tablespoons

olive oil

salt and pepper to taste
Instructions
Drain and rinse the beans.

Place them in a salad bowl.

Chop the tomatoes, green onions, bell pepper, cilantro.

Cut the jalapeno pepper in half and clean the seeds and veins inside. Chop it finely.

Add all the vegetables to the beans and mix all together.

Add salt and pepper to taste.

Add olive oil and the juice of a lime or lemon.

Serve cold.
Notes
You can replace the pinto beans with other canned beans: black, red, Great Northern beans, Cannellini beans, navy beans, etc.
You can skip the jalapeno if you don't want the salad spicy.
You can replace the lemon/lime juice with vinegar(use 1-2 tablespoons or to your taste).
You can replace green onions with either red or yellow onions.
You can replace cilantro with parsley.
Nutrition
Serving:
1
g
|
Calories:
231
kcal
|
Carbohydrates:
33
g
|
Protein:
10
g
|
Fat:
8
g
|
Saturated Fat:
1
g
|
Polyunsaturated Fat:
6
g
|
Sodium:
80
mg
|
Fiber:
11
g
|
Sugar:
2
g