Note: "We are a participant in the Amazon Services LLC Associates Program, an affiliate advertising program designed to provide a means for us to earn fees by linking to Amazon.com and affiliated sites."
Awesome recipe all year round, this recipe of Mexican pinto bean salad with jalapeno pepper is very easy to make. The salad is a good source of protein and fiber for all of us.
I love beans in any form. I do not usually take shortcuts in my cooking, but I do have to confess that in terms of beans I buy the cans because they are a fast way to cook with. I prefer the organic ones, but if you don't find them, you can use any beans you have in your pantry. I consider these cans a staple in my house, and I always have 1-2 cans of different type of beans. Buy only the ones that have water and salt (usually found in the ethnic area), and rinse them well before using.
So, the process is very simple. You will need only these ingredients: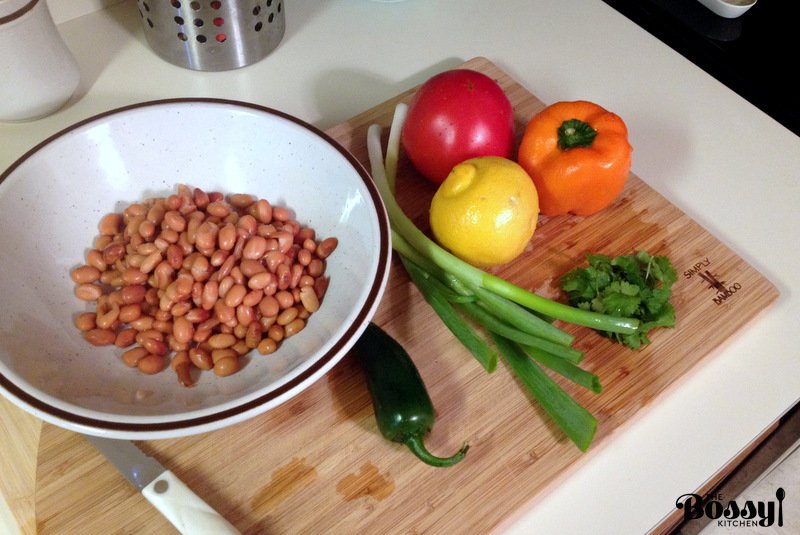 Note: You can use lime, which I totally encourage you to do, but lemon is totally fine if you are in an area where limes are not available or popular.
Wash and drain your beans and set them in a salad bowl. Clean and chop your tomato, pepper, jalapeno, green onion, and cilantro.
With the jalapeno, I hope you know what to do with it. Just wash it and remove the veins and the seeds from inside, then chop it finely. Make sure you wash your hands really well before you rub your eyes…:-)
 Mix everything together and add salt, pepper, olive oil and lemon/lime juice.
Isn't that pretty? I can tell you how delicious it is too, but you have to make it yourself to believe me.
Enjoy it!
Mexican Pinto Bean Salad with Jalapeño Pepper
Author:
The Bossy Kitchen
Ingredients
15 oz. can of pinto beans(or black beans)
1 medium tomato
1 bell pepper(red, yellow or orange)
2-3 green onions
1 small jalapeno pepper
1 lime or lemon juice
2 tablespoons olive oil
salt and pepper to taste
Instructions
Drain and rinse the beans.
Place them in a salad bowl.
Chop the tomatoes, green onions, bell pepper, cilantro.
Cut the jalapeno pepper in half and clean the seeds and veins inside. Chop it finely.
Add all the vegetables to the beans and mix all together.
Add salt and pepper to taste.
Add olive oil and the juice of a lime or lemon.
Serve cold.