If you're genuinely passionate about authentic Mexican dishes, this Tinga de Pollo recipe, also referred to as Chicken in Chipotle and Tomato Sauce, will become your go-to choice.
It features tender shredded chicken bathed in a delicious tomato sauce accentuated with Chipotle chiles in Adobo. This recipe truly represents the pinnacle of authenticity, providing the best Tinga experience you can find. There's simply no need to look further.
This dish is part of my collection of Mexican recipes that also include Bistec Encebollado, Mexican Pork Tinga(Tinga Poblana), Chicken Fajitas, Ensalada de Nopales, or Capirotada, just to name a few.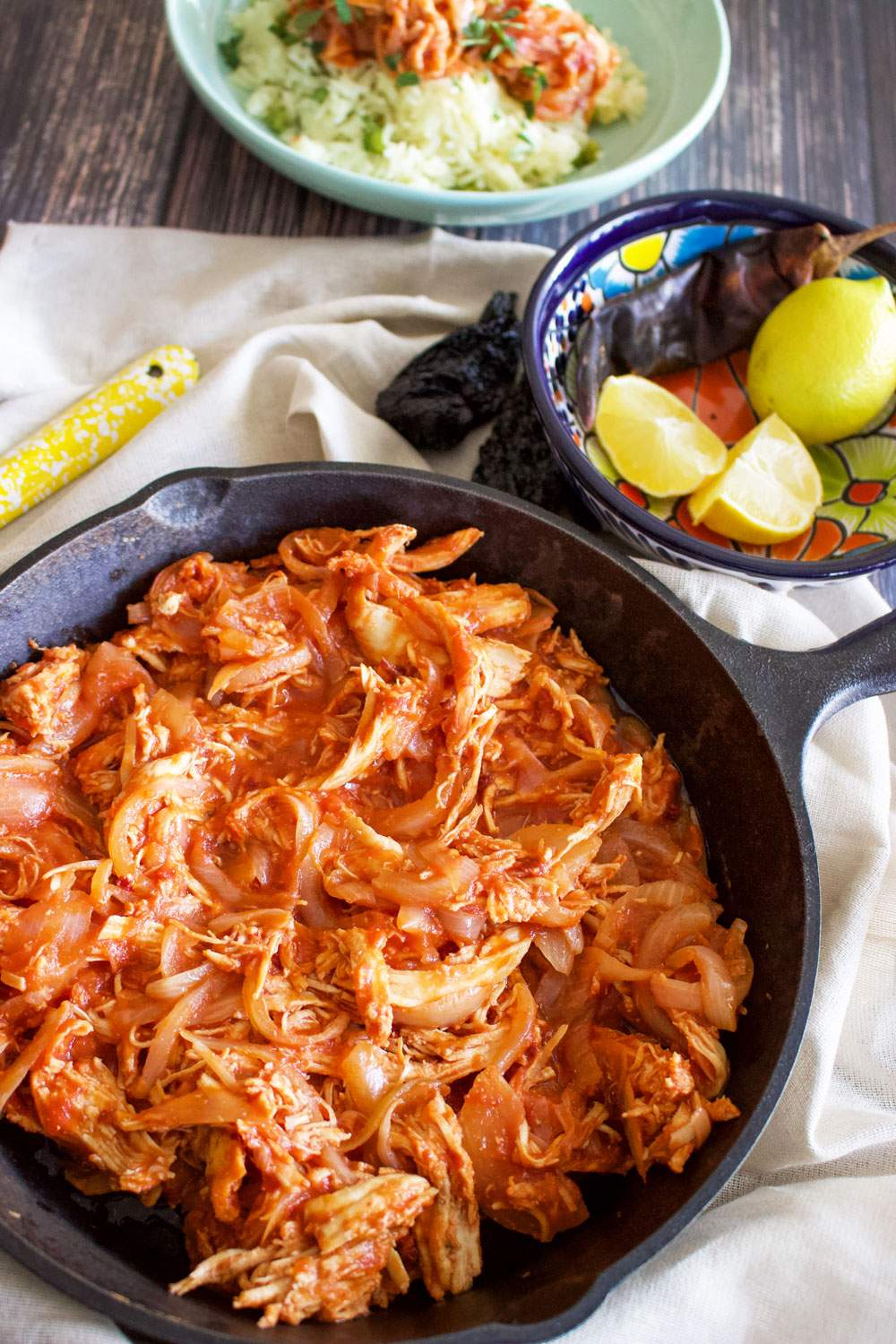 Jump to:
Why do I like this recipe
Authenticity: This Tinga de pollo recipe captures the heart of Mexican cuisine.
Versatility: The recipe is not only a stand-alone meal but also serves as a fantastic filling for tostadas, tortas, burritos, and tacos, thus allowing for a variety of meal options from just one preparation.
Easy to Prepare: Despite its rich flavors and complex taste profile, the recipe is surprisingly straightforward and simple to make. It can be prepared in an Instant Pot, slow cooker, or a standard stove-top pan, making it accessible to any home cook.
What is Tinga
Tinga dishes originated in the Puebla state of Mexico during the colonial era, serving as a remarkable culinary blend of Spanish and Mexican influences.
I gain knowledge and experience making tinga while residing in Mexico City, where the recipe enjoys widespread popularity in both restaurant menus and home kitchens.
Tinga has become one of Mexico's most popular dishes by combining European and Mexican foods with a European cooking method. It is viewed as a main dish in traditional Mexican cuisine.
Onions and garlic come together nicely in this dish. They're joined by a rich sauce made from tomatoes, herbs, and either chicken or beef stock. Pre-cooked meat, sometimes even chorizo sausage, is added to this tasty mixture, along with canned chipotle peppers for a hint of spice.
Essentially, tinga is a kind of stew, but it's made a bit differently. Unlike in moles, where everything is grinded, from onions, to fried chiles and spices, an authentic tinga sauce blends only the tomatoes and chiles together, while the onions and garlic are sliced and sauted.
Once you learn how to make this real-deal dish, you won't need another chicken tinga recipe.
Tinga can be prepared using various types of meat, like chicken (pollo), beef (res), and pork (puerco).
In case you've ever wondered what 'tinga' translates to in Spanish, it's a colloquial term meaning 'vulgar' or 'disorder' as per the Diccionario de Aztequismos. While I'm unsure about the 'vulgar' aspect, I am certainly a fan of this deliciously 'disordered' Mexican chicken tinga, or tinga de pollo!
It makes a great taco or tostada filling, so you are covered for Taco Tuesday or even Cinco de Mayo.
What is a Chile Chipotle
A Chipotle chile is essentially a ripe, red jalapeño pepper that has been sun-dried and smoked. After this process, the peppers are rehydrated and preserved in a tangy adobo sauce, which consists of vinegar and various spices.
There's an abundance of brands to choose from, each with its unique taste. So it's a good idea to sample a few to determine which one you prefer.
In the recipe provided, we'll be using Chipotle peppers in Adobo, a product readily available in any supermarket with a Mexican food section.
A staple in Mexican cooking, the Chipotle pepper is a must-have in my pantry since I frequently cook Mexican dishes.
What is Adobo sauce
Adobo, in Spanish, translates to a type of pickling sauce. However, in Mexican cuisine, it typically refers to a thick, spicy chili sauce, which often, but not always, contains a small amount of vinegar. The specific formulation of Adobo can vary widely from recipe to recipe.
Chipotles, which are smoked ripe jalapeño peppers, are typically rehydrated and preserved in a sauce composed of tomatoes, garlic, vinegar, salt, and a variety of spices.
These spices often include different types of peppers (in addition to the chipotle), ground cumin, and dried oregano.
Some variations also incorporate citrus juices like orange, lemon, or lime, and often a touch of brown sugar to balance any bitterness.
For those residing outside the United States, consider using dried Chipotle as a potent alternative. But remember, it's quite strong, so a little goes a long way.
Ingredients to make tinga
The traditional Mexican recipe uses boneless skinless chicken breast (pechugas de pollo), but chicken thighs are also great to use. Rotisserie or leftover chicken works beautifully for those out there who would like shortcuts. You will need to shred the meat.
White onions are typically used in Mexico for most recipes. They are milder and sweeter than regular yellow onions. You can also use red onion.
Tomatoes and chipotles are the base for any tinga sauce.
My preference is to use fresh ingredients, like fresh tomatoes, but I know that many of you will use whatever type of tomatoes you have in hand.
If you choose to use canned tomatoes, especially in the winter when tomatoes are not in season, use fire-roasted tomatoes or crushed tomatoes.
If you skip them, this dish cannot be called tinga anymore.
The ingredient is mandatory if you want to make a Mexican dish; otherwise, we would just call it chicken stew.
I am using a 7 ounces small can of chile chipotles in adobo sauce. Remember, the peppers are quite spicy, so if you cannot handle too much spice, use less. You are the boss!
Both types of fat are very popular.
Salt, pepper, oregano, thyme, whole garlic cloves, marjoram and bay leaf (hoja de laurel) are the perfect seasoning for this fabulous tinga.
Pretty simple, right?
How to make tinga de pollo
Step one: Prepare the chicken.
Start by putting a large pot of water with salt on the stove and bring it to a boil. Once it's boiling, add in the raw chicken breasts along with quartered onions, garlic cloves, bay leaves, and Mexican dried oregano. Sprinkle in some salt for flavor. Let the chicken cook on medium heat until it's thoroughly done.
Tip: If you prefer using chicken stock instead of water, choose the low-sodium kind. This way, you can adjust the saltiness of the soup to your liking.
Don't forget to remove the foam that builds up on top of the water as the chicken starts to cook.
Tip: If you happen to have pre-cooked chicken or rotisserie chicken handy, feel free to use it to speed up the process. If not, just follow along with the rest of the recipe.
Step two: Get the sauce ready.
Place the tomatoes in a saucepan, fill with enough water to cover them, then heat it over medium-high.
Let the tomatoes simmer for about 8 to 10 minutes or until they're soft but still hold their shape.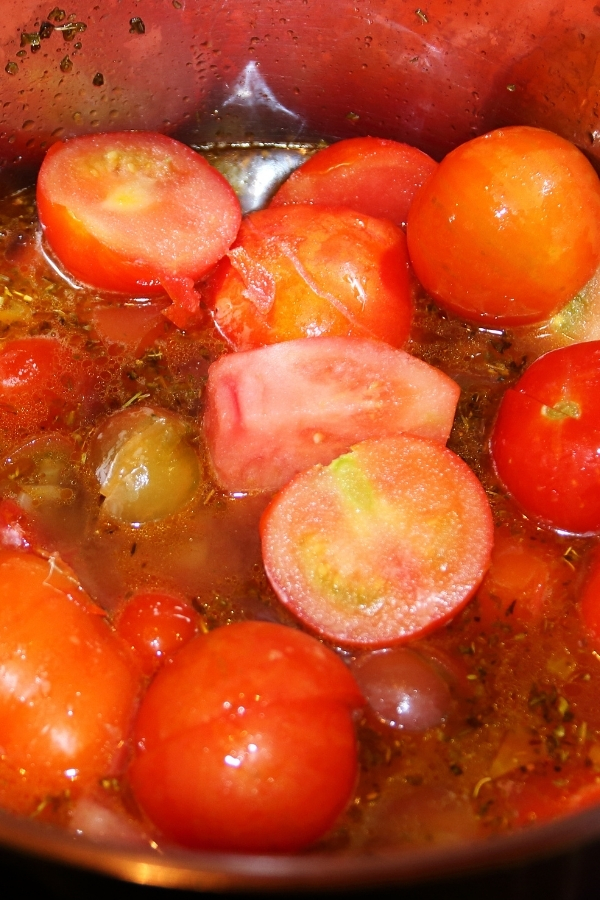 Use a blender(affiliate link) or a food processor to combine the cooked tomatoes (or canned roasted tomatoes if you prefer), garlic, salt, pepper, and 2-3 chipotle chiles from the can.
Shortcut: If you're out of fresh tomatoes, canned diced tomatoes or tomato sauce can work just as well.
Note:
Be mindful of the chile's heat. Original Tinga recipes call for a whole can of Chipotle, but this might be too spicy for some.
Feel free to adjust the quantity to suit your taste - remember, it's easier to add more spice than to remove it! If you love a good kick, then by all means, add the whole can.
Once you've blended everything, taste the sauce and adjust the seasoning as necessary. Set it aside.
Step three: Sauté the onions.
Thinly slice the onions, and sauté them in a large skillet with some oil.
Note: Authentic tinga recipes do not ask for blending the onions with the tomatoes and chipotle. Onions give texture to the dish, and we are not making mole here.
Saute the sliced onions for around 5-6 minutes until they become soft and clear.
The onions play a big role in providing sweetness and depth to the traditional chicken tinga. So if you're not a fan of onions, this dish might not be for you.
Step four- Assemble the tinga sauce.
Add the prepared salsa to the sauteed onions. Incorporate oregano, marjoram, and thyme into the mix.
Traditional Mexican oregano is typically used in this recipe. However, if marjoram and thyme aren't to your liking, feel free to leave them out.
Allow the mixture to simmer gently over low heat. Be mindful as the sauce will produce steam and bubble up.
Stir from time to time and keep it partly covered until the sauce deepens in color and thickens.
Step five- Pull apart the chicken and mix it with the salsa.
Take out the chicken from the pot and pull it apart into shreds.
NOTE: Keep the broth that you cooked the chicken in. It's great for preparing flavorful Mexican rice to pair with this dish, or you can freeze it to use later in other recipes.
You can use two forks to do this task. Once shredded, incorporate the chicken into the tinga sauce, ensuring everything is well combined.
Give the mixture another taste to check if it needs more salt or pepper. Let it simmer briefly, allowing the flavors to mingle and intensify.
Different ways to eat tinga
The traditional way to eat this easy chicken tinga is with white rice.
This recipe is perfect for any gathering - think a picnic, a potluck, or even tailgating, as you can prepare it ahead of time and serve it warm from a slow cooker.
Tinga de pollo is a versatile filling for various quick Mexican dishes. Here are a few options:
Tostadas: Tostadas are crispy corn tortillas that can easily carry a range of toppings. You can find tostada shells in most grocery stores, or you can make your own by baking or frying corn tortillas.
A classic tinga de pollo tostada begins with a layer of refried beans, followed by the chicken tinga, and topped with shredded lettuce, avocado, or radish slices. Finish it off with crumbled cheese, Mexican crema, and fresh salsa.
Tortas: The "torta" is a type of Mexican sandwich made with a French-style bread called "bolillos."
To make one, cut the bread in half, spread beans on each side, and add succulent chicken tinga, a chunky slice of cheese, avocado, tomato slices, and pickled jalapeños.
Burritos: Fill a large flour tortilla with rice, refried beans, and tinga. Add pico de gallo and your preferred shredded cheese according to your taste. Serve it with a side of sour cream and guacamole. For a healthier alternative, you could ditch the tortillas and opt for a burrito bowl instead.
Chicken tinga bowl: If you have leftover chicken tinga, you can create a quick and balanced meal with a chicken tinga bowl.
Add the tinga to a bowl of cooked rice and black or red beans (either freshly cooked or canned - just remember to rinse and drain canned beans before using).
Top it off with chopped fresh cilantro, scallions, and crumbled cheese - queso fresco, cotija cheese, mild feta, or fresh goat cheese are all great choices. Serve with lime wedges.
Chicken Tinga tacos made with corn/flour tortillas: Use corn or flour tortillas to make tacos.
Just remember to warm the tortillas first, either in a skillet or directly over a gas flame for a slight char.
Fill the warm tortillas with the chicken tinga and top with sliced avocados, shredded lettuce, Mexican crema, or any of your favorite toppings.
Trivia: In Mexico, chicken tinga tacos are known as tacos de guisado, typically made with various home-cooked dishes.
Preparing Tinga de Pollo in a Slow Cooker
Tinga is an excellent candidate for slow cooker preparation. Initially, sauté the onions in a separate pan and blend the salsa ingredients. Then, transfer everything into the slow cooker, including the raw chicken.
Program your slow cooker to either 'High' for 4 hours or 'Low' for 6 hours, depending on your schedule.
This easy method doesn't sacrifice the authenticity of the dish. The ingredients will have enough time to meld together in the slow cooker, creating a flavorful harmony.
How to store
Storing in the Fridge: Any leftover tinga can be stored in an airtight container in the refrigerator for up to 4 days. Reheat the dish either on the stovetop or in the microwave when you're ready to serve.
Freezing: Cooked tinga de pollo can also be frozen. Store leftovers in a freezer-safe airtight container and keep them for up to 3 months.
PRO TIP: If you wish to freeze uncooked tinga, prepare and freeze the salsa separately. You can then cook the chicken on the day you plan to serve the dish. Alternatively, expedite the cooking process by using leftover meat from a pre-roasted chicken.
I would not add the onions to the blender as the beauty of this dish is the texture of sliced onions and chicken mixed with the salsa.
Can this tinga recipe be prepared in an Instant Pot
Absolutely. Preparing chicken tinga in an Instant Pot or any pressure cooker is straightforward.
Starting with raw ingredients - Add oil to the pot and select the Saute function. Cook the onions until they become soft and translucent. Hit Cancel to stop the Saute function.
Prepare the spicy tomato sauce as directed in the recipe, then pour it over the onions in the pot.
Next, add the raw chicken. Secure the lid and set it to cook for 12 minutes on high pressure, then manually release the pressure.
Shred the cooked chicken, return it to the pot, mix well with the sauce, and serve.
Starting with frozen salsa and chicken - If you start with a frozen mix of chicken and spicy tomato sauce (as outlined above), place the sliced onions and oil into the Instant Pot and use the Saute function.
Cook the onions until they become soft and translucent, then add the frozen salsa and chicken mixture to the pot.
Cook for 12 minutes on high pressure, then allow the pressure to naturally release for 10 minutes. Keep in mind that the Instant Pot will take a bit more time to build pressure with frozen ingredients.
Enjoy!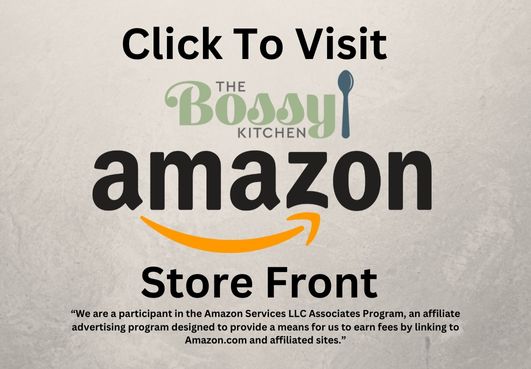 More delicious Mexican recipes to love
Craving more? Subscribe to The Bossy Kitchen to get new recipes and a newsletter delivered straight to your inbox! Stay in touch on Facebook, Twitter, Pinterest, and Instagram for all of the latest updates. Don't forget to use the star rating and leave a review.
Web Story For Best Chicken Tinga (Mexican Tinga De Pollo)
📖 Recipe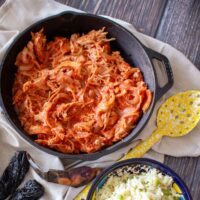 Tinga De Pollo (Mexican Chicken Tinga) Recipe
This chicken tinga recipe is made with shredded chicken in a delicious tomato sauce and chile Chipotle in Adobo sauce.
Print
Pin
Share
Grow
Saved!
Rate
Ingredients
To cook the chicken:
1 ½

pounds

chicken

, about 4 boneless, skinless chicken breasts or thighs

2

garlic cloves

1

small onion

cut in quarters

2

bay leaves

¼

teaspoon

dried Mexican oregano

1

teaspoon

salt

2

cups

water or low sodium chicken stock

or more to cover the chicken
To cook the onions:
5

tablespoons

vegetable oil

, like sunflower, canola, or olive oil

2

large onions

, thinly sliced (use either sweet onion, white onion, yellow onion or red onion)
For the Chipotle sauce:
4-5

Roma plum tomatoes

, or 1 can (28 ounces) of crushed tomatoes

7

ounces

can of Chipotle chiles in Adobo sauce

(use less if you like it less spicy)

2-3

cloves

of garlic

1 ½

teaspoon

salt

or to taste

¼

teaspoon

Mexican oregano

¼

teaspoon

dried thyme

¼

teaspoon

dried marjoram

¼

teaspoon

black pepper
Instructions
Cook the chicken:
Bring a pot of salty water to a boil and add the chicken breast to cook. Add the onion cut in quarters, garlic cloves, bay leaves, oregano, and salt. If you use chicken stock, go easy on salt. Let the chicken simmer until it is cooked through. It could take between 12-15 minutes.

Make sure you skim the foam that forms on top of the water as it starts boiling. When the chicken is cooked, set aside.
Prepare the salsa:
While the chicken is cooking, place the tomatoes in a medium saucepan, cover with water, bring to a simmer over medium-high heat and cook for 8 to 10 minutes, or until the tomatoes are soft and mushy but not falling apart. Note: If you use canned tomatoes, skip this step.

In a blender, place the tomatoes (or the can of crushed tomatoes if you use one), garlic, salt, pepper, and 2-3 chiles from the can. Be careful with the chiles. The original Mexican recipe calls for the entire can of Chipotle, but I found it too powerful and spicy for us, so I added fewer chiles in the blender.

After blending the ingredients, taste for salt and pepper and adjust if necessary.
Cook the salsa:
Slice the onions thinly. Heat the oil in a large pan(skillet) and add the onion. Cook the onion until soft and translucent for about 5-6 minutes.

Pour the salsa over onions. Add oregano, marjoram, thyme, and pepper. (Be careful as the sauce will steam and bubble).

Simmer the sauce, occasionally stirring, until the sauce deepens in color, becomes darker and less soupy, about 7-8 minutes.
Shred chicken and add it to the sauce:
Take the chicken out of the broth, and with two forks, shred the meat.

Add it to the sauce and mix well to incorporate the chicken.

Let it simmer for only a minute and serve over rice or on warm tortillas.
Notes
DO NOT discard the chicken stock. You can make a
beautiful rice
for this dish, using the stock to boil the rice. You can make a soup or simply freeze it and use it later for some other dishes.
Freezing ahead method: Follow the instructions to make the sauce. Let it cool, then place the sauce in a freezer bag and freeze it for up to 3 months. When ready to cook, allow it to thaw overnight in the refrigerator, then sauté the onions, cook the chicken and add the already made salsa. I do not recommend adding the raw chicken in the salsa, as the chicken needs to cook first. For this method, you can also use rotisserie chicken.
Slow Cooker:
Start cooking the onions first in a pan, blend the ingredients for the salsa together, then place everything in a slow cooker/crockpot and add the uncooked chicken. 
Set the slow cooker on high for 4 hours or on low for 6 hours. 
Instant Pot:
From raw ingredients: Make the salsa as the recipe requires.  Place the onions in the pot and press the Saute button setting the time for 7 minutes.  Place uncooked chicken in the pot and pour salsa over. Place the lid on Instant Pot and cook on manual for 10 minutes, with a 5 minute natural pressure release. Remove the chicken, shred it, then place it back in the Instant Pot. Mix it with the sauce and serve.
From frozen salsa and chicken: If you start with frozen chicken and frozen salsa, place the sliced onions and oil in the Instant pot and press the Saute button setting the time for 7 minutes. Cook the onions until soft and translucent, then add the frozen salsa with chicken in the pot. 
Cook for 12 minutes on high pressure, then allow a 10 minutes natural release. Keep in mind that the pot will need a little more time to build pressure with frozen ingredients.
Nutrition
Serving:
1
g
|
Calories:
392
kcal
|
Carbohydrates:
12
g
|
Protein:
22
g
|
Fat:
28
g
|
Saturated Fat:
7
g
|
Polyunsaturated Fat:
10
g
|
Monounsaturated Fat:
10
g
|
Trans Fat:
0.2
g
|
Cholesterol:
85
mg
|
Sodium:
1056
mg
|
Potassium:
309
mg
|
Fiber:
4
g
|
Sugar:
5
g
|
Vitamin A:
170
IU
|
Vitamin C:
7
mg
|
Calcium:
36
mg
|
Iron:
2
mg
Tried this recipe?
Please leave a comment on the blog or like us on Facebook!