Picadillo is a popular dish in most South American cuisines that is similar with hash. It is made with ground meat(usually beef or pork), tomatoes, potatoes and other ingredients.
You will find a recipe of picadillo in every household. The ingredients might vary from family to family based on where they are located and what is available. However, this is an Authentic Mexican Picadillo recipe that will bring the flavors of Mexico on your plate.
I love the recipe because of the simplicity of it and the fact that it makes a great lunch or dinner, Mexican style. The flavors are great and also authentic for Mexico.
This beauty will bring on your plate the flavors of "canela" or cinnamon, the sweetness of "pasitas" or raisins, and the acidity of a white wine added to the dish.
You can serve it with cooked rice. Here you have a recipe for Mexican rice.
Jump to recipe
How to make
For this recipe, I used organic grass-fed ground beef because I like the flavor and the benefits of eating meat from animals that have a normal diet.
Feel free to use regular ground beef or regular ground pork. I used ground pork many times as well. I started with the onion and cooked it until translucent.
Then, I added the meat and cooked it together with the onion.
Halfway through,  I added the peas, potatoes, and spices. At this point, I added the garlic also, which is optional.
I also added raisins,
a chopped tomato, and tasted for salt and pepper.
Finally, I added the wine and covered the pan with a lid, then simmered it for a while until the potatoes got cooked.
Tip
You can also add a little bit of water if you notice the potatoes need more liquid, but just add a little bit at a time. You do not want to have a lot of sauce on this dish, but you do want the peas and potatoes cooked.
Serve this authentic Mexican picadillo with warm tortillas, preferably corn for a more authentic flavor. Rice is a good option as well. This is a great recipe to feed a crowd and the leftovers are awesome!
Enjoy!

If you make this recipe, share it with the hashtag #thebossykitchen on Instagram, Facebook and Twitter so we can all see what you're cooking!
Or maybe you want to join The Bossy Kitchen community group where you can share your creations made from this blog or from other sources. Everyone is welcome to join!
Yield: 6 servings
Authentic Mexican Picadillo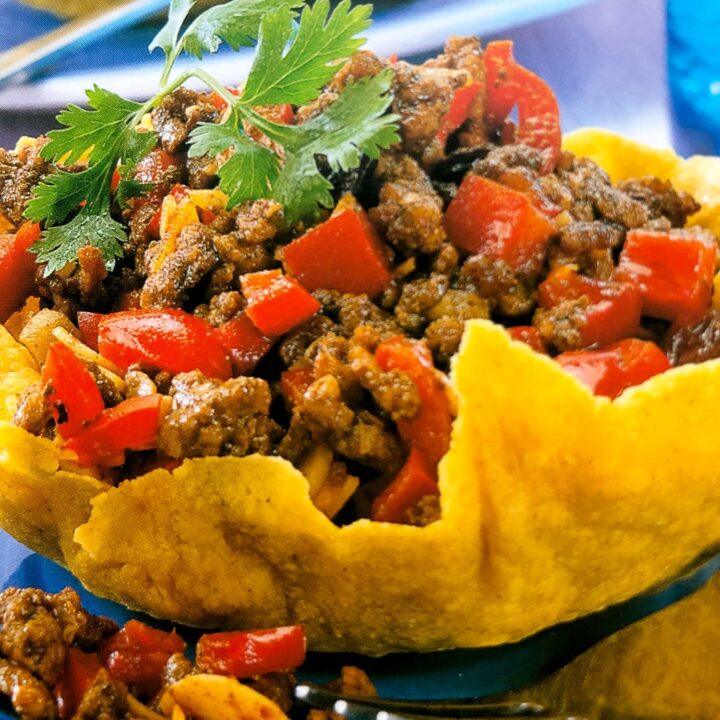 Delicious Authentic Mexican Picadillo brings the flavors of Mexico to your table. A popular recipe in most Latin American countries, this dish is similar with the American hash. It is a basic recipe that can feed a crowd. Also, the leftovers are great. Serve it with warm corn tortillas as a main dish, or as appetizer.
Ingredients
1 ½ pounds ground beef
1 medium onion chopped
1 cup frozen peas
2 medium potatoes chopped small
1 medium tomato chopped
½ cup raisins
½ teaspoon ground cloves
½ teaspoon cinnamon
¼ teaspoon cumin
1-2 cloves of garlic chopped
3 Tablespoons vegetable oil
1 cup white sweet wine
salt and pepper to taste
Instructions
In a cooking pan heat up the oil on medium heat and add the chopped onions.
Cook the onion until translucent, mixing from time to time. Add the ground beef and cook without browning it.
When it is half cooked, add the peas, cubed potatoes, raisins, chopped tomatoes. garlic and spices.
Add salt and pepper to taste.
Add the white wine and cover the pan with a lid. Lower the heat and let it simmer until the potatoes and peas are cooked.
Taste again for salt and pepper.
Serve with warm tortillas or cooked rice.
Nutrition Information:
Yield:
6
Serving Size:
1
Amount Per Serving:
Calories:

529
Total Fat:

27g
Saturated Fat:

8g
Trans Fat:

1g
Unsaturated Fat:

15g
Cholesterol:

101mg
Sodium:

183mg
Carbohydrates:

31g
Fiber:

4g
Sugar:

11g
Protein:

34g