Note: "We are a participant in the Amazon Services LLC Associates Program, an affiliate advertising program designed to provide a means for us to earn fees by linking to Amazon.com and affiliated sites."
We love soups. I do not know about you, but there is no week in our household without a pot of soup that we enjoy for lunch or dinner. Also, we live in Minnesota where the winters are so cold that all we want to eat is homemade soup.
This recipe of Mexican Caldo de Pollo or Chicken Soup Mexican style is one of our favorites and in heavy rotation from November to April. It has some incredibly devoted fans. The combination of simple ingredients, the rice, the cilantro and the chicken drumsticks make the soup a real comfort meal.
When you serve it, add some sliced avocado to the bowl of soup, squeeze some lime juice and serve it with some warm corn tortillas. Your meal will be perfect.
This is a very friendly recipe for children too, so feel free to make it for everyone around. Makes a great main dish for dinner and awesome lunch. And before I forget, do you know which other recipe would be great for the entire family? This Authentic Mexican Tinga de Pollo – Chicken in Chipotle Tomato Sauce.
A Taco Tuesday is a great opportunity to make the dish.
And while you cook that tinga, an appetizer would be perfect to serve. Have you ever tried a Pico de Gallo with Tuna? Yum! Saltines are the traditional way to serve this appetizer in the Mexico City area, but tortilla chips are perfectly acceptable as well.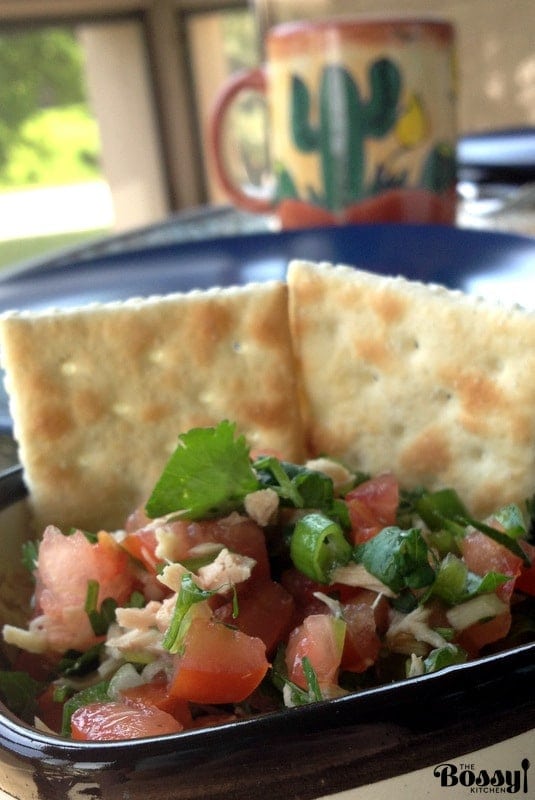 Getting back to the soup recipe, remember the series of books "Chicken soup for the soul"? When I look at this recipe, it reminds me of that book. The chicken soup is supposed to be good for you, warms you up from inside out and makes you feel safe, happy, and cozy. When you are sick, each spoonful tastes like soothing relief and healing.
In Mexico, every household has its own version of "Caldo de Pollo" and each region of the country makes this soup with ingredients that are specific to the area. The grandmothers say that a good chicken soup can heal anything, from a bad cold to a broken heart and I think they are right. There is something magic about a bowl of chicken soup on a cold day.
Note for the recipe: I used chicken drumsticks and thighs for this soup, but any part of the chicken is good. If you have chicken breast, use that, if you have an entire chicken, cut it in pieces and use it for the soup. I like the meat with bones and skin on, but feel free to adjust that according to your diet. Just so you know, the parts of the chicken with the skin and bone bring more flavor to the soup.
The process of cooking the rice, tomatoes and onions together, separate from the broth adds tremendous flavor to the soup, so I really encourage you to follow the recipe as I wrote it.
If you are interested in more Mexican delicious recipes that are easy to make for you and your family check out this collection on my blog. And come visit my community on Facebook where people share their interest and love for cooking or baking: The Bossy Kitchen Group.
Enjoy!

Mexican Caldo de Pollo Or Chicken Soup Mexican Style
Author:
The Bossy Kitchen
Ingredients
8 cups water
4-6 chicken thighs or drumsticks
1 Tablespoon salt
4 cloves garlic chopped
1 Tablespoon olive oil
¼ cup white long grain rice
½ cup chopped onion
2 Roma tomatoes chopped
2 carrots sliced
3 potatoes quartered
1 green celery chopped
⅓ cup tomato sauce
1 Tablespoon chopped cilantro
1 Lime sliced wedges for serving
Corn tortillas for serving
optional 1 avocado sliced
Instructions
In a large pot, place the water, chicken, salt, and garlic. Bring the ingredients to a boil, then reduce to medium heat and let simmer for 15 minutes.
While the chicken is simmering, in a separate pan, heat the oil medium heat, add rice and cook, stirring occasionally, until browned, about 2-3 minutes. Be careful not to burn it.
Add chopped onion and continue cooking until onion is translucent, for about 2 minutes.
Add chopped tomato and cook for another 3 minutes.
Add this mixture to the chicken pot.
Add carrots, celery, and potatoes to the soup and let come to a boil. Reduce heat. Let simmer until vegetables cook through, about 20-30 minutes.
Add tomato sauce, cilantro during the last 5 minutes of cooking.
Ladle soup into bowls including a piece of chicken for each serving, and serve with lime wedges and warm corn tortillas.
Optional: Add slices of avocado to your soup.