Versions of this easy Mexican rice dish that I am sharing with you today, a relative of Spanish rice, are popular all over South America.
The Mexican rice recipe is classified as a sopa seca or dry soup and can be served with my famous recipe on my blog Tinga de Pollo– or Chicken in Chipotle sauce.
If you never heard of sopa seca before, the term is used mostly in the central part of Mexico, especially in Mexico City. It means white rice, red rice, or thin pasta cooked in a liquid that it is absorbed during the cooking process.
Sopa seca is usually served after the real soup, which is obviously liquid, at lunch, and it is popular in the Mexican "fast foods" or small family restaurants.
It makes a great dish to serve with roasted meats, or a  salad.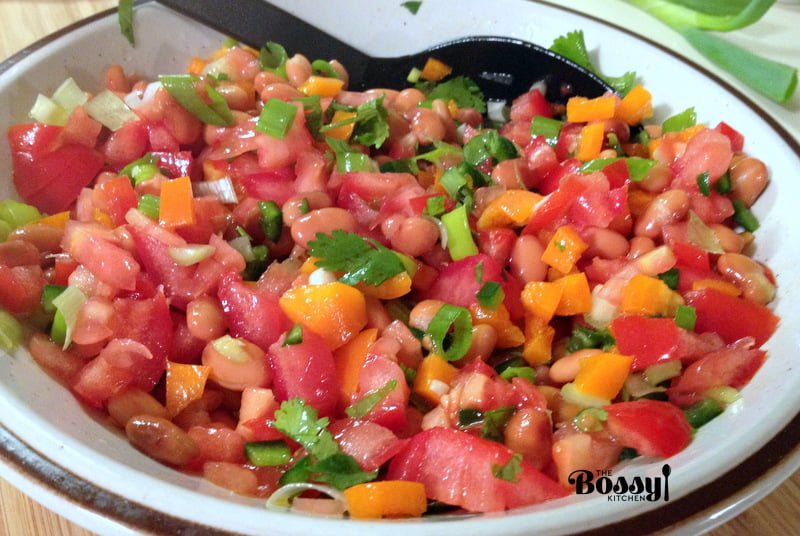 It goes well also with roasted vegetables.
You can also add green peas to it, chopped carrots or chopped tomatoes in tomato juice.
I like rice. It is a versatile option as a side dish and can be cooked in so many ways. Probably one of my favorite ways to eat rice is as rice pudding, but I also love it cooked with vegetables and chicken, beef or pork, like this recipe of Rice with pork and vegetables.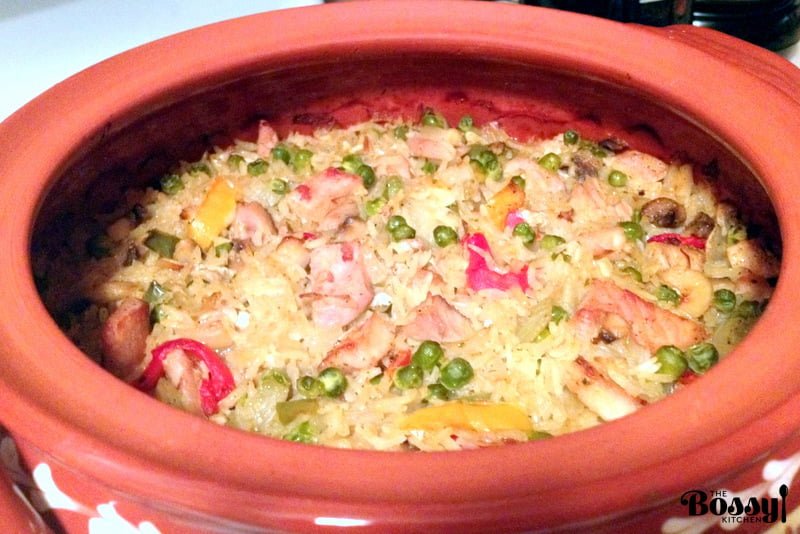 Enjoy and keep it simple!
Yield: 4 servings
Easy Mexican Rice Recipe
Versions of this easy Mexican rice recipe, a relative of Spanish rice, are popular all over South America. It is classified as a sopa seca or dry soup.
Additional Time
10 minutes
Ingredients
1 cup long grain rice
2 cups water or chicken stock
½ tsp salt
½ medium onion or 2-3 green onions chopped
2-3 cloves garlic roughly chopped
2-3 tablespoons vegetable oil
1 cup frozen peas optional
Instructions
Chop the onions and garlic.
In a pan heat up the oil on medium high heat and add the onions and the garlic.
Cook the onion and garlic together until soft and translucent.
Add the rice to the onions.
Cook the rice until it becomes a delicate golden brown. Stir occasionally to ensure that rice does not stick to the bottom of the pan.
Stir in the chicken stock or water, salt and peas if using. Simmer on medium low heat.
Continue to cook the mixture, stirring occasionally, until all the liquid has been absorbed and the rice is just tender.
Remove from the stove, cover with a tight fitting lid and let it stand in a warm place for 5-10 minutes.
Cook's tip: Do not stir the rice too often adding the stock or the grains will break down and the mixture will become starchy.