Arroz blanco, also known as Mexican white rice, is a popular side dish in Mexican cuisine. It is a simple and versatile dish that accompanies many Mexican dishes, such as enchiladas, tacos, and grilled meats.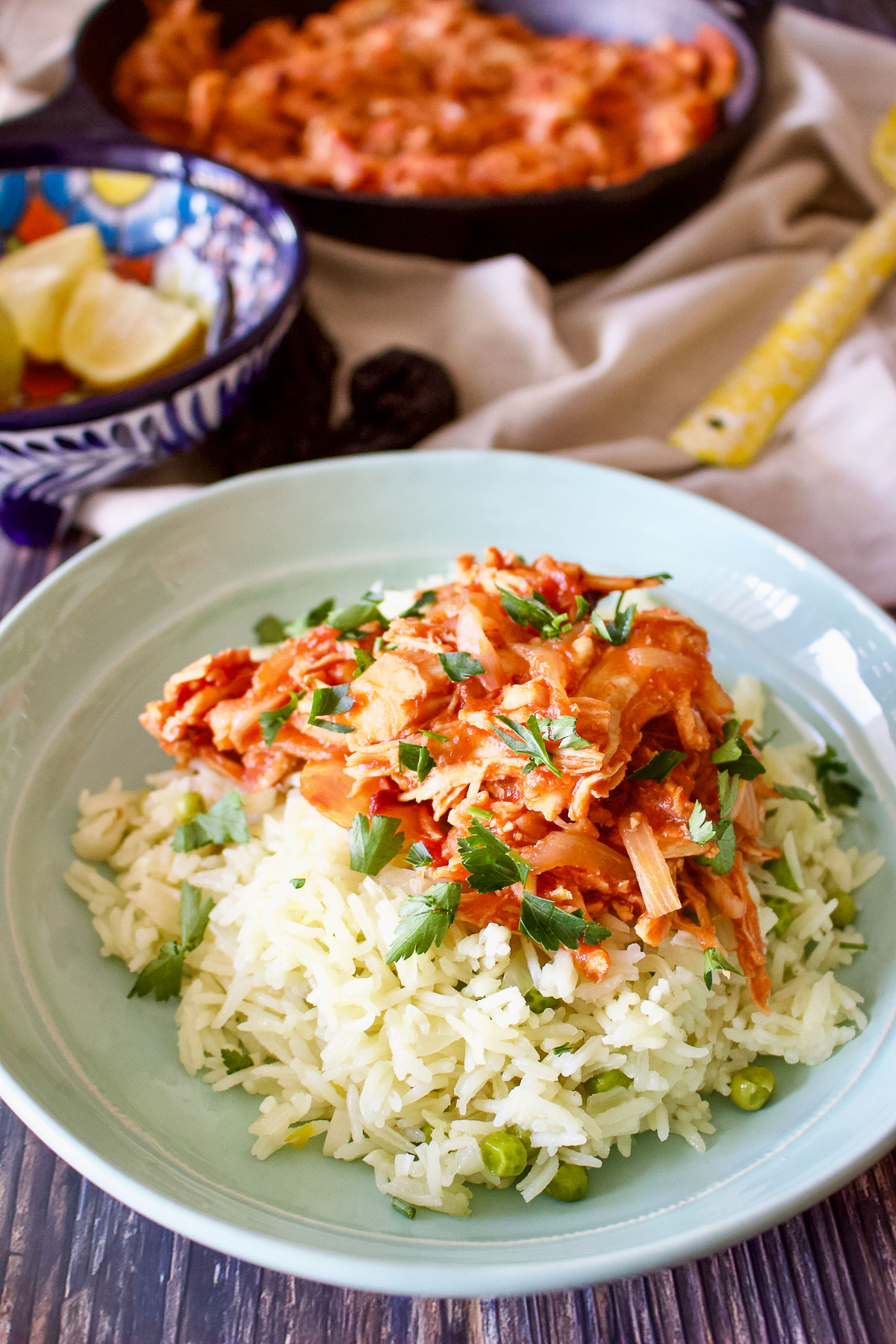 Jump to:
What is Mexican Rice
In Mexico, rice dishes come in different colors based on the liquids added or the spices used. You can see white, black, yellow, red, or green rice recipes.
For example, the black rice recipe is made with black beans and sometimes with squid ink. The green one is made by using green peppers and herbs, like cilantro.
The yellow one is made with saffron or turmeric, while the red one (Arroz a la Mexicana) has tomatoes in it.
Compared to beans, rice is a new ingredient used in Mexican cuisine. Mexico adopted it only about four hundred years ago.
In Mexico, cooked rice is classified as a sopa seca or dry soup, which means white rice, red rice, or thin pasta cooked in a liquid that is absorbed during the cooking process.
Sopa seca is usually served after the real soup, which is obviously liquid, at lunch, and it is popular in Mexican "fast foods" or small family restaurants.
Over the years, I tried many recipes for Mexican rice. Most of them are pretty similar, and all have kind of the same texture of pilaf style.
Why I like this recipe
Easy to make. This recipe is an easy, excellent way to cook rice in no time. It is delicious, versatile, and perfect as a side dish for many meals.
Versatile. Some variations of arroz blanco include the addition of different vegetables like peas, carrots, or corn, which not only enhance the taste but also add color to the dish.
Delicious. This simple yet delicious dish complements the flavors of many Mexican dishes and serves as a neutral base to balance out spicier or bolder flavors. It is a staple in Mexican cuisine and is enjoyed in households and restaurants alike.
Because it is such an easy recipe, I wanted to take a moment to explain to you why I like cooking rice this way and why Mexican rice is different than other rice recipes.
The preparation of arroz blanco involves sautéing the rice in oil or butter until it becomes translucent and then simmering it in a flavorful liquid until cooked.
The liquid can be water, broth, or a combination of both and is often seasoned with onions, garlic, and salt.
Arroz Blanco is typically cooked in a covered pot or saucepan over low heat to ensure even cooking and to prevent the rice from sticking or becoming mushy. Once cooked, it is fluffed with a fork to separate the grains and achieve a light and fluffy texture.
Let's see what we need and how to make the recipe.
Ingredients
Rice. For an authentic version of Mexican rice, make sure you use long or extra long-grain white rice. (you can find it in the Latin stores). Jasmine rice is a good option too.
The grains of these types of rice stay separate as they cook, so you don't end up with sticky rice, like the short-grain rice used to make sushi.
Note. When cooking rice in Mexico, it is important to rinse the raw rice under cold running water before you start cooking it. It is usually sold in bulk and needs to be really well washed.
It also removes the extra starches, helping the cooked grains separate from each other.
For this recipe in particular, soak the rice in hot water for 5 minutes, then drain it and rinse it with cold water again. After this step, let the rice drain in a colander until ready to get in the pot.
Onions. White onions are popular in Mexico, but you can also use regular onions or even green onions for extra color.
Garlic. Please use real garlic here.
Peas. I always have frozen peas in the freezer, and this is what I used. If you want to add more color to your rice, you can also use peas and carrots, also frozen.
Vegetable oil. Use sunflower, safflower, or canola oil.
Instructions
1. Saute the onions and garlic first, then the rice.
I usually start my recipe with the onions.
Chop the onion and also two cloves of garlic and sauté them in oil.
Add the rice and saute it as well, making sure it doesn't stick to the pan.
2. Add the liquid.
After you add the liquid to the pot, let it come to a boil, then cover it and reduce the heat to as low as possible.
In the picture above, you can see that I added some green peas. This is optional, as Mexican rice can come with peas, carrots, or other vegetables.
3. Finish the cooking:
The rice is ready when it is soft, tender, and cooked through. This should happen ideally when most of the liquid has been absorbed, but there is still some left to give moisture to the rice.
If it is not cooked, then just add a few tablespoons of water, cover the pot again, and cook for another 2 minutes.
4. Let the rice rest:
Once the rice is cooked, remove it from the heat and let it sit for a few minutes before you fluff it up with a fork and serve it.
Rice reheats really well, and it is a good side dish to make in advance. Add 2-3 tablespoons of water when you reheat it covered.
Serve the rice in a large bowl, or press it in round molds that you invert onto the plates.
This is attractive, especially when you serve the rice with mole or a similar dish with sauce, like my very popular recipe on the blog, Tinga de pollo, or Chicken in Chipotle sauce.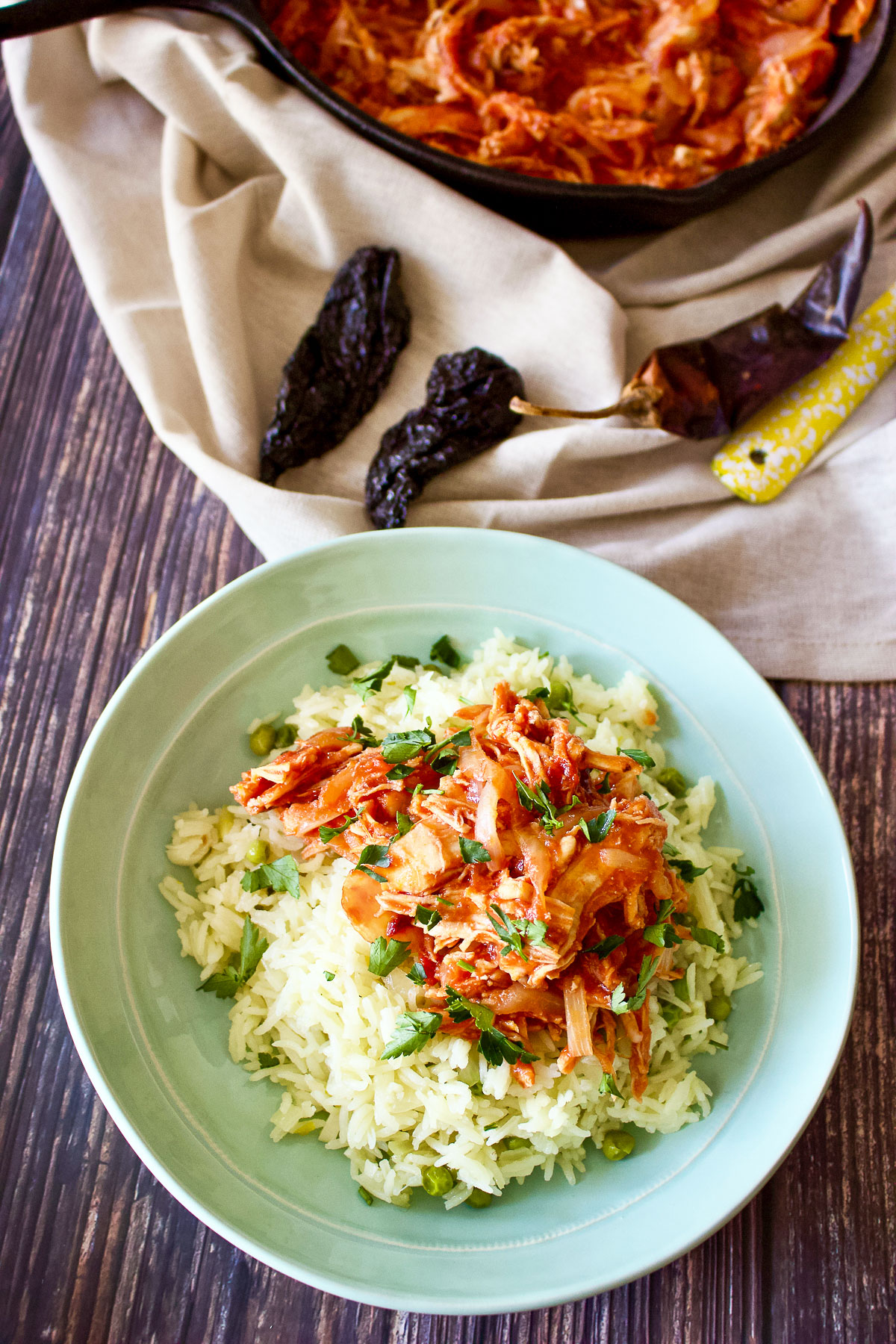 This easy Mexican rice is a down-to-earth recipe, easy to make, and delicious.
What to serve with this arroz blanco
It makes a great dish to serve with roasted meats and Mexican beans.
It goes also well with roasted vegetables.
More recipes with rice
Probably one of my favorite ways to eat rice is as rice pudding, but I also love it cooked with vegetables and chicken, beef, or pork, like this recipe of Rice with pork and vegetables.
More Mexican recipes to love:
Craving more? Subscribe to The Bossy Kitchen to get new recipes and a newsletter delivered straight to your inbox! Stay in touch on Facebook, Twitter, Pinterest, and Instagram for all of the latest updates. Don't forget to use the star rating and leave a review.
Enjoy, and keep it simple!
📖 Recipe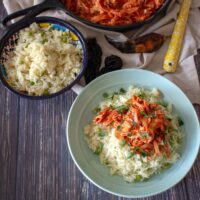 Easy Mexican Rice Recipe
Versions of this easy Mexican rice recipe, a relative of Spanish rice, are popular all over South America. It is classified as a sopa seca or dry soup.
Print
Pin
Share
Grow
Saved!
Rate
Ingredients
3

tablespoons

vegetable oil

½

medium onion or 2-3 green onions chopped

2

cloves

garlic roughly chopped

1

cup

long grain rice

2

cups

water or chicken stock

½

teaspoon

salt or to taste

1

cup

frozen peas (optional)
Instructions
Chop the onions and garlic.

In a pan heat up the oil on medium high heat and add the onions and the garlic.

Cook the onion and garlic together until soft and translucent.

Add the rice to the onions.

Cook the rice until it becomes a delicate golden brown. Stir occasionally to ensure that rice does not stick to the bottom of the pan.

Stir in the chicken stock or water, salt and peas if using. Simmer on medium low heat.

Continue to cook the mixture, stirring occasionally, until all the liquid has been absorbed and the rice is just tender.

Remove from the stove, cover with a tight fitting lid and let it stand in a warm place for 5-10 minutes.
Notes
Cook's tip: Do not stir the rice too often after adding the stock, or the grains will break down, and the mixture will become starchy.
Nutrition
Serving:
1
g
|
Calories:
328
kcal
|
Carbohydrates:
47
g
|
Protein:
8
g
|
Fat:
12
g
|
Saturated Fat:
2
g
|
Polyunsaturated Fat:
6
g
|
Monounsaturated Fat:
3
g
|
Trans Fat:
0.1
g
|
Cholesterol:
4
mg
|
Sodium:
493
mg
|
Potassium:
273
mg
|
Fiber:
2
g
|
Sugar:
3
g
|
Vitamin A:
3328
IU
|
Vitamin C:
6
mg
|
Calcium:
32
mg
|
Iron:
1
mg
Tried this recipe?
Please leave a comment on the blog or like us on Facebook!