Sopa Seca De Fideos, also known as Mexican Dry Soup or Dry Noodle Soup, is a traditional Mexican dish that features pasta cooked in a flavorful tomato-based broth.
After spending a considerable amount of time in Mexico, I had the opportunity to learn the art of preparing this dish firsthand. With confidence, I can assure you that what I'm about to share is a genuine and traditional recipe.
Check out my other Mexican recipes, including my authentic Mexican arroz blanco, Flan de Queso, or Mexican chipotle mushrooms.
The term "Sopa Seca" translates to "dry soup" in English because the pasta absorbs most of the liquid during the cooking process.
Jump to:
What is a Sopa Seca?
In a typical Mexican meal (or Mexican comida), which is eaten at about two o'clock in the afternoon, there will always be a sopa seca- a "dry soup" course- either of pasta cooked in a Mexican way or rice; it follows the "wet soup" course and precedes the main course.
Related: Caldo De Pollo in Instant Pot
Sopa Seca is a popular dish in various regions of Mexico. While it is enjoyed throughout the country, it is particularly associated with Mexican cuisine in central Mexico and also southern regions like Mexico City, Puebla, Hidalgo, or Tlaxcala.
Very thin pasta, also called fideo (you can find it in the ethnic section of your grocery store), is toasted in oil, together with onion and garlic, until golden brown, then cooked in a tomato sauce enriched with different chili peppers and chicken broth.
It tastes better than it sounds, and once you try it, you will come back to it over and over again.
Mexican Sopa Seca recipe can be customized based on personal preferences. Some variations may include different types of chili peppers, like chile chipotles, guajillo, pasilla, or ancho chile (a dried Poblano pepper), different spices, or toppings.
The dried chiles are typically rehydrated and blended into the tomato sauce or broth. This adds a depth of flavor and mild spiciness to the dish.
We will use chile chipotle in our recipe today.
In the United States, Sopa Seca is often prepared in a similar manner to its traditional Mexican counterpart.
However, there may be some variations or adaptations influenced by regional preferences and ingredient availability, like spices, herbs, and other seasonings used.
Sopa seca de fideo (Dry vermicelli "soup") offers a comforting and satisfying meal that combines the flavors of pasta, tomatoes, and spices.
So, what exactly goes into it, and how do we make it?
Ingredients
Pasta:
The preferred pasta, if you want to make an authentic sopa seca, is the fideo pasta. You can also get this brand instead. "Fideo" is a thin, short pasta that resembles short strands or vermicelli noodles, and it is considered a pantry staple in Mexico.
It is commonly used in Mexican cuisine and is well-suited for absorbing flavors from the broth while maintaining a tender texture.
Mexican fideo pasta may be replaced with more common pasta shapes such as vermicelli, angel hair pasta, or broken thin spaghetti.
Vegetable Oil:
Use regular vegetable oil, sunflower, safflower, or corn oil.
Tomatoes:
Mexican cuisine uses an abundance of fresh fruits and vegetables, and tomatoes are available all year round. However, a good can of tomato puree or tomato sauce is perfectly acceptable in this recipe.
Onions:
The preferred onion is either white or yellow.
Garlic:
Fresh garlic, please. No substitutions.
Chicken broth:
Chicken broth or chicken stock is the preferred one here, but Mexican cuisine uses a lot of chicken bouillon to enhance the taste of the dish. Use what you have available. If you want to make it vegetarian, use vegetable broth instead.
Chipotle Peppers:
We will use chiles chipotle in Adobo Sauce, which are jalapeño chiles that have been dried, smoked, and then packed in a flavorful sauce made of tangy tomatoes and spices. Use 1-2 chiles based on your taste and how spicy you want your food to be.
A little goes a long way if you are not used to them.
Toppings:
Cheese: In traditional Mexican Sopa Seca, queso fresco is often used as a topping or garnish.
Queso fresco is a crumbly, mild white cheese that adds a creamy and slightly salty flavor to the dish. It's a popular cheese in Mexican cuisine and complements the flavors of tomato-based broth and pasta.
However, other types of cheese can be used, like Chihuahua cheese, Anejo, or Cotija. Even a mild Cheddar or Parmesan cheese would work. As we will bake this dish, any of these types of cheese I already specified should work.
Mexican crema, sour cream, or creme fraiche. Sopa seca is served with slices of avocado and a little bit of crema on top. Choose what you have available.
Instructions
Sopa seca is usually made on the stove, but my version will require an extra step. After the pasta is cooked on the stove, we transfer it to a baking dish and add some melting cheese to it. The dish is baked just until the cheese has melted but not browned.
This extra step will make this dish even more delicious and perfect for cheese lovers. The leftovers are also divine.
(For full instructions, please scroll to the printable recipe card)
Step 1. Preheat the oven and prepare a baking pan.
Step 2. Heat the oil in a large skillet and cook onions and garlic on medium heat.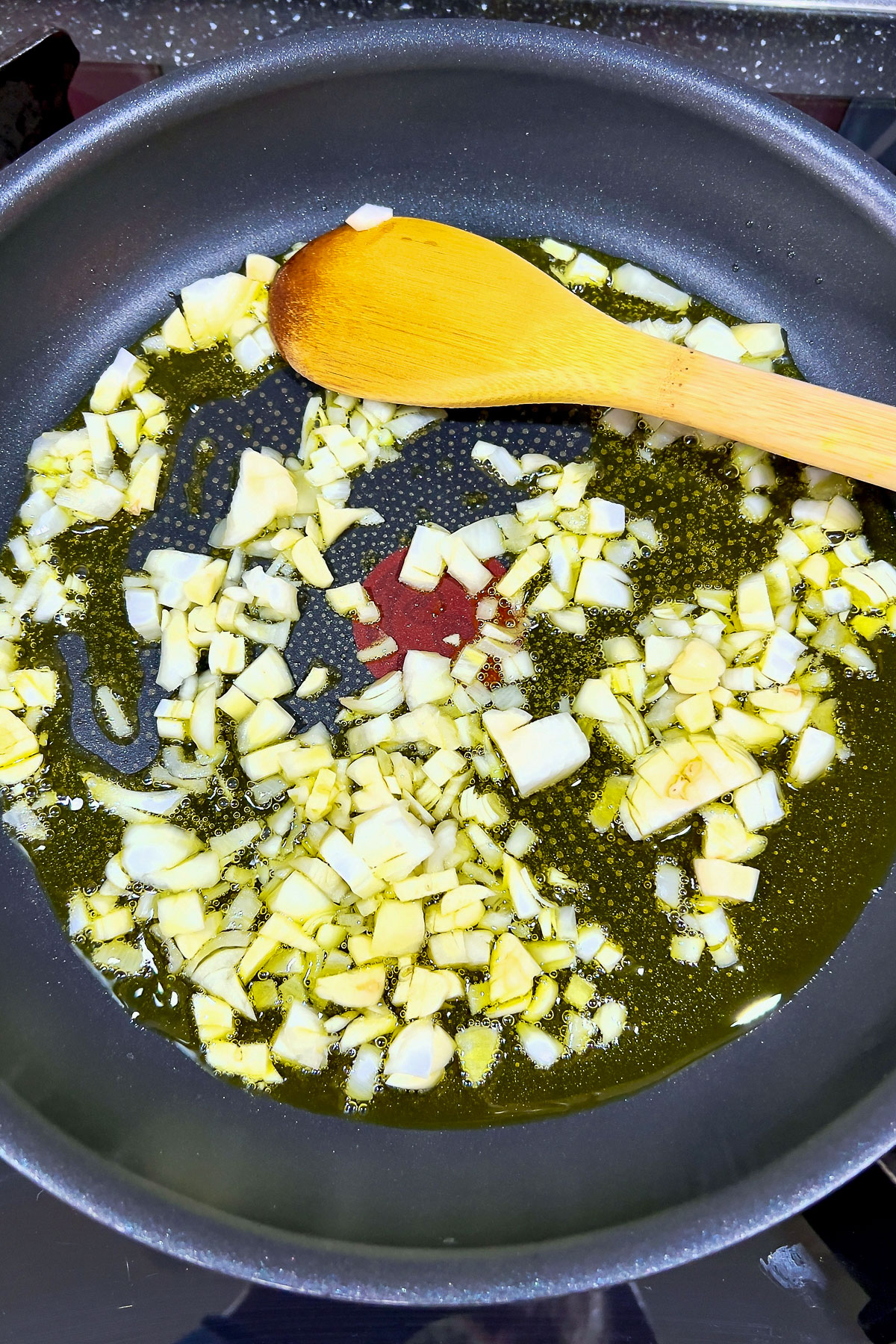 Step 3. Add the pasta and cook it. The pasta browns quickly, so turn it over carefully from time to time, making sure it doesn't burn.
It should look like this: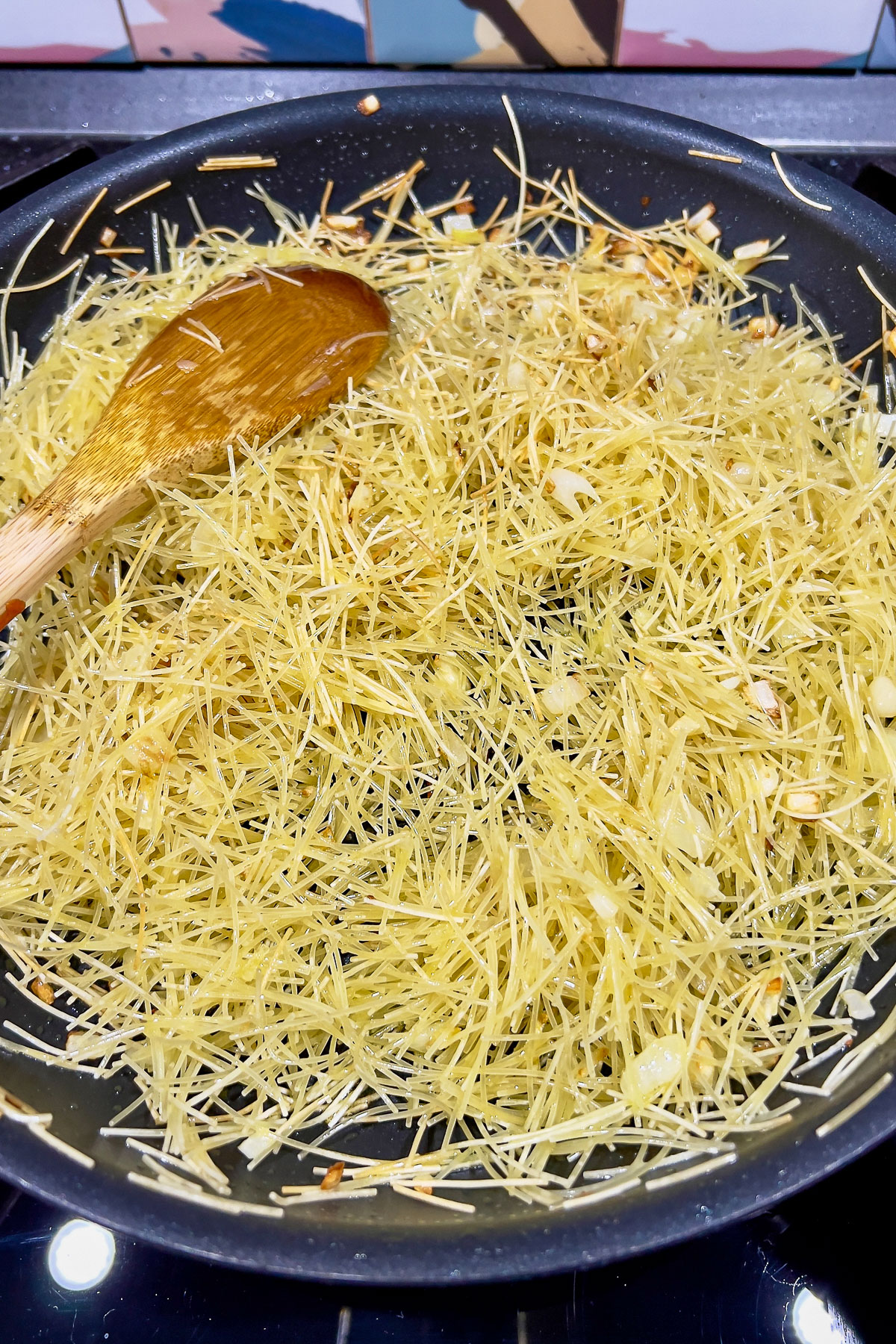 Step 4. Add crushed tomatoes and mix to incorporate.
Also, add chile chipotle. Cook the sauce with pasta for a few minutes until the sauce thickens.
Step 5. Stir in the chicken broth and taste for salt. Cover the pan and cook over a low flame until the liquid has been absorbed, for about 8 to 10 minutes.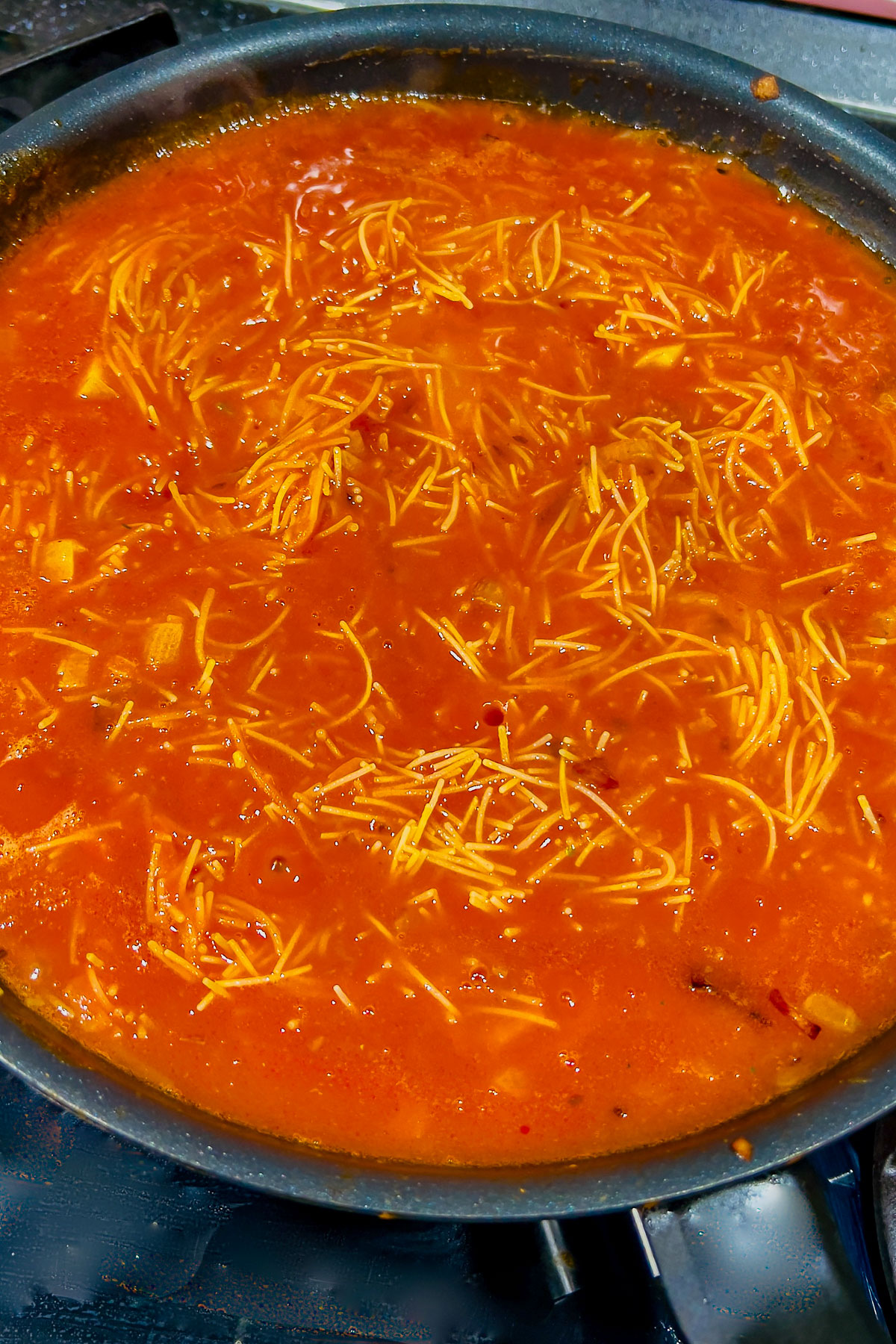 Step 6. Transfer the pasta to the baking dish, and generously sprinkle the grated cheese over the surface. Cover loosely with foil.
Step 7. Bake for a few minutes until the cheese has melted completely.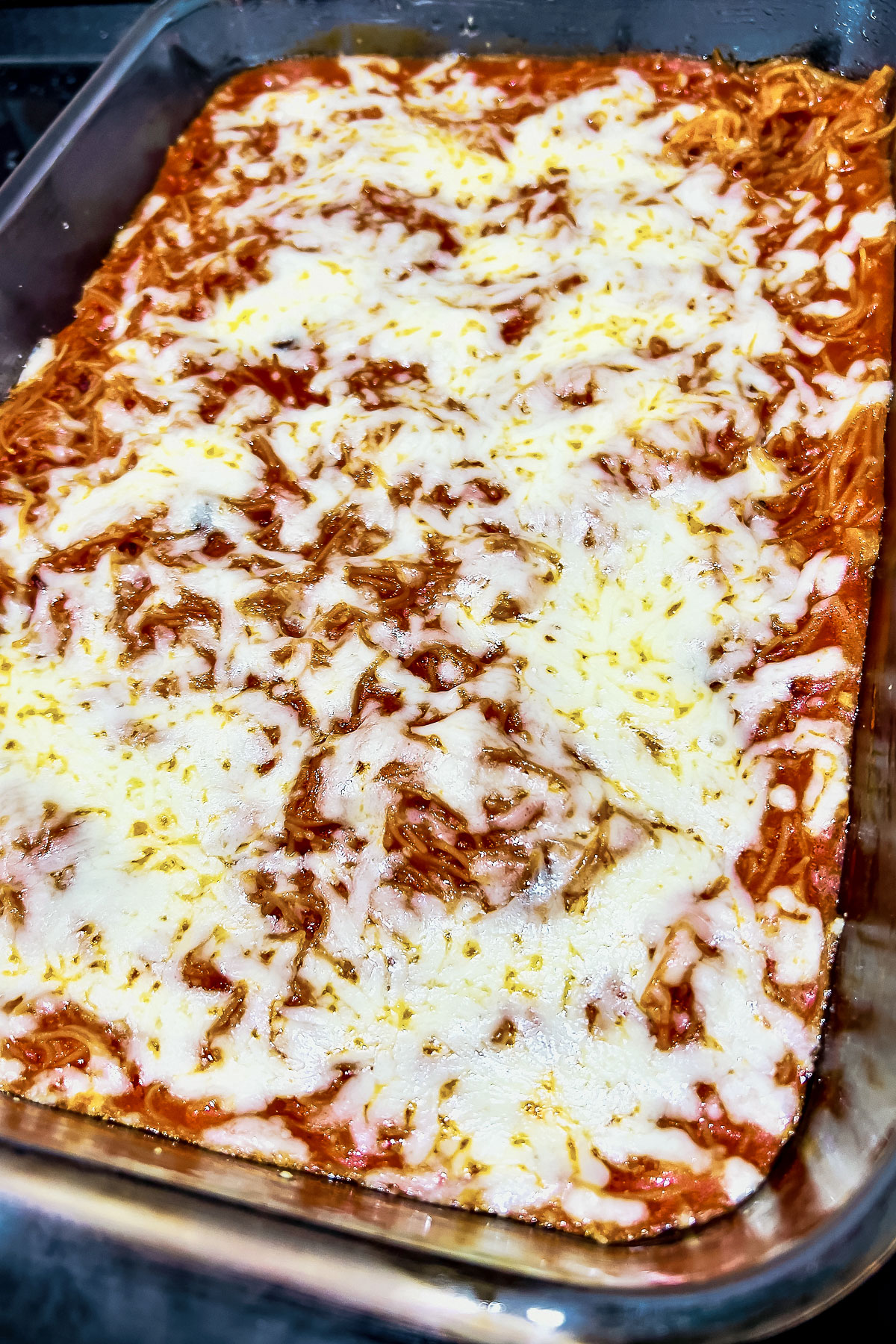 Step 8. Serve warm, adding the toppings.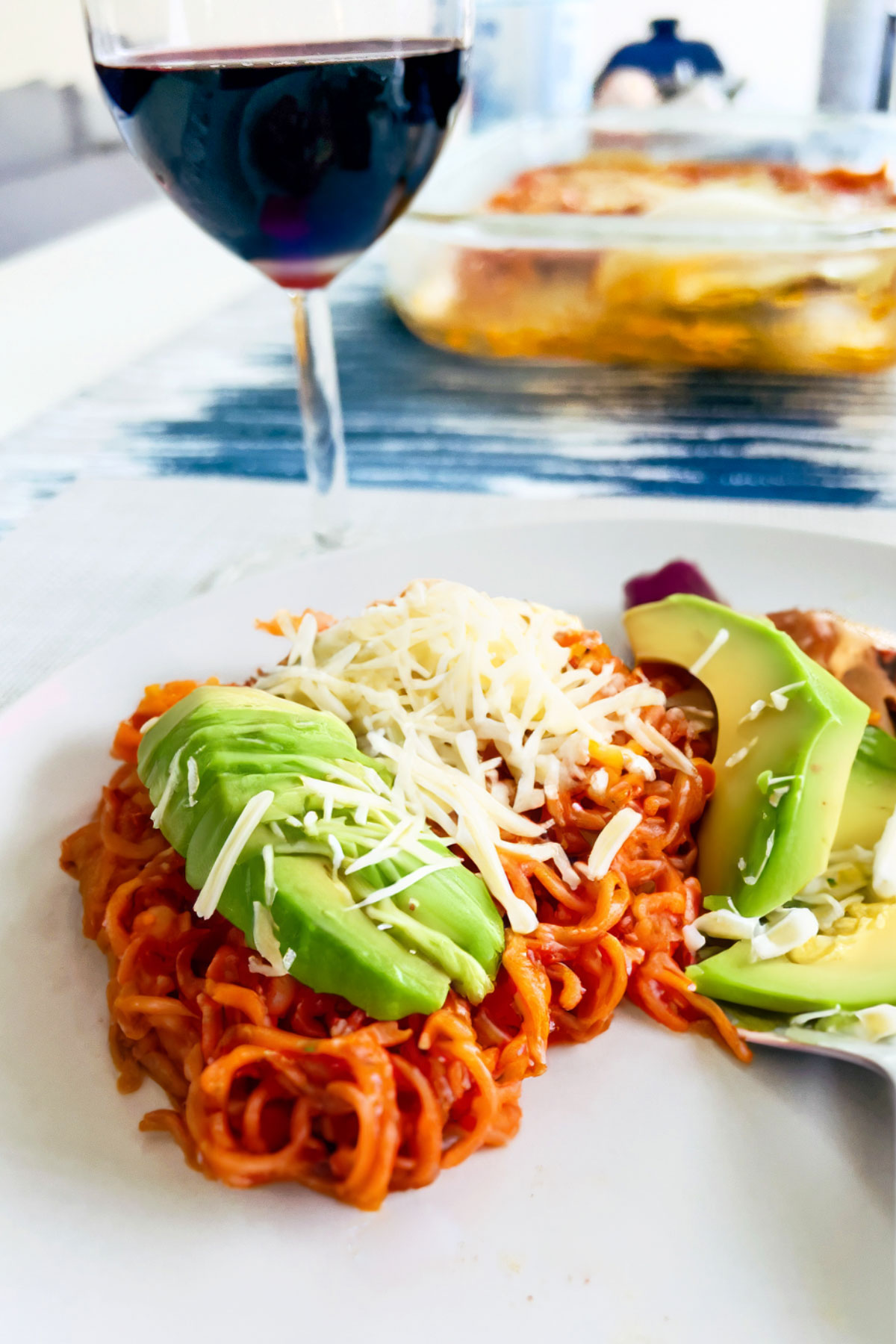 Some other ways to serve this comfort dish
Sopa Seca is a comfort food that can be served as both a main dish and a side dish, depending on the context and the accompanying meal. Its versatility allows it to be enjoyed in different ways. If the dish is not served as part of a "comida" or lunch, it could be served as:
Main Dish: Sopa Seca can be served as a standalone main course. In this case, it is typically accompanied by a side of beans or a salad. It is a satisfying and flavorful dish that can be enjoyed on its own, particularly for lunch or a light dinner.
Side Dish: Sopa Seca can also be served as a side dish alongside other main courses. It pairs well with grilled meats, roasted vegetables, or other Mexican dishes such as enchiladas or tacos. In this context, it acts as a flavorful complement to the main dish, adding variety to the meal.
Potluck or Buffet: Sopa Seca is often a popular addition to potluck gatherings or buffet-style events. It can be served in a large dish or tray, allowing people to serve themselves and enjoy it as part of a larger spread of dishes.
How to store Sopa Seca De Fideos
In the refrigerator:
Allow the pasta to cool down to room temperature first. Transfer it to an airtight container.
Keep the toppings and garnishes separate from the Sopa Seca before storing them. Toppings like crumbled queso fresco or chopped cilantro can be stored separately and added when serving.
Sopa Seca can be stored in the refrigerator for up to 3 to 4 days. Reheat it in a microwave-safe dish or on the stovetop until it is heated through. Add the toppings or garnishes before serving.
Sopa seca is best enjoyed fresh, as the pasta may continue to absorb moisture and become drier. Add a little bit of broth or water when you warm it up.
In the freezer:
While I never froze this dish before, it can be stored in the freezer for up to 2 to 3 months. However, for the best taste and texture, I recommend you consume it within the first month.
When ready to use, thaw the frozen Sopa Seca in the refrigerator overnight. Reheat it in the microwave or on the stovetop until it is thoroughly heated. Add any toppings or garnishes before serving.
Expert tip: It would be a good idea to portion the Sopa Seca before freezing, so you can thaw and reheat only the amount you need at a time.
Recipe Faqs
Can I use different types of pasta in Sopa Seca?
Yes, while traditional Sopa Seca often uses fideo or vermicelli pasta, you can experiment with other pasta shapes such as penne, rotini, or macaroni to suit your preference.
Are there vegetarian or vegan variations of Sopa Seca?
Absolutely! You can easily adapt Sopa Seca to vegetarian or vegan diets by using vegetable broth instead of chicken broth and omitting animal-based ingredients like cheese. Consider adding flavorful vegetables or plant-based proteins to enhance the dish.
Can I make Sopa Seca ahead of time?
Yes, Sopa Seca can be made ahead of time and stored in the refrigerator for a few days. Alternatively, you can freeze it for longer-term storage. Just remember to reheat it thoroughly before serving and maybe add some more liquid to it, if it feels too dry.
Can I customize the spice level of Sopa Seca?
Absolutely! You can adjust the spice level of Sopa Seca by adding more or less chili powder, dried chilies, or other spices according to your preference. Be mindful of the heat level of the spices you choose to ensure it suits your taste.
More Mexican recipes to love
Craving more? Subscribe to The Bossy Kitchen to get new recipes and a newsletter delivered straight to your inbox! Stay in touch on Facebook, Twitter, Pinterest, and Instagram for all of the latest updates. Don't forget to use the star rating and leave a review.
📖 Recipe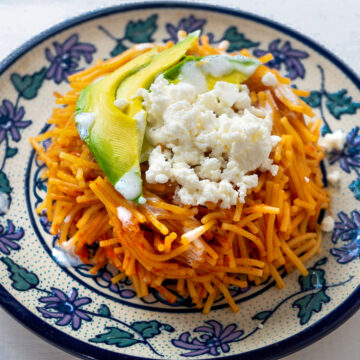 Sopa Seca De Fideos (Mexican Dry Soup)
Sopa Seca De Fideos, also known as Mexican Dry Soup or Mexican Noodles Soup, is a traditional Mexican dish that features pasta cooked in a flavorful tomato-based broth. 
Print
Pin
Share
Grow
Saved!
Rate
Ingredients
4

tablespoons

vegetable oil

1

medium white onion

roughly chopped

2

garlic cloves

peeled and roughly chopped

8

ounces

fine vermicelli

(fideos) or angel hair pasta

1

cup

low sodium chicken broth

1

chile chipotle en adobo, roughly chopped

1

cup

crushed tomatoes

about 8 ounces

salt to taste

1

cup

shredded cheese plus ¼ cup extra cheese for garnishing

Chihuahua cheese, mild Cheddar, Monterey Jack, Asadero, or even queso fresco.
Optional Garnish:
1

sliced avocado

¾

cup

Mexican cream

or sour cream or Crème fraîche
Instructions
Preheat the oven to 350F. Brush a 9-inch square baking dish with oil and set aside.

Heat the oil in a large skillet over medium heat. Add chopped onions and garlic and cook until translucent.

Add the fideos (or vermicelli pasta) and cook, turning them with tongs, until golden brown on both sides, about 5 minutes. Make sure they don't burn.

Add the crushed tomatoes and chile chipotle and mix to incorporate. Cook for about 2 minutes, or until the sauce thickens.

Stir in the broth and salt to taste. Cover the pan and cook over a low flame until the liquid has been absorbed, for about 8 to 10 minutes.

Transfer the pasta to the baking dish, and generously sprinkle the grated cheese over the surface. Gently cover the dish with foil, allowing some room for air circulation.

Place it in the oven and bake for approximately 10-15 minutes, or until the cheese has melted completely and the casserole is heated throughout.

Serve warm, topping each portion with a little more cheese, Mexican crema, and a few slices of avocado.
Nutrition
Calories:
433
kcal
|
Carbohydrates:
39
g
|
Protein:
13
g
|
Fat:
26
g
|
Saturated Fat:
6
g
|
Polyunsaturated Fat:
6
g
|
Monounsaturated Fat:
7
g
|
Trans Fat:
0.1
g
|
Cholesterol:
34
mg
|
Sodium:
316
mg
|
Potassium:
444
mg
|
Fiber:
5
g
|
Sugar:
5
g
|
Vitamin A:
458
IU
|
Vitamin C:
9
mg
|
Calcium:
214
mg
|
Iron:
1
mg
Tried this recipe?
Please leave a comment on the blog or like us on Facebook!