This easy Flan Recipe makes a great and quick dessert for a scrumptious grand finale of a dinner with friends or family.
If you like Mexican recipes, try my other authentic and loved Easy Mexican Horchata, Chicken Tinga, Capirotada, or my favorite Ensalada de Nopales.
Flan is something I discovered many years ago while living in Mexico. It quickly became one of my favorite desserts out there.
However, before I start sharing this recipe with you, I want to take a moment and talk about what this dessert is all about.
Jump to:
What is a flan?
For those who have never heard of it before, flan is an egg-based custard baked in a caramel-lined dish. It is one of the most traditional desserts of Mexico, but it is also popular in Spain and other Latin American countries.
It is similar to a creme brulee, with a creamy, smooth texture that everyone loves.
Mexico has many versions of flan. The most important ones are:
Egg flan (Flan de huevo)
Homemade flan (Flan casero)
Flan Napolitano (made with cream cheese, which we will make today)
Chocolate Flan (Flan de chocolate)
Coconut Flan (Flan de coco)
Coffee Flan (Flan de café)
Pumpkin Flan (Flan de Calabaza)
This dish is always baked in a water bath or bain-marie.
What is Bain-Marie?
A bain-marie or baño-maría is a technique for baking custards, cheesecakes, or other delicate dishes. The water bath prevents the custard from cracking or curdling as the hot water surrounds the food to produce an even, gentle heat.
The custard is placed into a baking dish and then placed into another pan with water in it.
This technique helps the flan cook evenly and insulates the custard, so it cooks slower and acquires that creamy, silky texture.
After cooking, the flan is turned out onto a plate for serving.
Why this recipe works:
Creamy and Rich Flavor: This recipe combines the creamy texture of cream cheese, condensed milk, and evaporated milk to create a luxurious and rich flan. The addition of cream cheese adds a unique twist and enhances the overall flavor profile. The combination of these ingredients, along with the caramel syrup, creates a deliciously sweet and satisfying dessert that is sure to please.
Easy Preparation: This recipe offers a straightforward preparation method that can be easily followed by readers of various cooking skill levels. The instructions provide clear steps, and the use of common pantry ingredients makes it accessible for anyone looking to make a delightful dessert. The option to use either a pie dish or individual ramekins also allows for flexibility in serving size and presentation.
Traditional Mexican Dessert: Flan is a beloved dessert in Mexican cuisine, and this recipe stays true to its traditional roots while incorporating a twist with the addition of cream cheese.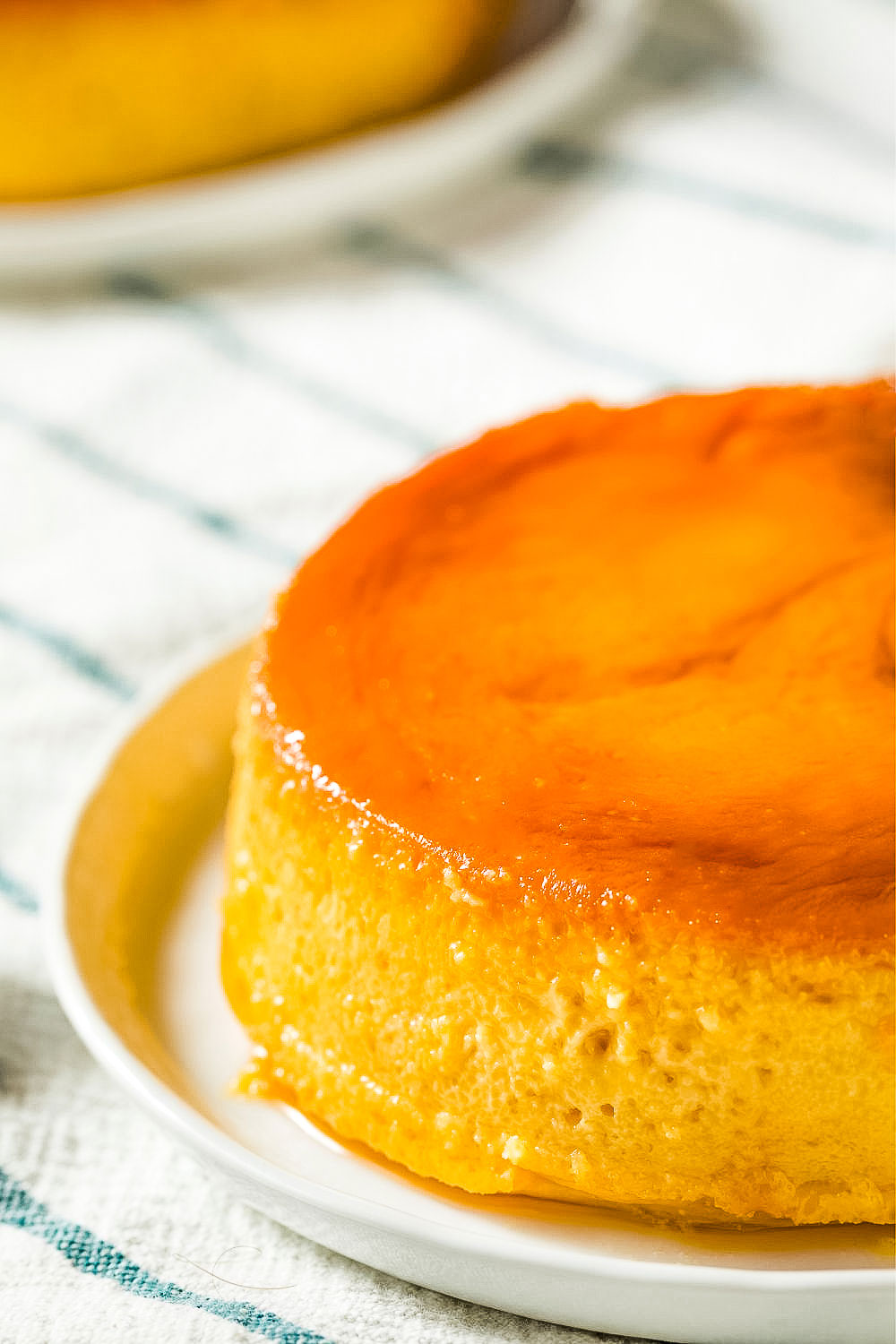 Ingredients
Granulated sugar: This is used to make the caramel syrup that coats the flan. It provides sweetness and a rich golden color. You can substitute it with other granulated sugars like brown sugar or coconut sugar for slightly different flavor profiles.
Sweetened Condensed Milk: It is a thick and sweet milk product that adds creaminess and sweetness to the dessert. It is made by removing water from cow's milk and adding sugar. A possible substitution for condensed milk is sweetened condensed coconut milk for a dairy-free or vegan version.
Evaporated milk: This is another milk product that has had most of its water content removed, resulting in a thicker consistency and creamier flavor. It adds richness and depth to the flan. If you don't have evaporated milk, you can substitute it with an equal amount of whole milk or half-and-half.
Large eggs: Eggs provide structure and richness. They help bind the ingredients together and contribute to the smooth texture. There are no direct substitutes for eggs in this recipe.
Cream cheese: It adds a creamy and tangy flavor. Cream cheese provides a luscious texture and enhances the richness of the dessert. If you don't have cream cheese or prefer a different flavor, you can substitute it with mascarpone cheese.
Vanilla: It adds a warm and aromatic flavor. Vanilla extract is commonly used in recipes, but you can also use vanilla bean paste or vanilla powder for a more intense vanilla flavor.
What kind of baking dish is suitable for flan
If you have many guests, bake it in a 9-inch round cake pan or a flanera, which is a special dish created for making flan.
I personally like individual ramekins better because I can either have an individual dessert when I want it, but it also looks prettier on the plate when you serve it to your guests.
No matter how you bake it, this recipe is a wonderfully delicious dessert that you can serve not only when you have guests.
Can I use a springform pan?
Using a springform pan for flan is not recommended. Springform pans are notorious for leaking, and when used for this type of dessert, the water bath required during baking can potentially seep into the pan and flood the interior.
Additionally, the liquid custard mixture may also leak through the sides of the springform pan. To avoid these complications and ensure a successful flan, it is advisable to use a more secure and watertight baking dish or individual ramekins.
Instructions
Preheat the oven to 325°F.
Make the caramel syrup: In a medium saucepan over medium-low heat, melt the granulated sugar until it becomes liquefied and turns golden in color. Be careful while handling hot sugar.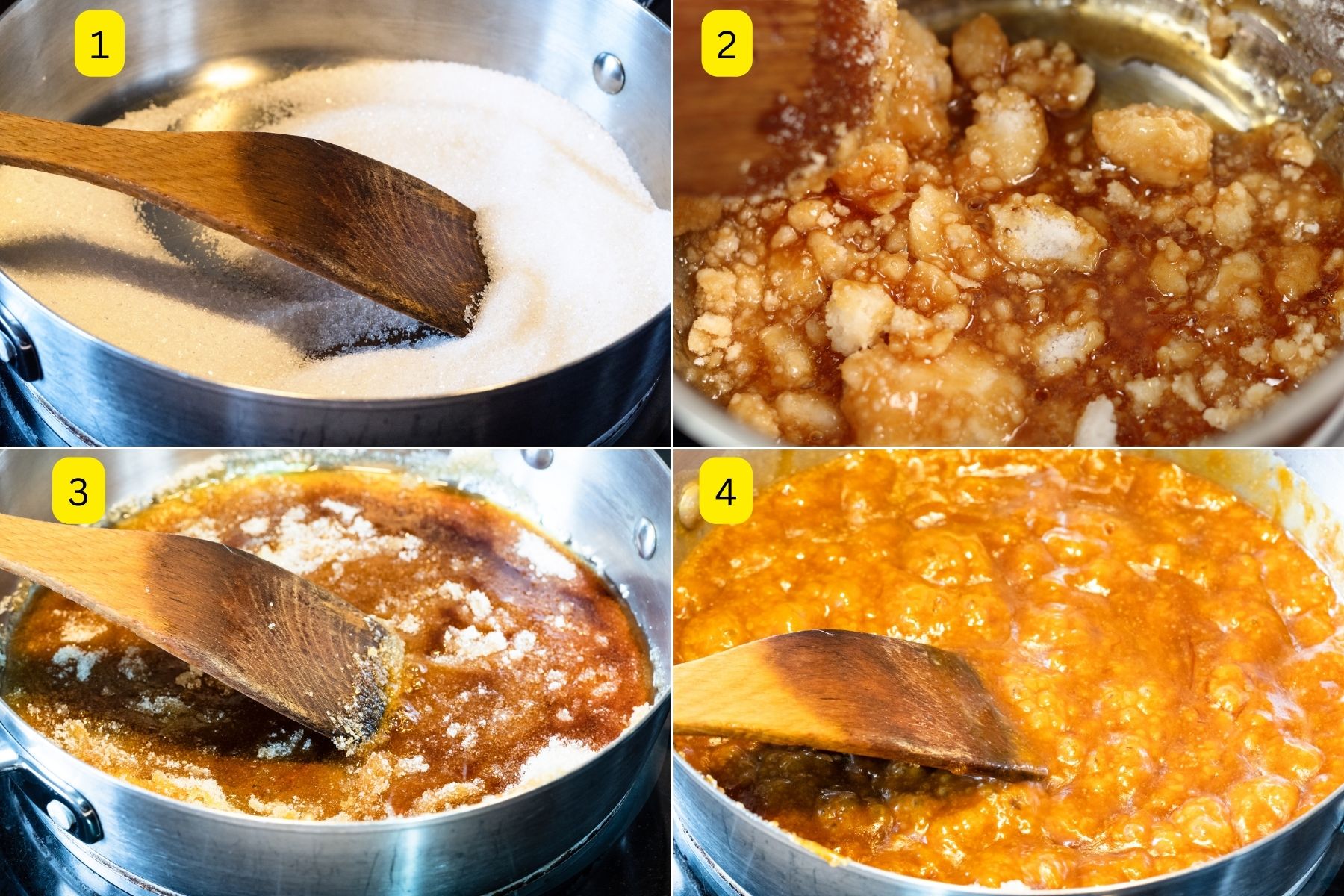 Coat the baking dish: Carefully pour the hot caramel syrup into each flan mold or the baking dish, turning them to coat the bottom and sides evenly. Set them aside to cool and harden.
Prepare the egg and milk mixture: In a large bowl, beat the eggs until well blended. Add the condensed milk, evaporated milk, and vanilla extract. Mix until smooth and fully combined. You can also use a blender for this step for a smoother texture.
Add the cream cheese: Incorporate the cream cheese into the egg mixture and continue to mix until smooth and fully blended. The addition of cream cheese adds richness and a creamy flavor to the flan.
Pour the mixture into the prepared dish: Pour the prepared flan mixture into each baking dish, distributing it evenly. Make sure to leave some room at the top, as the flan will rise slightly during baking.
Prepare for baking: Cover the baking dish with aluminum foil. If you use ramekins, cover each of them too. Place the individual ramekins or the baking dish into a larger baking pan. The baking pan should be deep enough to hold hot water.
Create a water bath: Pour enough hot water into the baking pan, being careful not to splash into the mixture until it reaches about halfway up the sides of the ramekins or the pie dish. The water bath helps the flan cook evenly and prevents it from cracking.
Bake: Place the baking pan with the covered ramekins or pie dish in the preheated oven. Bake for approximately 40 minutes or until the centers of the custard are gently set. It should still have a slight jiggle in the center.
Cool and chill: Once the flan is baked, carefully remove it from the oven and transfer it to a cooling rack. Allow it to cool at room temperature, and then refrigerate for at least 2 hours, or preferably overnight, until the flan is cold and fully set.
Unmold: Prior to serving, run a small sharp knife around the edges of the flan to loosen it from the mold. Place a serving plate upside down over the ramekin or pie dish and carefully flip it over, allowing the custard to release onto the plate. Gently shake the mold to help the flan come out, and lift the mold away to let the caramel syrup flow over it.
Serve and enjoy: You can garnish them with a drizzle of caramel syrup, fresh fruit, or whipped cream if desired.
Expert tips:
Keep an eye on the cooking time. The flan will continue to firm up as it cools and chills in the refrigerator. If you're unsure, it's better to slightly undercook it rather than overcook it. In the case that you find out the custard is not fully set after cooling, you can chill it for a longer period, preferably overnight, to achieve the desired texture. This is a delicate dessert, so it's important to avoid excessive poking around while checking for doneness.
Use a Water Bath with Hot Water: When baking the flan, placing the baking pan with the ramekins or pie dish in a water bath helps to ensure gentle and even heat distribution. It prevents it from overcooking or developing a rubbery texture. To achieve the best results, use hot water when creating the water bath. This helps maintain a consistent baking temperature and promotes a smooth and creamy texture of the dessert.
Strain the egg and milk mixture: For an extra smooth and silky texture in the flan, consider straining the uncooked mixture before pouring it into the baking dish or ramekins. This step helps remove any lumps or small bits of cream cheese that may not have been fully incorporated. Simply pass the mixture through a fine-mesh sieve or strainer into another bowl or pitcher.
Recipe Faqs
How do you know when the flan is cooked enough?
Gently shake the baking pan or individual ramekins to see if the center is set but still jiggles slightly. The custard should have a soft, wobbly texture in the center while the edges are firmer. Avoid overcooking the flan, as it may result in a dry or rubbery texture.
Or, insert a toothpick or a small knife into the center of the custard. If it comes out mostly clean, with only a few small, moist crumbs clinging to it, then the flan is likely done. If the toothpick comes out with raw batter clinging to it, it needs more baking time.
Can I make flan in advance?
Yes, it is actually recommended to make this recipe in advance to allow it to chill and set properly. After baking and cooling the flan, cover it with plastic wrap or a lid and refrigerate for at least 2 hours, but preferably overnight, to ensure it is thoroughly chilled. This resting time allows the flavors to develop and the texture to firm up. When you're ready to serve, simply unmold it and enjoy.
Can I make flan without a water bath?
While a water bath is commonly used when baking flan to ensure even cooking and prevent cracking, it is possible to make this recipe without a water bath. If you choose to skip the water bath, be aware that the flan may cook slightly faster and the texture will be different. To compensate, you can reduce the baking time and keep a close eye on the dessert to prevent overcooking. Without the water bath, the flan will have a denser texture but should still be delicious.
How to store this flan with cream cheese
Let it cool at room temperature for about 30 minutes. This helps it set and firm up slightly before refrigeration.
Once the flan has cooled, cover it with plastic wrap and place it in the refrigerator for at least 2 hours, but preferably overnight, to thoroughly chill and develop its flavors.
I recommend you consume it within 3 to 4 days of preparation.
Before serving, unmold the flan onto a serving plate. Run a small sharp knife around the edges to loosen it from the mold.
Place the plate upside down over the mold and gently flip it over. Shake the mold slightly if needed to release the flan.
The caramel syrup will flow over, creating a beautiful presentation.
Interested in another flan recipe? Try this Orange-Almond Flan- a Spanish recipe that is gluten and dairy free!
More Mexican recipes to love:
📖 Recipe
Flan
Flan makes a great and quick dessert for a scrumptious grand finale of a dinner with friends or family.
Print
Pin
Share
Grow
Saved!
Rate
Ingredients
¾

cup

granulated sugar

14

ounces

can of condensed milk

12

ounces

can of evaporated milk

5

large eggs

8

ounces

cream cheese

1

teaspoon

vanilla
Instructions
Preheat oven to 325F.

The flan can be baked in a 9-inch metallic pie dish or individual ramekins (about 8 of them)

In a medium saucepan over medium-low heat, melt sugar until liquefied and golden in color.

Carefully pour hot syrup into the baking pan or ramekins, if you use, turning each mold to coat the bottom and sides evenly. Set aside.

In a large bowl, beat eggs. Beat in condensed milk, evaporated milk, and vanilla until smooth. Add the cheese and keep mixing until smooth. It can also be done in a blender. Pour the egg mixture into the baking dish or split the mixture between the ramekins.

Cover with aluminum foil and place the baking dish or each ramekin into a large baking pan. Pour enough hot water into the baking pan to come halfway up the sides of the ramekins.

Bake until centers of flans are gently set, about 40 minutes.

Transfer flans to rack and cool. Chill until cold, about 2 hours. Cover and chill overnight in the refrigerator.

To serve, run a small sharp knife around the flan to loosen.

Turn over onto a plate. Shake gently to release flan.

Carefully lift off ramekin allowing caramel syrup to run over flan.

Repeat with remaining flans and serve.
Nutrition
Serving:
1
g
|
Calories:
359
kcal
|
Carbohydrates:
52
g
|
Protein:
15
g
|
Fat:
10
g
|
Saturated Fat:
6
g
|
Polyunsaturated Fat:
1
g
|
Monounsaturated Fat:
3
g
|
Trans Fat:
0.01
g
|
Cholesterol:
135
mg
|
Sodium:
346
mg
|
Potassium:
431
mg
|
Sugar:
52
g
|
Vitamin A:
398
IU
|
Vitamin C:
2
mg
|
Calcium:
367
mg
|
Iron:
1
mg
Tried this recipe?
Please leave a comment on the blog or like us on Facebook!