This is an authentic Mexican cactus leaves salad or Ensalada de nopales, as it is called in Spanish. Nopales are a staple in Mexican cuisine and are wildly used in salsas, tacos, salads, or stews.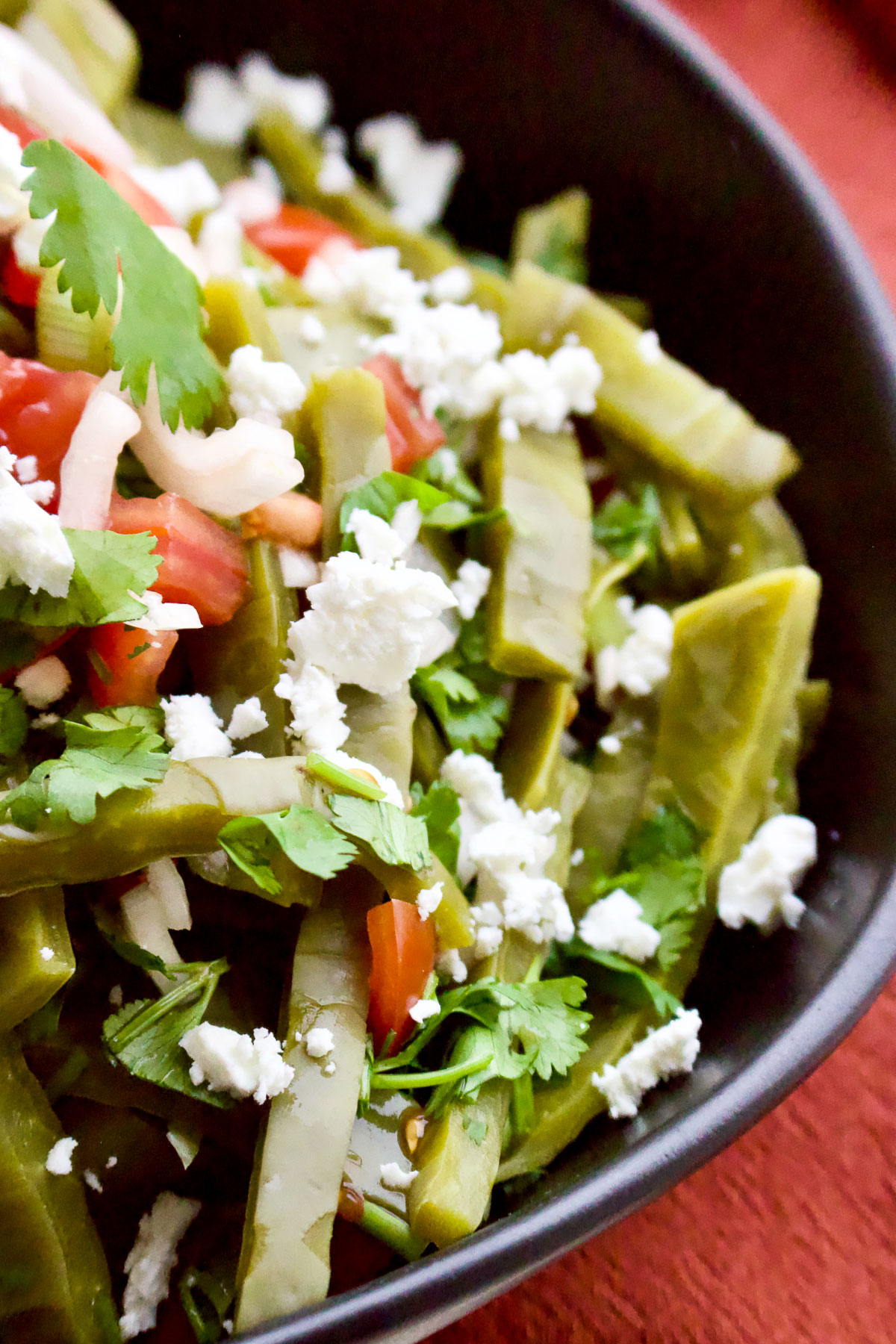 What are nopales?
Nopales are the fleshy green leaves of the nopal cactus, and they are edible.
They are consumed in great quantities in the central and more arid parts of Mexico.
These leaves have prickles that need to be cleaned.
In Mexico, you can buy nopales at the markets, where you will find them already cleaned, or they clean them for you while you wait.
The prickles are scraped off, leaving as much as possible of the outer green layer.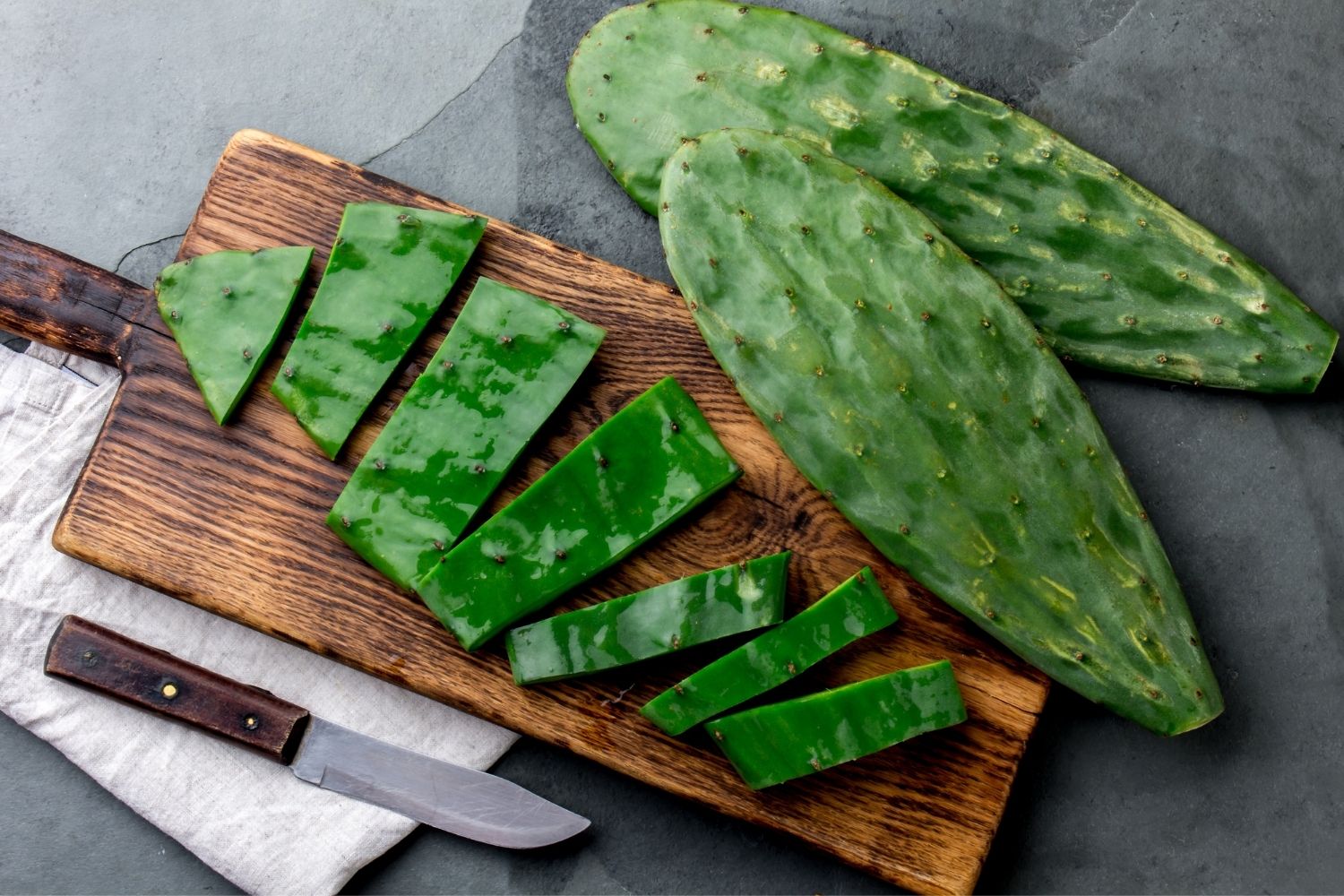 Try to buy fresh nopales that had their prickles removed.
Most Mexican grocery stores in the US carry them, and they are usually cleaned and sliced.
If not, use a pair of heavy-duty gloves and scrape them off with a sharp knife.
I like to buy them whole and cut them to the size I want. The pre-cut ones sold in bags tend to lose their juice very fast.
They can also be found canned or bottled, but for this salad, you need fresh ones. They just taste better.
Nopales or cactus leaves are good for you.
The cactus leaves contain a lot of water and are also very rich in vitamins and minerals. They are usually cooked and then used in the recipes.
The taste is almost the same as green beans after cooking them.
In the United States, you can find fresh nopales in Mexican grocery stores, but also canned ones.
The nopales have a mucilaginous texture inside(it is called baba in Spanish) due to their rich soluble fiber content.
The fiber helps with digestion and constipation but also helps lower cholesterol and blood sugar.
For that matter, the nopales are considered healthy and good for you.
I don't like the slime on the nopales. How do I remove that?
I hear you. Many people avoid nopales because of the slime the leaves contain.
As I said, that slime is just water and fiber. However, there are different tricks to cook nopales and get rid of that slime.
Boil in water. You cook them like you would cook green beans. You need a pot, water, some salt, and nopales.
They need about 10 minutes until they become tender. Remove them from the water, and rinse them well.
Drain and pat them with some paper towels. Then, use them in your recipe.
The downside of this method is that most people will cook the life out of the nopales, then rinse them, by which time all the color and food value has been lost.
Grill them. Grilling the nopales is a great method, and they are awesome in tacos with grilled meats. After removing the thorns, make five slits from the edge down to about 2 inches of the base.
It will look like a hand with fingers. Place the nopales on a lightly oiled grill rack directly over the fire and grill until they turn lighter in color with some browned areas.
Four minutes on each side should be enough.
Cook them in the pan with oil. Heat the oil in a heavy pan and cook the nopales over a low flame, covered with a lid.
Stir them from time to time until the nopales are almost tender. They should be very juicy at this stage.
Uncover the pan and continue cooking the nopales until all the sticky liquid has dried up.
How To Cook Cactus Leaves or Nopales for this salad:
Choose one of these two methods:
1. Place a pot of water on the stove and bring to a boil, adding a hefty pinch of salt.
Add sliced nopales and boil for about 15-20 minutes or until tender. When tender, drain well and then add to the recipe.
2. Place a medium skillet over medium-high heat and add in a bit of oil–not too much. Add the sliced nopales and a pinch of salt (to taste) and cook for a couple of minutes.
Cover with lid and reduce heat to medium.
Let cook and sweat for about 20 minutes or until the goo has seeped out and dried up.
How to make the Mexican Cactus Leaves Salad:
I used the first method, where the nopales are cooked in water and salt.
Slice them thin and put them in a pot with water. Simmer them until tender.
They should have the texture of a cooked green bean, not too soft, with a little bit of bite to it, like the green beans.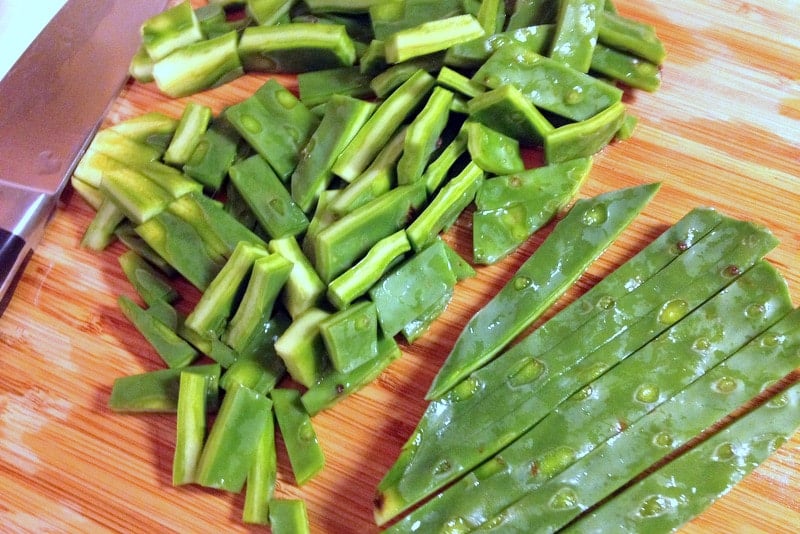 While the nopales are cooking, slice and chop the rest of the ingredients, green onions, tomatoes, and cilantro.
When the cactus leaves are cooked, remove them from the hot water and let them cool down.
You can also do this by placing them in cold, icy water for a few minutes.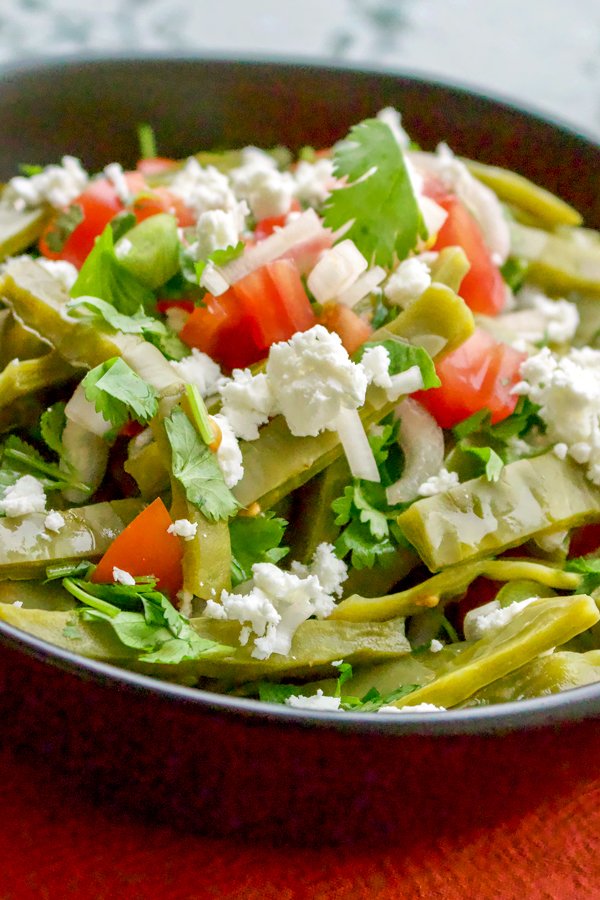 Assemble the salad.
In a salad bowl, place the cactus leaves, tomatoes, green onion, and cilantro.
Add salt to your taste, squeeze lime or lemon juice over them, and a little bit of vegetable oil(I used olive oil).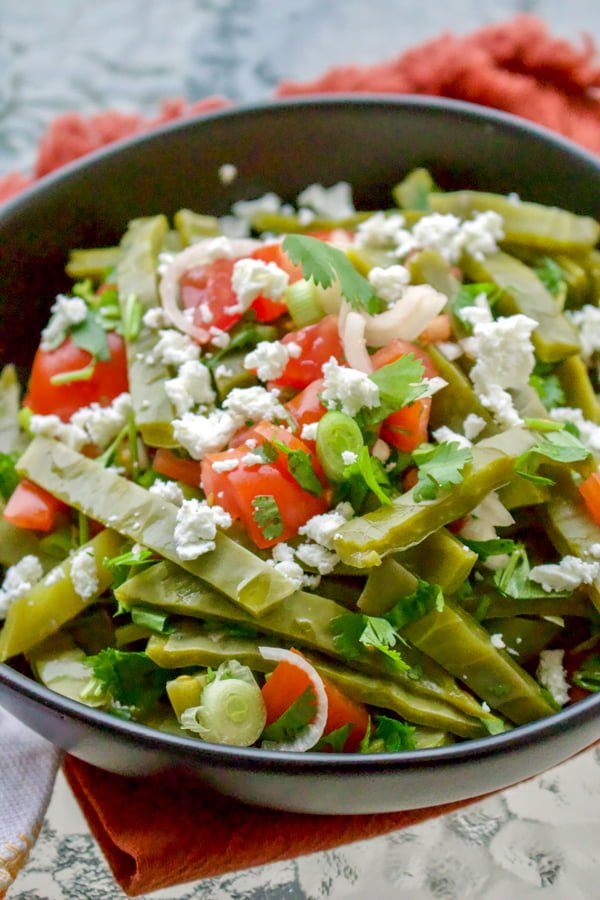 Sprinkle crumbled queso anejo over the salad and serve with grilled meats, frijoles de olla(Mexican beans), tacos, scrambled eggs, etc.
If you do not have queso Anejo, some crumbled feta cheese or queso cotija works as well.

I hope you make the recipe. It is easy, delicious, and super healthy. If you are also a vegan or a vegetarian, this recipe could be good for you as well. Enjoy!
More Recipes To Love:
Greens Couscous Pecans Salad With Grilled Salmon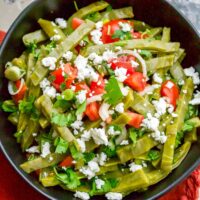 Authentic Mexican Cactus Salad (Ensalada De Nopales)
This is an authentic Mexican cactus leaves salad (ensalada de nopales), a very refreshing salad for the summer that goes well with grilled meats, in tacos, with scrambled eggs, burritos or stews. Healthy and easy to make, this recipe will bring joy at the table.
Print
Pin
Share
Grow
Saved!
Rate
Ingredients
3-4

medium cactus leaves cleaned of spines

2-3

fresh medium tomatoes diced

2-3

green onions chopped

1

bunch of cilantro chopped

juice from 1 lime

salt and pepper to taste

¼

teaspoon

dried Mexican oregano

2

Tablespoons

vegetable oil

¼

cup

crumbled Queso Anejo

or queso cotija or Feta
Instructions
Clean the cactus leaves of spines and wash them very well.

Slice the nopales thin and put them in a pot with water to cover them. Add 1/2 teaspoon salt.

Cook the leaves on medium high heat until tender, for about 15-20 minutes.

Meanwhile, chop the green onions, tomatoes and cilantro. Set them aside.

When nopales are cooked, remove them from the stove, drain the water and place the vegetables in cold icy water. When cool, use them for the salad.

In a salad bowl, place the cactus leaves, onion, tomatoes, cilantro and dried Mexican oregano.

Squeeze the juice of the lime over the salad. Add oil. Taste for salt and pepper and mix everything together.

Sprinkle crumbled cheese over and serve.

It goes very well with grilled meat, cooked beans, in eggs, tacos etc.

Enjoy!
Nutrition
Serving:
1
g
|
Calories:
110
kcal
|
Carbohydrates:
8
g
|
Protein:
4
g
|
Fat:
8
g
|
Saturated Fat:
2
g
|
Polyunsaturated Fat:
4
g
|
Cholesterol:
11
mg
|
Sodium:
263
mg
|
Fiber:
3
g
|
Sugar:
4
g
Tried this recipe?
Please leave a comment on the blog or like us on Facebook!
Note: "We are a participant in the Amazon Services LLC Associates Program, an affiliate advertising program designed to provide a means for us to earn fees by linking to Amazon.com and affiliated sites."