This is an authentic Mexican cactus leaves salad or ensalada de nopales, as it is called in Spanish. Nopales are a staple in the Mexican cuisine and wildly used in salsas, salads or stews.
Authentic Mexican Cactus Leaves Salad (Ensalada De Nopales)
For the ones who never saw cactus leaves before and do not know how to eat them, nopales are generally sold fresh in Mexico, cleaned of spines, and sliced to the customer's desire on the spot.
They can also be found canned or bottled.
The cactus leaves contain a lot of water and are also very rich in vitamins and minerals. They are usually cooked and then used in the recipes. The taste is almost the same as green beans after cooking them.
In United States you can find fresh nopales in the Mexican grocery stores, but also canned ones.
The nopales have a mucilaginous texture inside, due to their rich content of soluble fiber. The fiber helps with digestion, constipation, but also helps controlling the cholesterol and the blood sugar.
For that matter, the nopales are considered a healthy vegetable. Many recipes require boiling them in order to remove that texture.
However, the leaves can also be grilled or fried.
How To Cook Cactus Leaves or Nopales:
1. Place a pot of water on the stove and bring to a boil, adding a hefty pinch of salt.
Add sliced nopales and boil for about 15-20 minutes, or until tender. When tender, drain well and then add to recipe.
2. Place a medium skillet over medium-high heat and add in a bit of oil–not too much. Add the sliced nopales and a pinch of salt (to taste) and cook for a couple minutes.
Cover with lid and reduce heat to medium. Let cook and sweat about 20 minutes, or until the goo has seeped out and dried up.
How to make the Mexican Cactus Leaves Salad:
I bought the nopales at the Mexican grocery store and the leaves did not have any pricks.
If spines are present, remove them carefully by holding the pad by the stem end (wear gloves or hold with dish towel) and cut with a sharp knife against the grain removing the bumps that are around all of the spines.
They should look like this:
Slice them thin and put them in a pot with water. Simmer them until tender.
They should have the texture of a cooked green bean, not too soft, with a little bit of bite to it.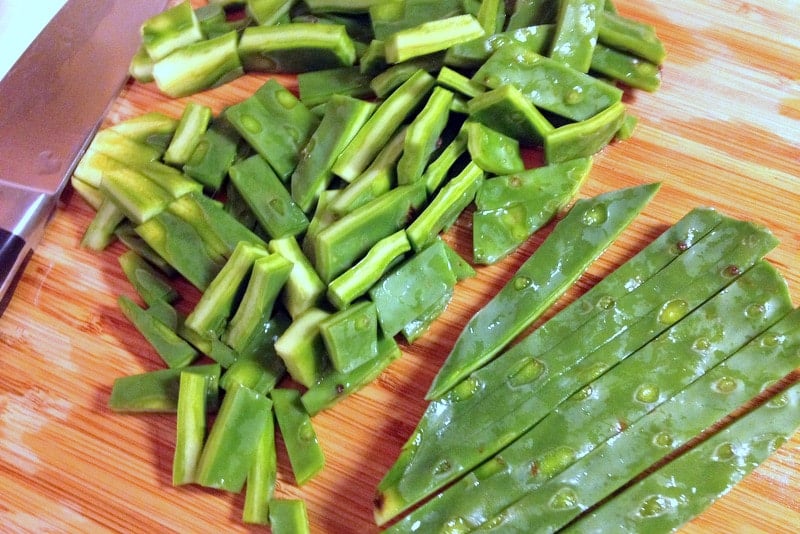 While the nopales are cooking , slice and chop the rest of the ingredients, green onions, tomatoes and cilantro.
When the cactus leaves are cooked, remove them from the hot water and let them cool down. You can also do this by placing them in cold, icy water for few minutes.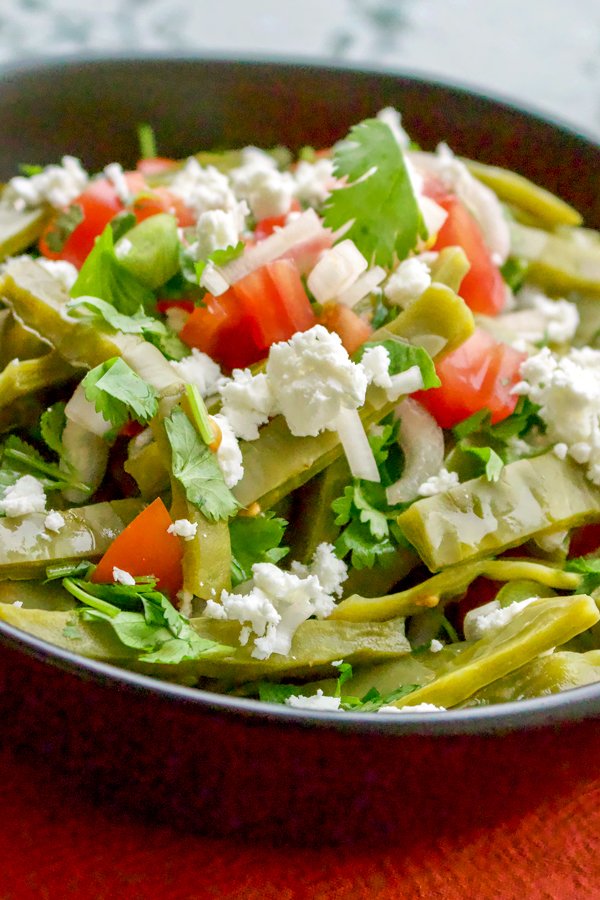 In a salad bowl place the cactus leaves, tomatoes, green onion and cilantro. Add salt to your taste, squeeze lime or lemon juice over them and a little bit of vegetable oil(I used olive oil).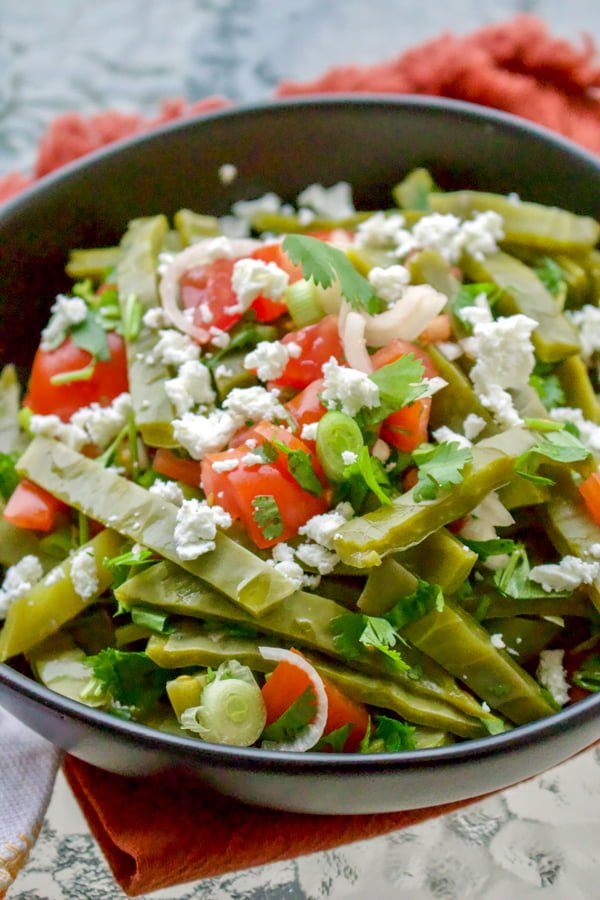 Sprinkle crumbled queso anejo over the salad and serve with grilled meats, frijoles de olla(Mexican beans), tacos, scrambled eggs etc.
If you do not have queso anejo, some crumbled feta cheese or queso cotija works as well.

I hope you make the recipe. It is easy, delicious and super healthy. If you are also a vegan or a vegetarian, this recipe could be good for you as well. Enjoy!
More Recipes To Love:
How To Freeze Herbs For Winter
Authentic Romanian Sauerkraut Stuffed Cabbage Rolls
Yield: 6 servings
Authentic Mexican Cactus Salad (Ensalada De Nopales)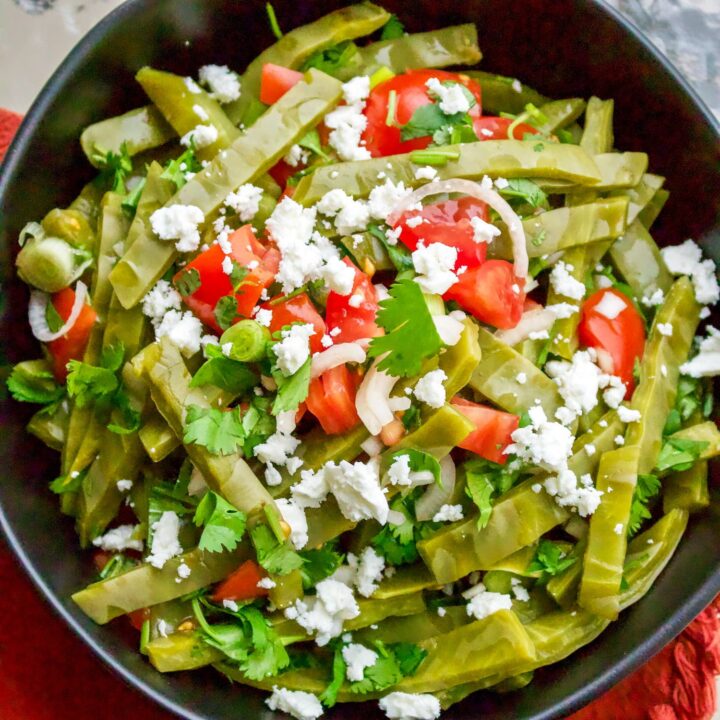 This is an authentic Mexican cactus leaves salad (ensalada de nopales), a very refreshing salad for the summer that goes well with grilled meats, in tacos, with scrambled eggs, burritos or stews. Healthy and easy to make, this recipe will bring joy at the table.
Ingredients
3-4 medium cactus leaves cleaned of spines
2-3 fresh medium tomatoes diced
2-3 green onions chopped
1 bunch of cilantro chopped
juice from 1 lime
salt and pepper to taste
1/4 teaspoon dried Mexican oregano
2 Tablespoons vegetable oil
1/4 cup crumbled Queso Anejo, or queso cotija or Feta
Instructions
Clean the cactus leaves of spines and wash them very well.
Slice the nopales thin and put them in a pot with water to cover them. Add 1/2 teaspoon salt.
Cook the leaves on medium high heat until tender, for about 15-20 minutes.
Meanwhile, chop the green onions, tomatoes and cilantro. Set them aside.
When nopales are cooked, remove them from the stove, drain the water and place the vegetables in cold icy water. When cool, use them for the salad.
In a salad bowl, place the cactus leaves, onion, tomatoes, cilantro and dried Mexican oregano.
Squeeze the juice of the lime over the salad. Add oil. Taste for salt and pepper and mix everything together.
Sprinkle crumbled cheese over and serve.
It goes very well with grilled meat, cooked beans, in eggs, tacos etc.
Enjoy!
Nutrition Information:
Yield:
6
Serving Size:
1
Amount Per Serving:
Calories:

110
Total Fat:

8g
Saturated Fat:

2g
Trans Fat:

0g
Unsaturated Fat:

4g
Cholesterol:

11mg
Sodium:

263mg
Carbohydrates:

8g
Fiber:

3g
Sugar:

4g
Protein:

4g
Note: "We are a participant in the Amazon Services LLC Associates Program, an affiliate advertising program designed to provide a means for us to earn fees by linking to Amazon.com and affiliated sites."