Spanish Orange-Almond Flan Recipe is a beautiful dessert with layers of almond cake, custard, and caramel that are separated magically in the oven while baking.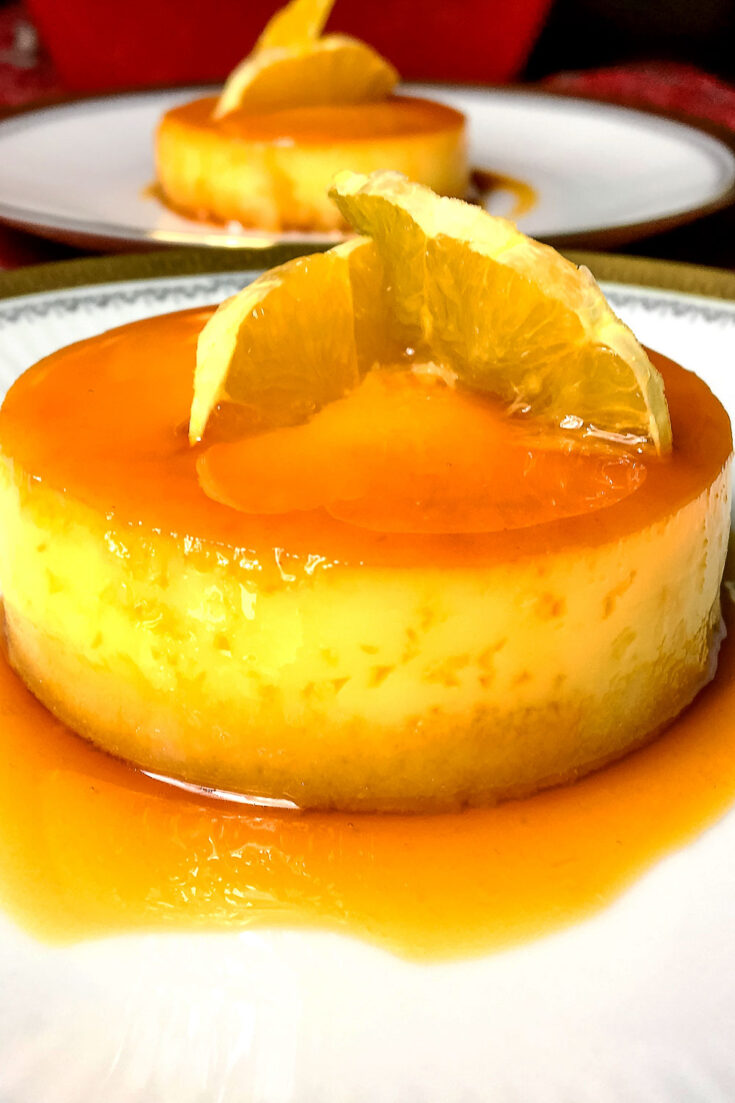 I have a lot of Spanish recipes on my blog. I love Spanish cuisine and find it suitable for my way of cooking.
Many recipes are easy to make, use simple ingredients, and are ready in no time. Try this Tarta de Santiago, Migas With Spanish Chorizo or Ensaladilla Rusa, to see what I am talking about.
This flan recipe I am sharing with you today fits my preference for these types of recipes.
Jump to:
Why I love this recipe:
Gluten-free and also dairy free. This Spanish Orange Almond Flan recipe is gluten and dairy-free, which makes it a perfect dessert for those with dietary restrictions or allergies.
Unique flavor profile: This recipe offers a unique combination of flavors and textures. The sweetness of the caramel, the nuttiness from almond flour, and the tanginess from the orange juice and zest create a complex and refreshing flavor palette.
Simple yet elegant: Despite its gourmet appearance, this recipe does not require complex cooking skills or hard-to-find ingredients. It's fairly straightforward to make, yet the final result is visually appealing and tastes luxurious. It is a perfect recipe for entertaining guests, contributing to a potluck, or simply enjoying a fancy dessert at home.
Ingredients
Granulated sugar: This is used to create the caramel and the syrup that sweetens the flan. Granulated sugar caramelizes beautifully, giving a rich flavor and golden color. If you're looking to substitute, coconut sugar or brown sugar can be used, but keep in mind they may alter the flavor profile slightly.
Water: Used in the syrup to dissolve the sugar.
Egg yolks & whole eggs: They provide structure and a creamy texture to the flan. They're also the primary source of fats in this dairy-free recipe. It's difficult to substitute eggs in flan recipes because they play a crucial role in achieving the right texture, but if necessary, you could use a product like Just Egg as a vegan alternative. However, this will change the taste and texture significantly.
Almond flour: It provides a subtle nutty flavor and contributes to the overall structure of the flan. If almond flour isn't available, you could use finely ground almonds. Other nut flours, like hazelnut flour, could also work but will change the taste.
Orange juice & zest: The zest and juice give this flan a bright, citrusy flavor, which contrasts nicely with the richness of the eggs and sugar. If oranges aren't available, you could substitute them with other citrus fruits like lemons or tangerines.
How this flan separates into layers
During baking, the composition separates into these three beautiful layers of goodness.
When flipped upside down, the same way as you would do with any flan, you end up with a base of a thin almond cake, flan in the middle, and gooey, delicious caramel syrup on top.
This magical layering effect on the flan can be attributed to a couple of factors:
Density: The ingredients used in this recipe have different densities. The egg and sugar mixture is denser than the almond flour and orange mixture.
When combined and heated, these ingredients tend to separate, with the denser mixture sinking to the bottom (which becomes the top when inverted after cooking) and the lighter one rising to the top.
Caramelization and syrup: The caramel layer formed at the bottom of the pan, and the syrup added to the egg mixture also contribute to the layering.
During baking, the caramel stays mostly at the bottom due to its high sugar concentration and forms a separate layer.
The syrup incorporated into the mixture gives the flan body and forms the main custard layer.
Expert Tips
To bake a succesful Spanish Orange-Almond Flan follow these tips:
Temper the eggs properly: When adding the hot syrup to the eggs, it's important to do this slowly and while continuously whisking.
This process, known as tempering, gradually raises the temperature of the eggs and prevents them from curdling or scrambling.
If the syrup is added too quickly, it can cook the eggs, resulting in a grainy texture in your flan.
Use a water bath: Baking the flan in a water bath, or bain-marie, is key to achieving its smooth, creamy texture.
The water bath ensures gentle and even cooking, which is critical for custard-based desserts like flan.
Ensure the water is hot when you pour it into the baking pan and that it comes up about halfway on the sides of your flan molds or pan.
Chill thoroughly before serving: While it may be tempting to dig in as soon as the flan is cooled, chilling it in the refrigerator for at least 2 hours (or even better, overnight) will give it the perfect texture and firmness.
The chilling process allows the flan to fully set and the flavors to further develop, making it even more delicious.
Recipe FAQs
Can I make this recipe ahead of time?
Yes, this flan is an excellent make-ahead dessert. It needs to be chilled for at least 2 hours after baking, but it actually benefits from an overnight rest in the refrigerator. This helps to further set the flan and allows the flavors to meld together, enhancing the overall taste.
I don't have individual ramekins. Can I still make this recipe?
Absolutely! If you don't have individual ramekins, you can use a 9-inch round pan instead. The process and baking time are the same. Just make sure to handle the pan carefully when inverting the flan onto a plate.
Can I use another type of flour instead of almond flour?
Almond flour is chosen for its unique nutty flavor and gluten-free nature, but if you're allergic to almonds or prefer a different taste, you can try other nut flours such as hazelnut or cashew flour.
What should be the temperature of the water bath for baking?
The water for the bath should ideally be very hot or just below boiling. This helps in cooking the flan evenly without curdling the eggs. The steam from the water also prevents the top of the flan from drying out during the baking process. Be careful when pouring the hot water to avoid splashes into the flan mixture or burning yourself.
Do you want another dessert recipe that separates during baking? Try this Vanilla Magic Custard Cake. 
I used 6oz size ramekins, by the way.
No matter how you make it, if you love flan or magic desserts, you should add this recipe to your collection. It's a must! See you next time!
Interested in more Spanish Recipes?
Carne Con Tomate (Meat in Tomato Sauce)
Spanish Almond Cake Recipe- Tarta de Santiago
📖 Recipe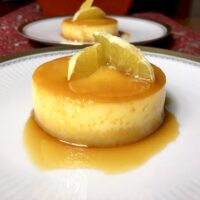 Spanish Orange-Almond Flan Recipe- A Magic Gluten Free Dessert
Orange-Almond Flan- beautiful recipe for a Spanish dessert. The layers of almond cake, custard, and caramel are separated magically in the oven while baking. This dessert is suitable for entertaining, during the holidays, like Easter or Christmas or Sunday dinners with friends and family. It is also a gluten-free recipe.
Print
Pin
Share
Grow
Saved!
Rate
Ingredients
¾

cup

granulated sugar to caramelize

1 ¾

cups

granulated sugar for the syrup

¾

cup

water

8

egg yolks

4

whole eggs

1

cup

almond flour

1

orange

juice and zest
Instructions
Begin by preheating your oven to 325F.

In a medium saucepan over medium-low heat, melt ¾ cup sugar until it is liquefied and golden in color. Carefully pour the hot caramel into little flan molds(ramekins), turning each mold to coat the bottom and sides evenly. Set aside.

Note: you can use ramekins or make the flan in a 9 inch round pan. If you use a round pan, pour the caramelized sugar on the bottom and the pan's sides.

Make syrup from the rest of the sugar and water and bring it to a boil. Simmer on low heat for 2 minutes until the sugar is completely dissolved. Set aside.

Beat the eggs together with the egg yolks. Pour through a fine-mesh strainer into a bowl.

Start adding the hot syrup, but NOT boiling, to the eggs, and mix continuously.

Add the almond flour, the orange zest, and the juice. Pour the mixture into the ramekins or the round pan.

Cover with aluminum foil and place each ramekin or the pan into a baking pan. Pour enough hot water into the baking pan to come halfway up the sides of ramekins, to create a double boiler or a Bain-Marie.

Bake until centers of flans are gently set (about 40 minutes in my oven, but check yours around the 40-minute mark).

Transfer flans to rack and cool. Chill until cold, about 2 hours. Cover and chill overnight.

To serve, run a small sharp knife around the flan to loosen it. Turn over onto a plate. Shake gently to release the flan. Carefully lift off ramekin allowing the caramel syrup to run over the flan. Repeat with remaining flans

Serve. Leftover flan needs to be refrigerated for up to 4 days.
Notes
Use 6oz ramekins for this recipe or a 9 inch round pan. The cooking time is the same for both options.
Nutrition
Serving:
1
g
|
Calories:
371
kcal
|
Carbohydrates:
60
g
|
Protein:
8
g
|
Fat:
12
g
|
Saturated Fat:
3
g
|
Polyunsaturated Fat:
1
g
|
Monounsaturated Fat:
3
g
|
Trans Fat:
0.01
g
|
Cholesterol:
246
mg
|
Sodium:
37
mg
|
Potassium:
72
mg
|
Fiber:
2
g
|
Sugar:
57
g
|
Vitamin A:
369
IU
|
Vitamin C:
8
mg
|
Calcium:
65
mg
|
Iron:
1
mg
Tried this recipe?
Please leave a comment on the blog or like us on Facebook!