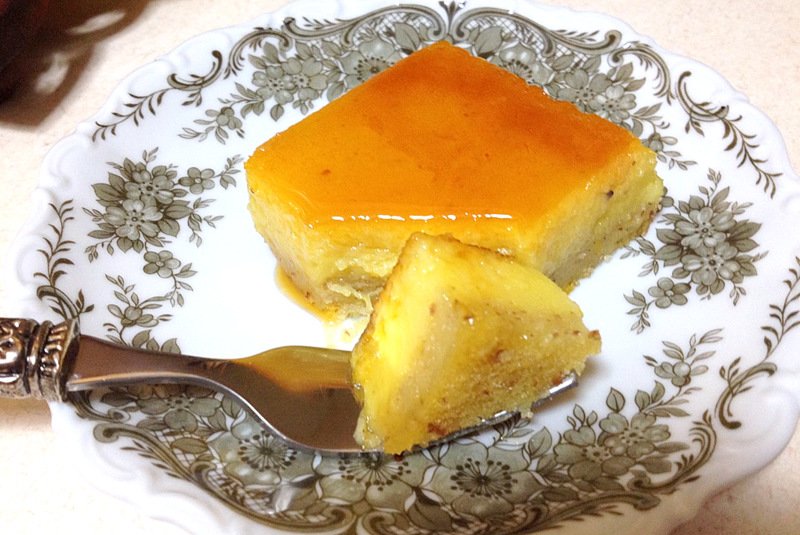 I like unique recipes that are full of flavor, so for today I decided to share with you this beautiful Orange-Almond Flan. Flan is a versatile dessert that can be made in many different ways by adding different ingredients to the base of milk, eggs and sugar. One of my favorite recipes of flan is Flan with Cream Cheese, but I also love the flan with a hint of coffee in it.
This recipe does not have any dairy, which is a little bit unusual for a flan recipes. The orange juice and the almonds are a perfect combination.
Also, by adding the almond flour to the mixture, some magic happens in the oven during baking. The composition separates into these three beautiful layers of goodness.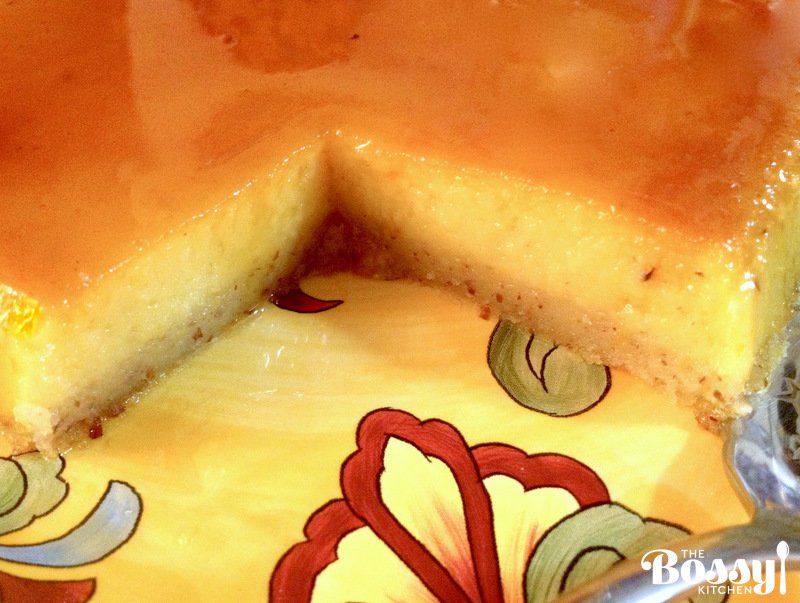 When flipped upside down, the same way as you would do with any flan, you end up with a base of a thin almond cake, flan in the middle and gooey, delicious caramel syrup on top.
It is a superb dessert, very elegant to serve for a special meal and also very easy to put together. If you prefer, the flan can be made in ramekins instead, for individual portions.
 No matter how you make it, if you love flan, then you should add this recipe to your collection. It's a must!
Orange-Almond Flan
Author:
The Bossy Kitchen
Ingredients
¾ cup granulated sugar to caramelize
1¾ cups granulated sugar for the syrup
¾ cup water
8 egg yolks AND 4 whole eggs
1 cup almond flour
1 orange juice and zest
Instructions
Preheat oven at 325F.
Then, in a medium saucepan over medium-low heat, melt ¾ cup sugar until it is liquefied and golden in color.
Carefully pour the hot caramel into little flan molds(ramekins), turning each mold to evenly coat the bottom and sides. Set aside.
Note: you can use ramekins or make the flan in a 9 inch round pan. If you use a round pan, pour the caramelized sugar on the bottom and the sides of the pan.
Make a syrup from the rest of the sugar and water and bring to a boil.
Simmer on low heat for 2 minutes until the sugar is completely dissolved. Set aside.
Beat the eggs together with the egg yolks. Pour through a fine mesh strainer into a bowl.
Start adding the hot syrup, but NOT boiling, to the eggs, and mix continuously.
Add the almond flour, the orange zest, and the juice.
Pour the mixture into the ramekins or the round pan.
Cover with aluminum foil and place each ramekin or the pan into a baking pan. Pour enough hot water into baking pan to come halfway up sides of ramekins.
Bake until centers of flans are gently set (about 40 minutes in my oven but check yours at around the 40-minute mark).
Transfer flans to rack and cool. Chill until cold, about 2 hours. Cover and chill overnight.
To serve, run a small sharp knife around flan to loosen.
Turn over onto a plate. Shake gently to release flan.
Carefully lift off ramekin allowing the caramel syrup to run over the flan.
Repeat with remaining flans and serve.