Immerse yourself in the rich flavors of the Mediterranean with this refreshing Mediterranean eggplant salad. This simple eggplant recipe features oven-roasted eggplant paired with vibrant tomatoes, crisp bell peppers, and a splash of lemon juice, setting the stage for a delightful culinary journey.
Jump to:
What is Mediterranean Eggplant Salad?
As the name suggests, this eggplant salad originates from the traditions of countries bordered by the Mediterranean Sea.
It is a favorite in many cultures, offering a rich variety of ways it can be prepared.
In the UK, Ireland, and other Commonwealth countries, this versatile vegetable is typically referred to as "aubergine." However, in the United States, Canada, and Australia, it is commonly known as "eggplant."
The centerpiece of the Mediterranean eggplant salad is the use of roasted or grilled eggplants, bringing a wonderful mix of textures and flavors to your plate.
It's a go-to choice for many families around the Mediterranean, not just because it tastes great but also because it's pretty easy to make.
This recipe is part of my collection of salad recipes, and if you like this one, I am sure you will also like my extensive article on How To Cook Eggplants For Dips And Salads or make this Grilled Eggplant And Bell Pepper Salad.
If you feel more ambitious, you could also try to make this traditional Romanian vegetable spread or Zacusca, and if you have guests, you might like to serve them this Cedar Plank Salmon on Mixed Greens that features roasted eggplants as the base of the salad.
As you can tell, I really like eggplants. We grew up with them and learned how to cook them in a variety of ways
Why do I like this recipe?
Simplicity and Ease: This is not just an easy eggplant recipe but also a quick one. In less than an hour, a fresh and vibrant dish will be ready to grace your table.
Versatility: This eggplant salad recipe pairs wonderfully as a side dish or can stand alone as a light meal.
Nutrient-rich: Packed with vitamins, minerals, and fibers, this roasted aubergine recipe also nourishes the body, making it a better choice for any meal.
Required ingredients:
Eggplants: The main ingredient for this recipe.
Bell Pepper: Adds crunch and color; any sweet bell pepper will work here.
Tomatoes: Bring a burst of freshness; ripe cherry tomatoes can be a great substitute.
Scallions: They have a mild flavor and bring color to the dish; shallots or red onions can be used instead.
Garlic: Provides a spicy, pungent note; garlic powder can be used in a pinch.
Lemon Juice: Adds acidity; white wine vinegar is a fine substitute, but I would stick with lemon if possible.
Olive Oil: Enhances flavor; another high-quality vegetable oil can replace it.
Salt and Pepper: Basic seasonings; you can experiment with different types of salts and peppers to find what suits your taste best.
See the recipe card for full information on ingredients and quantities.
Instructions:
(For quantities and full instructions, please go to the bottom of this article to find a printable recipe card. Below are simplified instructions.)
Step 1. Preparation: Preheat your oven to 425F for the oven-roasted eggplant, and prepare your eggplants for roasting.
Slice eggplants in half lengthwise. Essentially, it means to slice vertically along the lengthy side of the eggplant.
Place them on a baking tray covered with parchment paper. Brush them with olive oil and sprinkle salt over them.
Step 2. Roasting the Eggplant: Bake them for about 30 minutes until they get soft and a fork goes through them easily.
Step 3. Prepping the Roasted Eggplant: Once soft, remove the flesh, place it in a colander, and let it drain to remove excess moisture.
Assembling the Salad: Combine the eggplant with the other ingredients, following the roast eggplant salad recipe to achieve the perfect blend of flavors.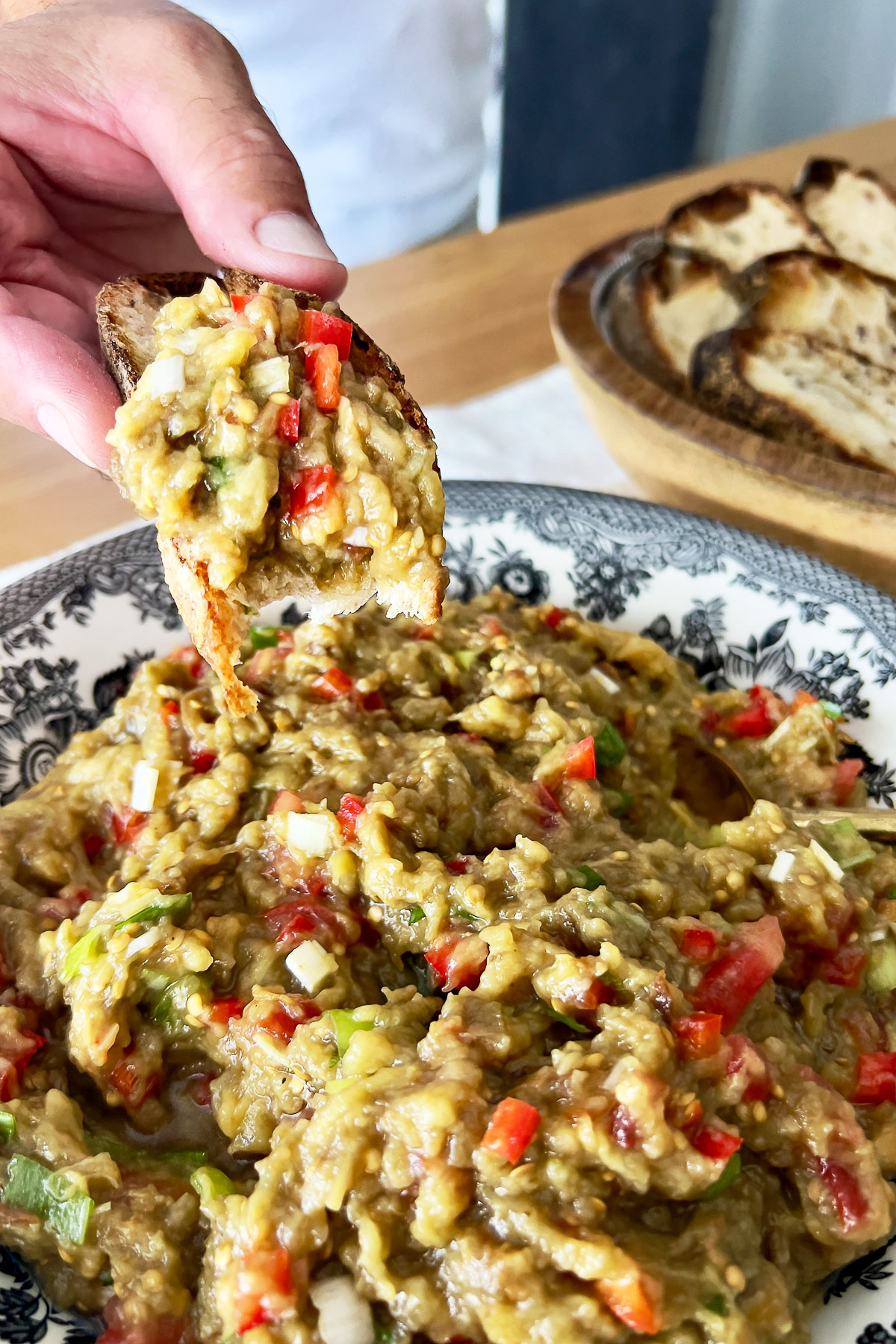 Expert Tip:
To elevate your Mediterranean roasted eggplant recipe, consider adding a sprinkle of feta cheese or some fresh herbs on top before serving to enhance the flavors and add a touch of creaminess.
How to serve it:
This recipe can fit in different parts of a menu. You can serve it as an appetizer with slices of baguette next to some cold cuts, cheese, and olives.
You can serve it as a side dish next to grilled or roasted meats, you as the main dish for a light lunch or dinner.
Recipe faqs:
Can I grill the eggplant instead of roasting it?
Absolutely, grilling the eggplant will add a smoky flavor that pairs wonderfully with the fresh ingredients.
How do I store this salad?
Store the Mediterranean Eggplant Salad in an airtight container in the refrigerator for up to 3 days.
It's always best enjoyed fresh, but you can revive it with a little sprinkle of lemon juice before serving.
What is the best way to serve this eggplant side dish?
This eggplant salad pairs wonderfully with crusty bread or as a side to grilled meats.
Can I add other herbs to this eggplant salad recipe?
Definitely, herbs like parsley, mint, or basil can add a fresh and aromatic touch to the salad.
What is the difference between baked and roasted?
While both methods are done in the oven, baking is generally at lower temperatures and is used for bread, pastries, and casseroles, whereas roasting, used in this roasted eggplant recipe, is performed at higher temperatures.
More recipes to love:
Craving more? Subscribe to The Bossy Kitchen to get new recipes and a newsletter delivered straight to your inbox! Stay in touch on Facebook, Twitter, Pinterest, and Instagram for all of the latest updates. Don't forget to use the star rating and leave a review.
📖 Recipe
Mediterranean Eggplant Salad
This is a must-try variation of the eggplant salad and a perfect recipe for hot summers. It features roasted or grilled eggplants, fresh tomatoes, peppers, and onions. Fresh ingredients with incredible aromas.
Print
Pin
Rate
Ingredients
To roast the eggplants:
3

large eggplants

2

tablespoons

olive oil

½

teaspoon

salt
For the salad:
1

large bell pepper, seeded and chopped

(red, yellow, orange)

4

medium ripe tomatoes, seeded and chopped

3-4

diced green onions

you can also use yellow or red onion

1

garlic clove, minced

3

tablespoons

lemon juice

from one lemon

3

tablespoons

olive oil

½

teaspoon

salt

or to taste

¼

teaspoon

black pepper

freshly ground, or to taste

bread for serving
Instructions
Roast the eggplant:
Preheat the oven to 425F/220C.

Slice eggplants in half lengthwise. Essentially, it means to slice vertically along the lengthy side of the eggplant.

Place them on a baking tray covered with parchment paper. Brush them with olive oil and sprinkle salt over them.

Bake them for about 30 minutes until they get soft, and a fork goes through them easily.

Scoop out the eggplant flesh and place it in a colander to drain the liquid. Allow them to sit there for 20-25 minutes.

Chop them small and place them into a large bowl.
Make the salad:
Chop the bell pepper and tomatoes, and dice the onions, Add them all to the bowl, together with the minced garlic.

Squeeze the lemon juice over the ingredients, and add olive oil, salt, and pepper. Mix well and serve with toast or a good crusty bread.
Notes
Use fresh, ripe tomatoes for a vibrant flavor.
Allow eggplants to drain properly to avoid a soggy salad.
Adjust salt and pepper to taste.
Serve with crusty bread for a delightful crunch.
You can substitute lemon juice with a good quality balsamic vinegar for a different taste.
Salad flavors meld well when refrigerated for an hour before serving.
Roasting time for eggplants may vary based on their size.
Use fresh lemon juice instead of bottled for a fresh and zesty flavor.
Nutrition
Calories:
190
kcal
|
Carbohydrates:
20
g
|
Protein:
3
g
|
Fat:
12
g
|
Saturated Fat:
2
g
|
Polyunsaturated Fat:
2
g
|
Monounsaturated Fat:
9
g
|
Sodium:
398
mg
|
Potassium:
798
mg
|
Fiber:
9
g
|
Sugar:
12
g
|
Vitamin A:
1358
IU
|
Vitamin C:
46
mg
|
Calcium:
36
mg
|
Iron:
1
mg