This Cedar Bay Planked Salmon On Roasted Eggplant With Greens And Root Veggie Chips recipe was created special for this occasion.
This post was sponsored by Cedar Bay Grilling Company as part of a blogger recipe challenge. I received products for my participation, but all opinions, recipe and photography are my own.
Let me tell you more about Cedar bay grilling company:
Cedar Bay Grilling Company is an award-winning producer of frozen salmon products located in Nova Scotia, Canada. The company's Cedar Planked Atlantic Salmon products are easy to prepare and great for all lifestyles and tastes. They are available in Canada, United States, and the United Kingdom.
If you are interested in buying their products, they are available at Kroger, Publix, Hannaford, Safeway, Albertsons, Fred Meyer, Ralph's, Giant, Giant Eagle, Stop n Shop, Roche Bros, Festivals. Here is a map to check the stores in your area for US or Canada.
As a blogger, I agreed to participate in this recipe challenge for the company.
I received one free Sugar & Spice 24 oz Cedar Planked Atlantic Salmon, and one 24 oz Applewood with Orange & Ginger Cedar Planked Atlantic Salmon, to create my recipes with.
If you go through my blog, you will notice that I am not doing a lot of product reviews.
I am very selective about the types of products I use in my kitchen and work with companies that can provide quality ingredients for my recipes.
I love fish and I love salmon, so this challenge was a good fit for my blog and what I believe in.
A few words about Cedar Planked Atlantic Salmon:
If you never tried Cedar Planked Atlantic Salmon before you are in for a real treat!
The salmon is already prepared to be baked or grilled and it comes on a 14" pre-soaked cedar plank.
We all know that fish is good for us and many people like to eat it but they are intimidated by it or just don't know how to prepare it properly.
With this product, there is no work to be done before.
You just need to thaw it (like I did, overnight, in the fridge), remove it from the packaging, and place it on the grill or in the oven.
It is already seasoned, so the only thing you need to do is basically choose in the store the flavor you like and go with it.
The oven or the grill needs to reach a temperature of 425F, and the salmon needs to be cooked only for 18-20 minutes, or until the temperature inside the salmon is about 145F.
For this recipe, I chose the Applewood with Orange & Ginger Cedar Planked Atlantic Salmon .
Cedar Bay Planked Salmon On Roasted Eggplant With Greens And Root Veggie Chips
I wanted to create an elegant dish that could be made any time of the year for either casual or formal entertaining.
The recipe is a salad of greens mixed with other vegetables and root veggie chips (for texture).
The salad is dressed with a simple vinaigrette made with ginger and orange(to match the salmon flavor profile).
Everything goes on a bed of roasted eggplant spread and served with beautiful pieces of salmon.
I do not have access to a grill, so I chose to bake the salmon in the oven for this recipe. I am sure many of you are in the same situation.
Plus, I think it is awesome that you can also cook it in the oven, especially during the cold season, when nobody wants to go outside and grill.
The instructions on the back of the package are easy to follow.
Step one.
Start with roasting the eggplants. I used 3 eggplants that I roasted in the oven. Read here about the process, which is very simple.
Chop the eggplants really fine, almost like a paste, and add olive oil, lemon juice and salt to them.
With a vertical blender, emulsify the eggplants and bring them to an almost pale color.
Dice some onions and mix them in. Finally, set them aside in the refrigerator for later use.
Step two.
Preheat the oven(or the grill) to 425F and follow the instructions on the planked salmon package on how to cook it.
Step three.
While the salmon is cooking, make the salad and prepare the dressing.(see the recipe below)
Step four.
Is the salmon cooked? It should look like this:
It is absolutely beautiful and very inviting, if you ask me.
It was really hard to take the pictures of this recipe and not stick my fork in that salmon and destroy it! 🙂
When everything is prepared, place a generous tablespoon of eggplant on each plate, spread it around, add the salad, and decorate with root veggie chips and pieces of salmon.
Serve it with a glass of wine and a lot of pride because I am more than sure your guests will be impressed with your presentation.
The orange/ginger flavor on the salmon is absolutely beautiful, and I was surprised to notice that the fish is not overly salty!
If you are cooking from scratch, like I do, you know how awesome it is to control the amount of salt you consume.
So, to make the story short, I loved the challenge and the recipe I came up with. It took me a few days to plan it, as I tend to overthink everything and want it to be perfect, but I am pleased.
This is definitely a recipe that I will make again and again.
Have you ever cooked salmon on a plank? (This is my first time)
Are you going to look for the product?
How do you usually cook your salmon?
PIN THIS FOR LATER:
#cedarbaygrilling #cedarbaysalmon #cedarbayrecipechallenge
Yield: 6 servings
Cedar Bay Planked Salmon On Roasted Eggplant With Greens And Root Veggie Chips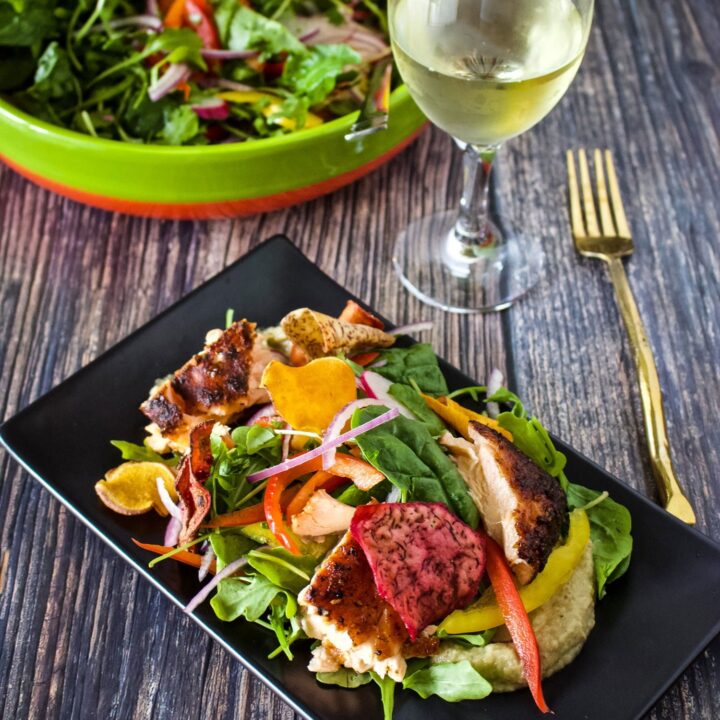 Cedar Bay Planked Salmon On Roasted Eggplant With Greens And Root Veggie Chips is a beautiful recipe that can be made all year round if you entertain. Elegant dish and delicious.
Cook Time
1 hour
5 minutes
Total Time
1 hour
35 minutes
Ingredients
1 24 oz Orange-Ginger Atlantic Salmon filet on Cedar Plank from Cedar Bay Grilling Company (defrosted)
1/2 small onion diced very small
2 teaspoons lemon juice
3 tablespoons extra virgin olive oil
salt to taste
6 oz baby spinach
6 oz arugula
1 bunch parsley roughly chopped
1 medium red onion sliced thin
1 medium red bell pepper sliced thin
1 medium yellow bell pepper sliced thin
6 medium radishes sliced thin
3 tablespoons extra virgin olive oil
1/2 teaspoon ginger powder
1 orange(zest and juice)
salt and pepper to taste
Instructions
Roast the eggplant.(see recipe here)
Chop the eggplant really fine or use a vertical blender to obtain a paste.(it should be the consistency of hummus)
Add olive oil, salt and lemon juice. Emulsify again with the vertical blender. Add the diced onion and mix well.Set aside in the refrigerator for later use.
Preheat oven/grill to 425F and cook the salmon according to the package.
While the salmon is cooking, make the salad.
Combine the greens with red onion, radishes, red pepper.
In a small bowl, whisk together olive oil, orange juice, orange zest, ginger powder, salt and pepper.
Pour over the salad and toss gently to coat.
Remove the salmon from the plank and chop it in big chunks enough to serve 6 people.
Place a generous tablespoon of eggplant on each plate and spread it, so you can place a portion of salad on top of it.
Decorate with root veggie chips and pieces of salmon.
Serve.
Nutrition Information:
Yield:
6
Serving Size:
1
Amount Per Serving:
Calories:

432
Total Fat:

25g
Saturated Fat:

4g
Trans Fat:

0g
Unsaturated Fat:

19g
Cholesterol:

38mg
Sodium:

264mg
Carbohydrates:

40g
Fiber:

8g
Sugar:

18g
Protein:

17g
Note: "We are a participant in the Amazon Services LLC Associates Program, an affiliate advertising program designed to provide a means for us to earn fees by linking to Amazon.com and affiliated sites."