Green bean and potato salad– a delicious salad that can be served as a side dish next to your favorite cut of meat, or by itself for a light lunch or dinner.
I like potato salad in any form. Better said, I like potatoes in any form. Give me French Fries made from scratch and I am your friend forever.
This salad is an awesome side dish that is very versatile. You can make it for a light dinner, but leftovers are great for lunch the next day.
It is fancy enough for a dinner with guests where you can serve it right next to some roasted meat.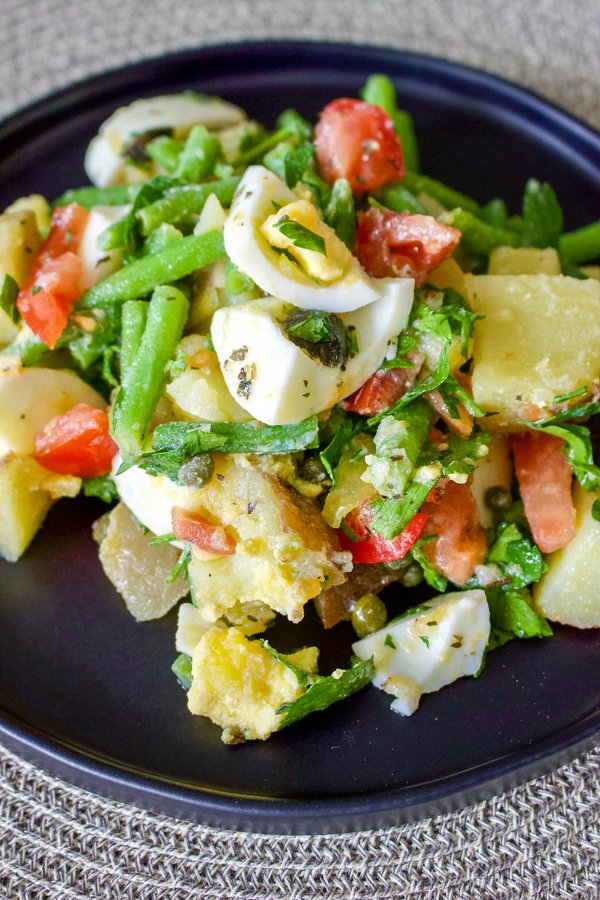 This green bean and potato salad has no mayo. The olive oil and lemon juice are the perfect combination in this vinaigrette that is delicious and super easy to make.
The vinaigrette is also lighter and more resistant to the heat (if you make it for a picnic in the summer) or for a potluck, when the salad sits few hours at room temperature.
As written, this recipe is naturally gluten free, vegetarian, dairy free and mayo free.
How to make the Green Bean and Potato Salad:
The recipe is pretty straight forward. The potatoes are cooked (if you use organic ones, you can keep the skin on, they are more delicious) in a big pot of salted water.
The green beans are added in the same pot, when the potatoes are almost done, and cooked for 4 to 5 minutes more. We want them al dente, not mushy.
While the potatoes and green beans are cooling down, make the vinaigrette. Lemon juice, olive, garlic, salt go into a screw-top jar. Shake the jar well until the ingredients emulsify.
Grab a big bowl, place the cooled potatoes, green beans, tomatoes, capers, olives and toss them with the vinaigrette. Add slices of boiled eggs and mix gently to incorporate them. Voila!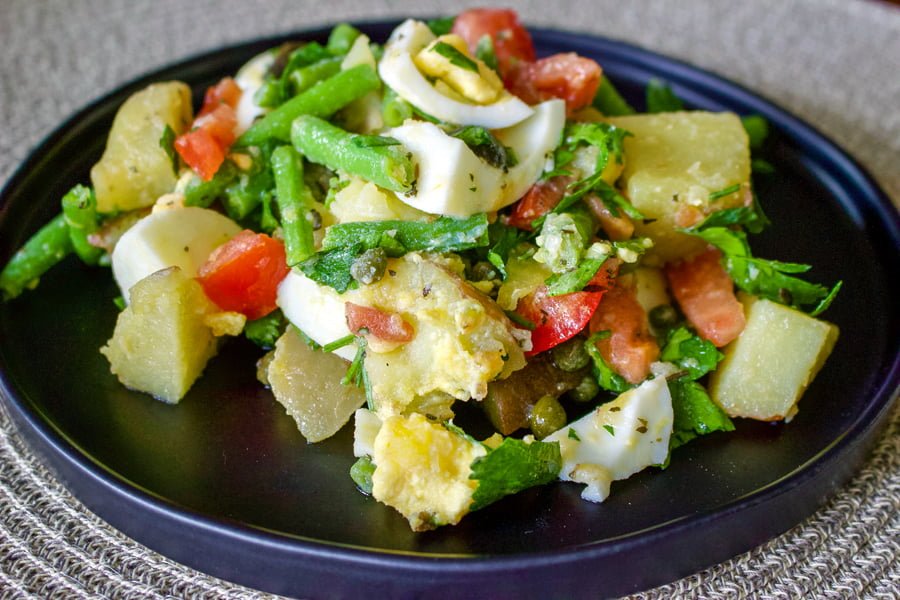 You just made a delicious salad to enjoy!
Some other recipe ideas with potatoes:
Yield: 8 servings
Green Bean And Potato Salad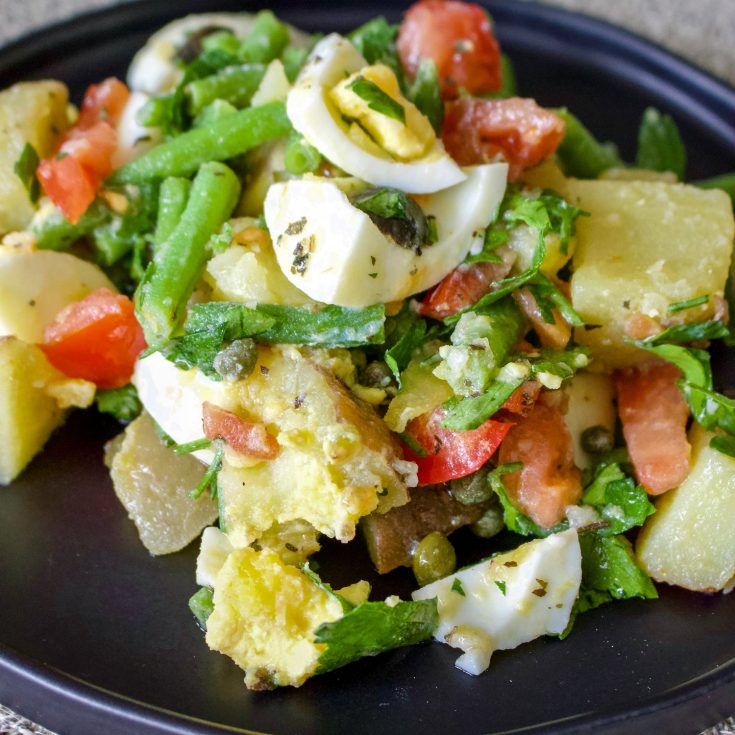 Green bean and potato salad- a delicious salad that can be served as a side dish next to your favorite cut of meat, or by itself for a light lunch or dinner
Total Time
1 hour
40 minutes
Ingredients
1 lb small red potatoes(either new or regular)
1 teaspoon salt for boiling the potatoes
8 oz. fresh green beans cut into 1 inch peces
1 tablespoon capers(rinsed and drained)
1 cup chopped tomatoes or grape tomatoes
2 hard boiled eggs, cut into wedges
1/3 cup black olives, pitted and quartered(green are fine too)
1/4 cup fresh parsley or fresh basil leaves
Vinaigrette:
1/3 cup olive oil
1 garlic clove minced
1/4 teaspoon black pepper
2 medium lemons(zest and juice)
salt to taste
Instructions
In a medium pot combine potatoes and enough water to cover. Add salt and bring to a boil.
Reduce heat and simmer, covered, 12 to 15 minutes or until the potatoes are tender.
Add the green beans the last 4-5 minutes. Drain and cool for about an hour.
Make the dressing:
In a screw-top jar combine lemon zest, lemon juice, ground pepper, olive oil, minced garlic and salt to your taste. Cover and shake well.
In a large bowl combine potatoes, green beans, capers, olives, tomatoes, eggs and parsley or basil leaves chopped.
Add the dressing and toss gently to coat.
Season again with salt if necessary.
Nutrition Information:
Yield:
8
Serving Size:
1
Amount Per Serving:
Calories:

139
Total Fat:

11g
Saturated Fat:

2g
Trans Fat:

0g
Unsaturated Fat:

9g
Cholesterol:

47mg
Sodium:

400mg
Carbohydrates:

8g
Fiber:

2g
Sugar:

2g
Protein:

3g