Delicious Phyllo Meat And Potato Pie inspired by Greek Kreatopita. Easy to make, with exquisite flavors, this pie is great for any meal.
Jump to:
Comforting Appetizer
What can be more comforting than meat and potato pie?
I love pies and pastries! I grew up eating them and learned to appreciate how versatile they can be. Savory or sweet pies are great for any meal or time of the day.
Sweet for the morning, savory for lunch or dinner, pies are even great as appetizers for parties.
This version of Phyllo Meat And Potato Pie is very popular in my homeland, Romania.
If you are familiar with Greek cuisine, I would say it is very similar to Kreatopita, the traditional Greek meat pie.
Romanian cuisine shares some similarities with other Balkan cuisines, like Greek, Bulgarian, and Turkish, especially in the south.
Every Romanian household has its own version of the meat pie, and this one is mine. It is great comfort food, and my family often asks me to make it for them.
I love the subtle, lovely sweetness of the raisins, the saltiness of the Feta cheese combined with the meat flavor, and the spices.
It is not difficult to make, and I am sure everyone in your family will enjoy it! My husband says it goes great with a cold beer, as you can see in this picture!
How to handle phyllo dough
Since this pie is made with phyllo dough, here is some advice I have about this rather magical ingredient:
Readily available in the frozen food section at your grocery store, phyllo dough is easy to use.
You may find it either in flat squares or in rolls, and I personally do not have a preference on which I use. One package contains dozens of paper-thin sheets of phyllo.
Then, and this is very important, always defrost the phyllo in the fridge, not on the counter.
It could become soggy on the counter if there is too much condensation during the thawing process, and it will get sticky and pretty much ruined.
You do not want soggy pie. You want a flaky, savory and sweet pie (I can smell it just when I think about it).
Once it is defrosted, or as you wait for it to thaw, make sure you get the filling ready before you actually unwrap the phyllo dough and start working with it.
The dough dries out really fast, so keep unwrapped phyllo on the plastic sheet and cover it with another layer of plastic wrap.
As you work with it, make sure to cover it with a damp kitchen towel. Covering with just a damp towel will moisten the sheets and make them stick together.
How To Make Phyllo Meat And Potato Pie
So, for this family favorite, you first start by browning the meat in the pan with extra virgin olive oil and add the chopped green or regular onion.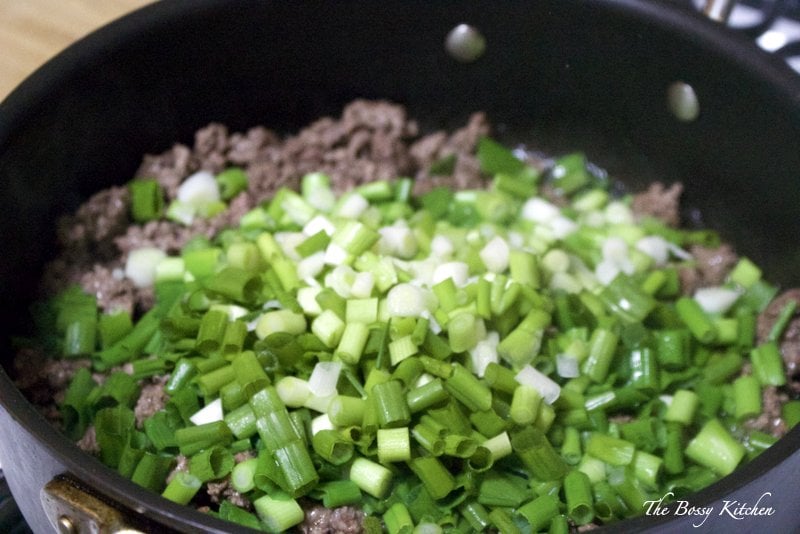 Saute the onions until soft and translucent.
Set aside, admire its pretty colors, and let it cool while you boil the potatoes (see the recipe at the bottom of the post).
Once the potatoes are boiled and mashed up, add them to the meat mixture.
After you marvel at how good it smells, add the rest of the ingredients.
Note: Make sure you ONLY add four eggs to the mixture and keep the 5th one to brush the pastry right before putting it in the oven.
Mix everything together and set it aside.
Preheat your oven to 350F/180C.
Since every phyllo dough brand tends to have different cooking instructions, make sure you follow the instruction on the box on how to bake the dough.
I usually split the filling into two or three parts because I like to make multiple pies at once, but you can decide how you want to split yours.
Spread the mixture in the middle of the sheets, leaving some space around the edges.
Carefully roll and place the pie on the tray.
Beat that fifth egg you saved and brush the pies with it using a pastry brush.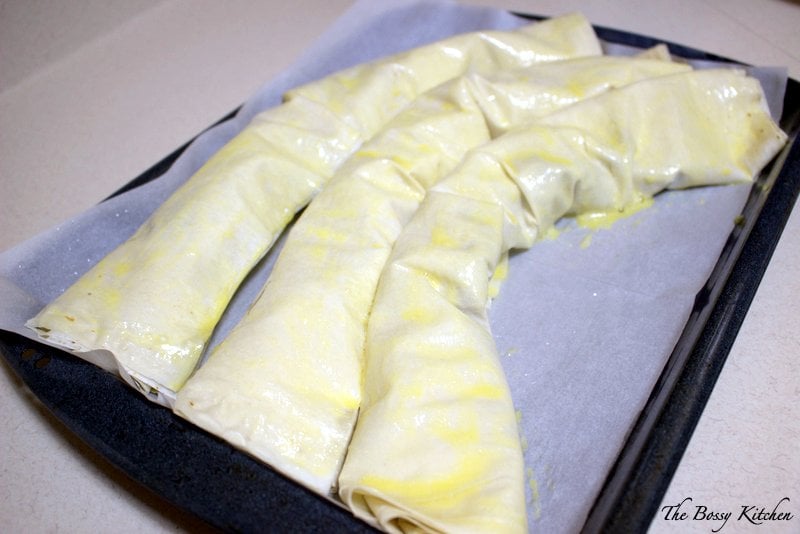 Once you are done brushing the pies, gently bake for about 40-45 minutes or until golden brown (remember always to double-check the box for cooking instructions).
Slice it and enjoy. It is good either warm or cold.
More recipes to love
Cheesy Turkey and Mushroom Pie
26 Best Thanksgiving Pies And Tarts
34 Best New Year's Eve Appetizers
Cinnamon Roasted Sweet Potatoes
📖 Recipe
Phyllo Meat And Potato Pie
Delicious Phyllo Meat And Potato Pie inspired by Greek Kreatopita. Easy to make, with beautiful flavors, this pie is great for any meal.
Print
Pin
Rate
Ingredients
1

pound

box of phyllo

16 oz, 1 roll thawed at room temperature

2

pounds

ground beef

2

medium cooked starchy potatoes like Russet or Idaho

5

large eggs

4 for the filling, one for brushing the pastry

1

cup

crumbled Feta cheese

2

large onions

¼

cup

extra virgin olive oil

1

bunch of fresh dill

1

teaspoon

fresh tarragon

1

teaspoon

salt

½

teaspoon

black pepper

½

cup

raisins
Instructions
Coat a large saucepan with extra virgin olive oil and add ground beef.

Cook the ground beef, breaking up the meat with the back of a spoon, and often stir until the meat is browned.

Add the onion to the meat and saute it. Set aside.

Meanwhile, boil the potatoes. Let cool, then peel and shred.

Add the potatoes to the meat and onion.

Add crumbled Feta cheese, chopped dill, tarragon, raisins, salt, and pepper.

Add ONLY 4 eggs to the mixture. We will use the 5th one to brush the pie on top.

Mix everything well. Set aside.

In the meantime, preheat the oven to 350F.

Cover the bottom of a baking tray with parchment paper.

Open one sheet of filo pastry and brush with some oil (pour a few tablespoons of oil into a cup and use a pastry brush).

Place another sheet on top and brush with oil again.

Repeat this process until you have 5 sheets, one on top of the other.

Place half of the filling mixture along with one of the phyllo's narrower edges, but stopping a couple of inches (5cm) short of the edge at each end.

Fold in the few inches (5cm) on each side of the phyllo all the way along (to hold in the filling), and then roll the whole thing up into a roll. Place the roll on a baking tray.

Repeat the same process with the other roll. Lastly, beat the egg and then brush the top of the pie rolls.

Bake at 350F for about 40-45 min or until golden brown.

Remove it from the oven, cut it, and serve hot.
Notes
The recipe is enough for two or three pie rolls.
Nutrition
Serving:
1
g
|
Calories:
455
kcal
|
Carbohydrates:
33
g
|
Protein:
21
g
|
Fat:
26
g
|
Saturated Fat:
9
g
|
Polyunsaturated Fat:
2
g
|
Monounsaturated Fat:
12
g
|
Trans Fat:
1
g
|
Cholesterol:
133
mg
|
Sodium:
599
mg
|
Potassium:
451
mg
|
Fiber:
2
g
|
Sugar:
5
g
|
Vitamin A:
167
IU
|
Vitamin C:
9
mg
|
Calcium:
101
mg
|
Iron:
4
mg