This Sweet Cheese Slab Pie is worth baking all year round. Made with phyllo dough and farmer cheese, this recipe is perfect for the entire family.
Jump to:
When to enjoy this recipe
During the unusual heat wave we have been experiencing in Minnesota lately, I have been feeling pretty nostalgic for the lazy summer days of my youth spent with friends at the beach in our wet swimsuits eating slab pies wrapped in greasy brown paper.
Romanians are used to slab pies, baked in trays, cut into squares, and either eaten as street food or at a friend's house over a cup of Turkish coffee.
So, the other day, while I was absent-mindedly scrolling through recipes on the internet and enjoying my air-conditioning, I saw a great recipe on a Romanian site for a slab pie with Greek yogurt that reminded me of one of the most wonderful sweet cheese slab pies I had eaten at a dear friend's house years ago made with farmer's cheese.
Since I always have frozen phyllo dough or puff pastry and farmer's cheese in the house for those times when my husband and I crave a baked treat or a simple snack, I got to work on this very easy, summer heat wave approved Sweet Cheese Slab Pie.
Just like my friend's sweet summer treat, this slab pie has a creamy sauce poured over it towards the end to make it soft inside, yet crispy on top.
By the way, did you know you can make your own farmer's cheese at home? If you need a reminder on how easy it is to make it, follow my recipe here.
How to make this sweet cheese slab pie
Step 1.
So, while I had a talk with myself that turning on the oven in a heat wave was not absolute madness, I preheated the oven to 350 degrees Fahrenheit and took out the phyllo dough from the refrigerator.
Follow the package instructions on how to thaw yours, but in general, the phyllo dough needs to be defrosted in the fridge overnight, not on the counter.
It could become soggy on the counter if there is too much condensation during the thawing process, and it will get sticky and pretty much ruined.
Step 2.
I took out the butter, farmer's cheese, eggs, sour cream, milk, and raisins.
I like to soak the raisins in a little rum because it gives them a little more flavor while softening them up, but when I don't have rum, I also soak them in a little hot water so they get nice and plump and soft.
Plump raisins are preferable in any recipe that requires them. Once I started soaking mine in some liquid, it completely changed my baked goods, and I will never go back to using my raisins straight out of the package.
Step 3.
While your oven is preheating and your raisins are taking a drunken bath in the rum, melt the butter, open your package of phyllo dough and take out a 9x13-inch baking pan and start assembling the slab pie.
Grease the pan with some of the melted butter,
then place four sheets of phyllo dough in the pan, one by one while brushing each one with the melted butter.
Like this:
Step 4.
Start making the filling by mixing together the eggs, sugar, lemon zest, vanilla, and farmer's cheese. I used an electric mixer, but if you don't have one, use a whisk.
Once you have a pretty homogeneous mixture, take out the raisins from the rum and fold them into the cheesy mixture.
You might ask if you can drink the rum once you take the raisins out, and I will give you the same answer I gave my daughter when she asked me that same question one year when we were making our Christmas bread. I wouldn't because it will taste gross, but you do what you want while I'm not looking.
Step 5.
Now that you have your mixture, you can assemble the slab pie.
I spooned some of the mixture onto the sheets
and spread it around so it evenly covered them.
I repeated the process
until I was out of the cheese mixture
and the last layer were the phyllo dough sheets.
This is a very important last step! Make sure your velvety mixture is covered up by the phyllo dough, otherwise, you won't have a crispy top later.
Step 6.
Take out a sharp knife and cut the slab pie into squares. Put it in the oven at 350 degrees Fahrenheit for 40 minutes.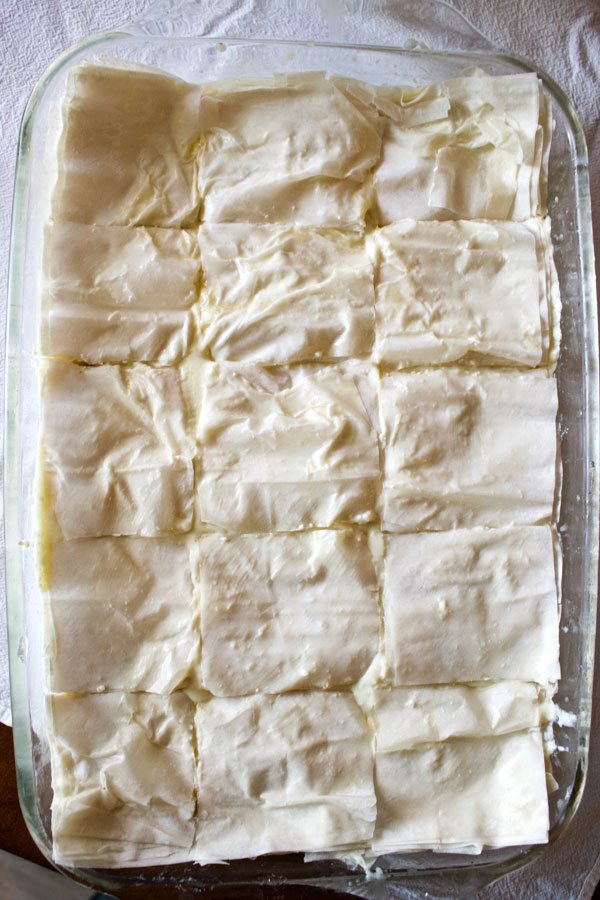 Step 7.
While the pie is baking in the oven, make the sauce that you will pour over in a little bit. Mix the milk, sour cream, egg, and sugar together until you have a sweet, creamy sauce.
Step 8.
Once the slab pie has baked for 40 minutes, take it out of the oven.
Pour the velvety sauce over it.
It will look like your pretty pie is taking a bath. Do not worry if it looks too watery because the egg will stiffen it up and it will also get soaked up by the rest of the layers.
Put it back in the oven for 10-15 minutes, or until all of the liquid is absorbed and the surface is golden brown.
I know you will want to cut into it and eat it immediately because of how tasty it will look, but it is summer after all and this pie is best served cold.
Let it cool off and then put it in the fridge. Just like you in a heat wave, this slab pie is happiest in a dry, cool environment.
Serve it with some iced tea or some coffee, or just eat it by itself while enjoying your air conditioning or the pool.
Let me know how it turns out because I tell you, this pie is worth turning on your oven in a heat wave. The cold pie you will be eating in a few hours, will cool you off and also satisfy your sweet tooth!
Craving more? Subscribe to The Bossy Kitchen to get new recipes and a newsletter delivered straight to your inbox! Stay in touch on Facebook, Twitter, Pinterest, and Instagram for all of the latest updates. Don't forget to use the star rating and leave a review.
📖 Recipe