This Spiced Plum Crumble Tart is a simple yet delightful dessert, pairing fresh, tangy plums with a buttery crust and a subtly spiced crumble topping. It's a comforting, homey treat that is perfect for the summer.
This recipe is part of my collection of Pies and Tarts and if you're a fan of baking and love exploring new recipes, you might also enjoy trying out my Cherry Pie, the Apple Pie - Romanian Style, or the Sweet Cheese Slab Pie. Each one is a unique baking adventure waiting to be discovered!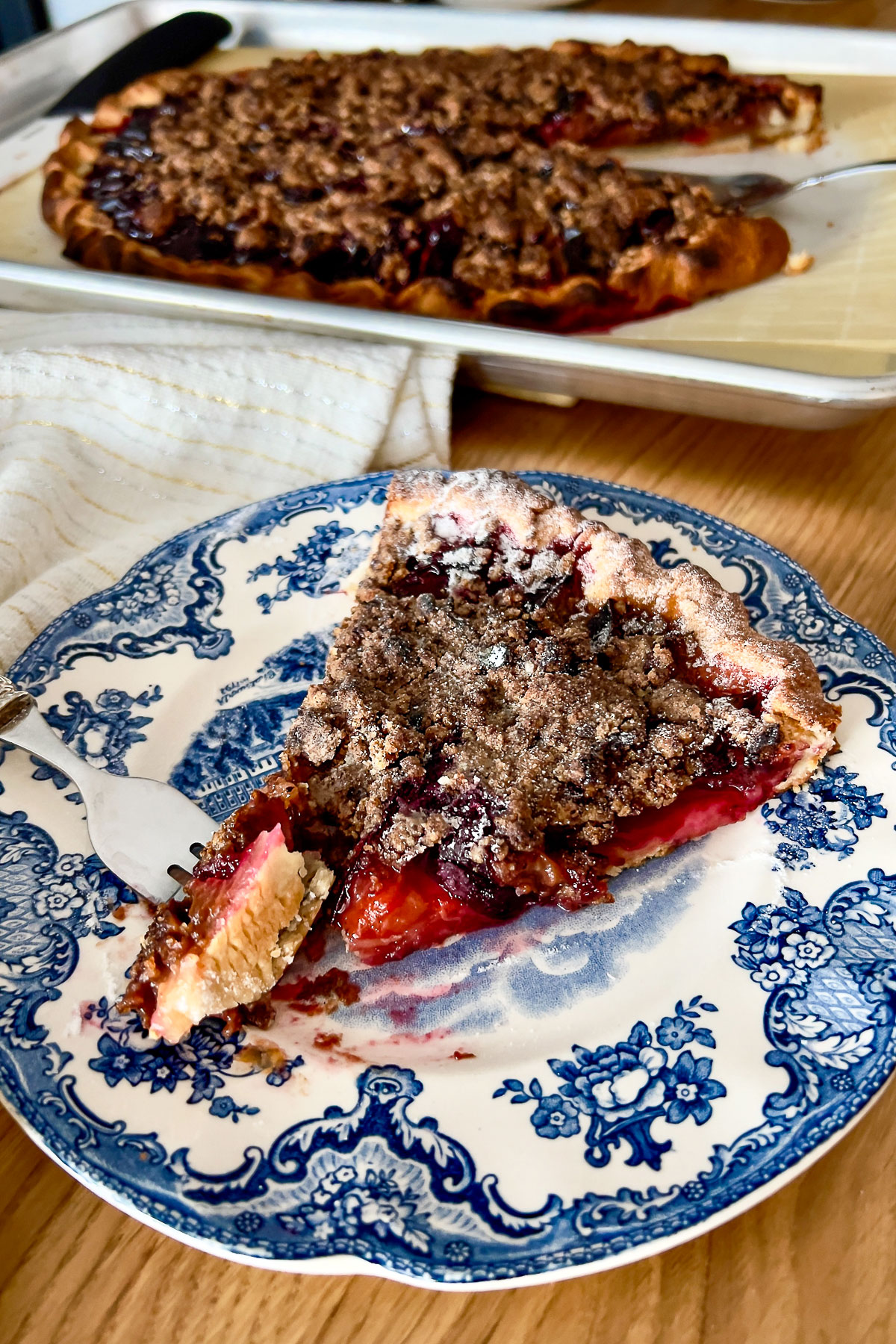 It's plum season again! August is here and just last night, my neighbor rang me up in a bit of a jam - a plum jam, to be precise.
She was in the thick of it and realized she was running low on sugar.
Now, as a food blogger, my pantry is like a mini supermarket, so I was more than happy to lend her some sweet relief.
But here's the twist: in return, she gifted me a whole armful of plums from her tree.
Talk about a sweet deal, right? So, there I was, up to my elbows in plums. And when life gives you plums, what do you do? You make a plum tart, of course!
Jump to:
Why should you give this recipe a try
It's a wonderful way to enjoy the fresh, juicy taste of plums, especially when they're in season.
The combination of textures, the crumbly crust, soft plums, and crunchy topping, makes every bite interesting.
The hint of cinnamon and cardamom adds a little something special, setting this tart apart from other fruit desserts.
Ingredients
Crust:
Granulated sugar: This is your standard white sugar, used to add a touch of sweetness to the crust. You could substitute it with the same amount of brown sugar if you prefer.
Unsalted butter: This adds richness and helps create a flaky texture in the crust. If you're dairy-free, you could use a non-dairy butter substitute. It has to be very cold.
All-purpose flour: The base of your crust. You could use a gluten-free flour blend if you're avoiding gluten.
Ice water: This helps bring the dough together. No real substitutes here, as it's quite essential for the crust.
Tip: If you're pressed for time or just starting out in the baking world, there's no need to stress about making the crust from scratch.
You can totally use a pre-made crust from the store for this Plum Crumble Tart.
It's a handy shortcut that'll still give you a tasty tart. Just add the plums and crumble topping as per the recipe, and you're good to go. Baking should be fun, right?
Topping:
Plums: The star of the show! If plums aren't in season, you could use a similar stone fruit like peaches or nectarines.
I used Italian prune plums (These are small, dense plums with a sweet flavor and low moisture content, making them great for baking). You can also use black or red plums, which hold their shape well when baked.
Unsalted butter: Again, this adds richness.
All-purpose flour: This helps create the crumbly texture of the topping. A gluten-free flour blend could work as a substitute.
Brown sugar: This adds a deeper, molasses-like sweetness to the topping. You can use granulated sugar instead for a less refined option.
Cinnamon and Cardamom powder: These spices add warmth and depth to the topping. You could experiment with other spices like nutmeg or allspice, or simply leave them out if you prefer.
Instructions
As I was telling you before, you can make the crust from scratch (please see the instructions in the recipe card), OR use an already made crust that you made or bought.
Sometimes life gets busy and we all need a break.
You can also use a food processor to speed up the process.
Step 1. Preheat the oven. First things first, you'll want to get your oven nice and toasty.
Set it to 425F to ensure it's ready for baking.
Step 2. Prepare the pan. While that's heating up, grab a baking sheet and line it with parchment paper.
This will make sure your tart doesn't stick to the bottom of the baking sheet, as there is no tart pan involved here.
Step 3. Make the crust or skip this step if you already have the pie crust pre-made.
Turn your dough out onto either your parchment paper-lined baking sheet or an ungreased baking sheet, whichever you prefer.
Roll it out into a 13-inch round. It doesn't have to be perfect, but try to get it as close as you can.
Here's a little baker's trick: Turn about an inch of the dough's outer edge over onto itself to create a rim. Give it a good pinch to create a fluted edge. This not only looks pretty but also helps to hold in all the delicious filling.
Step 4. Arrange the plums on the crust. Speaking of filling, it's time to arrange your sliced plums on the pastry. Make sure they're evenly spread out and in one layer.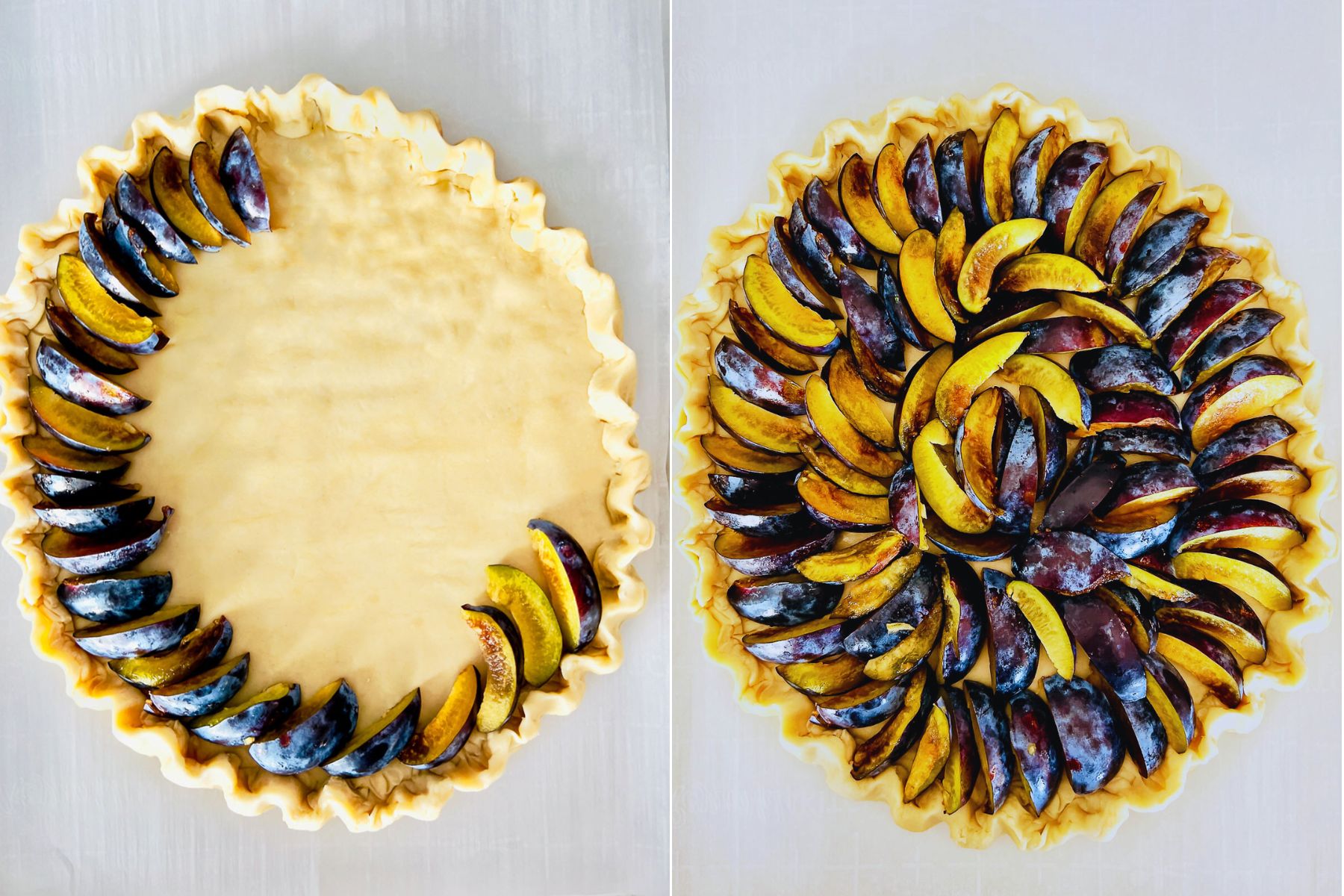 Step 5. Make the crumb. Combine your remaining ingredients, flour, brown sugar, butter and spices. Blend them until you get that familiar coarse crumb texture. Then, sprinkle this mixture over your plums.
Step 6. Bake. Pop this beauty into the oven for 20 to 25 minutes. You'll know it's done when the crust has turned a beautiful golden brown color and the crumbs on top have browned.
The plums should be bubbling and soft when poked with a fork.
If the topping is browning too quickly but the plums aren't cooked, you can cover the tart loosely with aluminum foil and continue baking.
Expert tip
Spice it up: Don't be afraid to experiment with the spices in your crumble topping. Nutmeg, allspice, or even a touch of black pepper can add an interesting twist.
How to serve
This easy Spiced Plum Crumble Tart is best served warm, straight from the oven, or at room temperature.
The heat brings out the juiciness of the plums and the buttery aroma of the crust.
For an extra touch of indulgence, add a scoop of vanilla ice cream on top. If you prefer, a dollop of whipped cream or a sprinkle of powdered sugar also works well. And of course, don't forget a nice cup of coffee or tea to round off the experience.
How to store this Spiced Plum Crumble Tart
Refrigerator: Allow the tart to cool completely first. Once cooled, I recommend refrigerating it. Place the tart in an airtight container or wrap it well in plastic wrap and it should keep in the fridge for up to 5 days.
Freezer: For even longer storage, you can freeze the tart. Wrap it tightly in plastic wrap, then in aluminum foil, and it can be frozen for up to 3 months. To serve, thaw it in the fridge overnight and then warm it up in the oven at a low temperature.
Recipe faqs
Can I use salted butter instead of unsalted butter?
I would not recommend it as you cannot control the amount of salt in the recipe and both the crust and the crumble will be salty.
What if my pie dough is too crumbly and doesn't come together?
If your dough is too crumbly, it might need a bit more moisture. Try adding a little more ice water, a tablespoon at a time, until it comes together. But be careful not to add too much, as this can make the dough tough.
Check out the web story for this recipe: Easy Plum Crumble Tart
More recipes to love
Craving more? Subscribe to The Bossy Kitchen to get new recipes and a newsletter delivered straight to your inbox! Stay in touch on Facebook, Twitter, Pinterest, and Instagram for all of the latest updates. Don't forget to use the star rating and leave a review.
📖 Recipe
Spiced Plum Crumble Tart Recipe
Savor the sweet and tangy delight of this rustic plum tart, baked to a golden perfection. Its crumbly, buttery crust pairs beautifully with the juicy plums, making it a must-try treat for any dessert lover. It makes a 12 inch round tart.
Print
Pin
Share
Grow
Saved!
Rate
Ingredients
Crust:
⅓

cup

granulated sugar

½

cup

unsalted butter

very cold and cubed

1 ½

cups

all purpose flour

2

tablespoons

ice water
Topping:
1 ½

pounds

plums

pitted and quartered or sliced (use regular plums or Italian ones)

¼

cup

unsalted butter

very cold and cubed

½

cup

all-purpose flour

⅓

cup

brown sugar

½

teaspoon

cinnamon powder

½

teaspoon

cardamom powder
Instructions
Preheat oven to 425F. Cover a baking sheet with parchment paper.
Make the crust:
In a mixing bowl, combine sugar, butter, and flour.

Blend these ingredients using a fork or an electric mixer until they resemble coarse crumbs.

Add ice water to the mixture, then gather everything together to form a ball of dough.

Roll out the dough onto your lined baking sheet, aiming for a 13-inch round.

Fold about an inch of the dough's outer edge onto itself to create a fluted rim.
Topping:
Arrange the quartered plums evenly on the pastry.

In a separate bowl, combine the remaining ingredients, including the spices.

Blend until the mixture resembles coarse crumbs, then sprinkle this over the plums.

Bake for 20 to 25 minutes, or until the crust is golden and the crumbs on top have browned.

Serve warm, ideally with a scoop of vanilla ice cream.
Nutrition
Calories:
249
kcal
|
Carbohydrates:
34
g
|
Protein:
3
g
|
Fat:
12
g
|
Saturated Fat:
7
g
|
Polyunsaturated Fat:
1
g
|
Monounsaturated Fat:
3
g
|
Trans Fat:
0.5
g
|
Cholesterol:
31
mg
|
Sodium:
4
mg
|
Potassium:
124
mg
|
Fiber:
1
g
|
Sugar:
17
g
|
Vitamin A:
551
IU
|
Vitamin C:
5
mg
|
Calcium:
16
mg
|
Iron:
1
mg
Tried this recipe?
Please leave a comment on the blog or like us on Facebook!