Welcome to my delicious Fruit Buckle Cake. It's a simple, rich cake packed with fresh summer fruit. Each bite is a tasty celebration, turning dessert into a highlight of your day.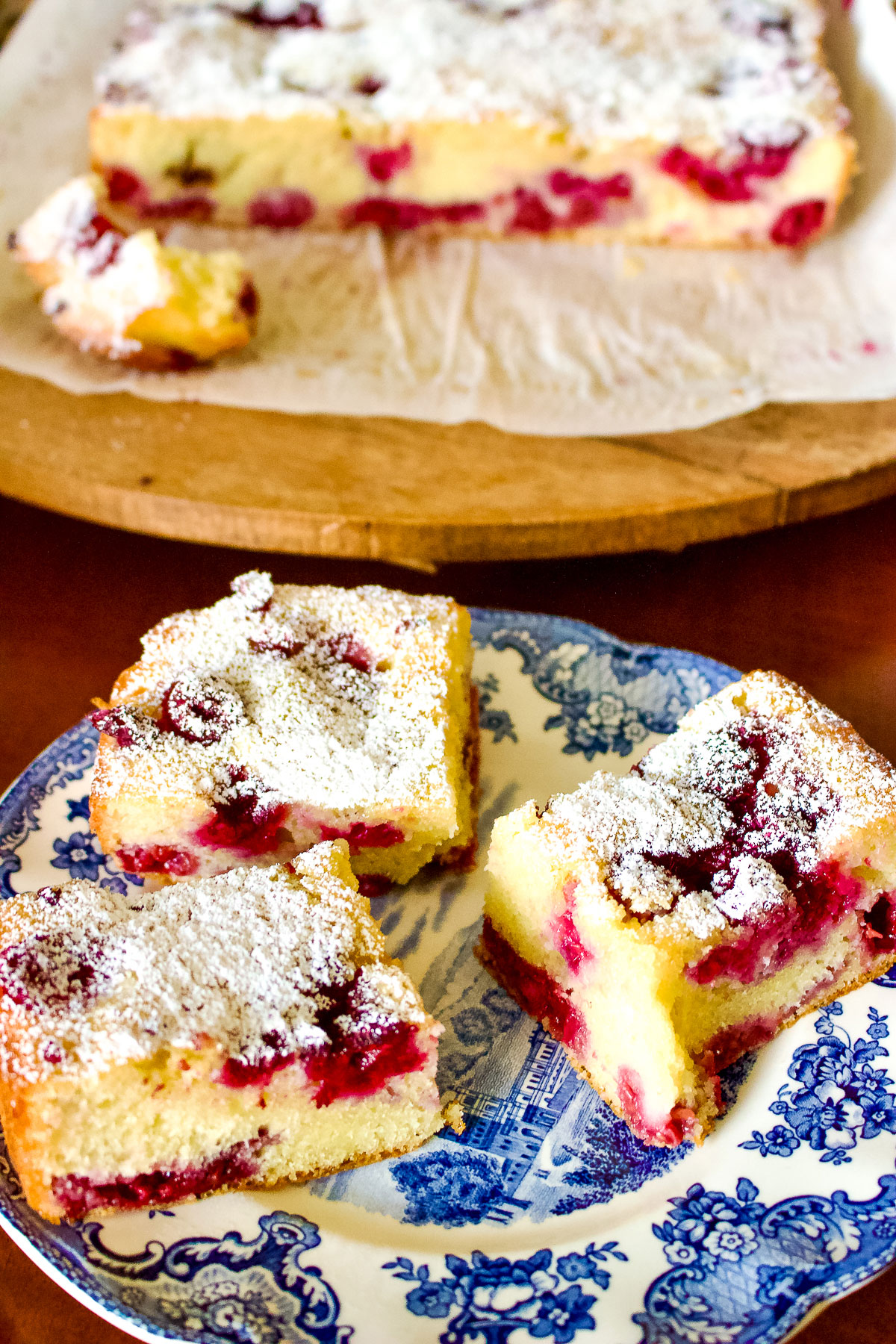 Jump to:
What is a buckle cake?
A buckle cake is a traditional American dessert known for its unique characteristic: as it bakes, the fruit inside causes the cake to "buckle" or crinkle, giving it a charming, rustic appearance.
This happens because the fruit sinks into the batter, creating little pockets of juicy goodness in every slice.
Buckle cakes are thought to have originated in New England, United States, as early as the late 19th century or the early 20th century.
They were a convenient and tasty way to use up the summer fruit harvest, and because the recipe was so simple, it was easy for home cooks to make.
Even today, buckles are popular for their rustic appeal and the fact that they're a relatively fuss-free way to enjoy fresh seasonal fruit.
My Fruit Buckle Cake might not follow the usual script – it doesn't have the typical streusel topping – but it captures the spirit of a buckle cake with its rich, buttery base and generous layers of summer fruit.
The fruit, as in a traditional buckle, sinks into the cake as it bakes, giving my cake the signature buckled look. So, while it might be a bit different, it's a delightful twist on a classic and one I think you'll love.
Despite its relatively dense texture (necessary to support the fruit), this cake is wonderfully moist and flavorful, with just the right amount of sweetness.
Usually, I bake it in a 9x13-inch pan, making it a perfect choice for family gatherings or potlucks or simply when the craving for a sweet treat strikes.
The recipe is straightforward, and the outcome is consistently impressive. A piece of this cake is a joy to savor, and I believe you'll find making it a pleasure, too.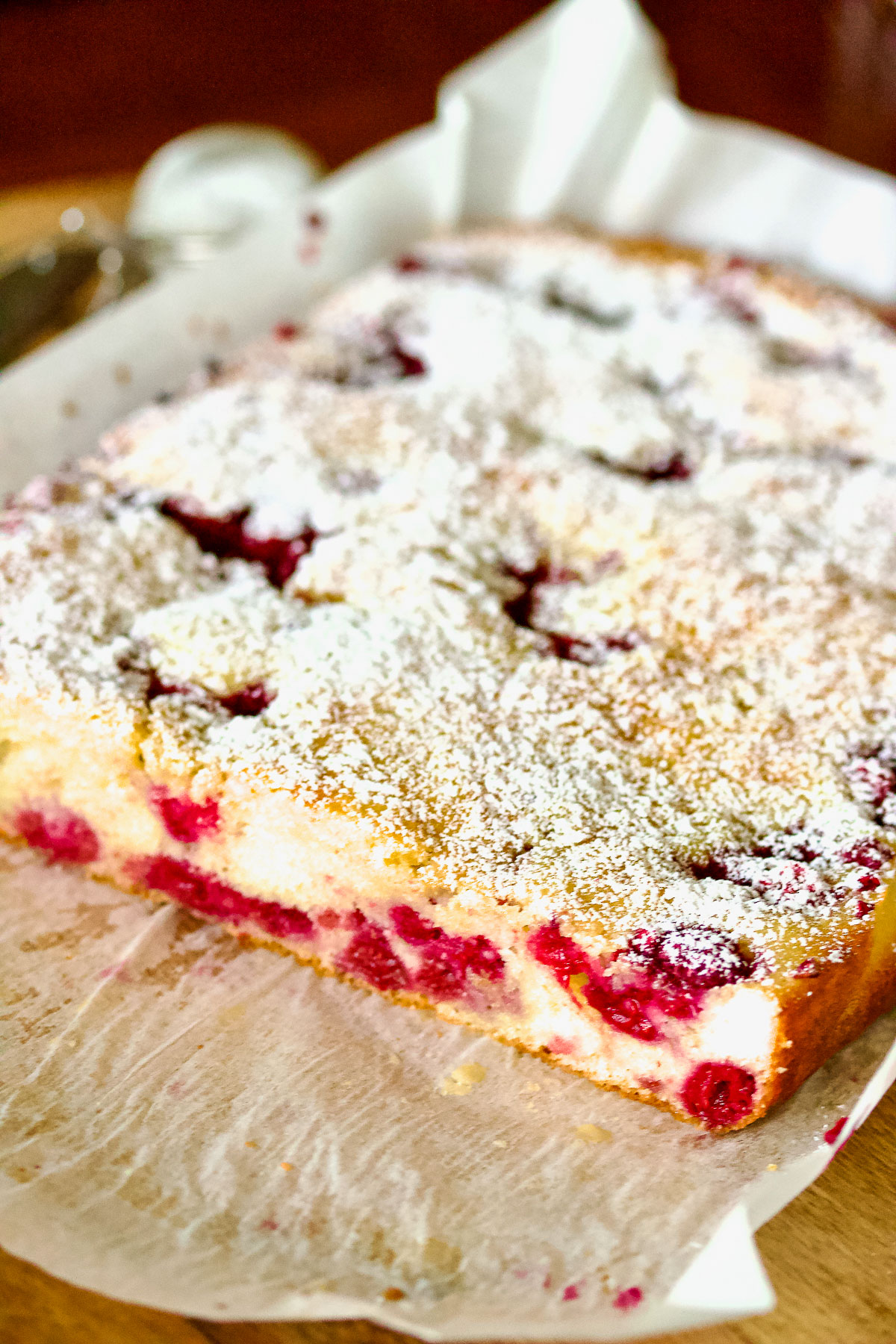 Growing up, my mom would often prepare a similar coffee cake for potlucks or picnics. It served as an ideal beach dessert or as a delightful snack tucked into a lunch box.
What's more, this cake stands up well to the rigors of summer - it keeps beautifully, even in the heat. It's a tried and true recipe that promises both nostalgia and taste.
Why should you try the recipe
Seasonal Delight: Making this cake is a fantastic way to utilize and enjoy fresh summer fruit. Whether it's blueberries, strawberries, raspberries, peaches, or apricots, this cake lets the natural flavors of the season shine. It's a dessert that truly tastes like summer.
Simple to Prepare: Despite its impressive appearance, this cake is surprisingly simple to make. It's a single-layer, no-fuss recipe that even beginner bakers can tackle with ease. Yet the end result is a bakery-worthy dessert that will impress family and friends.
Versatility: This Fruit Buckle Cake is perfect for any occasion. It's a lovely afternoon treat with a cup of tea, a delightful dessert after dinner, or a tempting addition to a picnic or potluck. And with its eye-catching appearance, it's also special enough for celebrations or holiday gatherings.
What do you need to make this cake
Summer fruits: These are the fruits that provide the cake's fresh, sweet, and tangy flavors. You can use one type of fruit or mix several for a complex taste.
The type of fruit can change the flavor profile of the cake, making it versatile for different seasons or preferences. Use strawberries, blueberries, raspberries, peaches, or even apricots.
Unsalted butter: The butter gives the cake its rich, moist texture. Using unsalted butter allows you to control the salt content in your cake.
Powdered sugar: This gives the cake its sweet flavor. Powdered sugar dissolves easily, creating a smoother batter.
Honey: Adds a deep, floral sweetness that complements the sugar. It also lends extra moisture to the cake.
Lemon juice: Lemon juice adds a fresh, tangy flavor that balances the sweetness of the cake. It can also interact with the baking powder, aiding in the leavening process and contributing to the cake's light texture.
Lemon zest: The zest is where the essential oils of the lemon are concentrated, which carry a lot of the fruit's aroma and flavor.
Vanilla: Vanilla extract adds a warm, sweet aroma and flavor that rounds out the taste of the cake.
Eggs: They bind the ingredients together and contribute to the cake's structure. They also give the cake a tender texture.
All-purpose flour: Flour provides the structure for your cake. Sifting the flour ensures a smooth, lump-free batter and a lighter, more delicate crumb in the final cake.
Salt: Enhances the flavors of the other ingredients, making the fruit taste fruitier and the sweet taste sweeter.
Baking powder: Helps the cake rise, making it light and tender despite its richness.
How to make this Fruit Buckle Cake
Step 1. Preheat your oven to 350F/180C.
Step 2. In a large bowl, place your room-temperature butter, powdered sugar, honey, lemon zest, lemon juice, and vanilla extract.
Step 3. Using a mixer, begin mixing the ingredients together on low speed until the sugar is incorporated. Then, increase the speed to high and mix for 2-3 minutes until the mixture is light and fluffy.
Step 4. Add the eggs one at a time to your butter mixture, mixing on medium speed until each is incorporated before adding the next.
Step 5. In a separate medium bowl, sift together your flour, salt, and baking powder.
Step 6. Slowly add the sifted dry ingredients to the batter, mixing on low speed until the batter is smooth and well combined.
Step 7. Prepare a 9x13-inch baking pan by buttering the bottom and lining it with parchment paper. Butter the parchment paper as well.
Step 8. Fold your chosen fruit into the batter, making sure to distribute it evenly throughout.
Step 9. Pour the batter mixed with fruit into your prepared baking pan, spreading it evenly to ensure a uniform bake.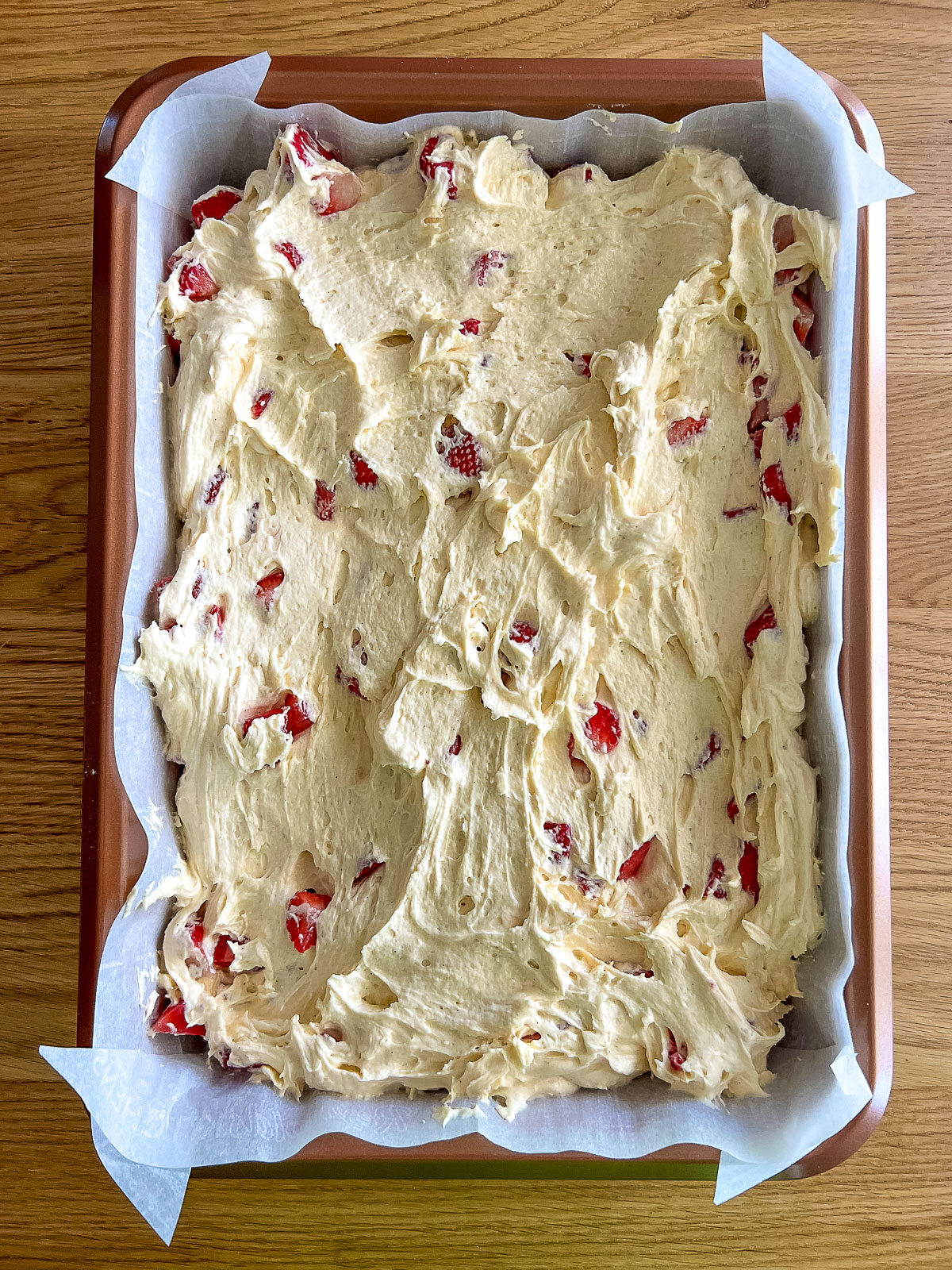 Step 10. Bake your cake at 350F/180C for 30-35 minutes, or until the top of the cake is golden brown, and a toothpick inserted into the center comes out clean.
Step 11. Let the cake cool before cutting it into squares. You can dust the top with additional powdered sugar for a pretty finish if you wish.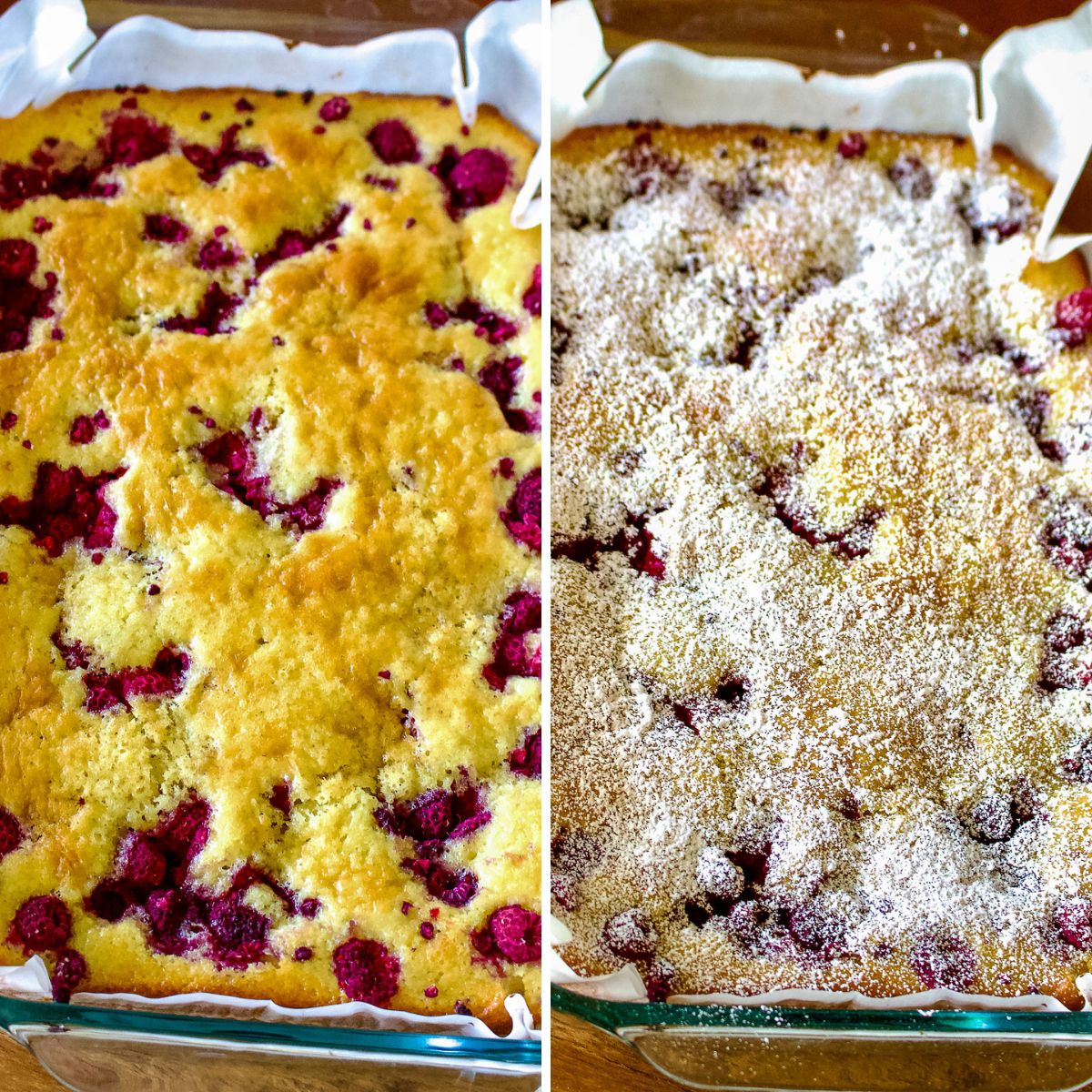 How to store
Room Temperature: After the cake has completely cooled, it can be stored in an airtight container at room temperature for up to 2 days.
If your kitchen is particularly warm, or you live in a hot climate, you might prefer to store the cake in the refrigerator to extend its freshness.
Refrigerator: To store the cake in the refrigerator, wrap it tightly in plastic wrap or place it in an airtight container to prevent it from drying out.
Stored this way, the cake can last for up to 5-7 days. Allow the cake to sit at room temperature for about 15 minutes before serving to improve texture and flavor.
Freezer: If you want to store the cake for a longer period, you can freeze it. Once the cake has completely cooled, cut it into individual portions and wrap each piece tightly in plastic wrap, then in aluminum foil or place it in a freezer-safe bag or container.
Frozen cake can last up to 3 months. When you're ready to eat it, allow it to thaw overnight in the refrigerator and then let it sit at room temperature for about 15 minutes before serving.
Expert tip
If you're using particularly juicy fruits like peaches, strawberries, or cherries, consider macerating them before adding to the batter. Macerating simply means tossing the fruit in a bit of sugar and letting it sit for about 30 minutes to an hour. This process draws out excess moisture from the fruit, which can help prevent the fruit from making the cake soggy.
Just be sure to drain the fruit well before folding it into the batter to avoid adding too much extra liquid.
Recipe Faqs
Can I use frozen fruit instead of fresh?
Yes, you can use frozen fruit. However, because frozen fruit often releases more moisture when baked, it can make your cake a bit soggy. To help prevent this, you can toss the frozen fruit in a little bit of flour before folding it into the batter, which can help to absorb some of the excess moisture.
Why did my cake sink in the middle?
There could be several reasons for this. One common cause is that the cake was under-baked.
Make sure your oven is properly calibrated and bake the cake until a toothpick inserted into the center comes out clean. Consider investing in an oven thermometer to ensure your oven is at the correct temperature when you bake.
Over-mixing the batter can also cause a cake to sink, as it incorporates too much air into the mixture. Mix just until the ingredients are combined for the best results.
Can I make this cake gluten-free?
Yes, you can substitute the all-purpose flour with a gluten-free flour blend. Be sure to look for a blend that is meant for 1:1 substitution. Keep in mind that gluten-free flours can sometimes create a slightly different texture and flavor in the cake.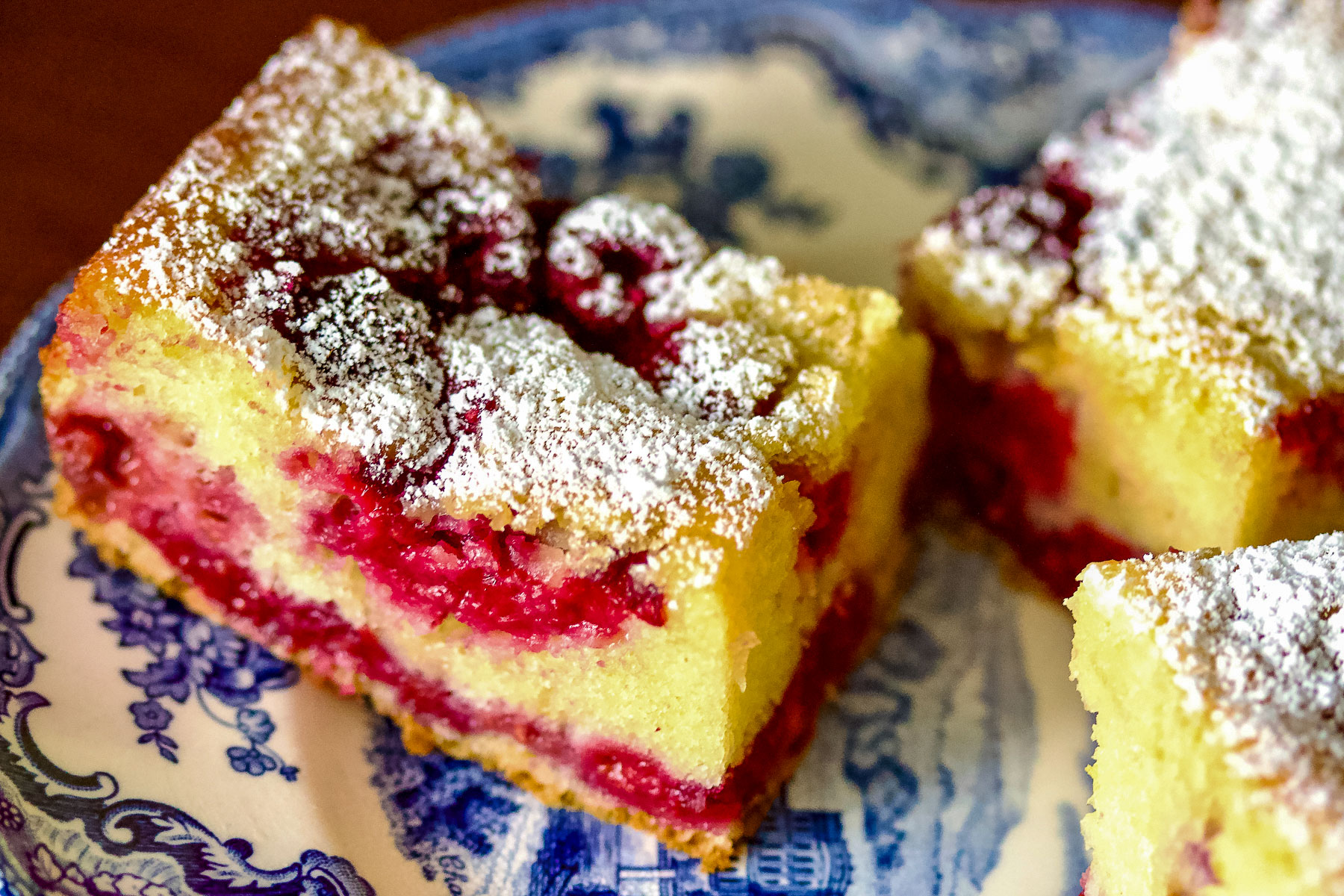 More summer recipes
Easy Summer Old Fashion Peach Cake
Pound Cake with Fruits And Almond Flakes
Plums Coffee Cake- Summer Dessert
No Bake Chocolate Biscuit Cake
More cake recipes
Craving more? Subscribe to The Bossy Kitchen to get new recipes and a newsletter delivered straight to your inbox! Stay in touch on Facebook, Twitter, Pinterest, and Instagram for all of the latest updates. Don't forget to use the star rating and leave a review.
📖 Recipe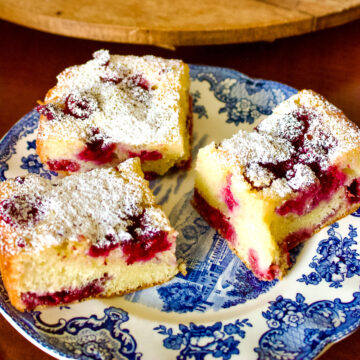 Fruit Buckle Cake
This Fruit Buckle cake is a summer recipe that uses seasonal fruits like blueberries, sour cherries, raspberries, strawberries, peaches, or apricots.
Print
Pin
Share
Grow
Saved!
Rate
Ingredients
2

pounds

fresh fruit

Use either blueberries, strawberries, raspberries, cherries, peaches, or apricots

3

sticks

unsalted butter at room temperature

1.5 cups

2

cups

powdered sugar

2

tablespoons

honey

1

lemon

use juice and zest

1

tablespoon

vanilla extract

5

large eggs

3 ⅓

cups

all-purpose flour

sifted

¼

teaspoon

salt

1

teaspoon

baking powder
Instructions
Preheat oven to 350F/180C.

In a large bowl, place butter at room temperature, powdered sugar, honey, lemon zest, lemon juice, and vanilla extract.

Using a hand mixer, or a stand-up one, mix the ingredients on low speed until the sugar is incorporated. Increase the speed to high and mix for 2-3 minutes.

Add the eggs and keep mixing on medium speed.

In a separate medium bowl, sift together flour, salt and baking powder.

Add the flour slowly to the batter and keep mixing on low speed until the batter is smooth.

Add the fruit and mix gently to incorporate them.

Prepare a baking pan by buttering the bottom of it. Cover the pan with parchment paper.

Pour the batter into the baking pan and level it with a spatula.

Bake at 350F/180C for 30-35 minutes or until the top of the cake is golden brown.

Let it cool, then serve cut in squares sprinkled with powdered sugar on top.
Nutrition
Serving:
1
g
|
Calories:
189
kcal
|
Carbohydrates:
27
g
|
Protein:
3
g
|
Fat:
12
g
|
Saturated Fat:
7
g
|
Polyunsaturated Fat:
1
g
|
Monounsaturated Fat:
3
g
|
Trans Fat:
0.4
g
|
Cholesterol:
62
mg
|
Sodium:
51
mg
|
Potassium:
92
mg
|
Fiber:
1
g
|
Sugar:
3
g
|
Vitamin A:
391
IU
|
Vitamin C:
22
mg
|
Calcium:
29
mg
|
Iron:
1
mg
Tried this recipe?
Please leave a comment on the blog or like us on Facebook!