Romanian Fruit Coffee Cake(Pandispan Cu Fructe) is a traditional summer cake that has a light, delicious texture and it is filled usually with seasonal fruits.
Romanian Fruit Coffee Cake (Pandispan cu fructe)- A summer delight
For many years, this has been one of my favorite desserts. I have made it so many times that I could probably recite the recipe in my sleep.
Generations of Romanians keep making this Romanian Fruit Coffee Cake or "Pandispan cu fructe" as we call it in Romanian.
It is mostly a summer cake that people make to take advantage of seasonal fruits.
I had this cake made with strawberries, but I also had it with sour cherries, which are very traditional for this recipe, peaches, sweet cherries, or apricots.
This time I made it with raspberries, and it was divine.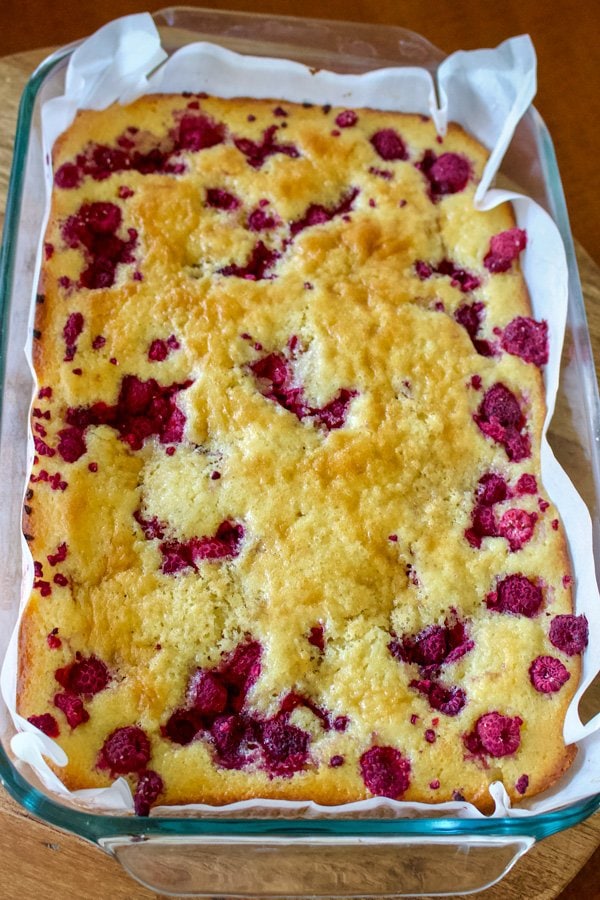 The cake is relatively dense (to hold the weight of the fruits), it is moist, delicious, and not very sweet.
It is usually baked in large baking pans(12x16inch) and it is perfect for a family event, potluck, or anytime you have a sweet tooth.
The recipe is easy to make, and the results are awesome.
I love this recipe, as it brings back memories from my home country, childhood and summers without worries.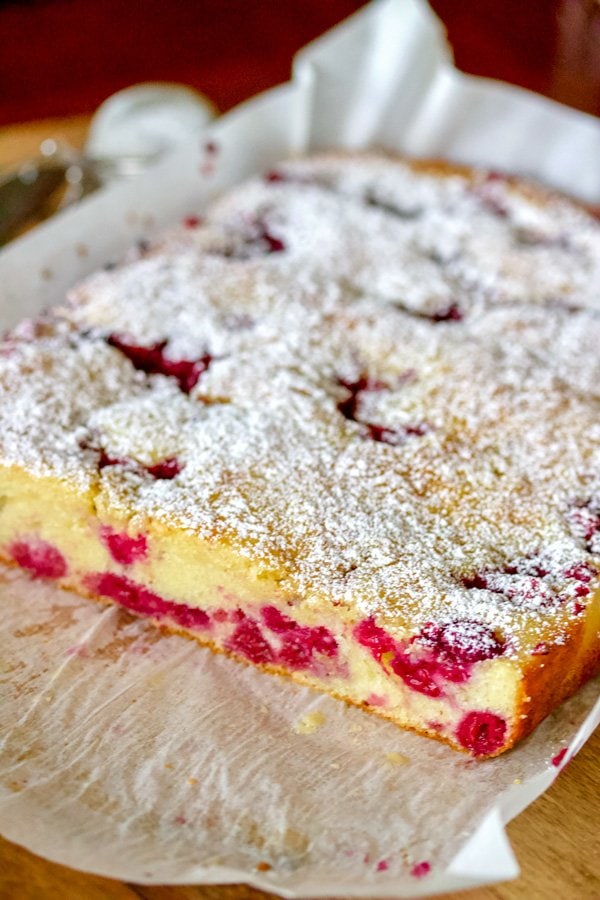 When I was a kid, my mother would bake a cake like this and take it to potlucks or picnics. It was a perfect dessert at the beach or as a snack in the lunch box.
It holds well, and doesn't spoil in the heat of the summer.
Summers in Romania are hot and every month provides different fruits that are awesome for this recipe. In June, there are strawberries, raspberries, and sour or sweet cherries.
In July and August, there are apricots, peaches, and nectarines that bring flavor to this cake. You have to try the cake no matter what kind of fruits you use.
If fresh fruit is not available, frozen fruit will do the job.
Maybe they are not as good as the fresh fruits in season, but they are perfectly fine to use in this recipe.
However, if you want to go really, really traditional and use good fresh sour cherries, but you cannot find them anywhere, I suggest looking for canned sour cherries you can find in most European stores around the United States.
The sour cherries are sold in jars, and the lightly sweetened deep-red liquid in which they are preserved makes the most wonderful, intensely fruit-flavored drink.
True, these canned sour cherries are softer than the fresh ones, but this is a small compromise considering their wonderful flavor.
I hope you try the recipe, you will not be sorry! And if you are a Romanian who lives outside of Romania and remember your grandmother making this for you, try this recipe and let me know what you think! Happy baking!
Some other recipes you can try for the summer:
Easy Summer Old Fashion Peach Cake
Pound Cake with Fruits And Almond Flakes
Plums Coffee Cake- Summer Dessert
No Bake Chocolate Biscuit Cake
Yield: 25-30 servings
Romanian Fruit Coffee Cake(Pandispan Cu Fructe)
Romanian Fruit Coffee Cake(Pandispan cu fructe) is a summer recipe that uses fruits that are in season like sour cherries, raspberry, strawberry etc.
Ingredients
2 pounds/900g raspberries(or strawberries, cherries, peaches, apricots)
3 sticks butter/ 1.5 cups/ 12.35oz/350g unsalted butter at room temperature
2 cups/8.8oz/250 g powdered sugar
2 Tablespoons/50 g honey
lemon zest from 1 lemon
1 Tablespoon vanilla extract
5 large eggs
3 1/3 cups/14.11oz/400g all purpose flour(sifted)
1/4 teaspoon/3 g salt
1 teaspoon/5 g baking powder
Instructions
Preheat oven to 350F/180C.
In a large bowl place butter at room temperature, powdered sugar, honey, lemon zest and vanilla extract.
Using a hand mixer, start by mixing the ingredients together on low speed until the sugar is incorporated. Increase the speed to high and mix for 2-3 minutes.
Add the eggs and keep mixing on medium speed.
In a separate medium bowl, sift together flour, salt and baking powder.
Add the flour slowly to the batter and keep mixing on low speed until the batter is smooth.
Prepare a large baking pan(12x16 inch or 30x40cm) by buttering the bottom of it. Cover the pan with parchment paper and butter the parchment paper as well.
Pour half of the batter on the baking pan and add half of the amount of fruit.
Add the other half of batter on top of the fruits and finish with the rest of the fruits.(batter-fruit-batter-fruit)
Bake at 350F/180C 30-35 minutes or until the top of the cake is golden brown.
Let cool, then serve cut in squares sprinkled with powdered sugar on top.
Recommended Products
As an Amazon Associate and member of other affiliate programs, I earn from qualifying purchases.
Nutrition Information:
Yield:
30
Serving Size:
1
Amount Per Serving:
Calories:

301
Total Fat:

20g
Saturated Fat:

12g
Trans Fat:

0g
Unsaturated Fat:

7g
Cholesterol:

80mg
Sodium:

114mg
Carbohydrates:

29g
Fiber:

4g
Sugar:

14g
Protein:

3g
Note: "We are a participant in the Amazon Services LLC Associates Program, an affiliate advertising program designed to provide a means for us to earn fees by linking to Amazon.com and affiliated sites."