Note: "We are a participant in the Amazon Services LLC Associates Program, an affiliate advertising program designed to provide a means for us to earn fees by linking to Amazon.com and affiliated sites."
The Pound Cake with Fruits and Almond Flakes is a recipe that I like making in the summer. From June to September, Romanians love to bake this cake and use any fruits in season from cherries to strawberries or other type of berries, to apricots  and peaches. It is light, delicious, not very sweet and makes a great dessert or snack. It is also great for  a picnic.
However, because frozen fruits are available all year around, you can have this cake whenever you want it. Very easy to make and very versatile, this recipe might be a recipe to go to anytime you are in the mood for something sweet.
HOW TO MAKE THE POUND CAKE WITH FRUITS AND ALMOND FLAKES:
I started by mixing the butter with sugar.
I sifted the flour, baking powder and salt and set aside. I prepared the eggs in a bowl and measured the almond flakes.
I added the eggs to the butter, one at a time, then added the flour slowly. I mixed on low to incorporate the flour. I poured the batter in the baking pan.
Added the cherries. I used frozen cherries for this one, but fresh ones are better.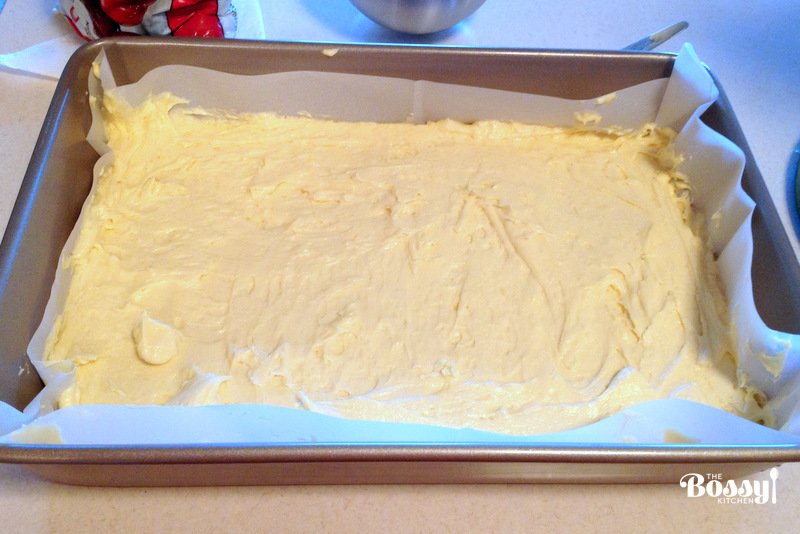 Then, sprinkled with almond flakes.
I baked the cake at 350F for about 35 minutes. The time to bake depends on your oven, but it should be somewhere between 30-40 minutes.
Very pretty, right?
Let it cool, then cut it in squares and dust each one with powder sugar.
It is a simple cake that would probably go well with some ice cream right next to it. I personally like it simple, with a cup of tea or coffee.(learn how to make Turkish coffee at home)
Pound Cake with Fruits and Almond Flakes
Author:
The Bossy Kitchen
Ingredients
8.8 oz/250 g unsalted butter room temperature
8.8 oz/250 g powder sugar
8.8oz/250 g flour
½ teaspoon/5 g baking powder
6 eggs
17.6oz/500 g fresh fruit the best are apricots, peaches, cherries, blueberries, plums)
3.5oz/100 g almond flakes
1 pinch of salt
Instructions
Preheat oven to 350F. Prepare a 9x13 baking pan with parchment paper on the bottom.
In a large bowl, mix unsalted butter with powder sugar and salt until smooth.
Add eggs, one at a time, mixing well after each egg.
Sift flour with baking powder and salt together and add them to the mixture spoon by spoon.
Pour the mixture into the baking pan. Use a spatula to level and spread equally the mixture in the pan.
Place the fruit on top of the mixture(if you use plums, cut them in half and remove the pit. Do the same with the peaches or apricots)
Sprinkle with almond flakes.
Bake at 350F for approximately 30-40 minutes or until it passes the test with the toothpick.
Let it cool completely then sprinkle with powder sugar and serve.