This Apple Pie- Romanian Style is delicious and easy to make. The apples are cooked before baking the pie to reduce the moisture.
Jump to:
What is an Apple Pie- Romanian Style?
Romanian pies are a little bit different from American pies. They are shallow pies baked in jelly roll pans or regular oven trays.
They feed a crowd and are perfect for parties, holidays, potlucks, and anything else in between. I love apple pies.
I consider them comfort food and an excellent way to bring back my childhood memories.
These pies are very popular, and you would find them in most households, sitting on a platter on the kitchen table.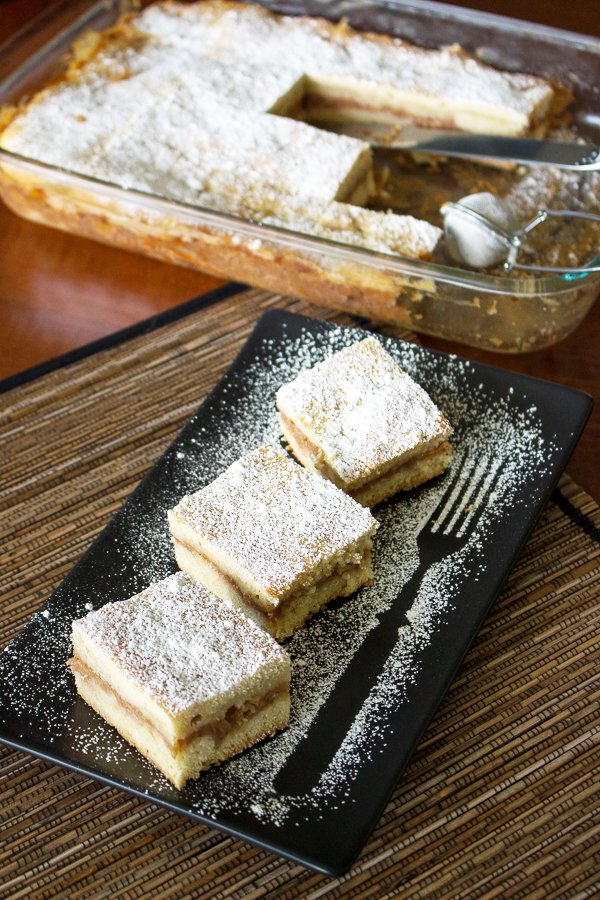 Apple pie is one of these delicious treats that Grandma would spoil us with when we visited. I still remember how we were waiting for the pie to come out of the oven so we could get the first bite of it.
This is one of the classic childhood desserts.
It is a dessert that people make any time of the year as long as there are available apples.
Vanilla, cinnamon, and sugar are the only ingredients you need to flavor this dessert. You have no idea how good your house will smell when you make this recipe.
What is so special about this apple pie?
One of the characteristics of Romanian pies is that the apples are either cooked before using them in the pie or used raw, but the juices are squeezed really well before they are added to the dough. 
We like to cook the apples first, with butter, sugar, and spices, until the juices from the apples reduce to almost nothing.
There are no cornstarch, flour, or other ingredients to thicken the filling.
Variations
We sometimes add raisins and walnuts as a variation. It is not mandatory, but it is really delicious.
The slab pies can be filled with anything, farmer's cheese, apples, berries, quinces, or pumpkin. We take advantage of what is in season and make a pie.
These pies are fantastic for potlucks, parties, and other events with lots of people. Call them rustic. I think this is a good word for them.
Also, I remember the women in my family making apple pies with leftover apples, cheap ones, small and slightly ugly.
These women were not shopping for Granny Smith or any other fancy name out there. If they had apples available, they used them!
Nothing was wasted, and the pies were great! Also, you can grate the apples with the skin on.
There is a lot of nutritional value in the skin, but if you don't like it, feel free to peel the apples before you grate them.
Overall, this recipe is a straightforward one. There are so many recipes out there, and all of them are awesome!
I have another slab apple pie recipe from my paternal grandmother, the German one. Her recipe is interesting, so I encourage you to try it as well.
Ingredients
A few words about the batter
This batter is very close to a cake batter but slightly thicker. Make sure you measure the flour well using a kitchen scale. It should be poured on the bottom of the pan and also on top of the apples. The consistency is thick.
How to store
Refrigerator: Cooked apple pies need to be stored in the fridge for up to 4 days. This apple pie, in particular, can be on the kitchen counter for up to two days.
Freezer: I would not freeze this recipe of apple pie. The dough contains baking powder, and if you freeze it uncooked, the moisture in the freezer will activate and ruin the baking powder.
However, you can freeze it already cooked in an airtight container. It will last for up to six months in the freezer.
Thaw it slowly in the refrigerator overnight. We consume this apple pie at room temperature.
More recipes to love
26 Best Thanksgiving Pies And Tarts
PIN THIS FOR LATER: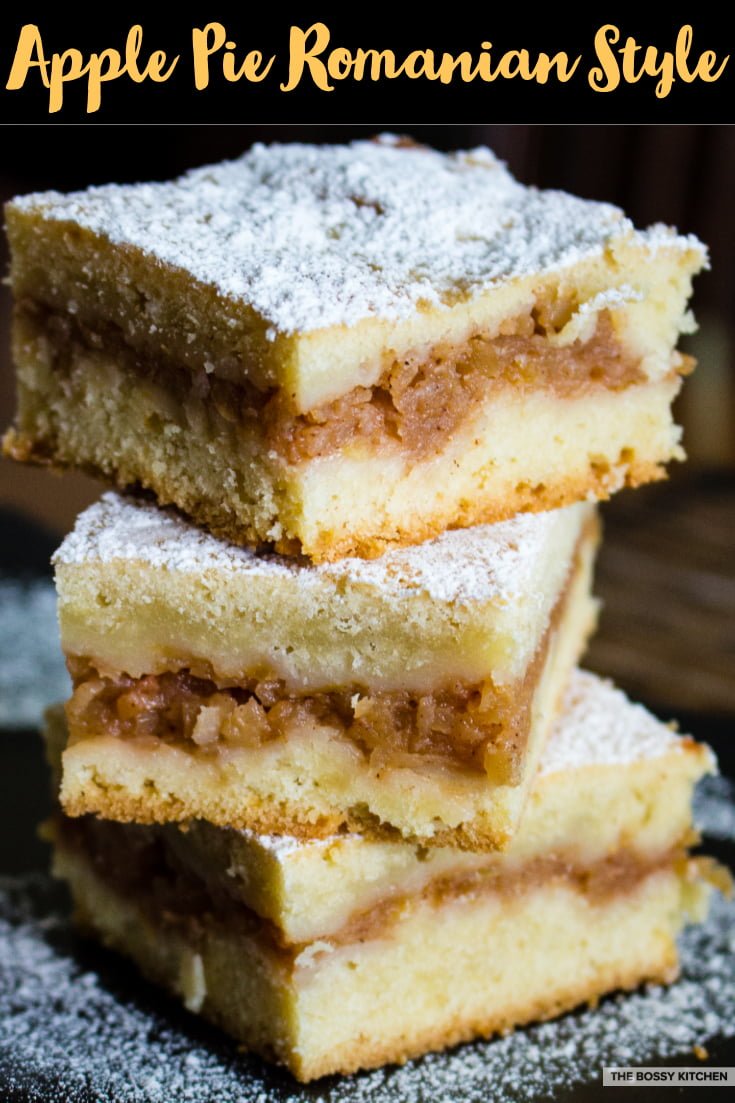 Yield: 20 servings
Apple Pie- Romanian Style
This Apple Pie- Romanian Style is delicious and easy to make. The apples are cooked before baking the pie to reduce the moisture.
Cook Time
1 hour
5 minutes
Total Time
1 hour
25 minutes
Ingredients
For the dough:
1 cup/250g unsalted butter melted
1 ¼ cups/250 g granulated sugar
4 cups/500 g all purpose flour
1 teaspoon /10 g baking powder
½ cup/125 ml whole milk
2 large eggs
For the apples:
7-8 medium apples/2.2 pounds/1 kg
4 tablespoons granulated sugar
3 tablespoons butter to cook the apples
1 teaspoon pure vanilla extract
1 teaspoon cinnamon
powder sugar to dust the pie
Instructions
How To Make The Dough:
Preheat the oven to 350F.
Mix the melted butter together with sugar.
Add the milk and keep mixing until the sugar is melted completely.
Add eggs, vanilla, flour and baking powder and mix to incorporate everything well.
Split the dough in half and pour one part of the mixture in a 9X13 baking pan. Bake it for 20 minutes.
Apple Filling:
Shred the apples and cook them in butter with some sugar and cinnamon until the juices reduce. Remove the apples from the stove and let them cool.
How To Put The Apple Pie Together:
When the first layer of pie is baked, remove it from the oven and add the apples, spreading them evenly over the entire surface.
Pour over the other half of the dough and return the pan to the oven.
Bake it for another 45 minutes.
Let the pie cool down. Dust the pie with powder sugar and cut it in squares.
Goes well with coffee or tea.
Recommended Products
As an Amazon Associate and member of other affiliate programs, I earn from qualifying purchases.
Nutrition Information:
Yield:
20
Serving Size:
1
Amount Per Serving:
Calories:

324
Total Fat:

14g
Saturated Fat:

8g
Trans Fat:

0g
Unsaturated Fat:

5g
Cholesterol:

51mg
Sodium:

92mg
Carbohydrates:

48g
Fiber:

3g
Sugar:

25g
Protein:

4g