If you are looking for a delicious pie for the holidays, look no more! This Apple and Berries Pie is the best!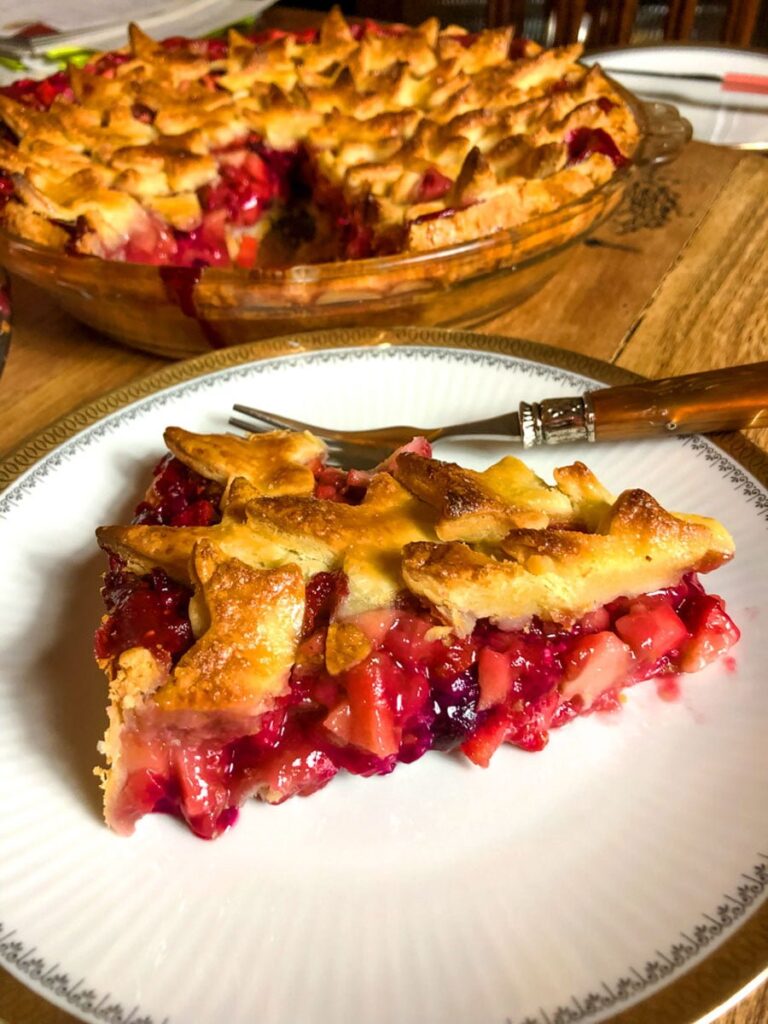 Jump to:
Apple Pie With Berries is the way to go
With so many desserts available around the holidays, it is important to ensure that the one you bring to a party really stands out. I personally take pride in making a good homemade dessert.
I think everyone appreciates a homemade dessert versus a bought one. The care, love, and effort that one puts into making something from scratch make that final product ten million times better than anything else from the store.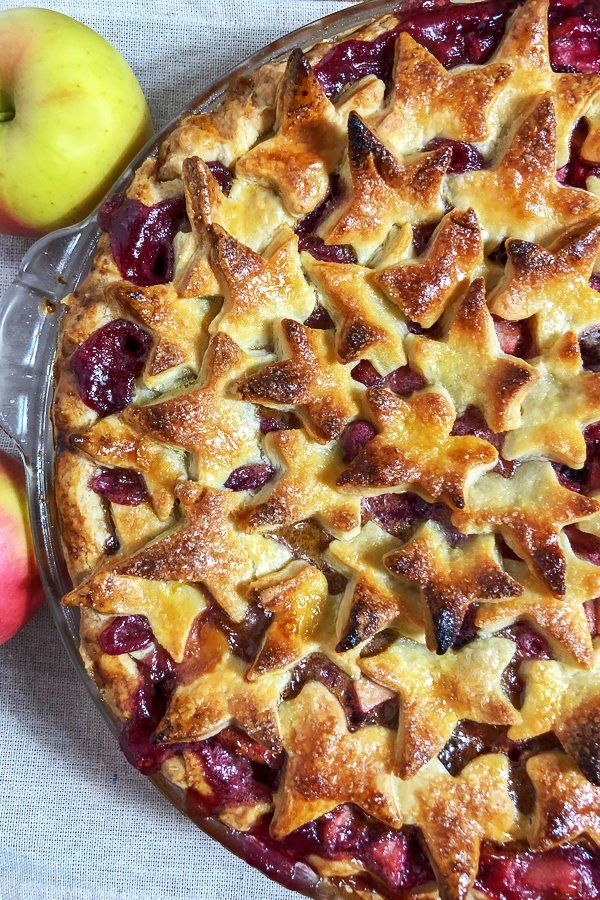 When to serve
This recipe will definitely stand out on the Thanksgiving or Christmas table, but also on a glorious Memorial Day, Fourth of July, or any other celebration where the pie is involved.
The crust in this pie is divine, and the combination of berries with apples is perfectly balanced.
I think of an apple pie more in the fall, as the apples are in season and great for baking.
However, because berries are summer fruits, I don't see any harm in making this recipe all year round, mainly because we can find frozen berries in grocery stores all the time.
Think Easter, Mother's Day, Memorial, or even Labor Day.
Any celebration would be an excellent opportunity to make this recipe and show off your pie skills.
I chose for this recipe a combination of frozen berries from Trader Joe's because we shop there very often. The store is almost a mile away from our house, and I really feel blessed for having it so close.
I like Trader Joe's better than my local grocery store. I can find a bunch of organic produce and a lot of fun stuff.
Maybe too much, which makes it dangerous when you try to watch what you eat. You know how that goes.
You go there with a list and end up buying all these candy and cookies and other things that you do not need and try to stay away from!
However, this time I looked for frozen fruit and good apples. Trader Joe's has these apples, especially the Honeycrisp ones, that are organic and relatively cheap compared with other stores.
The Crust
The crust for this pie is my favorite. It is made with cream cheese, making it different from other pie crusts I tried in the past.
The truth is that cream cheese or Farmer's cheese makes wonderful pastry dough.
I have an old recipe of pastry dough that is versatile and can be used in many recipes to make all kinds of stuff, from cookies to pie crusts to cheese crackers.
The recipe is basically an old Eastern European one that uses Farmer cheese in equal amounts with flour and butter. It is super easy to make and delicious.
This particular crust in this recipe, though, is a little bit different. It has cream cheese, but it also has a little bit of vinegar.
I also know Eastern European recipes of pastries that have vinegar as an ingredient, such as this recipe of mini turnovers with jam that my grandmother used to make all the time.
Or this recipe of Apple Pie Bars- a recipe made with either wine, vinegar, or plain water, as my grandmother wrote down.
The apples in this pie, in particular, perfectly balance the tart berries. The bag of frozen berries had strawberries, raspberries, blueberries, and blackberries. Yum!
However, you can also use fresh berries together with apples, if you are in the middle of the summer. Fresh is better, but frozen is convenient.
Can I make the pie in advance?
Yes, you can make it the day before and refrigerate it.
Can I freeze the pie dough?
You can make the pie dough in advance and refrigerate it for up to three days, or freeze it for up to three months.
This recipe is an excellent opportunity to make batches of dough in advance and even freeze them for later use.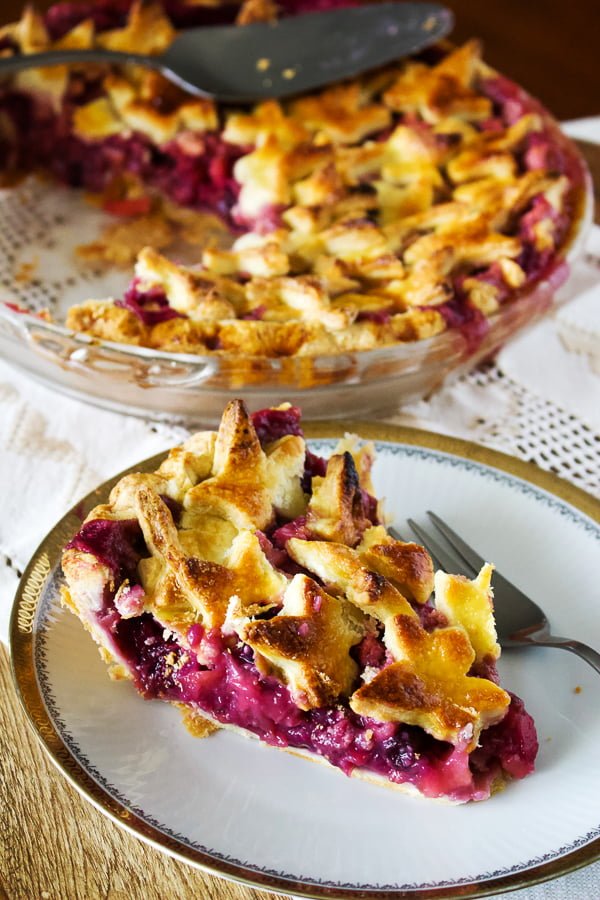 How to make the apple berry pie
Step1. Make the pie crust.
To make the pie is pretty standard. The easiest way to make the dough is in a food processor.
Make sure the butter and cream cheese are very cold. Place the flour and the salt in the food processor and pulse to combine.
Then add the butter, cream cheese, vinegar, water, and pulse until a dough is formed. Cut the dough in half and form each half into a disk wrapped in plastic foil and placed in the refrigerator for an hour minimum.
While the dough is resting in the refrigerator, preheat the oven and place a cookie tray inside the oven to heat up also.
Step 2. Make the pie filling.
Peel and chop the apples into small chunks. Add the thawed berries to the apples and gently toss them together with sugar, butter, vanilla, and a little bit of flour.
Step 3. Assemble the pie.
On a lightly floured surface, the kitchen counter, place one-half of the dough and roll it out into a 12-inch round. This half is going to be the base for the pie.
Place the round inside a pie dish and fold the overhanging dough under itself.
Pour the filling over the crust and start working on the second layer of pastry. Flour the table again and roll it out into a smaller round, about 8-9 inches.
I used a cookie cutter to make the leaves on my pie, but you can use a cookie cutter in the shape of a heart or whatever your soul desires.
You can cut stripes and cover the pie with them. Whatever you feel like doing to make that pie look pretty. After all, you want to impress your friends and family.
Place the pie dish on the hot cookie tray inside the oven and bake for about 15 minutes at 425F. After 15 minutes, reduce the heat to 350F and continue to bake for another 50 minutes or until the pie is golden brown and the juices are bubbling.
The apples and berries bake and bubble together inside the pie creating the most glorious aroma and flavor. Allow it to cool on a rack and serve it warm with ice cream or just by itself with a cup of coffee.
Apple Berry Pie is brighter and bolder than standard apple pie, with pink dripping juices coming out of the crust. Heaven!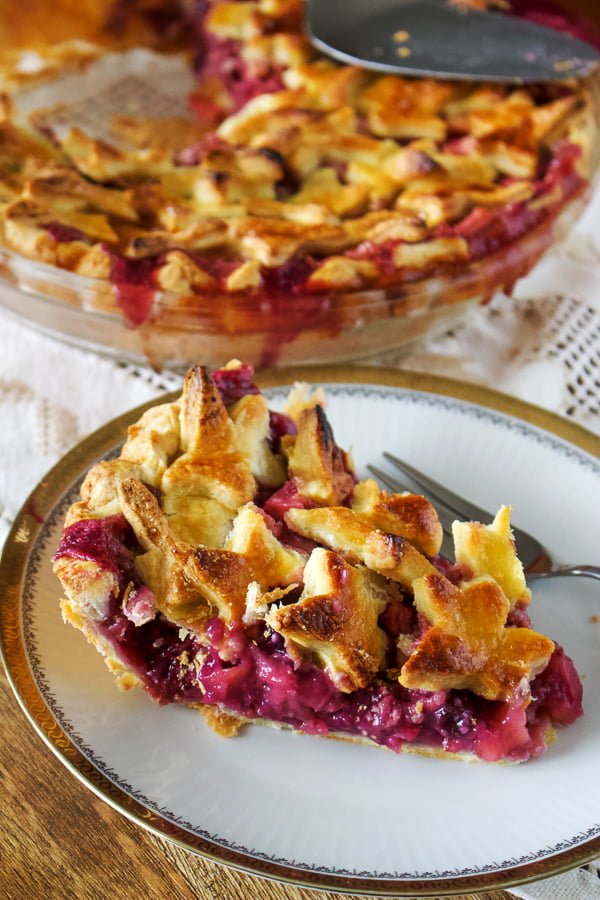 Enjoy!
Suggestions for Thanksgiving recipes
Best Thanksgiving Pies And Tarts
Best Easy Thanksgiving Side Dish Recipes
Best Thanksgiving and Christmas Turkey Recipes
Yield: 10 servings
Apple And Berries Pie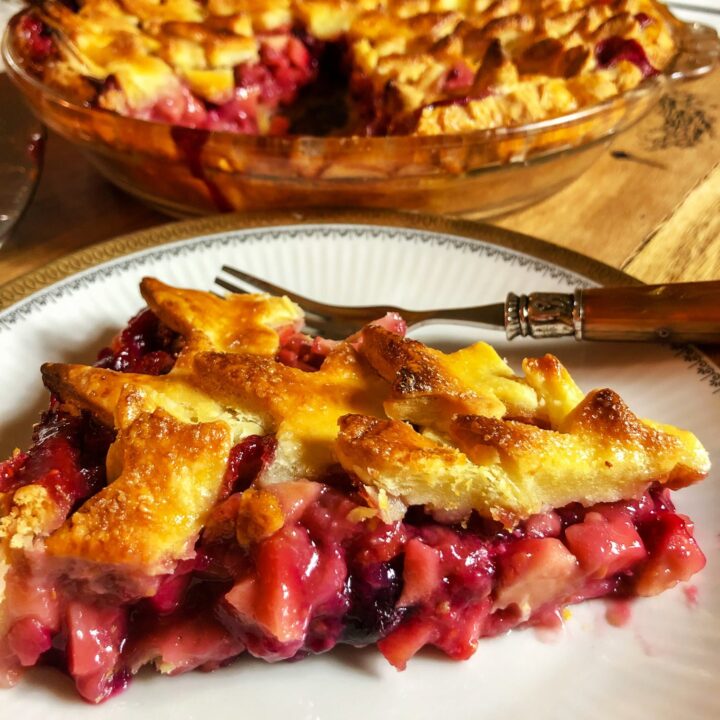 If you are looking for a delicious pie for the holidays, look no more! This Apple and Berries Pie is the best! 
Prep Time
1 hour
15 minutes
Additional Time
1 hour
30 minutes
Total Time
3 hours
35 minutes
Ingredients
For the Crust:
1 ½ cups all purpose flour, plus more for dusting
½ teaspoon salt
6 tablespoons unsalted butter, cold, cut into small cubes
6 ounces cream cheese, cold, cut into small cubes
1 teaspoon white vinegar(or lemon juice)
1 tablespoon ice water
For the Filling:
2 pounds apples(whatever you have available)
12 oz thawed frozen mixed berries
1 cup granulated sugar
¼ cup all purpose flour
1 teaspoon vanilla extract
2 tablespoons unsalted butter, cut in small cubes
pinch of salt
1 large egg, lightly beaten
Instructions
How To Make The Crust:
Place flour and salt in a food processor and pulse to combine.
Add butter and pulse a few times until the mixture resembles pea-size pieces.
Add the cream cheese and pulse a few more times until the dough comes together.
Add the vinegar(or the lemon juice)and the ice water. Pulse again until the dough is moist.
Divide the dough in half and shape each piece into a disk, wrap in plastic foil and refrigerate until firm for at least one hour or overnight.
Preheat the oven to 425F.
Place a baking sheet on the rack in the middle of the oven and let it warm up.
Meanwhile, make the filling:
Clean the apples, peel them, and chop them into small pieces. Mix the apples with the thawed berries, sugar, flour, vanilla, butter chopped into cubes, and salt in a large bowl. Set aside.
Roll out half of the dough into a 12-inch round on a lightly floured surface. Slide it into a 9-inch pie dish. Fold the overhanging dough under itself.
Add the filling.
Lightly floured surface and roll out the other half of the dough into a 9-inch round.
Cut strips of dough or use a cookie cutter to create a design. (I used a leaf shape to cut the dough). Cover the surface of the pie with the pattern.
Beat the egg and brush the edges of the pie and the pattern created on top of it.
Place the pie dish on the hot baking sheet in the oven and bake for 15 minutes.
Reduce the oven temperature to 350F and continue baking until the crust is golden and the filling is bubbling for about 50 minutes. (Cover the pie's edges with aluminum foil if the crust bakes too fast).
Let it cool completely on a metal rack.
Recommended Products
As an Amazon Associate and member of other affiliate programs, I earn from qualifying purchases.
Nutrition Information:
Yield:
10
Serving Size:
1
Amount Per Serving:
Calories:

381
Total Fat:

17g
Saturated Fat:

10g
Trans Fat:

0g
Unsaturated Fat:

6g
Cholesterol:

64mg
Sodium:

255mg
Carbohydrates:

54g
Fiber:

4g
Sugar:

32g
Protein:

6g