Mini Turnover Cookies With Jam
This recipe of Mini Turnover Cookies with Jam is an old family little treasure,which I inherited from my paternal German grandmother who lived in Transylvania. The dough is cut with a water glass or a round cookie cutter, then a dollop of jam is placed in the middle. My grandmother used to fold the cookie in half and seal it with a fork. Relatively easy to make, the cookies are a delicious snack or dessert to have around.
Dust these babies with some powder sugar and serve. They are great with coffee, awesome for holidays or just lazy Sundays with your family.
The sweetness of the cookie comes only from the jam inside and the powder sugar on top, because the dough has no sugar at all.
Enjoy and let me know if you liked them!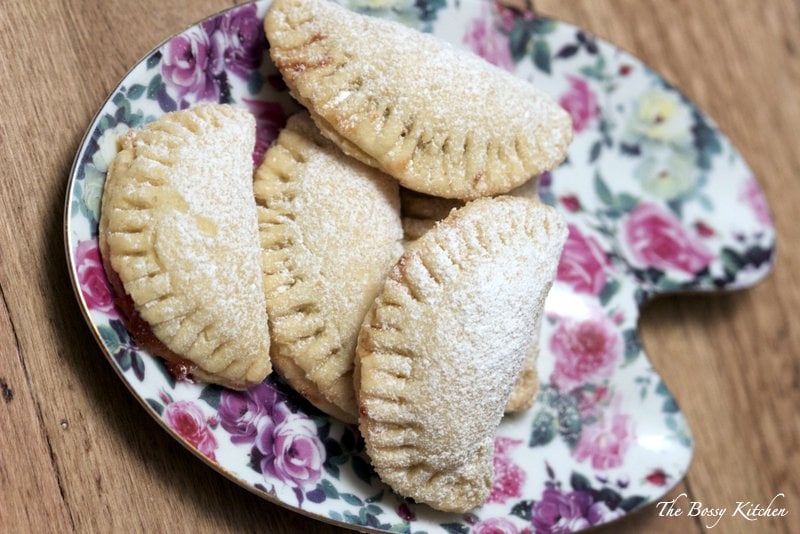 TIP: The dough for these cookies could make a delicious crust for a savory or sweet pie.
If you liked this recipe, you might also enjoy these Czech Bars, or my favorite bars, Saxon Walnut And Rose Hip Jam Bars. They are both delicious and very close to my heart.
Mini Turnover Cookies With Jam
Author:
The Bossy Kitchen
Ingredients
3⅕ cups/14oz/400 g all purpose flour
8.8oz/2⅕ sticks/250 g cold butter (chopped into small pieces)
2 tablespoons white wine vinegar
4 tablespoons cold water
¼ teaspoon salt
2-3 tablespoons powder sugar for dusting the cookies
16 oz/453g fruit jam(plums, apples, strawberries, raspberries etc)
Instructions
Preheat oven to 180C/350F.
Cover a cookie sheet with parchment paper and set aside.
The dough can be made by hand or in a food processor.
If you're doing it by hand, sift the flour in a bowl and add the cold chopped butter.
Use a pastry blender to cut the butter into the flour until you obtain pea size crumbles.
Over the crumbles, add water, salt, and vinegar and mix together with your hands until you get a smooth dough.
If you are using a food processor, add the butter to the flour and pulse 3-4 times until the dough looks like pea size crumbles.
Add water, salt, and vinegar and pulse until you obtain a smooth dough.
Roll it on a floured surface to about ¼ inch thickness and cut circles with a water glass or a round cookie cutter.
Place a dollop of jam in the middle and fold the dough in half.
Use a fork to press the edges of the cookie together and place it on the cookie sheet.
When all cookies are formed, bake them at 180C/350F for about 17-20 mins.
Remove from the oven and let them cool on a metal rack.
Dust powder sugar over each cookie.