Note: "We are a participant in the Amazon Services LLC Associates Program, an affiliate advertising program designed to provide a means for us to earn fees by linking to Amazon.com and affiliated sites."
This is an old family little treasure, coming from my paternal German-Romanian grandmother who lived in Transylvania. I have only few recipes from Herta, my grandmother, but plenty of warm memories about her baking . These Pie Crust Mini Turnover Cookies With Jam are some of my favorite cookies she used to make.
These cookies are easy to make, delicious and versatile. The best part is that the dough can be also used to make pie crust. My personal research showed me that most of the Romanian pie crust recipes are made with vinegar and water, or wine, probably because the acidity from the vinegar inhibits the gluten to develop, therefore the crust ends up being more tender.
In my opinion, it is a reliable recipe for producing a good pie crust. It uses just a small amount of vinegar(half in my recipe) compared to the amount of water in the dough, but it is just enough to make a difference in the finished crust.
Recently, I saw many American articles saying that adding vinegar or lemon juice to a dough doesn't do anything to it. As much as I am trying to respect these opinions, I am still wondering why people used vinegar in their pie crusts for hundreds of years. I know that the vinegar addition to the recipes was and still is very popular in many Easter European countries, therefore if you have a good explanation for why vinegar is used, I am open to the conversation.
You can make this dough by hand or in the food processor. Both methods will give you good results. Also, in my opinion you can use either white vinegar or apple cider vinegar in this recipe.  You won't be able to smell or taste either vinegar in the finished crust.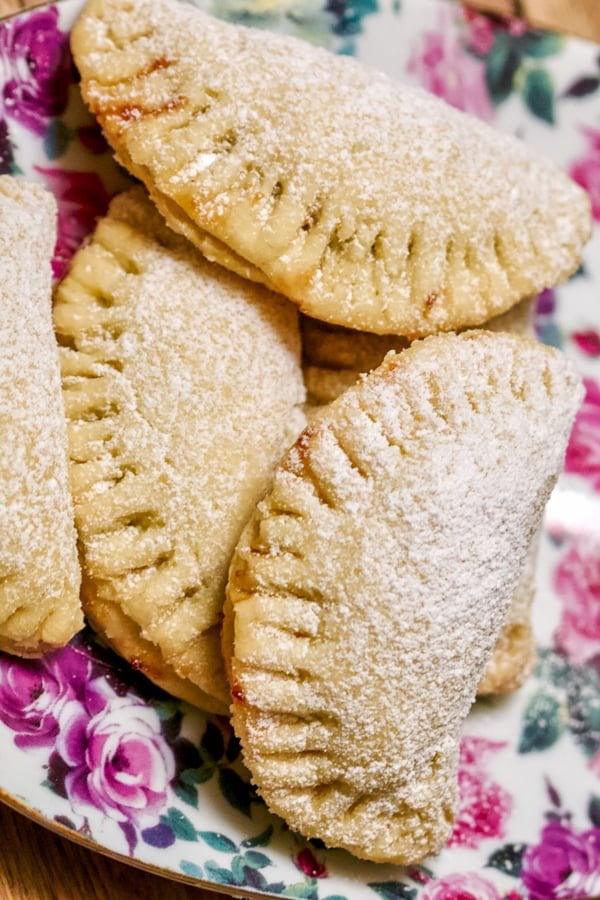 After the dough is rolled, cut it with a water glass or a round cookie cutter, then place a dollop of jam in the middle. My grandmother used to fold the cookie in half and seal it with a fork. Relatively easy to make, the cookies are a delicious snack or dessert to have around.
Dust these babies with some powder sugar and serve. They are great with coffee, awesome for holidays or just lazy Sundays with your family. The sweetness of the cookie comes only from the jam inside and the powder sugar on top because the dough has no sugar at all.  Enjoy and let me know if you liked them!
If you liked this recipe, you might also enjoy these Czech Bars, or my favorite bars, Saxon Walnut And Rose Hip Jam Bars. They are both delicious and very close to my heart.
Mini Turnover Cookies With Jam
Author:
The Bossy Kitchen
Ingredients
3⅕ cups/14oz/400 g all purpose flour
8.8oz/2⅕ sticks/250 g cold butter (chopped into small pieces)
2 tablespoons white wine vinegar
4 tablespoons cold water
¼ teaspoon salt
2-3 tablespoonspowder sugar for dusting the cookies
16 oz/453g fruit jam(plums, apples, strawberries, raspberries etc)
Instructions
Preheat oven to 350F/180C.
Cover a cookie sheetwith parchment paper and set aside.
The dough can be made by hand or in a food processor.
If you're doing it by hand, sift the flour in a bowl and add the cold chopped butter.
Use a pastry blender to cut the butter into the flour until you obtain pea-size crumbles.
Over the crumbles, add water, salt, and vinegar and mix together with your hands until you get a smooth dough.
If you are using a food processor, add the butter to the flour and pulse 3-4 times until the dough looks like pea size crumbles.
Add water, salt, and vinegar and pulse until you obtain a smooth dough.
Roll it on a floured surface to about ¼ inch thickness and cut circles with a water glass or a round cookie cutter.
Place a dollop of jam in the middle and fold the dough in half.
Use a fork to press the edges of the cookie together and place it on the cookie sheet.
When all cookies are formed, bake them at 350F/180C for about 17-20 mins.
Remove from the oven and let them cool on a metal rack.
Dust powder sugar over each cookie.