Welcome to the irresistible taste of Ghirardelli Chocolate Chip Cookies! These cookies have the perfect balance of gooey chocolate, sweetness, and the satisfying crunch of nuts.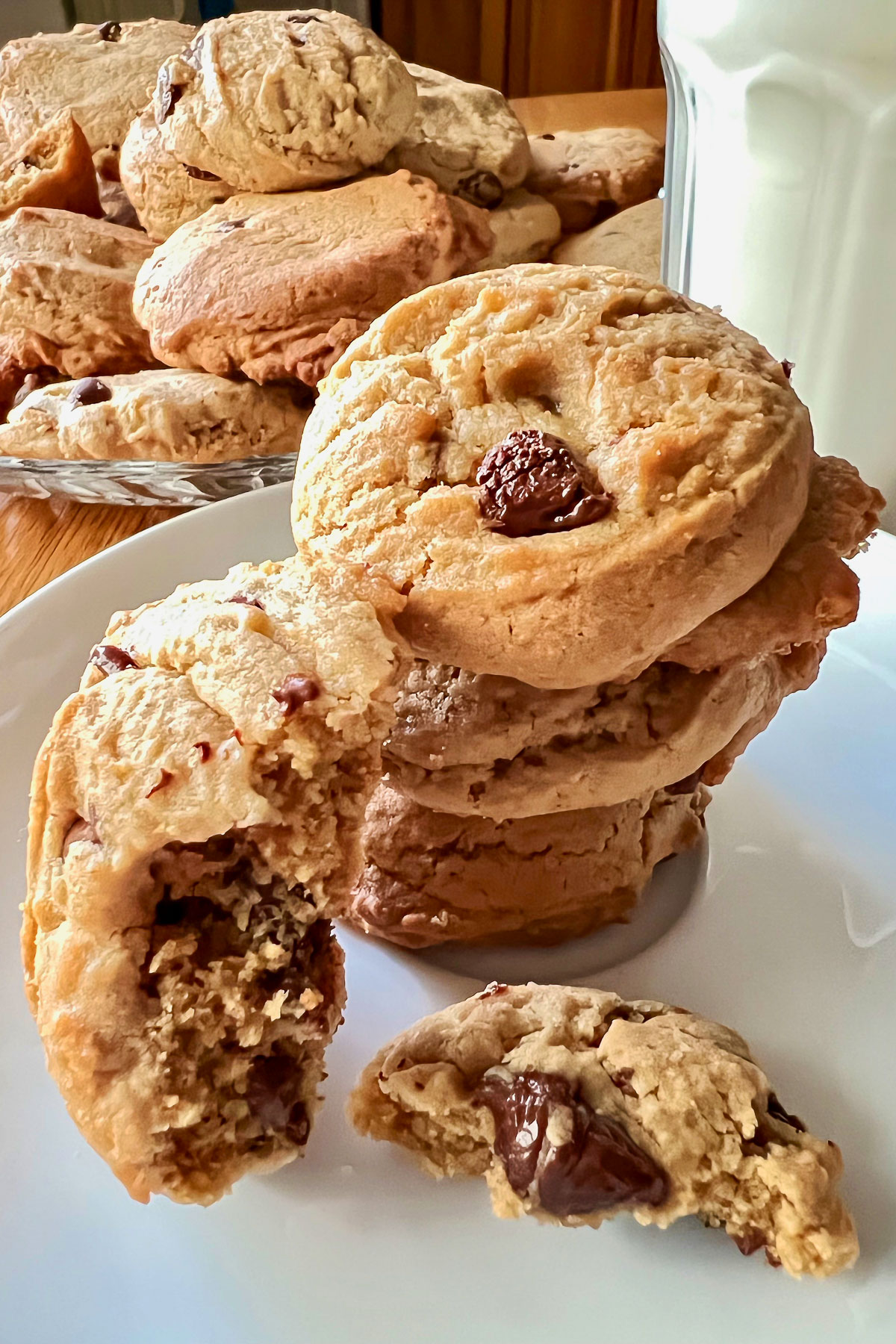 Jump to:
What are these cookies?
Today, I want to share my take on one of the most classic and beloved American treats - chocolate chip cookies. We are making chocolate chip cookies using Ghirardelli chocolate chips.
The original Ghirardelli chocolate chip cookies are mouthwatering homemade treats featuring Ghirardelli Bittersweet Cacao Baking Chips.
These cookies boast a perfect balance of flavors and textures, with their crisp exterior and a soft, gooey interior filled with chunks of chocolate and optional nuts.
They're a delightful indulgence that elevates the traditional chocolate chip cookie experience because of the quality of the chocolate chips.
The recipe has been around for decades, and I've been making it for just as long. Whenever I need a quick and easy dessert that everyone loves, I always turn to the recipe found on the Ghirardelli bag of chocolate chips.
While it's a straightforward recipe, I've learned a few tips and tricks to take these cookies to the next level over the years. So grab your apron, preheat your oven, and let's get baking some delicious chocolate chip cookies!
Why this recipe works
Easy to make: The recipe itself is straightforward and requires basic baking ingredients and equipment you likely already have on hand. Plus, there's no need to chill the dough before baking, which makes the process quicker and more convenient.
Ghirardelli Chocolate Chips are high quality and provide a rich, intense chocolate flavor that pairs well with the sweet cookie dough. You can use any Ghirardelli chocolate chips you like, from bitter to semi-sweet to mini chips or even non-dairy ones.
Versatile recipe: You can adapt this recipe based on your preferences. Add pecans instead of nuts, coconut oil instead of butter, etc.
The importance of quality ingredients
When it comes to baking, the quality of the ingredients you use can make all the difference in the final product.
For this reason, I always use Ghirardelli chocolate chips for my chocolate chip cookies. Not only are they delicious, but they also melt beautifully and have a rich, chocolatey flavor that can't be beaten.
However, it's not just the chocolate chips that matter - the other ingredients are just as important.
For this recipe, I always use unsalted butter, all-purpose flour, granulated sugar, brown sugar, baking soda, salt, and vanilla extract. While it may be tempting to use margarine or a cheaper brand of flour, I've found that using high-quality ingredients results in a superior-tasting cookie.
Ghirardelli chocolate chips: I used Ghirardelli Semi-Sweet Chocolate Chips. However, you can go with the original recipe and use dark chocolate or chopped chocolate bars if you cannot find chips.
Mix chocolate chips with chocolate chunks for a more interesting texture. Make sure the chocolate is a good, high-quality brand.
Butter: Using unsalted butter allows you to control the amount of salt in your recipe, which is important since we already add a bit of salt separately. For a replacement, coconut oil or vegan butter work for a dairy-free option.
All-Purpose Flour: When it comes to flour, I always use all-purpose flour since it's readily available and gives the cookies a nice texture.
This versatile flour gives the cookies a sturdy structure while still allowing them to remain tender and chewy. Look for a high-quality brand of unbleached flour with a protein content of around 10-12%.
If you choose to use a different type of flour, gluten-free flour blend or whole wheat flour would work as well. Just keep in mind that the texture of the cookies will slightly change, which is normal.
Granulated sugar and brown sugar: both add sweetness, but the brown sugar also adds moisture and depth of flavor. (replace it with coconut or raw cane sugar if needed).
Baking soda: gives these cookies their signature texture - crisp edges with a chewy center. Be sure to use fresh baking soda that hasn't expired.
Salt: A pinch of salt enhances the flavor of the cookies and helps to balance out the sweetness. Use a fine-grain sea salt or kosher salt for best results.
Vanilla extract: A splash of vanilla extract rounds out the flavors, making these cookies irresistible. Use a high-quality pure vanilla extract for the best flavor.
When shopping for ingredients, spending a little extra for high-quality ones is worth it. Trust me, your taste buds (and your friends and family) will thank you for it!
How to make this recipe
Preheat your oven to 375°F and line two baking sheets with parchment paper
Cream butter with sugars. Your butter needs to be at room temperature.
Beat in the eggs and vanilla extract. Just combine them with the butter and sugar, do not overmix.
4. Mix dry ingredients and add them to the batter. You know, the flour, baking soda, and salt.
5. Fold in the chocolate chips. The most important step, duh! 🙂
6. Bake cookies. Drop rounded tablespoons of dough onto the prepared baking sheets and bake them until the edges are lightly golden brown. Do not overbake!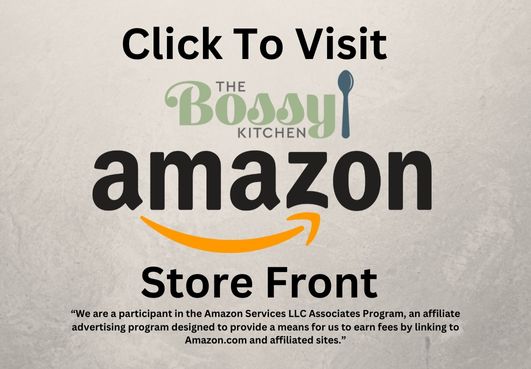 FAQs
Can I freeze the cookie dough?
Yes, you can freeze the dough for up to 3 months. Thaw in the refrigerator and bake as directed.
You can also freeze it in individual portions, meaning you can divide the cookie dough into separate cookie-sized pieces before freezing. This allows you to freeze the exact number of cookies you'd like to bake later, making it more convenient when you want to bake just a few cookies at a time instead of the entire batch.
How do I freeze the dough in individual portions?
1. Prepare the cookie dough as per the recipe instructions.
2. Use a cookie scoop or tablespoon to portion the dough into individual cookie-sized pieces.
3. Place the portions of dough onto a parchment-lined baking sheet, leaving some space between each piece to prevent them from sticking together.
4. Place the baking sheet in the freezer for about an hour or until the dough portions are firm.
5. Once the portions are firm, transfer them to a resealable plastic bag or an airtight container, and label them with the date and type of cookie.
Store the dough in the freezer for up to 3 months.
6. When you're ready to bake the cookies, remove the desired portions from the freezer, and thaw them in the refrigerator for a few hours or overnight. Then, preheat the oven, place the dough on a lined baking sheet, and bake as directed in the recipe.
How should I store the baked cookies?
Store them in an airtight container at room temperature for up to a week, or freeze them for up to 3 months.
Why are my cookies spreading too much?
Your dough might be too warm, or you may have added too much butter or sugar. While my recipe doesn't require chilling the dough before baking, sometimes the weather or the humidity in the air doesn't cooperate. Make sure to measure ingredients accurately and chill the dough before baking.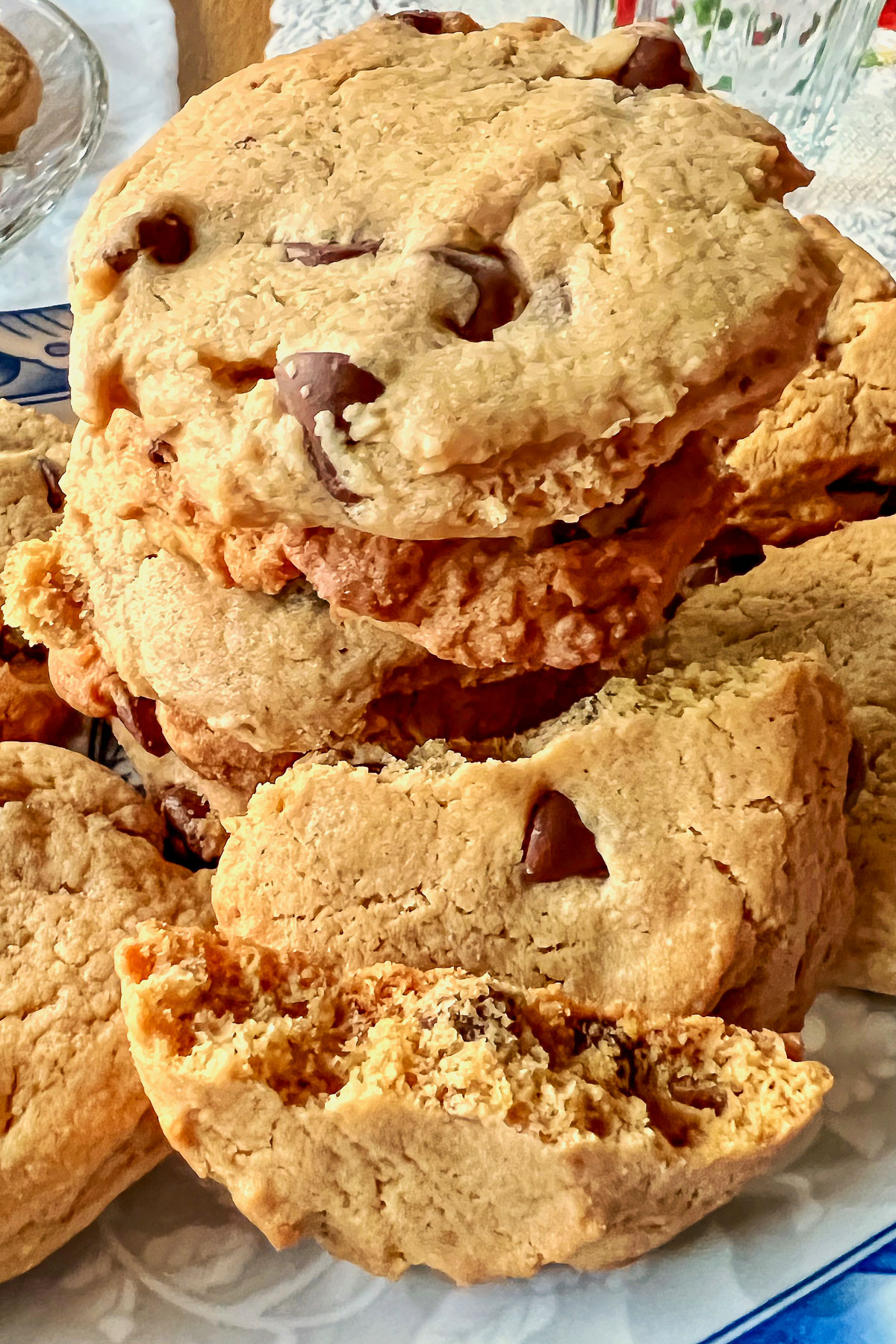 Ghirardelli Chocolate Chip Cookies are a delightful contrast of crispiness and chewiness. The edges are slightly crispy, while the center remains soft and chewy.
The melted chocolate chips create pockets of gooeyness throughout the cookie, and the optional nuts add a satisfying crunch.
Are you going to make them? These are one of the best cookies out there, I am just sayin'!
Please leave a message under the comments.
Check out the web story for this recipe: Chocolate Chip Cookies
More recipes to love
Chocolate Chip Desserts That Are Not Cookies
Banana Walnut Chocolate Chips Cookies
The Best Chocolate Chip And Walnuts Cookies
Craving more? Subscribe to The Bossy Kitchen to get new recipes and a newsletter delivered straight to your inbox! Stay in touch on Facebook, Twitter, Pinterest, and Instagram for all of the latest updates. Don't forget to use the star rating and leave a review.
📖 Recipe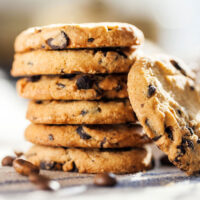 Ghirardelli Chocolate Chip Cookies Recipe
Welcome to the irresistible taste of Ghirardelli Chocolate Chip Cookies! These cookies have the perfect balance of gooey chocolate, sweetness, and the satisfying crunch of nuts. 
Print
Pin
Share
Grow
Saved!
Rate
Ingredients
1

cup

unsalted butter

1 ⅓

cups

granulated sugar

⅔

cup

dark brown sugar

firmly packed

2

large

eggs

1 ½

teaspoons

vanilla extract

3

cups

all purpose flour

1

teaspoon

baking soda

1

teaspoon

salt

3

cups

semi-sweet chocolate chips
Instructions
Preheat your oven to 375°F and line two baking sheets with parchment paper.

In a large mixing bowl, cream together the butter, granulated sugar, and brown sugar until light and fluffy.

Beat in the eggs, one at a time, and then add the vanilla extract.

In a separate mixing bowl, whisk together the flour, baking soda, and salt.

Gradually add the dry ingredients to the wet ingredients, mixing until just combined.

Fold in the chocolate chips.

Using a cookie scoop or a spoon, drop rounded tablespoons of dough onto the prepared baking sheets, spacing them about 2 inches apart.

Bake for 10-12 minutes, or until the edges are lightly golden brown and the centers are set.

Remove from the oven and let the cookies cool on the baking sheets for a few minutes before transferring them to a wire rack to cool completely.
Notes
Variations of the recipe:
There are plenty of ways to make this classic chocolate chip cookie recipe your own! Here are a few ideas to get you started:
Add in some nuts: If you're a fan of nuts, try adding a half cup of chopped walnuts, pecans, almonds, hazelnuts, or macadamia nuts to the cookie dough, or omit them entirely for a nut-free option. The nuts add a crunchy texture and complement the richness of the chocolate chips.
Use a different type of chocolate: While Ghirardelli chocolate chips are delicious, you can experiment with different types of chocolate to create a new twist on the classic recipe. Try using dark chocolate, milk chocolate, or even white chocolate chips for a different flavor profile.
Mix in some dried fruit: Adding dried fruit such as cranberries, cherries, or raisins to the cookie dough adds a sweet-tart flavor and a chewy texture. Try adding half a cup of dried fruit along with the chocolate chips.
Add some spices: If you're in the mood for a spiced cookie, try adding a teaspoon of ground cinnamon or a pinch of nutmeg to the cookie dough. These warming spices pair well with the sweetness of the chocolate chips.
Make them mini: Instead of making large cookies, try making mini chocolate chip cookies. Simply use a teaspoon to scoop the dough onto the baking sheet and reduce the baking time by a few minutes. Mini cookies are perfect for parties and for snacking on the go!
Kitchen expert tips:
Use room temperature ingredients, as it helps the cookies achieve the right consistency.
When measuring the flour, use the spoon and level method to avoid adding too much.
Cream the butter and sugars until light and fluffy to create a tender cookie.
Rotate the cookie sheets halfway through baking to ensure even browning.
Nutrition
Calories:
164
kcal
|
Carbohydrates:
20
g
|
Protein:
2
g
|
Fat:
8
g
|
Saturated Fat:
5
g
|
Polyunsaturated Fat:
0.4
g
|
Monounsaturated Fat:
2
g
|
Trans Fat:
0.2
g
|
Cholesterol:
19
mg
|
Sodium:
77
mg
|
Potassium:
81
mg
|
Fiber:
1
g
|
Sugar:
13
g
|
Vitamin A:
135
IU
|
Calcium:
13
mg
|
Iron:
1
mg
Tried this recipe?
Please leave a comment on the blog or like us on Facebook!