This is the best classic rum balls recipe you can find around and can be made in no time all year round when you have leftover cake or for the holidays.
This is the best rum balls recipe you will find out there. It comes from Romania and it is a classic, old recipe, a recipe most Europeans would make.
What are rum balls?
Rum balls are truffle-like confectionery cookie butter flavored with cacao, chocolate and rum. They should be about the size of golf ball and they are not cooked.
The rum balls are very popular in Europe during Christmas season, but in some countries, these wonderful treats are available all year round.
What kind of ingredients I can use in rum balls?
There are many different ways to make rum balls, as recipes vary from region to region and family to family. All rum balls must include chocolate and rum, but the rest of the ingredients could be different.
Rum is the ingredient that makes them special and perfect for the holidays.
What makes this recipe different is the use of butter as a binding ingredient, and no corn syrup at all, which in my humble opinion makes the rum balls a little bit healthier.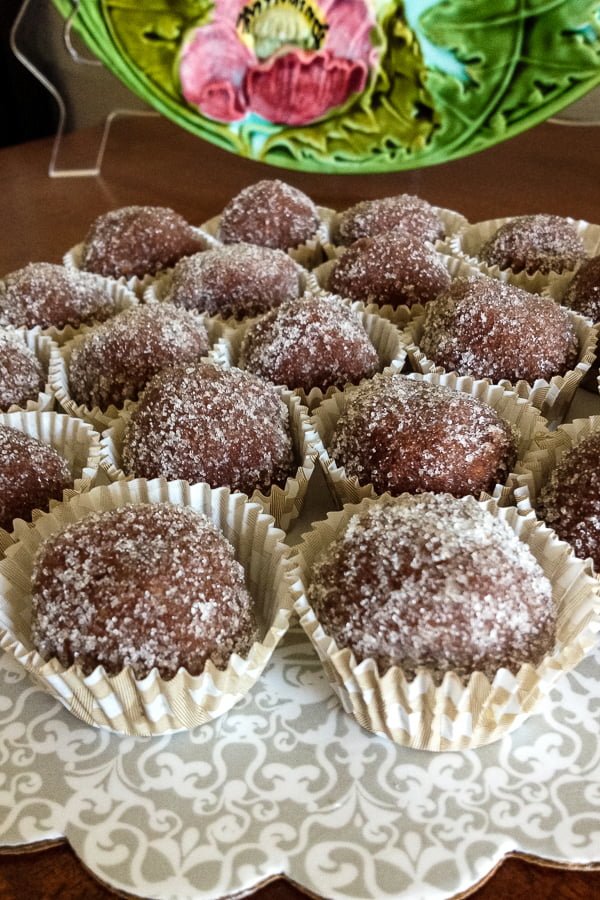 Rum balls are very versatile, you can make them from the following ingredients:
graham crackers
crushed vanilla wafers
shortbread cookies
digestive biscuits
chocolate wafers or even
leftover cake
When it comes to cocoa powder, we use either unsweetened natural or Dutch-processed.
We like to add :
dried fruits to the mixture
all kind of nuts, especially walnuts( roasted are better)
The rum balls can be covered in:
granulated sugar

coconut flakes

chocolate sprinkles(or simply shaved chocolate) or anything else we have available around.
The Eastern European custom is to roll these rum balls in granulated sugar and sometimes in coconut flakes. However, you can adapt the recipe and use ingredients that work for you or are available.
We sometimes add in the middle of the rum ball a little pitted cherry, usually preserved in syrup, or an almond.
Do I need to roast the nuts?
Roasted nuts have more flavor than raw ones, therefore the rum balls will taste better.
Also these little pieces of heaven are better the next day, when all the flavors from all the ingredients have time to get friendly with each other.
Can I make them in advance?
If you want to have them for a party, it is a good idea to make them with some time in advance. They keep well in the refrigerator for 1-2 weeks, in an airtight container.
The rum balls are great for the holidays. They make a great gift for family and friends, but they are also an awesome, super easy to make dessert for the days when we crave something sweet and decadent.
Using good quality ingredients obviously will make them taste better. They are awesome little treats for the entire family, if you add the rum flavor.
If you go with the real rum, then don't serve them to children.
Suggestions for other recipes made with rum
This Rum Raisins Cookies Recipe comes from Romania. The cookies are flavored with rum, are very easy to make and taste delicious. Serve them next to a cup of your favorite tea, or coffee and enjoy an old recipe that is very traditional in Romania.
Delicious chocolate cupcakes with rum chocolate ganache– a treat for the chocolate lovers! Make them for parties or potlucks with your favorite decorations.
This walnut chocolate rum cake is a delicious option for your family birthdays or other celebrations . The walnuts, chocolate, rum and coffee flavors are perfect together.
Enjoy!
Yield: 20 rum balls
Best Classic Rum Balls Recipe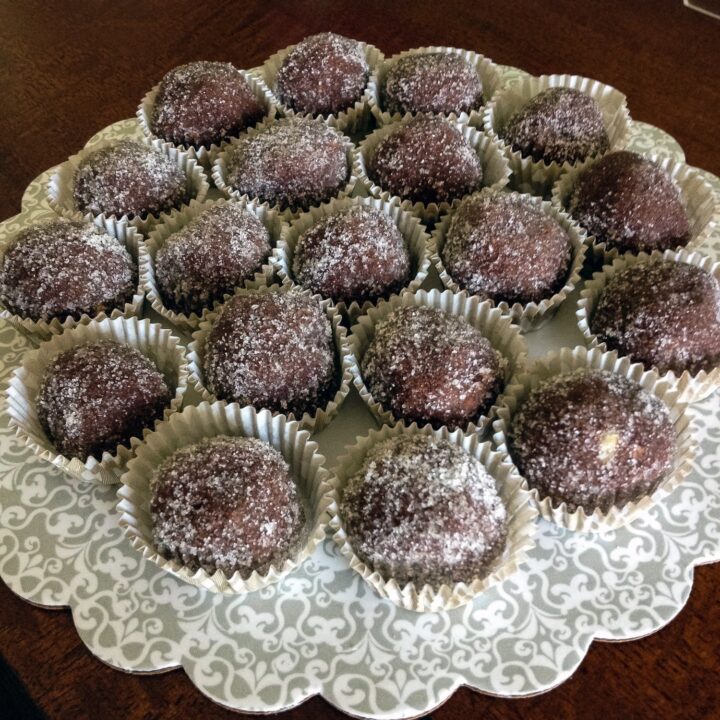 This recipe of rum balls comes from Romania. Rum balls can be made with graham crackers, crushed vanilla wafers, or even leftover cake and make a great gift around the holidays.
Ingredients
11 oz/ 300 g graham crackers crumbs(crushed vanilla wafers, shortbread cookies, digestive biscuits, chocolate wafers or leftover cake)
1 cup/8 oz/ 225 g unsalted butter
1 3/4 cups/7 oz/ 200 g powder sugar
1/2 cup/3.5 fl.oz/ 100 ml heavy cream
3 Tablespoons/ 50 ml rum or 1 Tablespoon/10 ml rum flavor
1 tsp vanilla flavor
2/3 cups/3.5 oz/ 100 g roasted chopped walnuts
granulated sugar to toss the rum balls OR coconut flakes
Optional: cherries in syrup
Instructions
Preheat oven to 350F/180C.
Place the walnuts on a baking tray and roast them for about 8 minutes, or until fragrant and lightly brown.
Let nuts cool, then chopped them with a knife, or toss them in a food processor until finely chopped.
Place them in a big bowl.
Process the graham crackers in a food processor until finely ground.
Add them to the nuts.
In a small pot, place butter, heavy cream, sugar and cocoa and bring to a boil.
Let the mixture cool for few minutes, then add the rum or the rum flavor. Also add the vanilla flavor.
Pour the mixture over the dry ingredients. Mix everything very well.
If the mixture is soft, place it in the fridge for about 30 minutes.
Using your hands, form 1 inch balls and toss them in granulated sugar, coconut flakes, chocolate sprinkles etc.
Place the rum balls in the refrigerator overnight in an airtight container.
Optional: stick a pitted cherry from syrup in the middle of the ball, or an almond, then toss in sugar.
Serve cold.
Recommended Products
As an Amazon Associate and member of other affiliate programs, I earn from qualifying purchases.
Nutrition Information:
Yield:
20
Serving Size:
1
Amount Per Serving:
Calories:

285
Total Fat:

15g
Saturated Fat:

9g
Trans Fat:

0g
Unsaturated Fat:

5g
Cholesterol:

30mg
Sodium:

105mg
Carbohydrates:

33g
Fiber:

2g
Sugar:

19g
Protein:

3g