Easy Delicious Chocolate Truffles are awesome to make and perfect for holidays or Valentine's Day. The recipe requires just a few ingredients and the flavors can be adjusted according to your preferences. The homemade truffles also make a great gift for the chocolate lovers.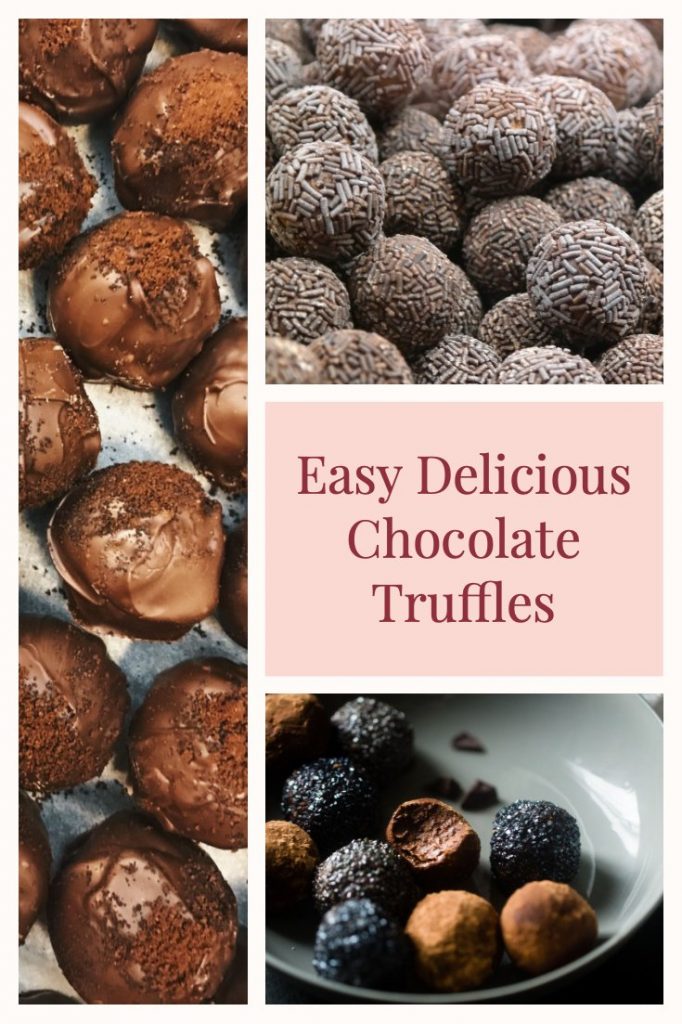 Chocolate Truffles Recipe
I like to make these chocolate truffles around Christmas time because they are a great gift for the holidays. Everyone loves them and can be easily made in advance and frozen.
However, the chocolates are perfect for Valentine's Day too, or any celebration that requires a chocolate dessert.
If you never made chocolate truffles before or you have no idea how they are made, you are here for a pleasant surprise. There is nothing easier than making delicious, decadent truffles.
The base for them is a chocolate ganache.
What is chocolate ganache?
Chocolate ganache is normally made by heating equal parts (by weight) of heavy whipping cream and chopped chocolate, warming the cream first and pouring it over the chocolate second.
The mixture is stirred or blended until smooth, then cooled. Sometimes flavors are added.
Based on the chocolate that is going to be used, the purpose of the ganache and the temperature at which it will be served, the ration of heavy cream to chocolate might be different.
Chocolate ganache can be used in many ways, from glazing a cake, filling a torte, making a sauce for a dessert or making chocolate truffles.
What is a chocolate Truffle:
A chocolate truffle is a type of chocolate confectionery made with chocolate and heavy cream(ganache), sometimes butter or coconut oil, then rolled in cocoa powder, nuts or chocolate sprinkles.
A more sophisticated truffle is also coated in tempered chocolate.
After the ganache is prepared and chilled, small pieces are rolled into a ball and tossed in cocoa powder. This is how it is traditionally done in Europe.
Sometimes, the truffles are coated in tempered chocolate and then tossed in cocoa powder, like the ones you find in the fancy patisseries.
What you can use to coat the truffles besides cocoa powder:
I personally like:
– crushed cocoa nibs
– crushed pistachios or other nuts
– crushed peppermint candy sticks
– chocolate sprinkles etc.
– liquors
Once in a while, I use different liquors in the mixture, just to flavor the ganache. I like coffee, orange, cherry liquors, rum or simple brandy, depends on how "boozy" I want to make them or what kind of flavor I want to use.
The desserts made with a little bit of alcohol seem to be more like a dessert for adults and not so much for young children, anyway.
The secret to a great truffle is to use quality ingredients. I like to use dark chocolate with more than 66% cocoa solids, preferably European chocolate.
I place them in candy cups and then in cute metal boxes and gift them to friends and family. The recipe makes a generous amount of 80 truffles approximately, so it works perfect as Christmas gifts.
If you keep them refrigerated in an airtight container, they last about a week. These easy, delicious chocolate truffles are an elegant rich treat that everyone will love!
Interested in also making some Rum balls? Here is a recipe.
Suggestions for other chocolate desserts:
Easy Flourless Chocolate Cake- Gluten Free Recipe
Pistachio Cranberry Marshmallow Fudge
If you make this recipe, share it with the hashtag #thebossykitchen on Instagram, Facebook and Twitter so we can all see what you're cooking!
Or maybe you want to join The Bossy Kitchen community group where you can share your creations made from this blog or from other sources. Everyone is welcome to join!
Yield: 80 truffles
Easy Delicious Chocolate Truffles
Easy Chocolate Truffles to make at home. Perfect for the holidays, Valentines Day or any day when you crave a decadent dessert.
Ingredients
1 3/4 cups heavy cream
4 tablespoons granulated sugar
18 ounces chocolate finely chopped, bittersweet, with over 66% cocoa solids
6 tablespoons unsalted butter cut into cubes and at room temperature
Optional: 1 tablespoon your favorite liquor
Suggestions for covering the truffles with
Chocolate sprinkles
Unsweetened cocoa powder
Ground nuts (walnuts, pistachios, peanuts, hazelnuts etc)
Ground peppermint sticks
Cocoa nibs
Instructions
Place the heavy whipping cream and sugar in a saucepan and bring to a boil.
Place the chopped chocolate in a bowl and set aside.
Remove the heated heavy cream from the stove and gradually add it to the chopped chocolate, mixing continuously to form an emulsion.
Add the butter and continue to mix until fully incorporated.
If you are adding any kind of liquor to your ganache, add it now and mix well.
Place the ganache in the refrigerator for about an hour to firm up, then use it.
With a teaspoon, take dollops of the ganache and roll them quickly inside your palms to form balls.
Note: (I formed the ganache into 0.3oz each piece, using a kitchen scale).
Place the chocolate truffles on parchment paper and refrigerate them for 2-3 hours.
Prepare small trays with ground nuts, cocoa powder and anything else you wish to cover the truffles with.
Roll truffles in the trays to fully coat. Place them in chocolate paper cups. Keep them refrigerated.
The truffles also make a great gift for the holidays.
Nutrition Information:
Yield:
40
Serving Size:
2
Amount Per Serving:
Calories:

130
Total Fat:

10g
Saturated Fat:

6g
Trans Fat:

0g
Unsaturated Fat:

3g
Cholesterol:

19mg
Sodium:

15mg
Carbohydrates:

10g
Fiber:

1g
Sugar:

8g
Protein:

2g
Note: "We are a participant in the Amazon Services LLC Associates Program, an affiliate advertising program designed to provide a means for us to earn fees by linking to Amazon.com and affiliated sites."