These easy chocolate truffles are fantastic to make and perfect for holidays or Valentine's Day. The recipe requires just a few ingredients, and the flavors can be adjusted according to your preferences. The homemade truffles also make an excellent gift for chocolate lovers.
Homemade chocolate truffles are the best.
I like to make these chocolate truffles around Christmas because they are an excellent holiday gift. Everyone loves them and they can be easily made in advance and frozen.
However, the chocolate truffles are perfect for Valentine's Day too, or any celebration that requires a chocolate dessert.
I used to work in a patisserie kitchen before starting my blogging career and made these truffles quite often. This is how I know this is a solid, good recipe that could become one of your favorite holiday recipes.
If you have never made chocolate truffles or have no idea how they are made, you are here for a pleasant surprise. There is nothing easier than making delicious, decadent truffles.
This is one of the best chocolate truffle recipes you will find. There are not special tools required, no thermometer, no tempering chocolate, no double coating in chocolate. The recipe is easy and the results are delicious.
Every one in your family will be impressed.
How to make them? Keep reading. The base for chocolate truffles is a chocolate ganache. There is no way around and a real chocolate truffle is always made with chocolate ganache.
What is chocolate ganache?
Chocolate ganache is an emulsion of melted chocolate and cream. It is the backbone of many chocolate desserts, from confections to cakes. The key to a good ganache is the use of quality ingredients.
Typically, chocolate ganache is made by heating equal parts (by weight) of heavy whipping cream and chopped chocolate, warming the cream first, and pouring it over the chocolate second.
The mixture is stirred or blended until smooth, then cooled. Sometimes flavors are added.
Based on the chocolate that will be used, the purpose of the ganache, and the temperature at which it will be served, the ratio of heavy cream to chocolate might be different.
Chocolate ganache can be used in many ways, from glazing a cake, filling a torte, making a sauce for a dessert, or making chocolate truffles.
According to a legend, ganache dates back to the late 19th century in a kitchen in France when a young apprentice chef, while attempting to make creme Anglaise, accidentally poured the hot cream into a bowl of chopped chocolate rather than his egg and sugar mixture.
However, after mixing the cream and chocolate, the combination became smooth and delicious, and this is how chocolate ganache was born.
What is a chocolate truffle?
A chocolate truffle is a type of chocolate confectionery made with chocolate, and heavy cream mixture, also called ganache, sometimes butter or coconut oil, then rolled in cocoa powder, nuts, chocolate sprinkles, and other things.
Truffles are, essentially, balls of premade ganache (a mixture of cream, chocolate, sugar, and butter) that can also be used in filled chocolates and patisserie.
A more sophisticated truffle is also coated in tempered chocolate.
After the ganache is prepared and chilled, small pieces of it are rolled into a ball and tossed in cocoa powder. This is how it is traditionally done in Europe.
Sometimes, the truffles are coated in tempered chocolate and then tossed in cocoa powder, like the ones you find in fancy patisseries.
The ganache needs to have a firm consistency to roll into balls.
The name for these chocolates comes from the precious black truffle fungus you can find in some forests worldwide.
Over time, chocolate truffles have also been flavored with alcohol, fruits, and nuts, but they traditionally retain a rustic appearance.
Once in a while, I use different liquors in the mixture just to flavor the ganache. I like coffee, orange, cherry liquors, rum, or simple brandy, depending on how "boozy" I want to make them or what kind of flavor I want to use.
Just keep in mind that a dessert made with alcohol is designed for adults and not so much for young children.
What you can use to coat the truffles:
Cocoa powder- is made by pressing the cocoa powder out of the unsweetened cocoa mass. Natural cocoa powder has a red color and is quite acidic. I like Dutch-processed cocoa powder that has been alkalized, has a milder flavor, and a beautiful dark, red color. If you cannot find Dutch-processed, always use unsweetened cocoa powder with nothing artificial added.
Crushed cocoa nibs- These little treasures are produced once the cocoa beans have been roasted and shelled. They add a deep, crunchy flavor to truffles.
Crushed pistachios or other finely chopped nuts
Crushed peppermint candy sticks- This is a perfect way to use these leftover candy sticks.
Coconut flakes- please look for the unsweetened shredded coconut.
Matcha tea- Truffles coated in matcha (which is green tea powder) look fabulous and have a unique taste. Mix the matcha with ground pistachios for a more interesting flavor and texture.
Powder sugar
What kind of chocolate works for truffles:
The secret to a great truffle is the quality of ingredients. I like dark chocolate with more than 60% cocoa solids, also called bittersweet chocolate.
Dark chocolate gives richness and intensity to any chocolate recipe, and I truly recommend it for decadent, rich truffles.
Do not use chocolate chips as the ganache will not thicken. Also, some of the chocolate chips designed for baking are coated in wax, so they do not melt properly.
What do you need to make chocolate truffles?
Cream- in the US, heavy whipping cream has a milk fat content of 36-40 percent. You can also use whipping cream with a milk fat content of 30-36 percent. Do not use light cream, coffee cream, or table cream as it is only 18-30% milkfat content, and the truffles will not set.
Sugar- this ingredient has a significant role in the recipe. It is heated together with the cream and helps the chocolate ganache to stabilize and absorb the moisture in the ganache, giving the truffles a longer life.
Bittersweet chocolate- we already discussed what kind of chocolate we need for the recipe.
Butter- I work only with unsalted butter. In the US, most butter is 80 percent fat. Always look for butter that is at least 80 percent. Europe also has 82 percent butter that is rich and delicious. Feel free to use it if you can find it. (Kerrygold, Plugra, Lurpak, etc.)
How to make homemade chocolate truffles:
Step 1. Chop the chocolate.
Use a sharp knife to chop the chocolate as small as you can. It will melt faster.
Step 2. Heat the heavy whipping cream.
In a medium saucepan, place the heavy cream and sugar and bring them to a simmer on medium-high heat on the stove. Do not allow it to boil, and keep an eye on it at all times.
Step 3. Pour the cream over the chocolate.
Remove the cream from the heat and pour the mixture over the chocolate. Add the butter and do nothing for about 5 minutes. During this time, the chocolate will slowly melt. Start gently mixing until you obtain an emulsion.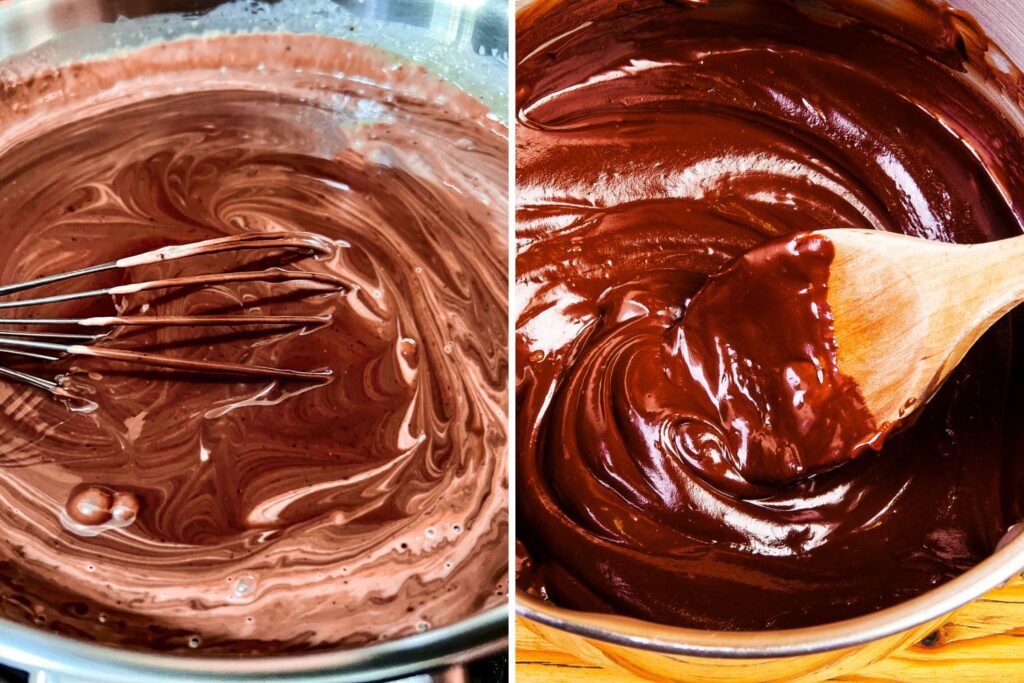 If you plan to add any kind of liquor to your ganache, add it now and mix well. Let is cool at room temperature, then place some plastic foil right on the surface, to avoid condensation. Place the ganache in the refrigerator. Chill overnight or for at least 4-6 hours.
Step 4. Form the truffles.
To form the chocolate truffles, you can use either:
Your hands. This is a messy operation as working with chocolate is, by default, messy. Take dollops of the ganache and roll them quickly inside your palms to form balls. You can use a kitchen scale or just eyeball the amount to make them the same size. Note: I used a kitchen scale and weight each truffle to be about 0.3oz.
An ice cream cookie scoop is a good way to produce the same size chocolate truffles.
Two teaspoons- Grab a teaspoon and scoop out a dollop of the ganache. Make a truffle by using both spoons to shape the ganache into a ball.
Place the chocolate truffles on parchment paper and refrigerate them for 2-3 hours to set properly. This step will help you roll the truffles easier on cocoa powder or other toppings you choose to use.
Step 5. Roll the truffles in your favorite coating.
Small trays with cocoa powder, coconut flakes, chopped nuts, and other things you like should be prepared and ready to use. Roll each truffle in the topping of your choice to fully coat. You can place them on paper cups or a platter.
How to store chocolate truffles:
If you do not consume them right away, keep them refrigerated in airtight containers. They last for about a week. Serve them at room temperature. The truffles also make a great gift for the holidays.
You can also freeze them for later. Store them for up to three months.
The recipe makes a generous amount of approximately 80 truffles, so it works perfectly as Christmas gifts. These easy, delicious chocolate truffles are an elegant, rich treat that everyone will love!
Troubleshooting chocolate truffles:
Truffles are too sticky to handle- Make sure the truffles are cold, right out of the refrigerator. You can also coat your hands with cocoa powder before you start handling them.
The ganache is not thickening- Make sure you measure correctly the amount of chocolate, and use the right amount of cream. I like to make the chocolate ganache with the night before and store it in the fridge overnight. This way, it has time to set.
Interested in also making some Rum balls? Here is a recipe.
Suggestions for some other chocolate desserts:
Pistachio Cranberry Marshmallow Fudge
Homemade Raffaello Coconut Almond Confections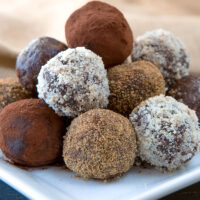 Homemade Chocolate Truffles
Easy Chocolate Truffles to make at home. Perfect for the holidays, Valentines Day or any day when you crave a decadent dessert.
Print
Pin
Share
Grow
Saved!
Rate
Ingredients
1 ¾

cups

heavy cream

4

tablespoons

granulated sugar

18

ounces

chocolate finely chopped

bittersweet, with over 60% cocoa solids

6

tablespoons

unsalted butter cut into cubes and at room temperature

Optional: 1 tablespoon your favorite liquor
Instructions
Chop the chocolate really small and place it into a bowl. Set it aside.

Place the heavy whipping cream and sugar in a saucepan and bring to a simmer. Do not boil.

Remove the heated heavy cream from the stove and add it to the chopped chocolate. Allow it to stand for about five minutes so the chocolate has time to melt slowly. Start gently mixing until you form an emulsion.

Add the butter and continue to mix until fully incorporated.

If you are adding any kind of liquor to your ganache, add it now and mix well.

Cover the surface of the ganache with foil and allow it to cool at room temperature. Place the ganache in the refrigerator for at least 4-6 hours or overnight.

When ready to form the truffles, use either your hands, a small ice cream scoop, or two teaspoons. Take dollops of the ganache and roll them quickly to form balls.

Note: (I formed the ganache into 0.3oz each piece, using a kitchen scale).

Place the chocolate truffles on parchment paper and refrigerate them again for 2-3 hours.

Prepare small trays with ground nuts, cocoa powder, and anything else you wish to cover the truffles with.

Roll truffles in the trays to fully coat. Place them in chocolate paper cups. Keep them refrigerated.

The truffles also make a great gift for the holidays.
Notes
Suggestions for covering the truffles with:
- Chocolate sprinkles
- Ground nuts (walnuts, pistachios, peanuts, hazelnuts etc)
- Unsweetened cocoa powder
- Ground peppermint sticks
- Cocoa nibs
Nutrition
Serving:
2
g
|
Calories:
64
kcal
|
Carbohydrates:
4
g
|
Protein:
1
g
|
Fat:
5
g
|
Saturated Fat:
3
g
|
Polyunsaturated Fat:
0.2
g
|
Monounsaturated Fat:
1
g
|
Trans Fat:
0.04
g
|
Cholesterol:
9
mg
|
Sodium:
2
mg
|
Potassium:
41
mg
|
Fiber:
1
g
|
Sugar:
3
g
|
Vitamin A:
106
IU
|
Vitamin C:
0.03
mg
|
Calcium:
8
mg
|
Iron:
0.4
mg
Tried this recipe?
Please leave a comment on the blog or like us on Facebook!