Note: "We are a participant in the Amazon Services LLC Associates Program, an affiliate advertising program designed to provide a means for us to earn fees by linking to Amazon.com and affiliated sites."
If you never tried chocolate and Earl Grey tea together, you missed a lot…I did too, as it was for the first time when I made these Chocolate Cookies with Earl Grey Ganache. As Valentine's Day is approaching and you look to impress your honey with something delicious, these cookies might be the answer for you.
Rounds of chocolate sugar cookies are joined together with Earl Grey tea ganache. The Earl Grey tea flavor adds the citrus taste and perfume of the bergamot orange to the filling. How that tastes? D.I.V.I.N.E!!!
Best tip for these cookies:
You have to use milk chocolate as bittersweet or dark chocolate would overpower the tea.
HOW THE COOKIES ARE MADE:
These are sugar cookies that involve all-purpose flour, sugar, butter, cocoa powder and some brown sugar(see recipe on the bottom for the exact amounts of everything).
The cookie dough is formed then into a log, refrigerated and sliced into rounds, then baked to perfection. A dollop (or more-it's up to you) of Earl Grey chocolate ganache goes between two cookies, like a little sandwich, then served. With Earl Grey tea…of course…or coffee.
For tea lovers who also like chocolate, these cookies will be heaven-sent. When to serve them? WHENEVER you want!
Interested in more Valentine's Day food ideas that include chocolate? Here is a link to my collection.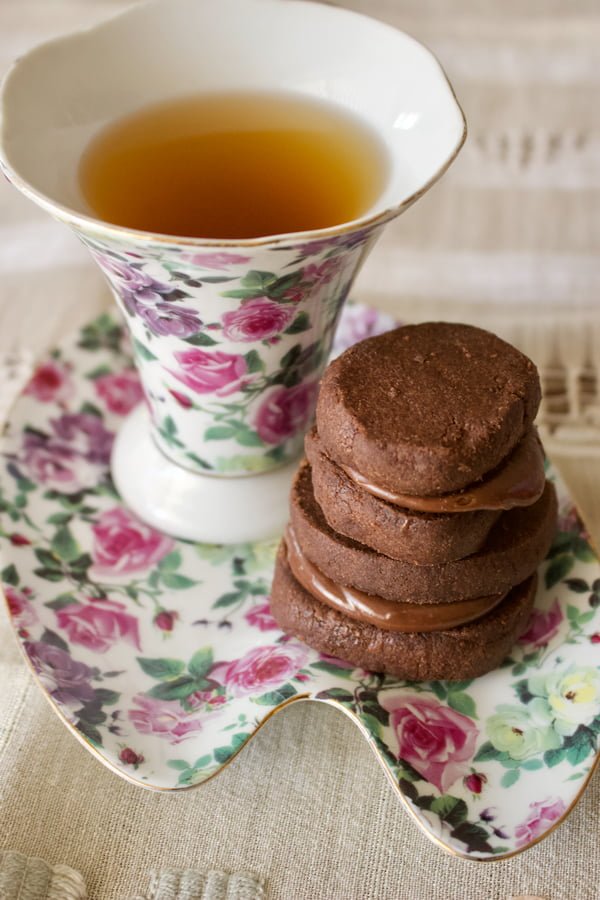 If you make the recipe, share it with the hashtag #thebossykitchen on Instagram, Facebook, and Twitter so we can all see what you're cooking!
Chocolate Cookies with Earl Grey Ganache
Author:
The Bossy Kitchen
Ingredients
Chocolate Sugar Cookies
2 cups all-purpose flour
½ cup Dutch-processed cocoa powder
½ tsp baking powder
½ tsp salt
1 cup (2 sticks) unsalted butter, at room temperature
½ cup granulated sugar
¼ cup packed light brown sugar
Earl Grey Ganache
¾ cup heavy cream
1 Tbsp Earl Grey tea leaves(I used a bag of tea)
4 ounces milk chocolate, finely chopped
Instructions
To make the cookies:
Sift the flour, baking powder, cocoa, and salt together.
Cream the butter in a medium bowl with an electric mixer on high speed until the butter is creamy, about 1 minute.
Gradually beat in the granulated and brown sugars until the mixture is light in color and texture, about 3 minutes.
Gradually stir in flour mixture to make a soft dough.
Divide the dough into thirds. Wrap each portion of dough in wax paper to make a log about 5½ inches long and 1½ inches in diameter. Twist the ends closed.
Refrigerate until the dough is chilled and firm enough to cut and hold its shape, at least 2 hours and up to 2 days. (If the dough is chilled until it is very hard, let it stand to soften slightly or about 10 minutes before slicing, or the cookie slice could crack).
Preheat the oven to 350F. Line two large baking sheets with parchment paper.
Using a sharp knife, cut the dough rolls into ¼ inch thick rounds. Place them about 1 inch apart on the baking sheets.
Bake the cookies for about 12 minutes, until the edges of the cookies feel firm when slightly pressed. Let cool for 5 minutes on the baking sheet.
Transfer to wire racks and let cool completely.
To make the ganache:
Bring the heavy cream to a simmer in a small saucepan over medium heat. Remove from the heat and stir in the earl grey tea. Let stand for 5 minutes. Strain the heavy cream mixture through a wire sieve into a bowl, pressing hard on the tea.
Return the strained heavy cream to the saucepan and reheat to a simmer.
Put the chocolate in a small bowl. Add the hot heavy cream over the chocolate and let stand until the chocolate softens about 3 minutes. Stir with a silicone spatula until the chocolate melts.
Place the small bowl in a larger bowl of ice water and let stand, stirring and scraping the sides of the small bowl often with the spatula, until cooled and thickened to a spreadable consistency.
Transfer the ganache to a pastry bag and pour on the flat side of the cookie a small amount of it, then cover the cream with another cookie, like a sandwich, flat sides together. Or omit the pastry bag and simply spread the cookie with about 2 teaspoons of the ganache. Repeat with the remaining cookies.
Let stand until the ganache sets, about 1 hour.
The cookies can be stored in an airtight container and refrigerated for up to 2 days. Let stand at room temperature for 30 minutes before serving.