Today I will share with you this easy dark chocolate walnut cookies recipe. This recipe is decadent, delicious, and a suitable way to satisfy any chocolate cravings.
There is dark chocolate, but there are also walnuts and chocolate chips, and everything together makes a divine cookie that will make you fall in love.
Easy Dark Chocolate Walnut Cookies- a recipe that might surprise you
These cookies could be a beautiful gift for family and friends and a delicious treat on a Sunday afternoon next to a cup of coffee or your favorite tea.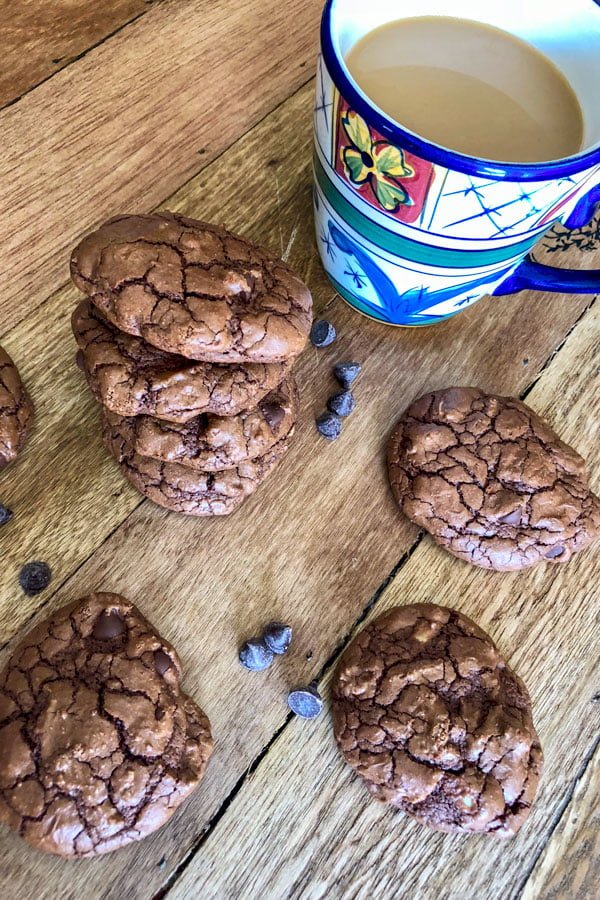 Sometimes I think about times when people didn't go to the store to buy presents, but they gave something homemade.
I don't know about you, but I always thought it is lovely to give a present that one has made with some effort, something less easy than going into a store and buying what a machine has thrown together.
I do this around the holidays, and I know for a fact that people enjoy receiving homemade goods. This is how I grew up, and I think it is a delightful custom.
I really hope that people will go back to make things, cook and bake for themselves and one another. Life is, after all, more real that way, more nourishing to the body and the spirit as well.
These cookies fit beautifully into the category of gifts. They are elegant, decadent, and loaded with chocolate and walnuts. You cannot go wrong with them.
Although there are tons of chocolate cookie recipes out there, I think this is one of the best. The cookies are soft inside and crunchy outside, and the chocolate taste is out of this world.
However, the cookies are made with ground walnuts and a little bit of flour. They are indeed very different than what you might be used to.
Note: If you are allergic to nuts or don't like them, this recipe is not for you. There are only two tablespoons of flour in this recipe. Someone asked me if this is a typo. No, it is not. The cookies are made with lots of walnuts that replace most of the flour in the recipe.
I don't like walnuts, can I use some other types of nuts?
While I never made the recipe with almond flour, I think you can go ahead and use it, BUT I would keep the ratio of groundnuts and all-purpose flour that the recipe requires.
Maybe ground peanuts would work as well, but as you can imagine, replacing the type of nuts in this recipe will definitely change the texture and taste of these cookies.
The only advice I have before you start baking is to use quality ingredients. For example, when I use chocolate, I try to look for European brands. The quality is higher, and the final product shows it. Always.
Pin this for later:
Some other recipes to love:
Decadent German Chocolate Cake
Cocoa Walnuts Banana Bread Recipe
Christmas Cookies and Bars From Around The World
Walnut Meringue Cake With Dark Chocolate Mousse
Enjoy!
Yield: 40 cookies
Easy Dark Chocolate Walnut Cookies
Easy dark chocolate walnut cookies recipe is a decadent, delicious and suitable way to satisfy chocolate lovers and not only.
Ingredients
1½ cups dark chocolate chopped (290 g) + 1 tablespoon
¼ cup unsalted butter (50 g)
3 large eggs(150 g)
¾ cups sugar (150 g)
2½ cups ground walnuts (250 g)
⅔ cup semi sweet chocolate chips (120 g)
2 tablespoons (20 g)all purpose flour
1 teaspoon baking powder (2 g)
NOTE: If you want a completely different texture and taste, you can replace the walnuts with ground almonds or peanuts.
Instructions
Preheat oven to 180C/350F.
Melt the chopped dark chocolate with butter on a double boiler. Mix well both ingredients to combine. Set aside to cool.
Beat the eggs with the sugar until they double their volume.
In a medium bowl, combine the ground walnuts, chocolate chips, flour, and baking powder.
Add the mixture to the eggs alternating with the melted chocolate.
The mixture has to look uniform in color and texture.
Grab an ice cream scoop, or a tablespoon and form cookies, then place them on a cookie baking tray covered with parchment paper.
Bake them at 350F/180C for 12-15 minutes maximum, just enough for the cookies to get a shiny look. Make sure you don't overbake them. The center should still be soft.
Remove the tray from the oven and let the cookies sit on the tray for a few minutes until they cool down. Place them on a cooling rack to cool down completely.
They keep well in an airtight container for up to 2 weeks. Freeze the baked cookies for up to three months.
Recommended Products
As an Amazon Associate and member of other affiliate programs, I earn from qualifying purchases.
Nutrition Information:
Yield:
40
Serving Size:
1
Amount Per Serving:
Calories:

108
Total Fat:

7.7g
Saturated Fat:

2.7g
Trans Fat:

0g
Unsaturated Fat:

2g
Cholesterol:

17mg
Sodium:

17mg
Carbohydrates:

10g
Fiber:

1.1g
Sugar:

8.3g
Protein:

2.5g
Note: "We are a participant in the Amazon Services LLC Associates Program, an affiliate advertising program designed to provide a means for us to earn fees by linking to Amazon.com and affiliated sites."