This is a Homemade Raffaello Coconut Almond Confections recipe, a trendy snack in Europe. Super easy to make and delicious.
Homemade Raffaello Coconut Almond Confections
Raffaello Coconut Almond Confections are a popular item in Europe. You can find them in stores around the United States, but they are not as popular as overseas.
How Raffaello Coconut Almond Confections are made by Ferrero Rocher:
The original confections are spherical wafers filled with a white milk cream and white blanched almonds.
They are tossed in coconut flakes and sold in little boxes. Raffaello confections are considered pralines and were invented in the '90s by the Ferrero Rocher company. They are an absolutely delicious dessert if you ask me.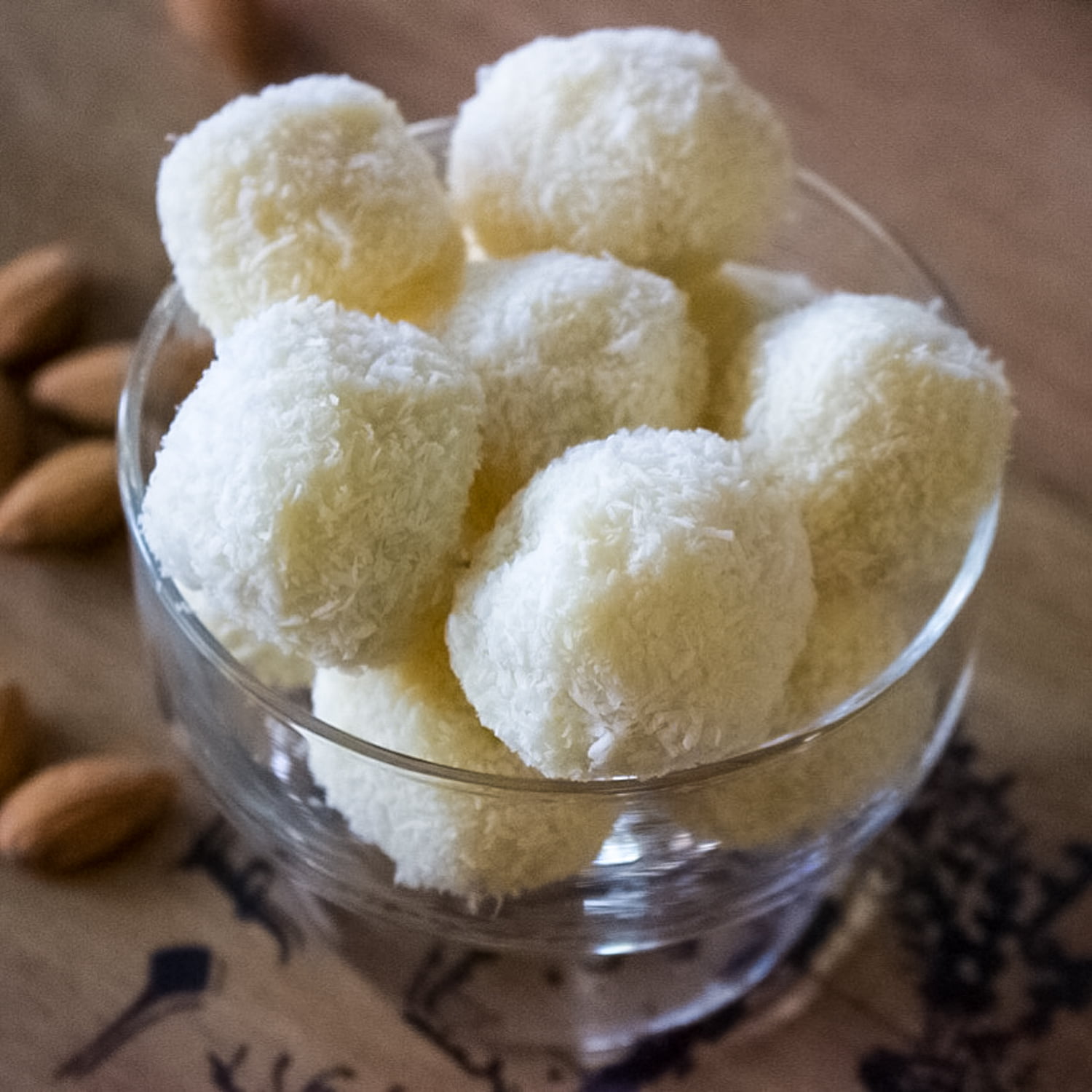 While very delicious, these pralines also contain some ingredients that I am not a fan of, so for that matter, this recipe comes in handy when I cannot buy them or prefer a homemade version of them.
While these confections might be available in many countries, they are considered a luxury in some parts of the world and are tough to find.
If you are one of these people who had them before but now are not available in your area, this recipe is a good one to soothe your craving.
My recipe version of these confections is a straightforward one that requires only three main ingredients. Coconut flakes, medium shredded, a can of condensed milk, and roasted almonds.
This is an awesome treat that would make a wonderful gift for the holidays. Put each coconut confection in a candy paper cup, then place all of them nicely in a little box.
How to make Homemade Raffaello Coconut Almond Confections:
First step.
Roasting the almonds.
Some people prefer to skip this step, but roasting the nuts for a recipe is an important step in bringing more flavor and complexity to a recipe.
It also makes the nuts crispier, the reason we usually add nuts to our food.
Also, because this recipe uses condensed milk and the candy is quite wet, roasting the almond before will help the candy's texture, as the nut will not get wet inside that fast.
There are different ways to roast nuts, one is the dry method, and the other is tossing them in some oil before placing them in the oven.
For this recipe, in particular, we will roast them dry, as there is no need to add the oil if we hide them inside the confection.
To roast the almonds, you will have to preheat the oven to 350F. The nuts do not take more than 10-15 minutes to roast, depending on your oven, so you might think that there is no point in using the oven for such a short amount of time.
However, we just discussed why roasting the almonds in this recipe is important so I am not going to repeat it again.
So, place the nuts in one layer on the baking tray and place them in the oven. Roast for 5 minutes, then stir and move them around to make sure all surfaces receive some heat.
Continue for another 5 minutes and repeat until they start smelling nutty and the color is few shades darker.
Do not leave the kitchen, as nuts are notorious for burning super fast. Remove them from the tray as soon as they are done and transfer them to a plate or another baking sheet to cool.
While the almonds are cooling, go to step two on this recipe.
Mixing the coconut flakes with the condensed milk – Mix the two ingredients until smooth.
Allow the coconut flakes sit for a while until they absorb the condensed milk.
Step 3.
Putting the Raffaello Coconut Almond Confections together.
Using your wet hands, grab a dollop of the mixture and roll it between your palms as a ball.
Hide a toasted almond in the middle of the confection. Finally, toss the confection in extra coconut flakes and place it in a candy paper.
Continue until you finish the entire batch.
Can I add butter?
I saw some homemade recipes out there that also use butter. While butter could be a binding ingredient in this recipe, I think the butter's fat might be too much for these beauties. Coconut flakes already have their natural fat in them.
What kind of coconut flakes can I use?
Try to buy the unsweetened coconut flakes as the condensed milk has a lot of sugar in it. You don't really need to add more sugar to the recipe; it might become too sweet.
If you look into eating a more balanced dessert that is not overly sweet, then unsweetened shredded coconut will do the trick.
Where do I store these Raffaello Coconut Almond Confections:
These homemade confections should be refrigerated or frozen. They taste delicious right out of the freezer; therefore, it would be great to make them in advance and serve as a treat later (it is a wonderful gift for the holidays also).
Pin this for later: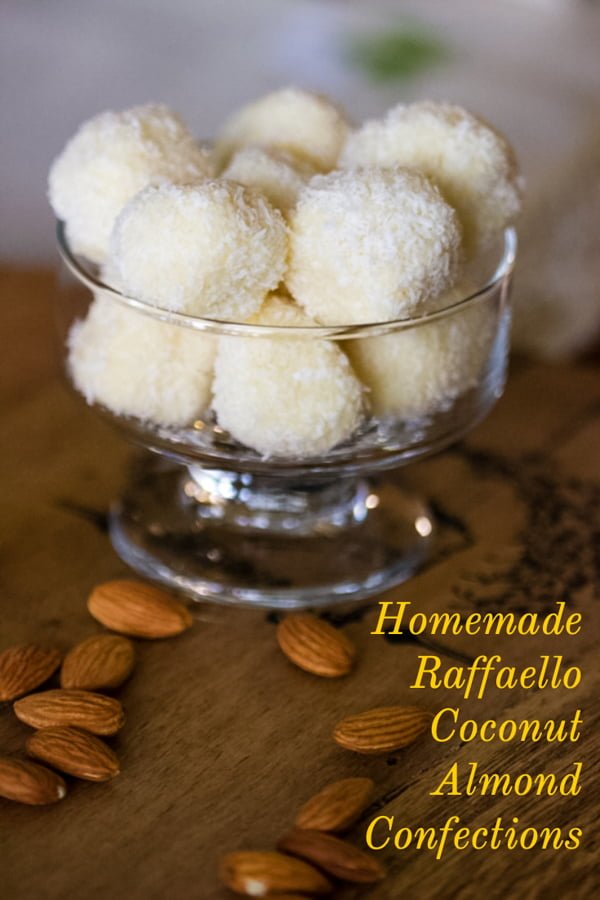 Suggestions for more food gift ideas for Christmas:
Easy dark chocolate walnut cookies
Easy Delicious Chocolate Truffles
Pistachio Cranberry Marshmallow Fudge
Yield: 20 servings
Homemade Raffaello Coconut Almond Confections
This is a homemade Raffaello Coconut Almond Confections recipe, a trendy snack in Europe. Super easy to make and delicious.
Ingredients
2 cups (190g) cups organic unsweetened shredded coconut
PLUS
1/2 cup(50g) organic unsweetened shredded coconut for rolling the confections on it
1 can(14 oz)(400ml) sweetened condensed milk
6 oz(150 g) roasted unsalted almonds
1 teaspoon vanilla or almond extract
Instructions
In a bowl, place 2 cups shredded coconut and add the entire can of condensed milk. Also, add the vanilla or the almond extract.
Mix it and let sit for few minutes until the coconut absorbs the milk.
If the mixture seems to be too wet, add a little bit more coconut flakes.
Using your wet hands, make the mixture's dollops and roll them between your hands to make a ball.
Insert an almond in the middle of each confection.
Prepare a plate with shredded coconut for rolling the confections on it.
Roll each confection in the shredded coconut until covered, then place it on a candy paper.
Refrigerate for few hours before serving or keep them in the freezer in an airtight container.
The homemade coconut almond confections are great as holiday gifts.
Nutrition Information:
Yield:
20
Serving Size:
1
Amount Per Serving:
Calories:

272
Total Fat:

24g
Saturated Fat:

3g
Trans Fat:

0g
Unsaturated Fat:

19g
Cholesterol:

1mg
Sodium:

5mg
Carbohydrates:

10g
Fiber:

5g
Sugar:

3g
Protein:

9g
Note: "We are a participant in the Amazon Services LLC Associates Program, an affiliate advertising program designed to provide a means for us to earn fees by linking to Amazon.com and affiliated sites."