Get ready to treat yourself to the ultimate indulgence with this incredible Sea Salt Chocolate Fudge recipe. Creamy chocolate and a subtle hint of sea salt creates a delectable contrast that will satisfy any palate.
If you love fudge, you should also try my Coffee Chocolate Fudge With Pecans, Pistachio Cranberry Marshmallow Fudge, or visit my collection of 39 Easy Fudge Recipes For Christmas.
I was in the mood for some chocolate. The holidays are also coming, and on December 6th, my family celebrates Saint Nicholas, a lovely holiday that marks the beginning of the holiday season.
With its irresistible taste and beautiful presentation, this Sea Salt Chocolate Fudge Recipe is an ideal choice for holiday gifting.
The rich, creamy fudge, decorated with a sprinkle of coarse salt is a delightful treat to share with loved ones.
Whether packaged in festive boxes or tied with ribbons, this homemade fudge is sure to bring joy and delight to anyone fortunate enough to receive it during the holiday season.
I never understood why people make fudge only for Christmas, at least in this part of the world where I live. It is easy to make, delicious and can be served anytime.
So, have you ever tried the sea salt chocolate fudge before? If yes, you know how good it is. If not, you have to try it. Period. There is no way around it.
Jump to:
Why this recipe works
Simplicity and Ease: This Sea Salt Chocolate fudge recipe stands out for its simplicity and ease of preparation. With just a handful of ingredients and straightforward instructions, even novice bakers can achieve delicious results. The use of a double boiler ensures a smooth and perfectly melted chocolate base, while the addition of condensed milk adds a creamy texture without the need for complex techniques or ingredients.
Balanced Flavors: The combination of semi-sweet chocolate and a touch of sea salt in this recipe creates a harmonious balance of flavors. The sweetness from the condensed milk and chocolate is complemented by the subtle hint of salt, enhancing the overall taste profile. The result is a delicious treat that is not overly sweet, and perfect to those who appreciate a more nuanced and sophisticated flavor experience.
Versatile and Customizable: One of the reasons I love this recipe is its versatility. While the core ingredients remain constant, you have the freedom to customize it according to your preferences. Whether you want to add nuts, dried fruits, or even a dash of your favorite liqueur, this recipe serves as a fantastic base that can be adapted to suit your personal taste. Additionally, the fudge can be cut into any shape or size, making it a versatile treat for various occasions or simply as a delightful homemade gift.
Ingredients
Semi-sweet chocolate chips: The star ingredient of this fudge recipe, semi-sweet chocolate chips lend a rich and smooth chocolate flavor. If desired, you can experiment with other types of chocolate, such as dark chocolate or milk chocolate, to customize the taste according to your preference.
Sweetened condensed milk: Sweetened condensed milk provides the fudge with its creamy and luscious texture. It also adds a subtle sweetness to balance the intense chocolate flavor.
Vanilla extract: Vanilla extract enhances the overall flavor profile of the fudge. While vanilla extract is commonly used, you can also experiment with other extracts like almond or peppermint to add a unique twist to your fudge.
Sea salt: The addition of sea salt creates a delightful contrast to the sweetness of the fudge, elevating the flavors and adding a touch of sophistication. If you don't have sea salt on hand, you can use kosher salt or even fleur de sel as a substitute.
Butter: contributes to the richness and smoothness of the fudge, providing a velvety texture. You can use unsalted butter if you prefer to have more control over the saltiness, or if salted butter is your preference, adjust the amount of additional salt added accordingly.
Extra coarse salt to sprinkle on top of the fudge: The coarse salt is not only a decorative element but also adds a delightful burst of flavor and texture. If you don't have coarse salt, you can use crushed sea salt flakes or even Himalayan pink salt as an alternative. Experiment with different types of salt to discover your favorite flavor combination.
Instructions
Please scroll to the bottom of this article for a printable recipe card.
How to store this sea salt chocolate fudge
Room temperature or refrigerator:
Once the fudge has set in the refrigerator, you can store it in an airtight container or airtight bag. Place the container or bag in a cool, dry place, away from direct sunlight or heat sources.
It is best to separate each layer of fudge with parchment paper or wax paper to prevent them from sticking together.
The fudge can be stored at room temperature for up to 1 week. However, for longer storage, refrigeration is recommended. If refrigerated, the fudge can typically be stored for up to 2 to 3 weeks.
Before serving, allow the fudge to come to room temperature if it has been refrigerated.
Remember, fudge is best enjoyed when fresh, so try to consume it within a reasonable time frame for optimal quality.
Freezer:
You can freeze chocolate fudge for longer-term storage. Here is how to do it:
Cut the fudge into individual pieces or bars, if desired, for easier portioning later.
Wrap the pieces tightly in plastic wrap or place them in airtight freezer bags, removing as much air as possible.
Label the container or bag with the date and contents. Freeze for up to 2 to 3 months.
When ready to enjoy the fudge, remove the desired amount from the freezer and let it thaw in the refrigerator or at room temperature.
Freezing fudge is a convenient way to have it on hand for future enjoyment or for gifting purposes.
Expert Tip: For an extra indulgent twist, consider adding a sprinkle of your favorite crushed nuts, such as almonds, walnuts, or pecans, to the fudge mixture before pouring it into the baking sheet.
Recipe FAQs
Can I use sweetened condensed coconut milk instead of the regular one?
Sweetened condensed coconut milk is a suitable alternative for those who prefer a non-dairy or vegan option. It can be used as a substitute for sweetened condensed milk in various recipes, including fudge. It also retains the same thick and creamy consistency as traditional condensed milk, while adding a hint of coconut flavor. It's a great option to accommodate dietary preferences or restrictions.
Can I use different types of chocolate in this fudge recipe?
Yes, you can experiment with different types of chocolate, such as dark chocolate or milk chocolate, based on your preference. It may alter the flavor and sweetness of the fudge, so adjust accordingly.
Can I omit the sea salt topping?
Absolutely! The sea salt topping adds a delightful contrast to the sweetness of the fudge, but if you prefer a purely sweet flavor profile, you can skip the salt sprinkle without compromising the overall taste of the fudge.
My Amazon shopping suggestions for this recipe
(Affiliate links)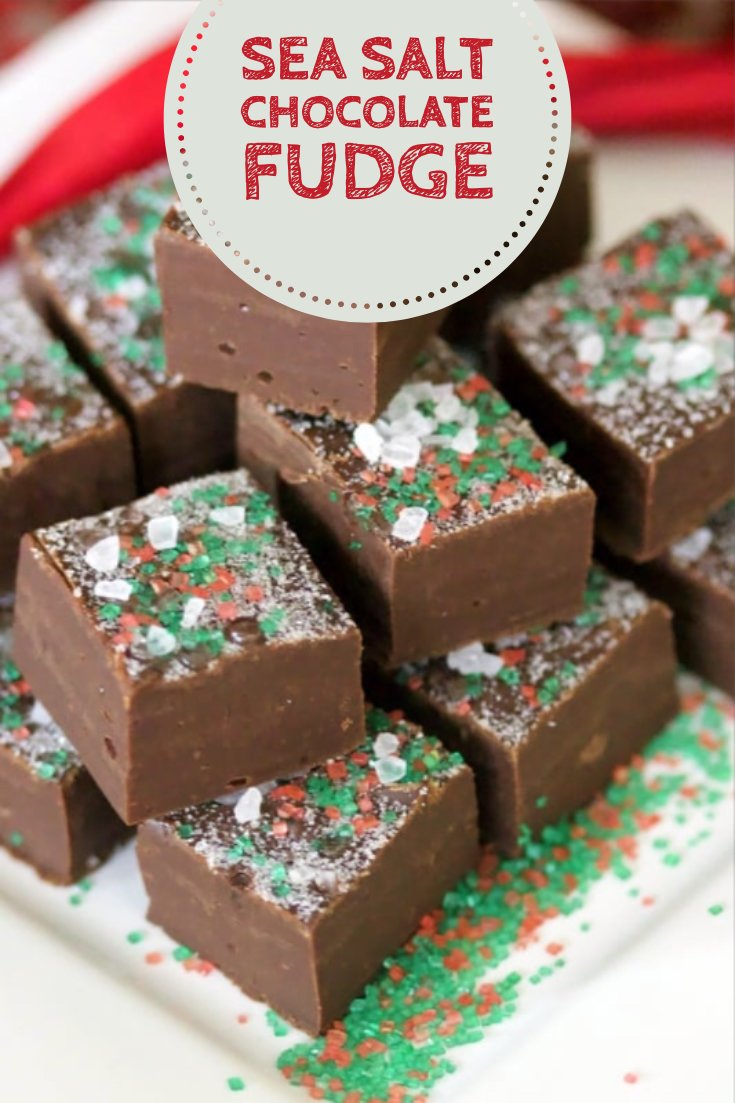 Other recipes to love
Craving more? Subscribe to The Bossy Kitchen to get new recipes and a newsletter delivered straight to your inbox! Stay in touch on Facebook, Twitter, Pinterest, and Instagram for all of the latest updates. Don't forget to use the star rating and leave a review.
📖 Recipe
Sea Salt Chocolate Fudge
This Sea Salt Chocolate Fudge is the easiest chocolate fudge to make at home, simple and delicious fudge that uses just few ingredients. Use good quality chocolate for a tastier result. Also, this recipe is great for sharing as a gift around Christmas.
Print
Pin
Share
Grow
Saved!
Rate
Servings:
24
pieces of fudge
Ingredients
12

ounces

semi sweet chocolate chips

14

ounces

sweetened condensed milk

1 ½

teaspoon

vanilla extract

¼

teaspoon

sea salt

4

tablespoons

butter

Coarse salt to sprinkle on top of the fudge
Instructions
Line a 9-inch square baking sheet with parchment paper.

In a double boiler, on medium heat, add the chocolate, condensed milk and butter.

Let the chocolate and butter melt and stir to combine all the ingredients.

Remove from the heat and add the salt and the vanilla.

Pour into the baking sheet, sprinkle with the coarse salt, and refrigerate for a few hours.

Place the fudge on a cutting board and cut it in any shape you want. Serve.
Nutrition
Serving:
1
g
|
Calories:
153
kcal
|
Carbohydrates:
16
g
|
Protein:
2
g
|
Fat:
9
g
|
Saturated Fat:
5
g
|
Polyunsaturated Fat:
0.3
g
|
Monounsaturated Fat:
3
g
|
Trans Fat:
0.1
g
|
Cholesterol:
11
mg
|
Sodium:
62
mg
|
Potassium:
143
mg
|
Fiber:
1
g
|
Sugar:
14
g
|
Vitamin A:
110
IU
|
Vitamin C:
0.4
mg
|
Calcium:
56
mg
|
Iron:
1
mg
Tried this recipe?
Please leave a comment on the blog or like us on Facebook!