Note: "We are a participant in the Amazon Services LLC Associates Program, an affiliate advertising program designed to provide a means for us to earn fees by linking to Amazon.com and affiliated sites."
I was in the mood for some chocolate. The holidays are coming also and on December 6th, my family celebrates  Saint Nicholas, a lovely holiday that marks the month of December and the Christmas time. For the ones who do not know what happens on December 6,  Saint Nicholas Day is a popular occasion for children in many parts of Europe, as they usually receive gifts on this day. The night before December 6th, children put their cleaned, shiny shoes or a special Saint Nicholas boot in front of the fireplace, or the front door at night, to find them filled with small presents the next morning.
I grew up with this tradition, like many children around Europe and passed it to my daughter. We also keep the tradition in the house, even if my daughter is a grown up now and does not live with us anymore. I think my husband and I must be really good as Saint Nicholas still stops at our house every December and leaves small gifts in our boots.
I love the atmosphere, the emotion of waking up in the morning and finding something in the boots. It is usually a new pair of socks, bananas and oranges, candy, a little toy, sometimes clothes or a small jewelry, or a lottery ticket. We try to keep it fun, simple and not very expensive.
Getting back to my recipe, I was telling you that I was in the mood for some chocolate because it is that time of the year when we indulge more on all kind of sweets. I decided to make the easiest recipe ever, so easy that even a child can make.
I should be ashamed for posting such an easy one, but my entire blog is packed with easy recipes for everyone to try, so why not a recipe for fudge? And it's not even Christmas yet. I never understood anyway why people make fudge only for Christmas, at least in this part of the world where I live. It is easy to make, delicious and can be served anytime.
So, have you ever tried the sea salt chocolate fudge before? If yes, you know how good it is, if not, you have to try it. Period. There is no way around. My recipe uses course sea salt and I have this bag of sea salt in the cupboard that is a little bit smoked (the salt, not the bag, lol). I had to try it on the fudge.
My husband came from work today and I told him: "There is fudge in the fridge, if you want". He shows up with a little plate full of little pieces of fudge, sits down on the couch, takes a bite and closes his eyes saying: " Damn, this is good! "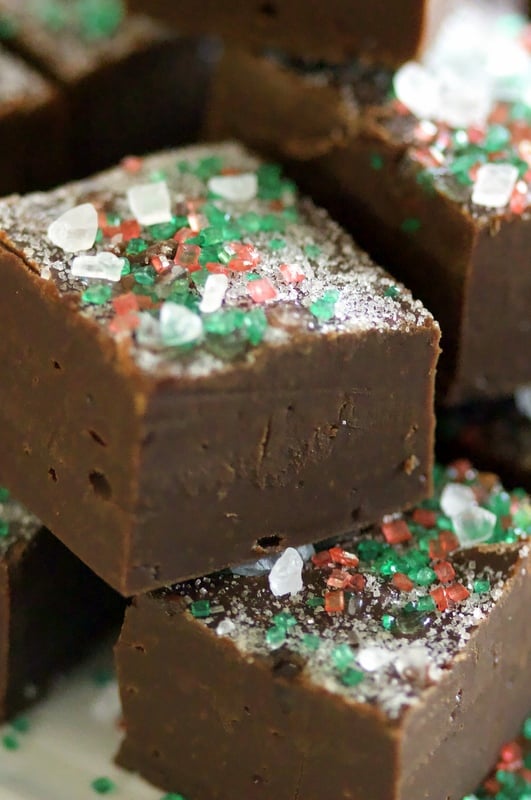 Do I need to tell you more? Just go to your pantry and grab that can of condensed milk that you never know what to do with and some chocolate. The better quality of your chocolate, the better taste of your fudge, right? Have some butter? You need just 4 tablespoons. Oh, and some vanilla extract and some course salt? Good, now you have everything you need. Let's get in the kitchen and make it together.
My Amazon Shopping Suggestions For This Recipe:
If you liked this recipe, maybe you will be interested also in this Pistachio Cranberry Marshmallow Fudge
And Happy Holidays everyone! Oh, and before I forget, come join our community on Facebook.
Sea Salt Chocolate Fudge
Sea Salt Chocolate Fudge Author: The Bossy Kitchen
Author:
The Bossy Kitchen
Ingredients
12 oz semi sweet chocolate chips
14 oz sweetened condensed milk
1½ tsp vanilla extract
¼ tsp sea salt
4 tbsp butter
Coarse salt to sprinkle on top of the fudge
Instructions
Line a 9 inch square baking sheet with aluminum foil.
In a double boiler, on medium heat, add the chocolate, condensed milk and butter.
Let the chocolate and butter melt and stir to combine all the ingredients.
Remove from the heat and add the salt and the vanilla.
Pour into the baking sheet, sprinkle with the course salt and refrigerate for few hours.
Remove the aluminum foil, cut any way you want and serve.