A delicious recipe of Saxon Walnut and Rose Hip Jam Bars from Transylvania. The rose hip is the star of the recipe but plum or lingonberry jam works too.
I am very happy to finally be able to share with you a recipe that is the closest to my heart, the Walnut and Rose Hip Jam Bars. The recipe comes from my grandmother, Herta, who used to make it very often.
She made these bars using walnuts from the walnut tree that was growing in the back  yard, and rose hip jam she was making from scratch. My grandma is not around anymore, but the walnut tree that is over 100 years old is still alive…and the walnuts are delicious!
One of my favorite pictures of all times is this one, with the walnuts on the grass. I know it doesn't mean anything to you, but for me, that image is the same as my memories I have about the summers spent in that part of the world while growing up.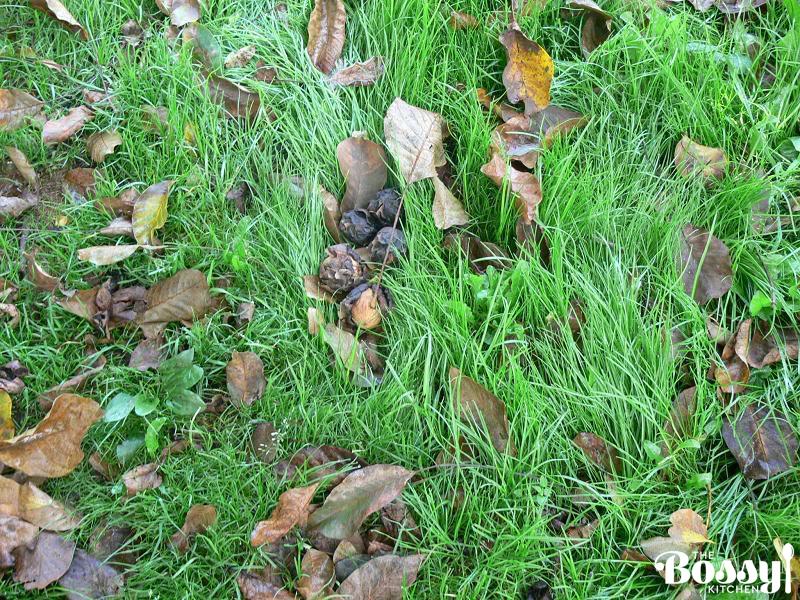 Anyway, this is a very German/Saxon recipe, very traditional for the Saxons living in Transylvania, like my grandmother. The bars have three layers: a delicious shortbread crust, a layer of jam and a layer of walnuts, all baked to perfection.
I really encourage you to make the recipe with rose hip jam, but feel free to swap out the rose hip jam for your favorite flavor. However, try to avoid anything too sweet – tart jams like cherry, blackberry, raspberry or lingonberry work best.The bars are sweet, so they need a tart jam, for balance.
Sweet, tart and gooey, these bars are perfect for a weekend. 
What is so different about these bars? First of all, the shortbread crust starts with butter and sugar mixed together.
The recipe also has sour cream, eggs and flour. The sour cream is a popular ingredient in many German/Hungarian recipes from Transylvania.
The crust is baked for 15 minutes by itself, then jam is spread over the crust and a creamy walnuts mixture is poured over the jam.
The pan goes back to the oven for another 30 minutes.  Keep in mind that these bars are quick to make but they do take a few hours to set up and cool before cutting.
I dare you to try the recipe and tell me if you liked it. It is a simple recipe and very delicious. If you have a major sweet tooth, this dessert is for you.
It is insanely decadent, rich and so good and you will not be able to stop after only one piece. You can make it for potlucks, picnics , holidays or any Sunday family meal.
Perfect with coffee. This is how my grandmother used to serve it. Enjoy!
Yield: 24 servings
Walnut and Rose Hip Jam Bars
A delicious recipe of Saxon Walnut and Rose Hip Jam Bars from Transylvania. The rose hip is the star of the recipe but plum or lingonberry jam works too.
Total Time
1 hour
30 minutes
Ingredients
Crust:
1 egg
6 ounces butter
½ cup sugar
2 cups all-purpose flour
2 tablespoons sour cream
Jam layer:
1 jar of rose hip jam plum or lingonberry jams are fine too), 12-16oz
Walnuts topping:
8 ounces small chopped walnuts
1 cup granulated sugar
1 zest and juice from one lemon
1/2 cup hot milk
Instructions
Preheat oven at 350F.
Make the crust:
Use a mixer to cream butter and sugar.
Add the egg. Mix.
Add the sour cream. Continue mixing.
Incorporate the flour.
Shape the dough into a thick disk, wrap in plastic and refrigerate for 30 minutes.
Lightly flour dough and counter and roll the dough to the size of a 9x13 inch baking pan.
Place the dough in a 9x13 inch baking pan and bake in the oven for about 15 minutes.
Meanwhile, make the walnuts topping:
Mix together the walnuts, sugar, zest&juice from the lemon and the hot milk together. The mixture should be spreadable, not very liquid.
After 15 minutes, remove the dough from the oven and spread the jam over it.
Then spread the walnut mixture over the jam.
Return the baking pan to the oven and continue baking for another 30 minutes.
When cool, cut in squares and serve.
Recommended Products
As an Amazon Associate and member of other affiliate programs, I earn from qualifying purchases.