Kossuth Kifli (Half Moon Cookies) are delicious cookies from the old days. Very popular in Hungary, Romania, and other Eastern European countries, these cookies have a "cake" texture, are delicate, delicious, and good to make on a Sunday afternoon.
Jump to:
What Makes These Cookies So Delightful
Kossuth Kifli (Half Moon Cookies), or crescent cookies, are very popular in Eastern Europe. The batter is baked like a sheet of sponge cake. The cookies are then cut in the shape of a crescent moon.
While growing up, both grandma and my mom often made these old-fashioned moon cookies. This recipe was trendy because it used common ingredients that most people had in their pantries.
While researching the origins of these cookies, I discovered that they are pretty popular in many other Eastern European countries.
This recipe is so interesting because it has more of a "cakey" texture than a regular cookie, and it can be flavored with whatever flavor you wish.
Today I am sharing a lemony version of these cookies.
Ingredients
Butter.
This recipe uses unsalted butter at room temperature.
To bring butter to room temperature, you have some options:
Leave butter on the counter for an hour or two before you start working on the recipe.
Put the butter in the microwave for a maximum of 10 seconds.
Fill a large, deep bowl with warm water. Place the stick of butter in a smaller bowl and submerge the bowl in the large bowl filled with warm water. Wait 10-15 minutes, and your butter should now be at room temperature.
Powdered Sugar.
Powdered sugar melts faster and mixes well with butter. You need to have a creamy mixture of butter and sugar.
Eggs.
Most recipes require large eggs, and this is what we are using in this recipe.
All-purpose flour.
Easy to use in most baked goods, all-purpose flour is the choice for this recipe. Please do not use self-rising flour because it will alter the final product. Self-rising flour has baking soda and also baking powder in it.
Lemon.
We need to use the juice and the zest from one lemon. You can also use orange if you prefer.
Vanilla extract.
Please use the best vanilla you can afford to buy.
Optional:
Ground walnuts.
Ground walnuts are the choice for these European cookies, as walnuts are more popular than pecans. If you do not have walnuts, you can replace them with pecans or skip them entirely.
Flavor Variations
Almonds and almond flavor- Instead of walnuts and lemon, you can use chopped almonds. You can use almond extract instead of vanilla.
How to make
The recipe is available at the end of this article, so I will not write it down again. However, I just wanted to tell you what is different about these cookies.
After all the ingredients are mixed in the order required by the recipe, the batter is spread onto a prepared pan and baked for 20 minutes until the edges are lightly golden.
It almost looks like a sheet cake when you pull it out of the oven.
After it cools down, the "sheet cake" is cut with a small round biscuit cutter or simply with a glass, in a crescent shape or half-moon (in my family, glass was used for this step).
Then you dust the cookies with powdered sugar, and you're done!
Very easy to make and delicious, this recipe brings back the simplicity of the old times when baked goods were made with basic ingredients and were easy to put together.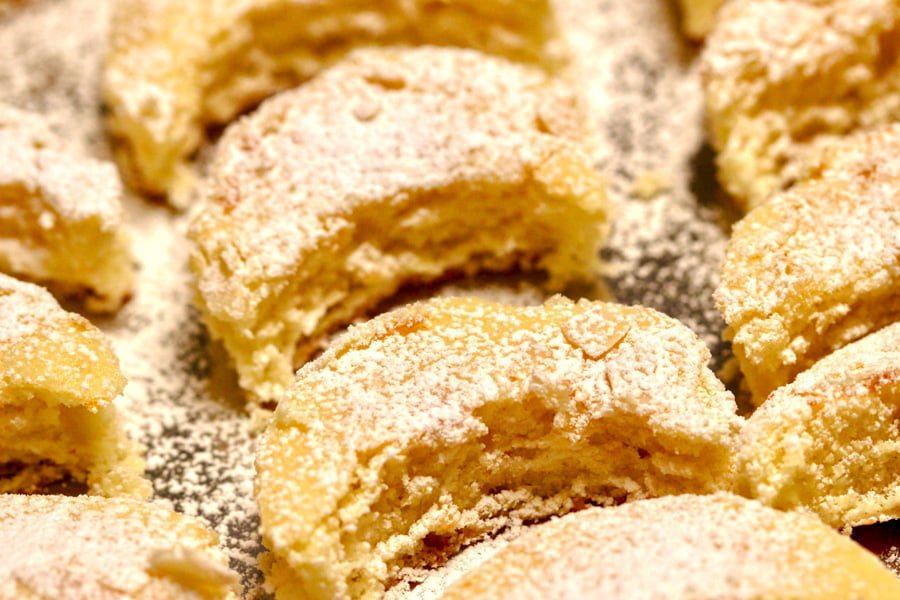 Some recipe variations have chopped walnuts on top of the cookie to add more texture. My version, the one I had from my family, does not.
I think walnuts were not included because it was a relatively tricky ingredient to find in certain parts of the country between 1945 and 1990, when Romania was under communism.
However, you can certainly add them for a more enhanced flavor.
What kind of pan do you need for this recipe
An 11 x 17-inch baking tray is what you need.
Can you freeze these cookies?
Yes, you can freeze the cake sheet after baking and cooling it or cut the cookies and then freeze them. Your choice. They are suitable for about three months in the freezer.
How do I keep these cookies fresh?
Keep them covered with foil on the kitchen counter for up to 3 days. They will get harder by the day, but there are still good with some coffee or tea.
Enjoy, and feel free to drop a comment to let me know what you think about the recipe.
More recipes to love
Christmas Cookies&Bars From Around The World
Easy Romanian Traditional Easter Cheesecake
If you make the recipe, share it with the hashtag #thebossykitchen on Instagram, Facebook, and Twitter so we can all see what you're cooking!
📖 Recipe
Kossuth Kifli ( Half Moon Cookies)
Kossuth Kifli, or Half Moon Cookies, is an old recipe, very popular in Hungary and Romania and other Eastern European countries.
Print
Pin
Rate
Ingredients
½

cup

unsalted butter at room temperature

2

cups

powdered sugar

4

eggs separated

2

cups

all purpose flour

1

teaspoon

vanilla extract

juice and zest from one lemon
Instructions
Preheat oven to 350F/180C.

Butter and flour an 11inch x 17inch (27x43 cm) baking pan and set aside.

Using an electric mixer, beat the butter and sugar together in a large bowl until fluffy.

Add the egg yolks, one at a time, and continue beating.

Gradually add the flour.

Incorporate the vanilla, lemon zest, and lemon juice into the batter and mix well.

Separately, in a medium bowl, beat the egg whites until stiff.

Slowly incorporate them into the batter with a spatula, grabbing the batter from underneath to the surface. (this will keep the air in the egg whites)

Gently spread the batter into the prepared pan.

Optional: Evenly sprinkle walnuts on top of the batter.

Bake at 350F for about 20 minutes until the edges are lightly golden brown.

Remove from the oven and place the tray on a cooling rack before cutting the cookies.

When cool, cut half-moons shape cookies with a glass or a round biscuit cutter. Place them on a platter.

Finally, dust the cookies with powder sugar and serve.

They keep well in a tightly covered container for up to 2 days.
Nutrition
Serving:
1
g
|
Calories:
115
kcal
|
Carbohydrates:
19
g
|
Protein:
3
g
|
Fat:
8
g
|
Saturated Fat:
3
g
|
Polyunsaturated Fat:
3
g
|
Monounsaturated Fat:
2
g
|
Trans Fat:
0.2
g
|
Cholesterol:
37
mg
|
Sodium:
11
mg
|
Potassium:
44
mg
|
Fiber:
1
g
|
Sugar:
0.2
g
|
Vitamin A:
159
IU
|
Vitamin C:
0.1
mg
|
Calcium:
12
mg
|
Iron:
1
mg