Kossuth Kifli or Half Moon Cookies are delicious cookies from the old days. Very popular in Hungary and Romania and other Eastern European countries, these cookies have a "cake" texture, delicate and delicious, and good to make on a Sunday afternoon.
My grandma and also my mom used to make them quite often when I was a child, and they were considered some of the most popular cookies around.
While researching the origins of these cookies, I found out that they are quite popular in many other Eastern European countries.
What is so cool about this recipe is that it has more of a "cakey" texture than a regular cookie, and it can be flavored with whatever flavor you wish.
I usually use lemon and that is the version I am sharing with you today.
The batter is spread onto a prepared pan and then baked for 20 minutes until the edges are lightly golden. It almost looks like a sheet cake when you pull it out of the oven.
After it cools down, the "sheet cake" is cut with a small round biscuit cutter or simply with a glass, in a crescent shape, or half-moon (in my family, glass was used for this step).
Then you dust the cookies with powdered sugar and you're done!
Very easy to make and delicious, this recipe brings back the simplicity of the old times when baked goods were made with basic ingredients and were easy to put together.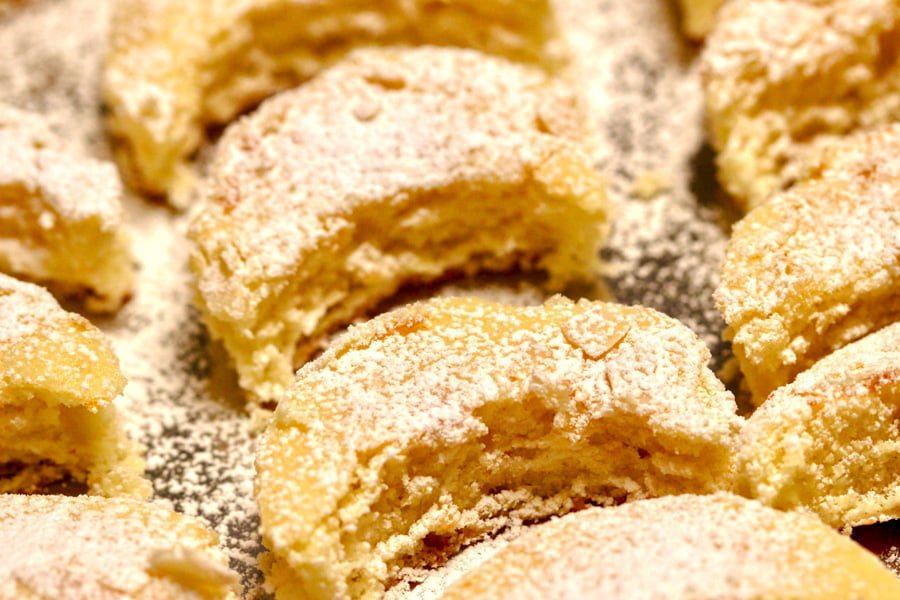 Some of the recipe variations have chopped walnuts on top of the cookie to add more texture. My version, the one I had from my family, does not.
I think that walnuts were not included because it was a relatively difficult ingredient to find in certain parts of the country between 1945 and 1990 when Romania was under communism.
However, you can certainly add them for a more enhanced flavor.
You will also need an 11 x 17-inch baking tray.
That being said, enjoy and feel free to drop a comment to let me know what you think about the recipe.
If you make the recipe, share it with the hashtag #thebossykitchen on Instagram, Facebook, and Twitter so we can all see what you're cooking!
The Bossy Kitchen Group on Facebook is a community of people who share a passion for cooking and baking. Everyone is welcome to share ideas, tips, and culinary experiences. Click HERE if you would like to join!
Yield: 24 cookies
Kossuth Kifli or Half Moon Cookies
Kossuth Kifli, or Half Moon Cookies, is an old recipe, very popular in Hungary and Romania and other Eastern European countries.
Ingredients
1/2 cup/ 125 g butter at room temperature
2 cups/ 250 g powder sugar
4 eggs separated
2 cups/ 250 g all purpose flour
1 lemon zest
1 orange zest
1 tsp vanilla extract
juice from one lemon
optional: 1 cup/100g/3.5oz ground walnuts
Instructions
Preheat oven to 350F/180C.
Butter and flour an 11inch x 17inch (27x43 cm) baking pan and set aside.
In a large bowl, using an electric mixer, beat the butter and sugar together until fluffy.
Add the egg yolks, one at a time, and continue beating.
Gradually add the flour.
Incorporate the vanilla, lemon, orange zest, and lemon juice into the batter and mix well.
Separately, in a medium bowl, beat the egg whites until stiff.
Slowly incorporate them into the batter with a spatula, grabbing the batter from underneath to the surface. (this will keep the air in the egg whites)
Gently spread the batter into the prepared pan.
Optional: Evenly sprinkle walnuts on top of the batter.
Bake at 350F for about 20 minutes until the edges are lightly golden brown.
Remove from the oven and place the tray on a cooling rack before cutting the cookies.
When cool, cut half-moons shape cookies with a glass or a round biscuit cutter. Place them on a platter.
Finally, dust the cookies with powder sugar and serve.
They keep well in a tightly covered container for up to 2 days.
Recommended Products
As an Amazon Associate and member of other affiliate programs, I earn from qualifying purchases.
Nutrition Information:
Yield:
24
Serving Size:
1
Amount Per Serving:
Calories:

145
Total Fat:

6.8g
Saturated Fat:

2.8g
Trans Fat:

0g
Cholesterol:

11mg
Sodium:

36mg
Carbohydrates:

18.8g
Fiber:

0.6g
Sugar:

10.3g
Protein:

2.7g
Did you make this recipe?
Please leave a comment on the blog or share a photo on Pinterest
Note: "We are a participant in the Amazon Services LLC Associates Program, an affiliate advertising program designed to provide a means for us to earn fees by linking to Amazon.com and affiliated sites."