Note: "We are a participant in the Amazon Services LLC Associates Program, an affiliate advertising program designed to provide a means for us to earn fees by linking to Amazon.com and affiliated sites."
This Rum Raisins Cookies Recipe comes from Romania. The cookies are flavored with rum, are very easy to make and taste delicious. Serve them next to a cup of your favorite tea, or coffee and enjoy an old recipe that is very traditional in Romania.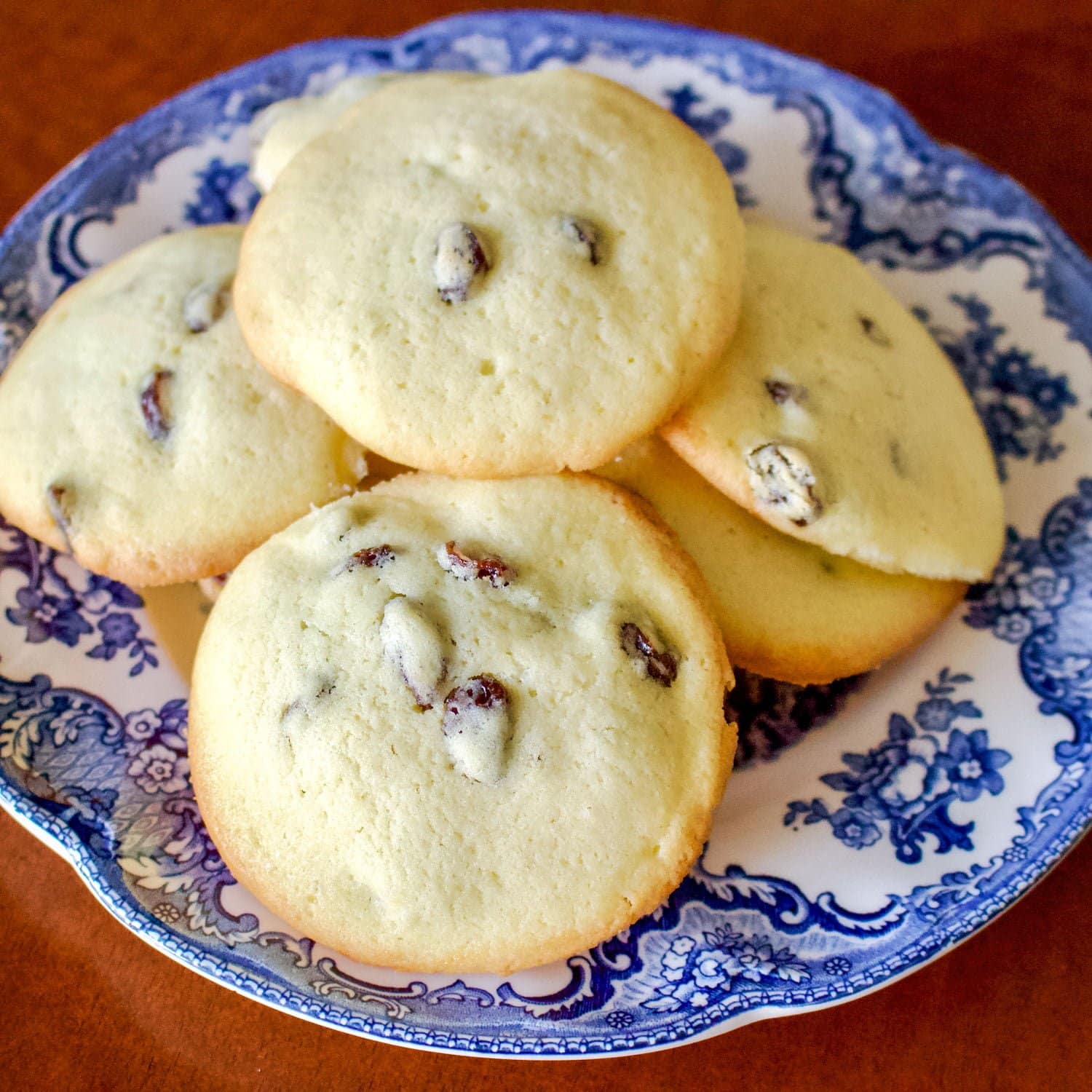 This recipe of rum and raisins cookies is very close to my heart. While I was growing up, I remember that this recipe was made in every household as a quick sweet snack. My mother used to make the cookies all the time, so they taste like "home" when I make them.
The cookies were also available for purchase in every pastry shop or bakery in Bucharest. This cookie is as traditional for Romanians as the chocolate chip cookie is for Americans. We make them on Sundays, for parties and family reunions or holidays and anytime we are in the mood for something sweet and easy to put together.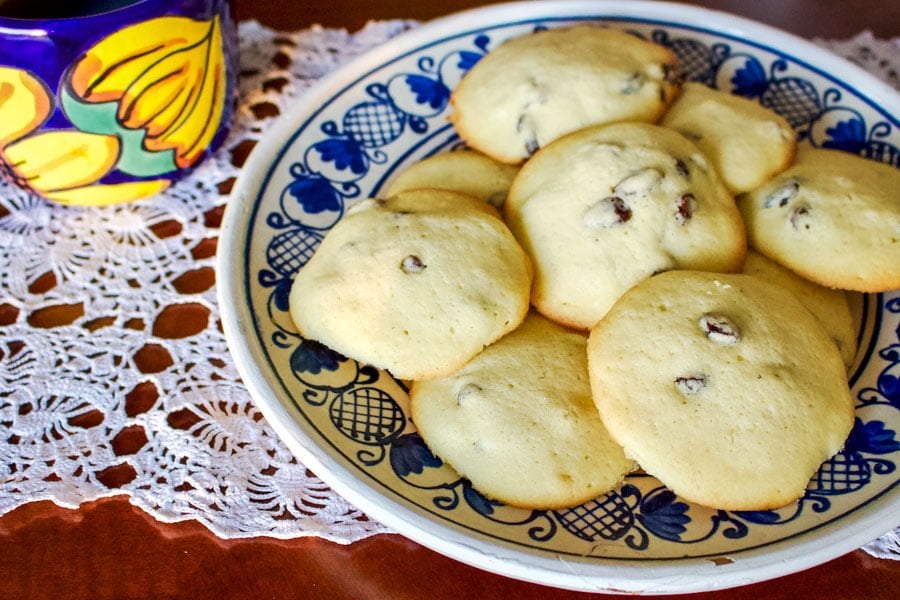 We like cookies but as far as I know, the Romanian cuisine does not have a lot of cookie recipes. We usually call them "fursecuri" and they are more like a fancy treat and an inspiration from the German, Austrian, Hungarian or French cuisines.
These cookies are crunchy outside and soft inside and the rum flavor makes them to be different from any regular cookie I had before. As you can tell, I just love them.
The recipe is also very easy to make. My nephew, who is 10 years old, knows how to make them and he also asks for them when he goes on trips with his school. He loves to snack on them in the bus while he travels, so his mom always makes a batch with him before the event.
Tips: The amount of sugar in these cookies might seem high but I assure you that it is the right amount for the recipe. After all, we don't need to eat all the cookies in one shot and it is the perfect treat when you have a sweet tooth.
Also, the cookies will spread a lot during the baking process.
The other secret is to not bake them for more than 10 minutes. The idea is to take them out of the oven when they are light brown around the edges. They will be very fragile, so leave them for 5 minutes on the baking tray to cool, then move them to a cooling rack.
Don't forget that the rum flavor is what makes this cookie special. Without the rum flavor, they are quite plain.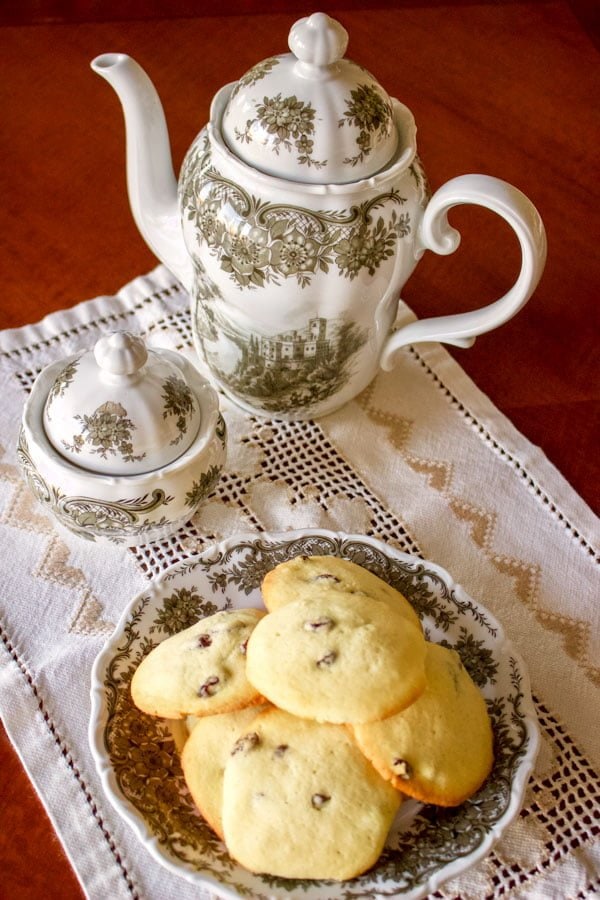 If you don't care about raisins, replace them with other dried fruits, like cranberries or tart cherries. Chocolate chips might go well too, I personally did not try that, because traditionally, the cookies are made with raisins. Walnuts or pecans are an excellent choice too.
I hope you enjoy them! Interested in other cookie recipes? Try these:
Jam Crescent Pastries(Cornulete Cu Gem)
Pie Crust Mini Turnover Cookies With Jam
Rum Raisins Cookies Recipe
Author:
The Bossy Kitchen
Ingredients
4 eggs
2 cups of powdered sugar
2 sticks of unsalted butter room temperature
2 cups of all purpose flour
1 cup raisins(optional you can replace them with walnuts, pecans, cranberries, tart cherries, chocolate chips)
1 tablespoon rum flavor(rum extract)
Instructions
Cream the butter with the powder sugar until smooth.
Incorporate the eggs one by one.
Add the flour gradually.
Add the raisins and the rum flavor to the batter. Mix to incorporate all ingredients.
Refrigerate the dough for an hour, in the same bowl you mixed it. The dough will be soft initially, but after refrigeration it will be easy to scoop into small balls.
Preheat the oven to 350F.
Cover a cookie sheet with parchment paper and drop with the spoon small balls of batter leaving 1-2 inches distance between them. Cookies will spread a lot.
Bake the cookies in the oven for no more than 10-12 mins. Keep an eye on them, as they should be in the oven only until they become lightly golden brown at the edges.
Leave them on the cookie sheet for about 5 minutes then transfer them to a rack to cool.