I love Oatmeal Raisin Cookies, and this recipe is my favorite. Soft, chewy, and packed with flavors, these cookies are loaded with oats, cinnamon and other spices, sweet raisins, and brown sugar.
Your family will absolutely love these little treasures. Just make sure to hide a few for yourself before they finish them!
Best oatmeal raisin cookie recipe, if you ask me!
There is a lot of competition out there for this great recipe for classic oatmeal cookies.
Yes, oatmeal cookies are comforting and delicious and perfect for any moment of the day when you crave something sweet.
No wonder everyone bakes them.
These cookies are made with flour and oats, where oats are the star of the recipe.
With crisp edges on the outside and soft inside, flavored with brown sugar and spices, these cookies are perfect for any time of the day or season.
Jump to:
Why I love this recipe:
The cookies are easy to make.
The flavors are simple but, at the same time, perfectly balanced.
The recipe is versatile; you can add or remove some of the toppings based on what you like or have available.
The cookies are moist in the center and slightly crisp on the edges.
They are buttery and deliciously flavored with cinnamon, cardamom, nutmeg, and brown sugar.
Make them at the end of the week and enjoy them while waiting for your next Zoom meeting on Monday afternoon.
My recipe is nothing spectacular, just a simple and classic dessert that shines through the addition of some spices I enjoy in a cookie: cardamom, nutmeg, and cinnamon.
If you like these spices, I am ready to share this recipe with you!
Ingredients:
Unsalted butter at room temperature: Why are we using unsalted butter, and why should it be at room temperature?
We use unsalted butter because the recipe also has a pinch of salt in it.
Because we add salt to the recipe, we need to keep the other ingredients free of salt.
Otherwise, the cookies would come out salty. We also use butter at room temperature.
We have to mix the butter with the sugar before we add the rest of the ingredients. Cold butter doesn't mix well.
Dark brown sugar(firmly packed): Brown sugar has molasses, which is warm and sweet with a hint of smoky caramelized flavor.
The dark brown sugar has a more robust taste, while the light one is more subtle.
Use what you like, but do not skip it, as we use it in this recipe not only for taste but also for added moisture to the cookies.
It brings a lot of depth to these cookies and moisture to the dough, so the cookie will be softer in the middle.
Granulated sugar: White granulated sugar adds structure and texture to the cookies.
Eggs: Most recipes in the US use large eggs. We need two in this recipe. Also, eggs are the binding ingredient that keeps the cookie together.
Vanilla extract: Pure vanilla is always better than fake vanilla. The flavor is always important, so use the best vanilla you can afford.
All-purpose flour: Flour is the backbone of the recipe. It brings structure to the cookies.
Baking soda: Baking soda helps the cookies rise.
Ground Cinnamon
Ground Cardamom: I love this spice! It has a unique, strong taste, is very aromatic, and is beautiful in baked goods.
Ground Nutmeg
Coarse sea salt: A pinch of salt is used in most baked goods. It does wonders in balancing the sweetness and the general taste of the final product.
You can use any type of salt you want. However, coarse or flaky sea salt gives lots of flavor to this sweet cookie.
Salt is the magic ingredient that enhances the flavor and pushes all ingredients to get friendly with each other.
A pinch of salt is all you need or ½ teaspoon for the entire quantity of batter.
Old-fashioned oats(rolled oats): In moderate quantities, oats are good for us.
They are gluten-free, easily digested, provide good quality protein and B vitamins, and make good energy for active people.
Oats also taste good, and people love them in all kinds of products.
I used old-fashioned whole-rolled oats, like Quaker Oates.
This is what people think of when you talk about oatmeal.
Raisins: Raisins are the classic dried fruit ingredient in oatmeal cookies. I used golden raisins.
However, you can replace them with various other dried fruits, like cranberries, craisins, currants, figs, dates, apricots, etc.
If you use dried fruits that are larger in size, you will have to chop them small to be the size of a raisin.
Expert tip:
A good baker will soak the raisins before adding them to any batter or dough. Soft and plump raisins or cranberries are better than dried ones.
Before making the recipe, pour warm water over the raisins and allow them to soak for 10-15 minutes while you work on the batter.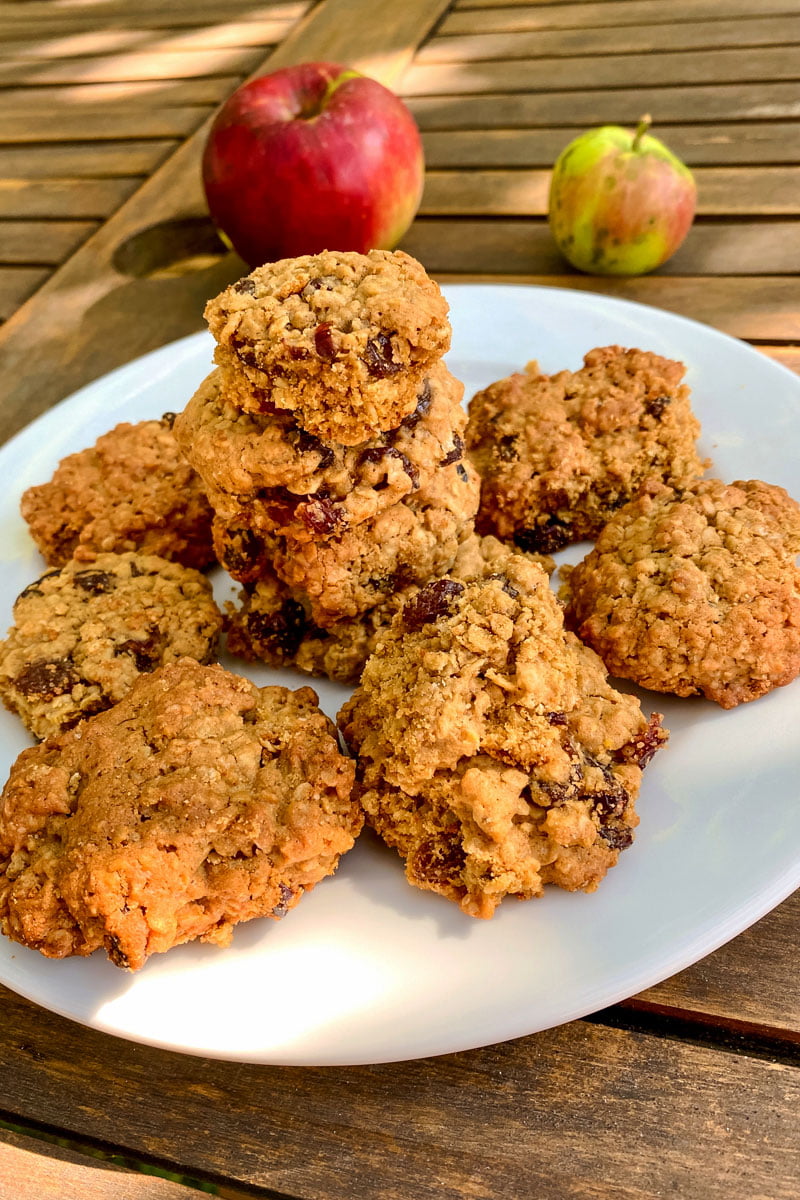 How To Make These Classic Cookies
Preheat the oven: to 350F and presoak the raisins or the dried fruits in warm water for 15 minutes. Set aside.
Cream butter and sugar: In a large bowl, cream the butter and sugar together until light and fluffy. Use an electric mixer (or a bowl of a stand mixer fitted with a paddle attachment) to make your life easier.
Add eggs and vanilla: Add eggs and vanilla and continue mixing on medium-high until well incorporated.
Prepare the dry ingredients: Grab a separate medium bowl and stir together flour, baking soda, cinnamon, cardamom, nutmeg, and salt. Add the flour mixture to the wet ingredients. Stir to combine.
Add the extras: oats and dried fruits. Mix well. 
Form the cookies and bake: Drop the dough by tablespoonfuls on the prepared baking cookie sheets covered with parchment paper or baking mats. Allow about 1 inch between the cookies. You do not need to grease the cookie sheet. Baking time for a golden brown crispy cookie is 10-12 minutes and 8-10 minutes for chewy oatmeal raisin cookies.
Cool and serve: Cool the cookies on the baking sheet for a minute, then remove them to a wire rack and allow them to cool completely.
Secret tip:
To keep the cookies from spreading, refrigerate the dough. Cover the bowl with plastic wrap and place it in the refrigerator for up to 30 minutes.
When they bake, the cookies will be thicker and softer inside. I would not recommend keeping the dough in the fridge for more time.
The oats tend to absorb the moisture from the rest of the ingredients, and the cookies will not spread. 
Variations of ingredients:
Unsalted butter versus salty butter: If you use salted butter because you do not have any other type of butter in the pantry, do not add that pinch of salt I told you about earlier.
Dark brown sugar versus light brown sugar: Both types of sugar contain molasses, but dark brown sugar has more.
Dark brown sugar brings a more robust flavor and a darker color to the cookie, while light brown sugar is milder.
They are interchangeable but keep in mind that the taste and the color of the cookies will be slightly different.
Butter versus shortening: I never used shortening in my baking, but I did use lard, as I come from Eastern Europe, where people are not afraid of it.
However, if you choose shortening over butter, your cookies will not spread a lot and will lack the flavor that butter brings to the recipe.
Quick oats versus old-fashioned oats: The recipe requires old-fashioned oats because they will give you that chewy texture.
You can use quick oats, but they are ground up and will give you a cookie with less texture. It's not a bad cookie, just slightly different. Your choice.
I would not use steel-cut oats or instant oats, as they do not have the right texture for these cookies.
Not a fan of raisins? Try other dried fruits. I personally like cranberries and tart cherries. What about you?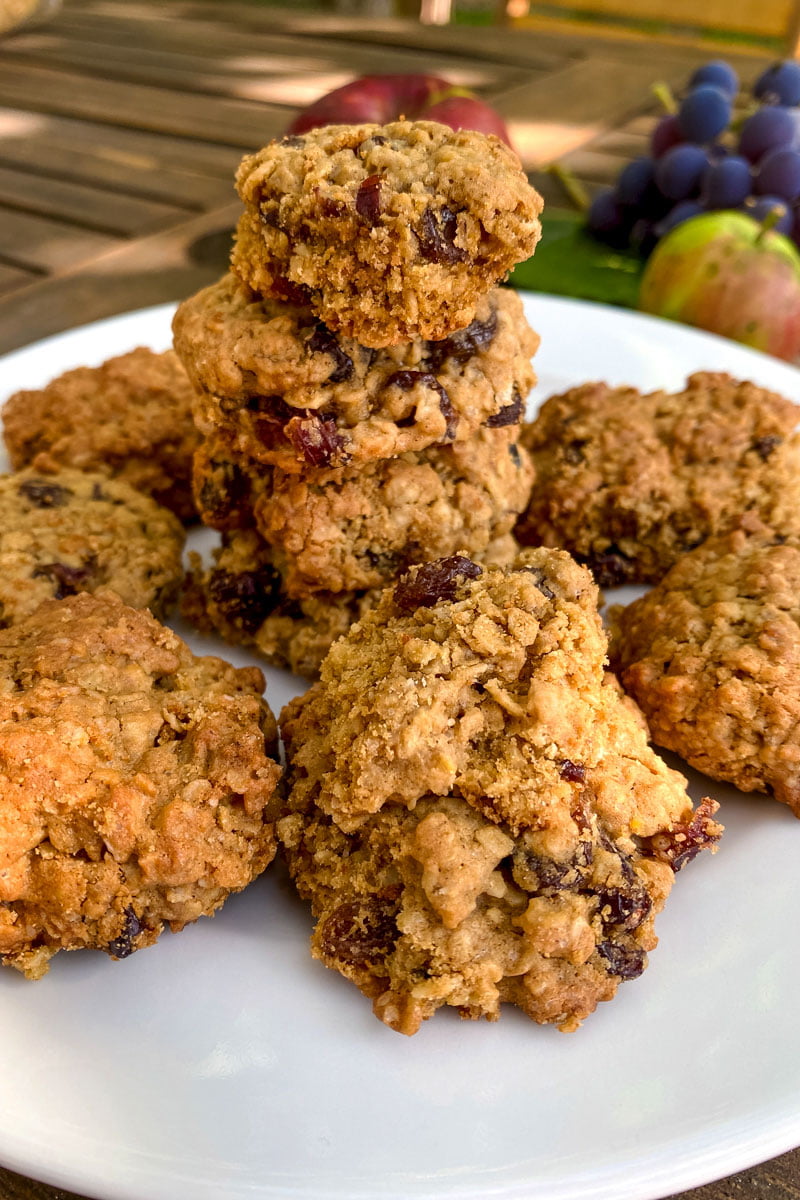 How long these oatmeal raisin cookies will last?
Well, I hope they don't last long, as they are the best oatmeal raisin cookies ever!
Room temperature: These cookies keep well in a cookie jar or airtight container for up to a week if you could hide the jar away where no one can find it. :- )
Freezer: If you are able to put a dozen away, you could also freeze them for up to three months.
Place them in a Ziplock freezer bag and either thaw them at room temperature or in the oven at 350F for 2-3 minutes.
Can I freeze it for later use?
Yes, you can, but you will need to form the cookies first and freeze them like that.
When ready to bake, just put them on the cookie sheet and bake them for 10-12 minutes. There is no need to thaw them first.
Can I use fresh fruit instead of dried fruit?
I never tested the recipe with fresh fruit, but I believe that fresh fruit would add too much moisture to the dough, and the cookies would spread in the oven.
If you do not like raisins, it is better not to add them.
Bake cookies you love
Easy Dark Chocolate Walnut Cookies
Polvores Con Limon- Traditional Spanish Christmas Cookies
The Best Chocolate Chips And Walnuts Cookies
Easy Oatmeal Peanut Butter Cookies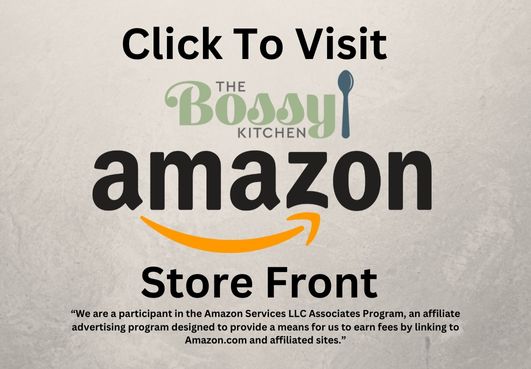 Tools to help you make these old-fashioned oatmeal-raisin cookies:
KitchenAid Mixer OR Hand Mixer
Craving more? Subscribe to The Bossy Kitchen to get new recipes and a newsletter delivered straight to your inbox! Stay in touch on Facebook, Twitter, Pinterest, and Instagram for all of the latest updates. Don't forget to use the star rating and leave a review.
Enjoy!
📖 Recipe
Classic Oatmeal Raisin Cookies
This is a classic oatmeal raisin cookies recipe for you to enjoy. Humble, delicious recipe that doesn't pretend to be any different than other oatmeal raisin cookies out there, except that it is mine and I love it.
Print
Pin
Rate
Ingredients
½

cup

unsalted butter room temperature

1

cup

dark brown sugar

firmly packed

¼

cup

granulated sugar

2

large eggs

1

teaspoon

vanilla extract

1 ½

cup

all purpose flour

1

teaspoon

baking soda

1

teaspoon

cinnamon

¼

teaspoon

cardamom

¼

teaspoon

nutmeg

½

teaspoon

course sea salt

3

cups

old fashioned oats

rolled oats

1

cup

raisins
Instructions
Preheat oven to 350F.

In a large bowl, cream the butter with sugar.

Add eggs and vanilla and beat well.

Separately, combine flour, baking soda, cinnamon, cardamom, nutmeg and salt.

Stir in oats and raisins. Add the dry ingredients to the butter mixture and stir to combine.

On an ungreased cookie sheet place full tablespoons of dough allowing about 1 inch between the cookies. You do not need to grease the cookie sheet.

Bake 10-12 minutes.

Cool for one minute on cookie sheet before you remove the cookies to a wire rack.
Notes
If you want to make bar cookies instead:
Put batter in ungreased 9x13 inch metal baking pan and bake at 350F for 30-35 minutes.
Nutrition
Serving:
1
g
|
Calories:
110
kcal
|
Carbohydrates:
19
g
|
Protein:
2
g
|
Fat:
3
g
|
Saturated Fat:
2
g
|
Polyunsaturated Fat:
0.3
g
|
Monounsaturated Fat:
1
g
|
Trans Fat:
0.1
g
|
Cholesterol:
16
mg
|
Sodium:
69
mg
|
Potassium:
45
mg
|
Fiber:
1
g
|
Sugar:
10
g
|
Vitamin A:
92
IU
|
Vitamin C:
0.01
mg
|
Calcium:
12
mg
|
Iron:
1
mg