Romanian Rugelach(Cornulete cu gem)– is an old Romanian recipe for crescent cookies filled with jam, walnuts, or Turkish delight.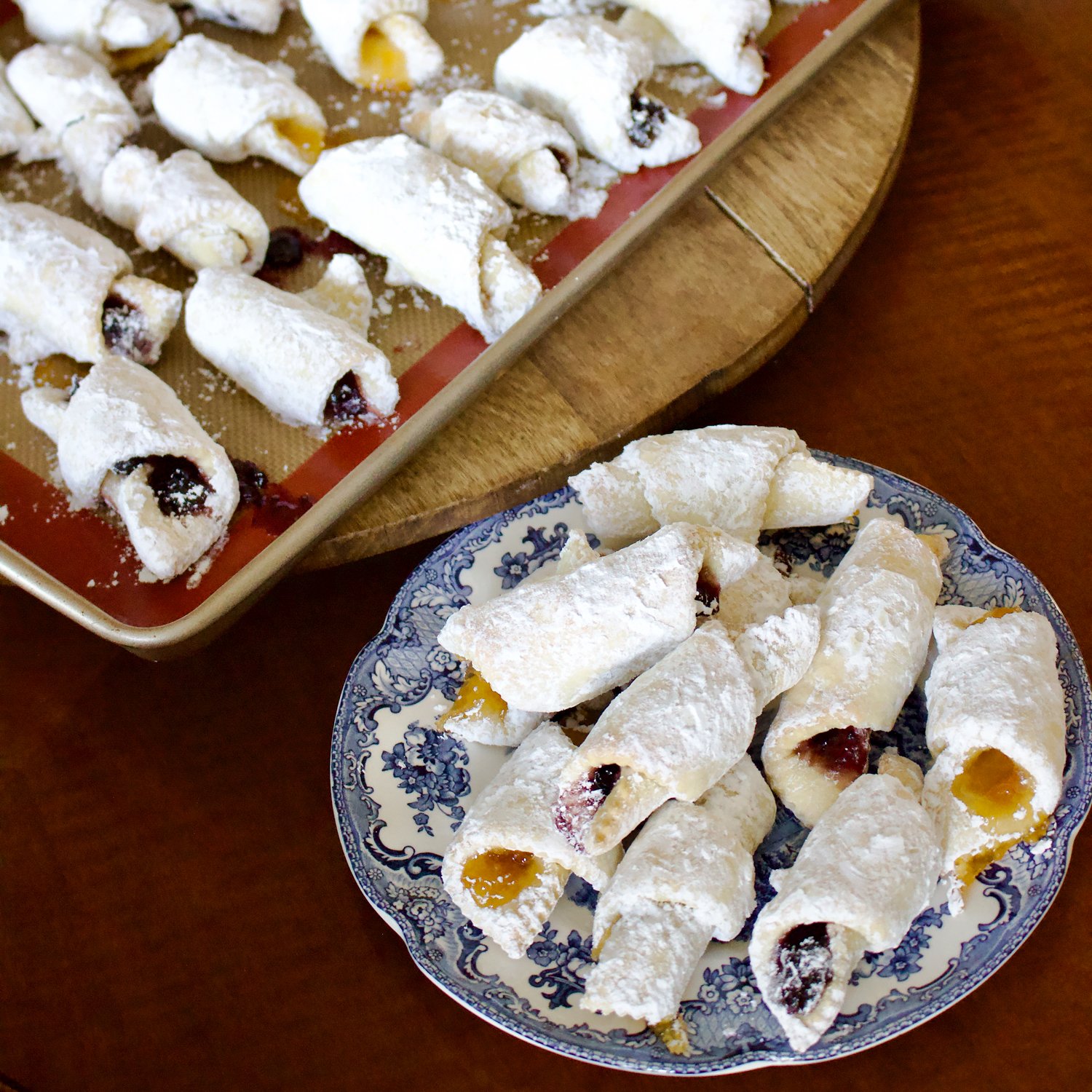 Romanian Rugelach(Cornulete cu gem)
I always loved these delicious crescent pastries, popular in many Eastern European countries. I already have on my blog another version of them, made with a different type of dough.
There are many recipes out there, and I have to say that most of them are great. The dough on the first version of these cookies on my blog is made with farmer cheese(or ricotta).
It is a very old recipe that is used to make a lot of pastries.
It uses the same amounts of flour, butter, and farmer cheese, and the result is a flaky cookie that is delicious.
I genuinely recommend you try it at least once because you can make anything with it, from these crescent cookies to pie crust to pastries.
A famous Jewish pastry, rugelach, is called in Hungary kifli, dates back to the Hungarian kifli, Austrian kipfel, and Polish rogal.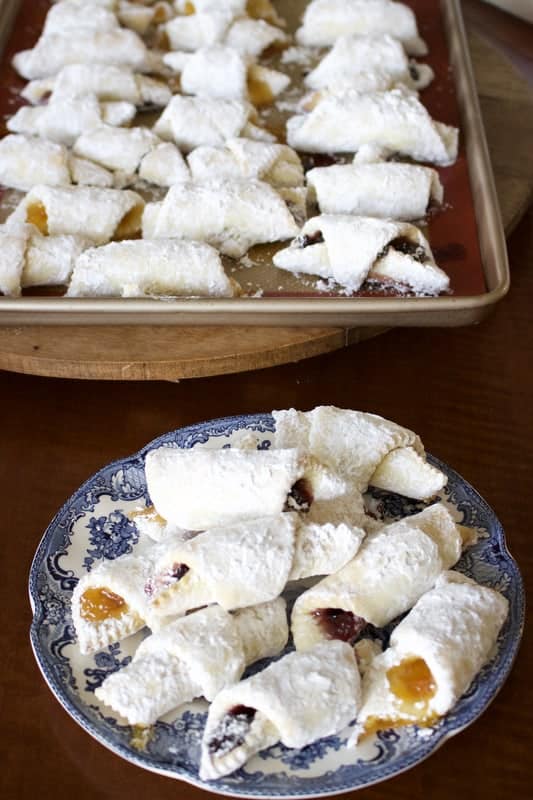 Anyway, in the recipe I will share with you today, the dough is made with yeast and sour cream, a little bit different but still delicious.
The cookies have a softer texture, and they are not very sweet.
This is an old-school recipe inherited from my grandmothers. Each country in Eastern Europe has a recipe of rugelach that is made with yeast.
The recipe traveled to America, and over time, the yeast dough was replaced with an easier version made with cream cheese. (like my recipe I was telling you about, only that mine is made with farmers cheese or ricotta)
Rugelach became, over time, one of the most popular recipes in America, and it is a cookie that you see everywhere around Christmas time.
The dough is enough to make about 50 crescent cookies, so this recipe is great for the holidays if you like to bake for a crowd.
Use any jam you like, strawberries, raspberries, plums, apples, apricots, or peaches. The sky is the limit! Enjoy!
More recipes to love:
Christmas Cookies And Bars From Around The World
Authentic Traditional Turkish Coffee
If you make this recipe, share it with the hashtag #thebossykitchen on Instagram, Facebook, and Twitter so we can all see what you're cooking!
Or maybe you want to join The Bossy Kitchen community group to share your creations made from this blog or other sources. Everyone is welcome to join!
Yield: makes 50 cookies
Romanian Rugelash(Cornulete cu gem)
Romanian rugelach(Cornulete cu gem)- is an old Eastern European popular recipe for crescent cookies filled with jam, walnuts, or Turkish delight.
Additional Time
30 minutes
Total Time
1 hour
2 minutes
Ingredients
Yeast starter:
3 Tablespoons/40ml whole milk warm(110F)
1 Tablespoon instant yeast(or fresh yeast-25 g)
1 Tablespoon sugar(12.5g)
Dough:
4 cups/17.6oz/500g all purpose flour
1 stick PLUS 6 Tablespoons/7.05oz/200g cold unsalted butter cubed
6 1/2 Tablespoons/2.8oz/80g sour cream
1 teaspoon vanilla extract(5ml)
4 large egg yolks
a pinch of salt
1 cup/150g powdered sugar for decor
Instructions
Yeast starter:
Mix the warm milk(110F) with yeast and add the sugar. Stir well with a spoon and set aside for 10 minutes to activate the yeast.
How to make the dough:
In the bowl of a standing mixer, add the cold cubed butter. Using the mixer paddle, start to mix until the combination of flour and butter looks like wet bread crumbs.
Remove the mixer's paddle and replace it with the dough hook.
Add the rest of the ingredients: the mixture of milk and yeast, the sour cream, the egg yolks, the vanilla extract, and a pinch of salt.
Continue to mix until a dough is formed. Stop the mixer and remove the dough from the bowl.
Place the dough on the table and shape it into a ball without adding more flour.
Place the dough back into the mixing bowl, cover it with a clean kitchen towel or plastic wrap. Let the dough rest for 30 minutes at room temperature.
After 30 minutes, place the dough on the table and cut it in two. Shape one half into a ball, then roll it on the table using a little bit of flour.
When the dough is well spread, put a round medium plate on top and cut the dough around the plate. Remove the excess and keep it for later use.
Cut the round into 8 equal slices, like a pizza.
At the base of every slice(triangle), add a dollop of jam and roll the dough to form a crescent.
Place the crescent on a cookie tray covered with parchment paper.
Preheat oven to 350F/180C.
Continue to fill and roll all the crescent cookies and place them on the cookie tray.
Bake them for 10-12 minutes or until they are golden light on top.
When done, leave the cookies to cool down for 5-10 minutes, then roll them in the powdered sugar.
Note: The cookies must be a little bit warm so that the sugar will stick.
Nutrition Information:
Yield:
50
Serving Size:
1
Amount Per Serving:
Calories:

251
Total Fat:

22g
Saturated Fat:

13g
Trans Fat:

0g
Unsaturated Fat:

7g
Cholesterol:

77mg
Sodium:

16mg
Carbohydrates:

12g
Fiber:

0g
Sugar:

4g
Protein:

2g
Note: "We are a participant in the Amazon Services LLC Associates Program, an affiliate advertising program designed to provide a means for us to earn fees by linking to Amazon.com and affiliated sites."