These Romanian traditional sweet cheese pastries- Poale in Brau(Branzoaice)- are considered an emblem of the Romanian region of Moldova and its cuisine.
The pastries are traditionally made with salty sheep cheese and served as a snack, with a little bit of sour cream next to them. A glass of dry white wine is also served.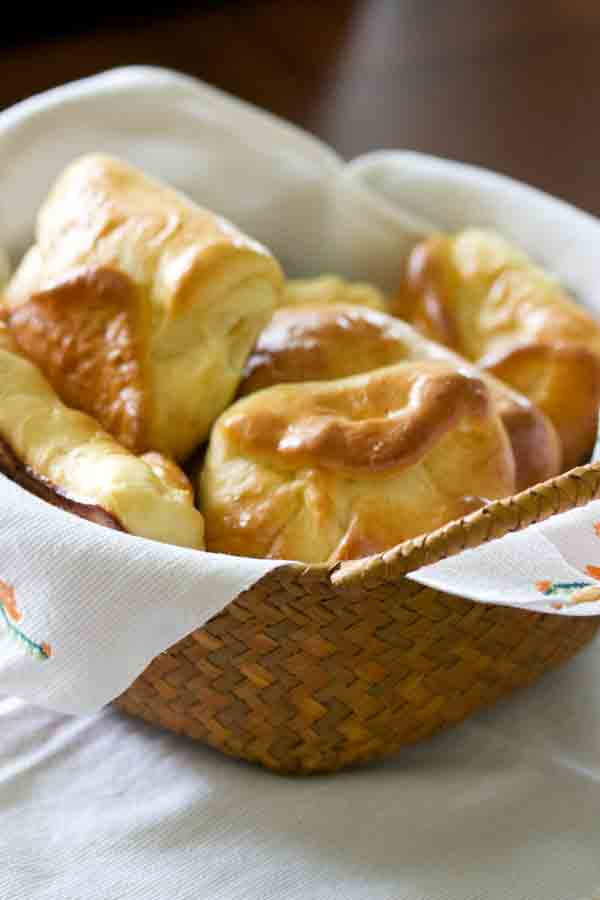 Romanian Traditional Sweet Cheese Pastries- Poale in Brau (Branzoaice)
These are delicious pastries to bake once in a while. Usually, they are made to be consumed as a snack, and the filling is made with salty cheese.
If the pastries are served as dessert, then Farmer's cheese is added to the salty cheese together with some sugar and raisins to make the little pies sweeter.
If sweet, the pastries are sprinkled with powder sugar. Sometimes, a little bit of honey is drizzled over them. As for the wine, if you serve them as a dessert, a sweet, light, red, or rose wine is perfect for them and traditional.
The recipe is so delicious that now it is made not only in Moldova but also in Romania's other regions. I had them both salty and sweet, and I have to tell you that I loved both versions.
To make authentic ones, obviously, it isn't easy because of the ingredients. The cheese is what makes them special.
However, I encourage you to make them with the cheese you have available, so you can get a glimpse of what they are.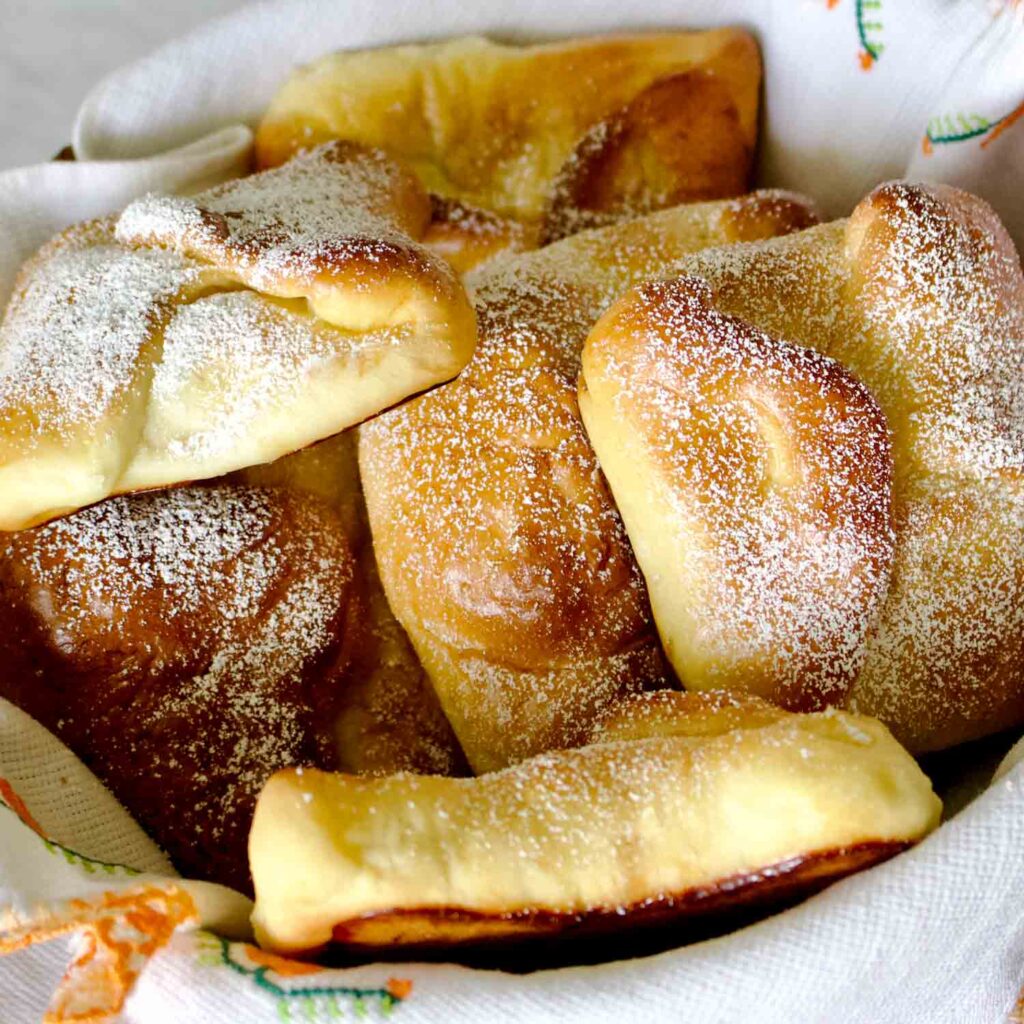 You might find the recipe intimidating, but it really is not. If you have a stand-up mixer to help you knead the dough, things are pretty easy. I used my Kitchen Aid that I love because it saves a lot of time.
Also, in this recipe, because it is made with a mixer, most ingredients are incorporated at once, so you don't need to be worried about working with yeast if you don't have much experience.
What kind of cheese you can use:
If you live in the United States and would like to make this recipe, look for Farmer's Cheese. It is a fresh cheese that has a small curd, and it is not salty.
Probably in Europe, you will find this Farmer's Cheese under the name of cottage cheese. The closest to this cheese in the US is ricotta, which you can try to substitute with. OR, you can make Farmer's Cheese at home- click here for the recipe.
The recipe also has a little bit of semolina added to the cheese filling. The semolina absorbs the moisture of the cheese in case it is too wet.
If you make it for the first time, stay true to the recipe and use the ingredients indicated on the list. These pastries are sweet, as I used Farmer's cheese, a little bit of sugar, and raisins in the filling.
If you want to make them savory, use a good Feta cheese. You can also mix it with some Farmer's cheese for a milder taste. You will not be sorry!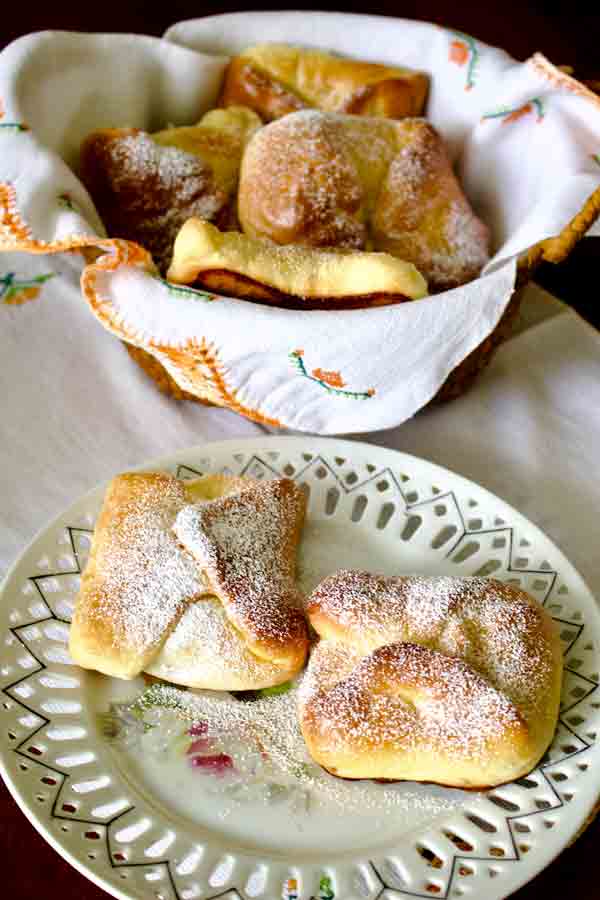 If you make them, feel free to snap a picture and post it in the comments. I am curious to see what you came up with and if you liked it. Enjoy!
Interested in another delicious snack made with yeast dough? Try the recipe of Mucenici, another traditional Romanian one.
More recipes to love:
Mini Peppers Stuffed With Farmer Cheese
Yield: 12 pastries
Romanian Traditional Sweet Cheese Pastries- Poale In Brau(Branzoaice)
Romanian Traditional Sweet Cheese Pastries- Poale in Brau(Branzoaice) are considered to be an emblem of the region of Moldova and its cuisine. The pastries are traditionally made with salty sheep cheese and served as a snack or with Farmer's Cheese, sugar, and raisins for a delicious dessert.
Ingredients
a pinch of salt
1 lemon zest
2 large egg yolks
3 1/2 tablespoons/1.76oz/50 g unsalted butter room temperature
1 1/4 cups/10 fl oz/300 ml warm milk
17.6oz/500 g farmer's cheese
2 large eggs
a pinch of salt
1 cup/7 oz/200g granulated sugar
1 lemon zest
Instructions
How to make the dough:
In a KitchenAid mixer, place flour, egg yolks, butter, sugar, salt, lemon zest, and yeast. At low speed, with the dough hook attached, start mixing the ingredients.
Add warm milk little by little to form a dough.
When the dough is formed, increase the mixer's speed to medium and let the mixer knead the dough for about 10 minutes.
The dough should be elastic, smooth, and not sticky. Remove the dough from the mixer and place it in an oiled bowl. Cover the dough with plastic foil or a clean kitchen towel and let it rise in a warm place until it doubles in volume.
How To Make The Filling:
While the dough is rising, prepare the filling.
Beat well the two eggs and add them to the farmer's cheese. Add vanilla, lemon zest, a pinch of salt, raisins, and the semolina. If the cheese mixture is too runny, add another tablespoon of semolina until you get a creamy consistency.
Mix well to incorporate the ingredients.
How to Make The Pastries:
Preheat oven to 350F/180C. Cover the bottom of a baking tray with parchment paper and set it aside.
After the dough has doubled in volume, sprinkle some flour on the working surface and dump the dough on the table. Split the dough in half.
Grab half of the dough and roll it with the rolling pin. You should end up with a square approx. 12x12 inches.
Cut the dough into 6 equal squares using a knife.
Place a full spoon of the cheese filling in the middle of a square. Fold two opposite corners towards the middle and press well to make sure they stick together. Then, fold the other two opposite corners, so you end up having a pastry that looks like an envelope.
Place it on the tray and continue the same with the rest of the dough.
You should have 12 pastries.
Do not overcrowd the pastries. Place only about 6 pastries on the tray, as they will quite rise during baking.
Beat an egg and brush each pastry with it.
Bake them for about 25-30 mins or until golden brown.
Remove them from the tray, let them cool on a rack, then sprinkle powder sugar over them. (the powder sugar is optional)
Recommended Products
As an Amazon Associate and member of other affiliate programs, I earn from qualifying purchases.
Nutrition Information:
Yield:
12
Serving Size:
1
Amount Per Serving:
Calories:

337
Total Fat:

24g
Saturated Fat:

14g
Trans Fat:

0g
Unsaturated Fat:

8g
Cholesterol:

140mg
Sodium:

375mg
Carbohydrates:

20g
Fiber:

0g
Sugar:

18g
Protein:

11g
Note: "We are a participant in the Amazon Services LLC Associates Program, an affiliate advertising program designed to provide a means for us to earn fees by linking to Amazon.com and affiliated sites."