Who doesn't love an easy snack or an excellent appetizer? These Ham And Cheese Puff Pastry Pockets are the answer to any party menu dilemmas.
Pin this for later: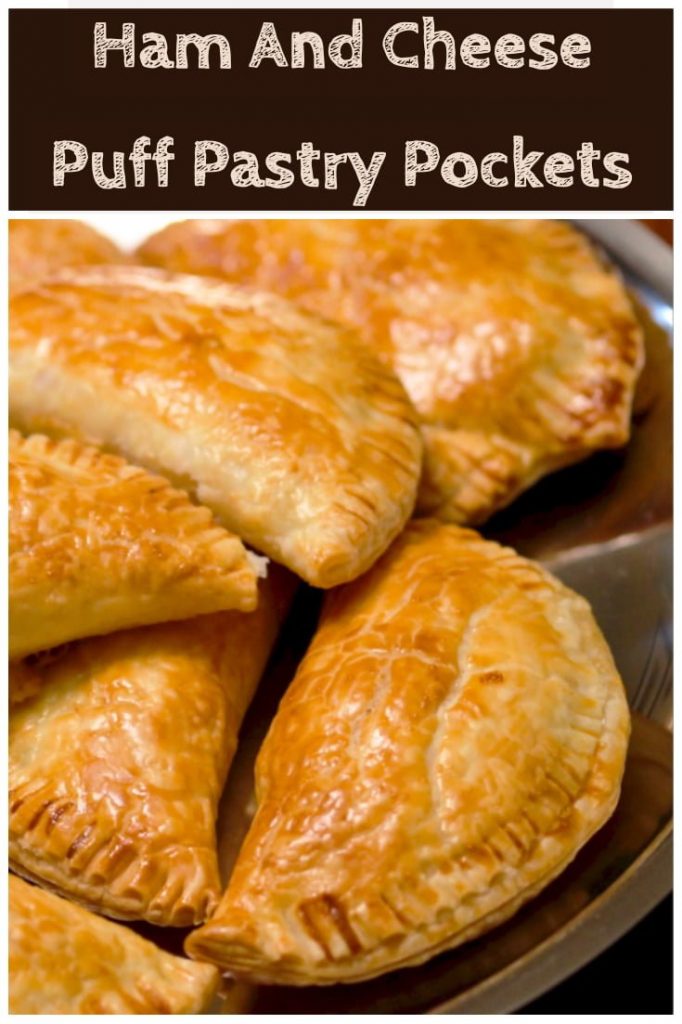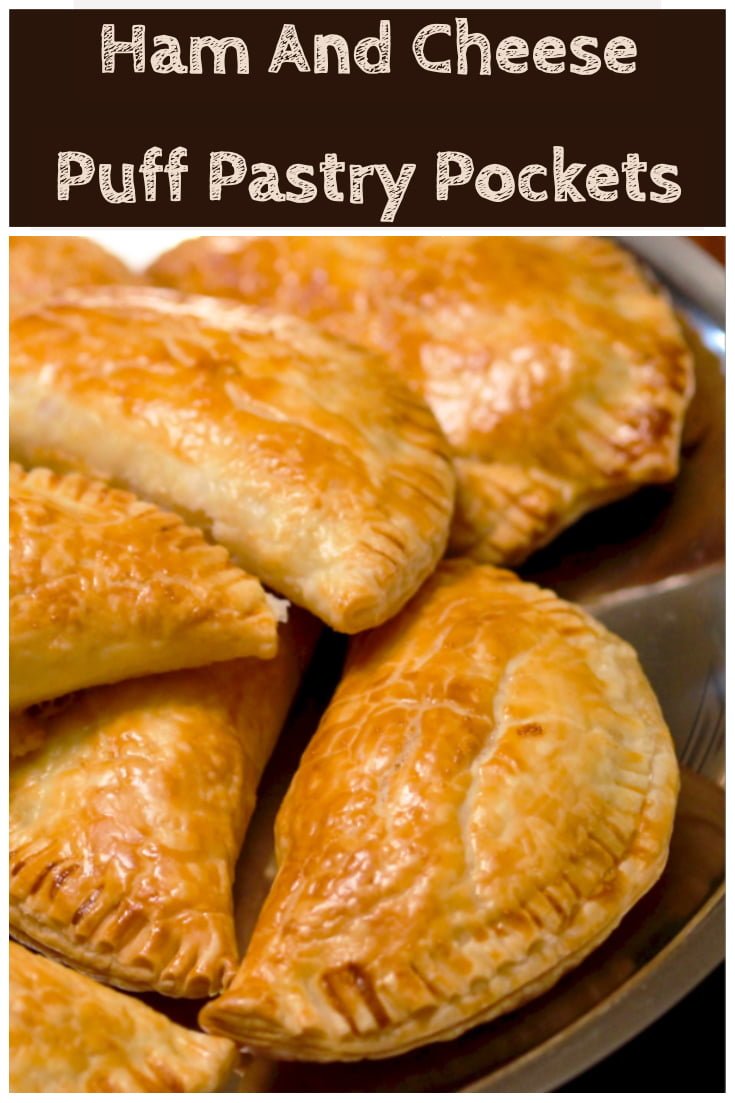 Ham And Cheese Puff Pastries
I love puff pastry. It is so versatile and simple to use in so many ways. As an Eastern European, puff pastry is one of the staples in my freezer.
I always have it around and use it quite often. If you don't believe me, take a look at these recipes! Plenty to choose from!
These ham and cheese puff pastry pockets can be put together in a few minutes.
They make a great appetizer if you host a party, but we had them before, whenever we craved something different.
I use puff pastry to make both savory and sweet pastries, like these Cabbage Pastries, or Sausage and Pumpkin Pinwheels, or these Farmer Cheese Pastries.
What exactly is puff pastry?
Puff pastry is a laminated dough made with butter. This dough is repeatedly folded and rolled out before baking, to create the beautiful layers in the baked pastry.
It is a lot of work to make puff pastry from scratch and very time consuming. For this reason, most people buy the puff pastry, instead of making it. This is what we are going to do as well.
You will need just a few ingredients:
Puff pastry sheets. Most of the time you will find puff pastry sheets, but sometimes squares or even rounds are available. This time I used rounds, but there is no difference in the quality of pastry based on the shape. They are all good.
Slices of your favorite ham (Note: it has to be cooked ham)
Shredded cheese– From cheddar cheese, Provolone, Mozzarella, Asiago, Romano, Colby, Monterey or a mixture of your favorite ones.
An egg. To brush the pastries.
How to make ham and cheese puffed pastries:
Step 1.
Preheat the oven to 400F/200C.
Step 2.
I had round pastry sheets this time, so it was effortless. I used 12 pieces of dough.
If you buy puff pastry sheets, then cut the puff pastry sheet into equal squares.
Step 3.
Place the sliced ham on one half of the circle(or square). On top of that ham, sprinkle some shredded cheese.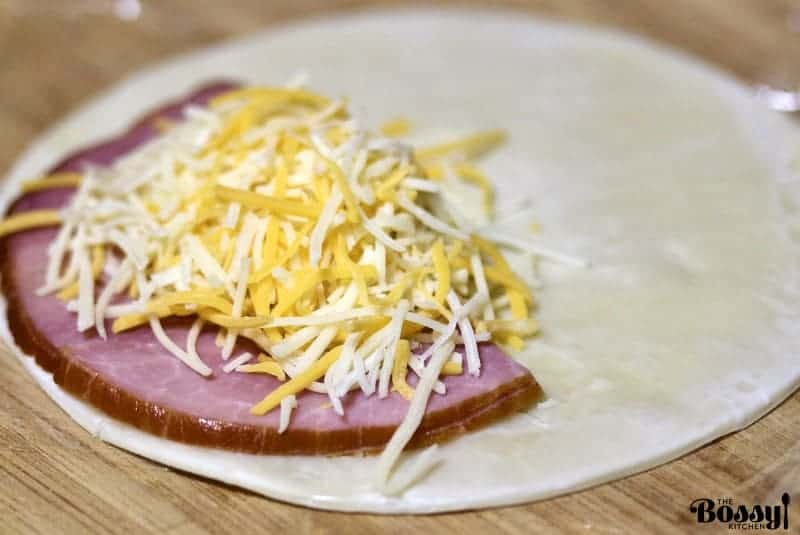 Step 4.
Fold the pastry in half to cover the ham and close it with the help of a fork. You can brush the edges with a little bit of water, so it seals nicely.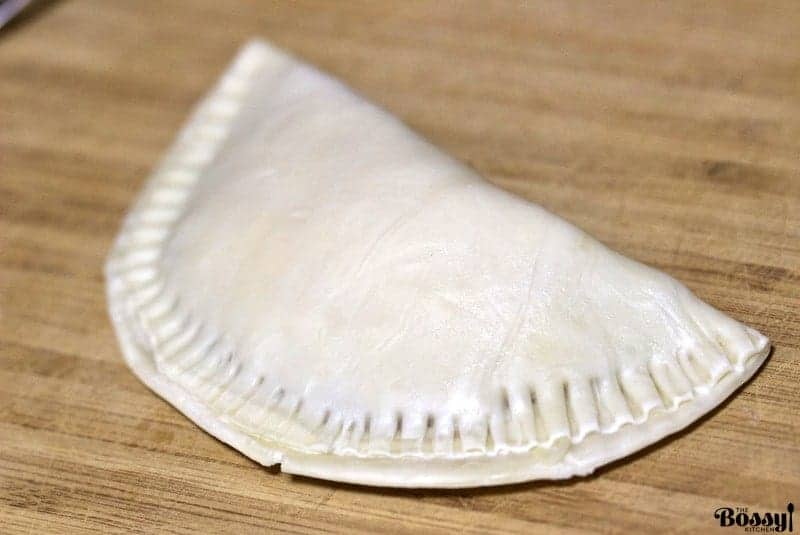 Step 5.
Continue in the same way until you finish all pastry. Place the pastries on a baking tray covered with parchment paper or a silicone baking mat.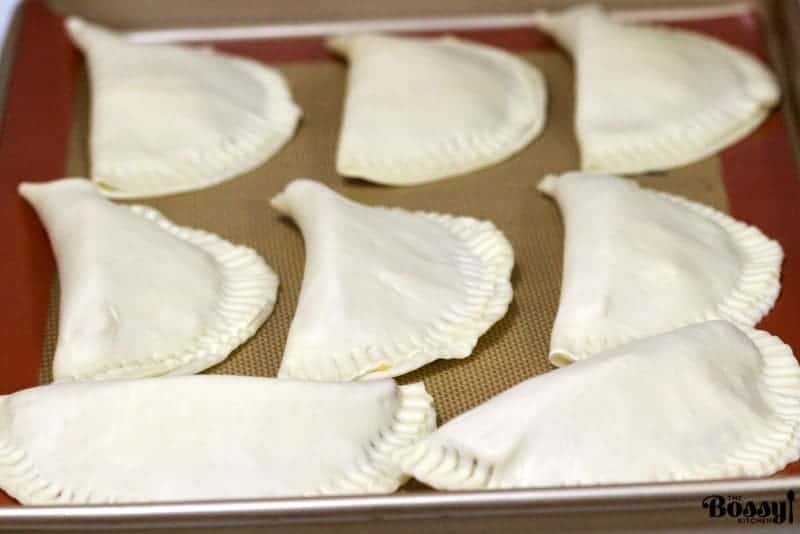 Step 6.
Beat an egg and brush each pastry with it.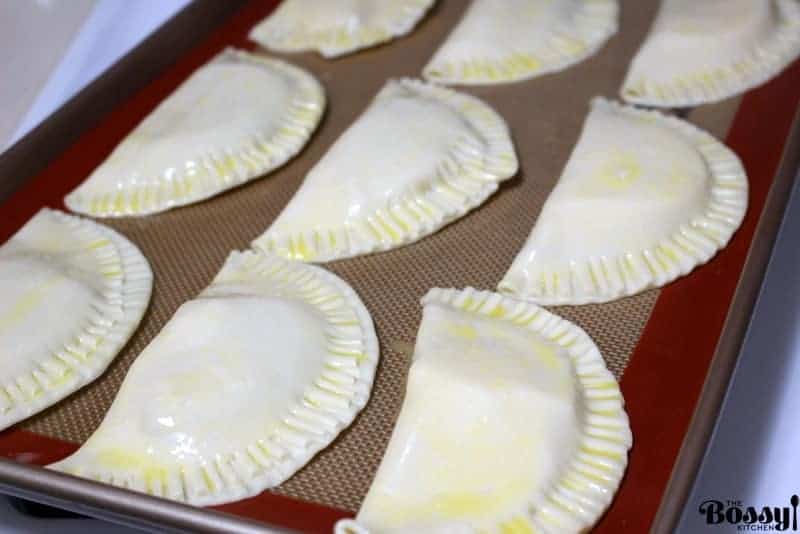 Step 7.
Bake the pastries at 400F/200C for about 30 minutes or until golden brown and puffed up.
What do you think?
There is nothing easier to make than these pastries, and everyone will love them.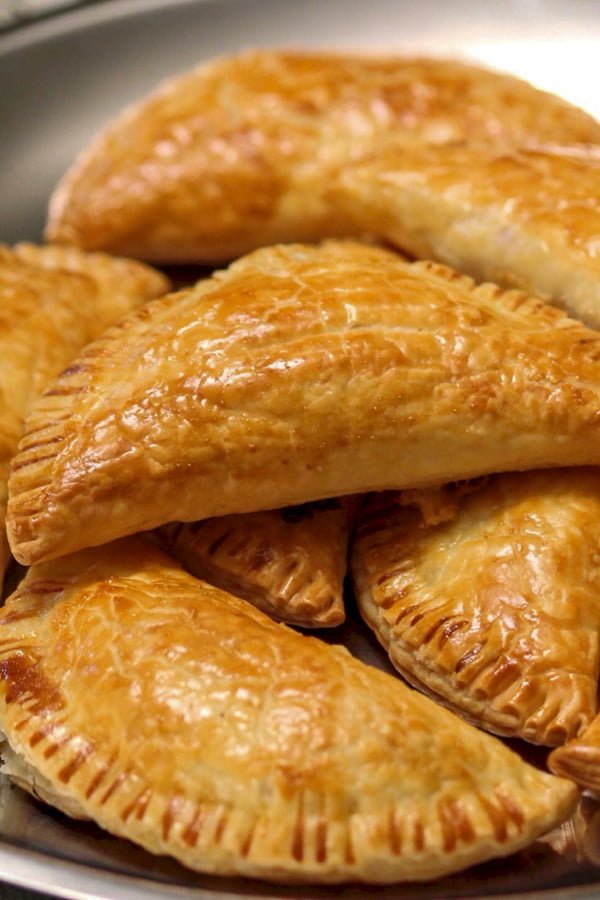 Here are more puff pastry recipes for you to try: Easy Puff Pastry Recipes
I don't have puff pastry, can I use Phyllo Dough?
No, I would not reccomend it. Phyllo Dough is not the same as puff pastry, and the process to make pastries out of the phyllo dough is quite different.
More recipes to love and make:
Ham Cheese And Onion Puff Pastry Slab Pie
Romanian Spinach And Feta Cheese Pie
Yield: 12 servings
Ham And Cheese Puff Pastry Pockets
Who doesn't love an easy snack or an awesome appetizer? These Ham And Cheese Puff Pastry Pockets are the answer to any party menu dilemmas.
Ingredients
1 package puff pastry(17.2 oz) or 12 individual square or round puff pastry sheets(5"x5" size)
1/2 pound sliced ham
1 cup shredded cheese(your favorite)
1 large egg, lightly beaten
Instructions
Preheat oven to 400F/200C.
If you use individual square or round pastry sheets:
Place a piece of ham on 1 pastry sheet, leaving a 3/4-inch border.
Top with shredded cheese.
Brush pastry border with egg.
Fold the pastry in half to cover the cheese and the ham.
Seal the pastry with a fork.
Brush the top of the pastry with egg.
Bake until golden browned and puffed, about 30 minutes.
Serve warm or at room temperature.
Notes
If you use sheets of puff pastry, cut them in 5inchx5 inch squares and follow the recipe instructions.
Nutrition Information:
Yield:
12
Serving Size:
1
Amount Per Serving:
Calories:

298
Total Fat:

20.6g
Saturated Fat:

6.6g
Trans Fat:

0g
Unsaturated Fat:

2g
Cholesterol:

37mg
Sodium:

258mg
Carbohydrates:

19.2g
Fiber:

0.9g
Sugar:

0.4g
Protein:

9g
Note: "We are a participant in the Amazon Services LLC Associates Program, an affiliate advertising program designed to provide a means for us to earn fees by linking to Amazon.com and affiliated sites."