Note: "We are a participant in the Amazon Services LLC Associates Program, an affiliate advertising program designed to provide a means for us to earn fees by linking to Amazon.com and affiliated sites."
I love puff pastry. It is so versatile and simple to use in so many ways. As an Eastern European, the puff pastry is one of the staples in my freezer. I always have it around and use it quite often. These ham and cheese puff pastry pockets can be put together in few minutes.
They make a great appetizer if you host a party but we had them before whenever we craved something different. I use the puff pastry to make both savory and sweet pastries, like these Cabbage Pastries, or  Sausage and pumpkin pinwheeels, or these Farmer Cheese Pastries.
You will need just few ingredients: puff pastry sheets or squares or rounds, slices of your favorite ham and shredded cheese(use your favorite) and an egg to brush the pastries.
I had round pastry sheets this time, so it was very easy. I used 12 pieces of dough.
Before I started, I preheated the oven to 400F/200C.
Then, I placed the sliced ham on one half of the circle. On top of that ham I sprinkled some shredded cheese. It was a mixture of different types of cheese, so feel free to use anything you have around.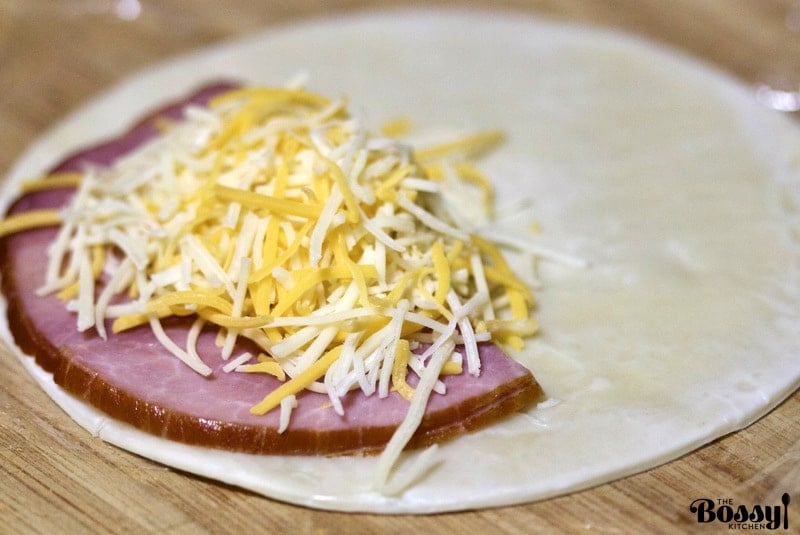 I folded the pastry in half to cover the ham and closed it with the help of a fork.
I continued to prepare each pastry sheet and placed them all on a baking tray covered with parchment paper, or silicon baking mat.
I beat an egg and brushed each pastry with it.
I baked the pastries at 400F/200C for about 30 minutes or until golden brown and puffed up.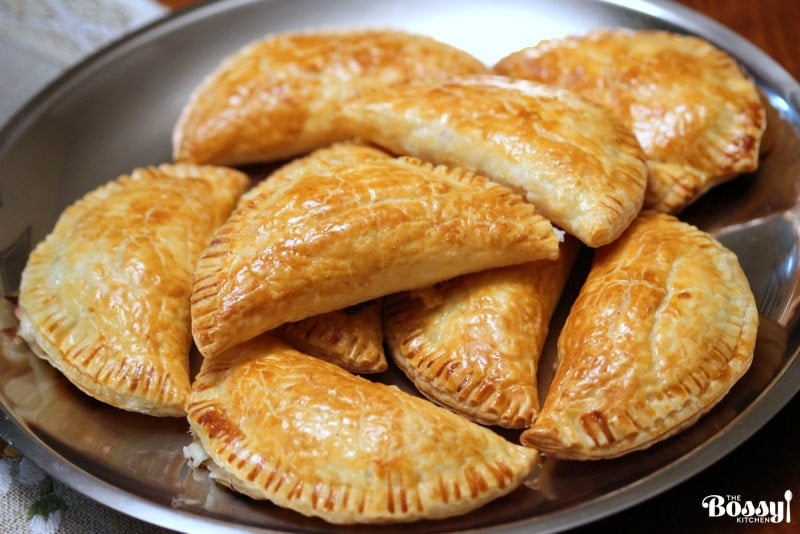 There is nothing easier to make than these pastries and everyone will love them. Enjoy!
Ham And Cheese Puff Pastry Pockets
Author:
The Bossy Kitchen
Ingredients
1 package puff pastry or 12 individual square or round puff pastry sheets
½ pound sliced ham
1 cup shredded cheese(your favorite)
1 large egg, lightly beaten
Instructions
Preheat oven to 400F/200C.
Place a piece of ham on 1 pastry sheet, leaving a ¾-inch border.
Top with shredded cheese.
Brush pastry border with egg.
Fold the pastry in half to cover the cheese and the ham.
Seal the pastry with a fork.
Brush top of the pastry with egg.
Bake until golden browned and puffed, about 30 minutes.
Serve warm or at room temperature.