Get ready to fall in love with this super easy, veggie-packed Spinach and Feta Cheese Pie! Made with crispy puff pastry and filled with spinach, leeks, onions, a dash of dill, and mint, it's a cheesy, flavorful delight you just can't resist.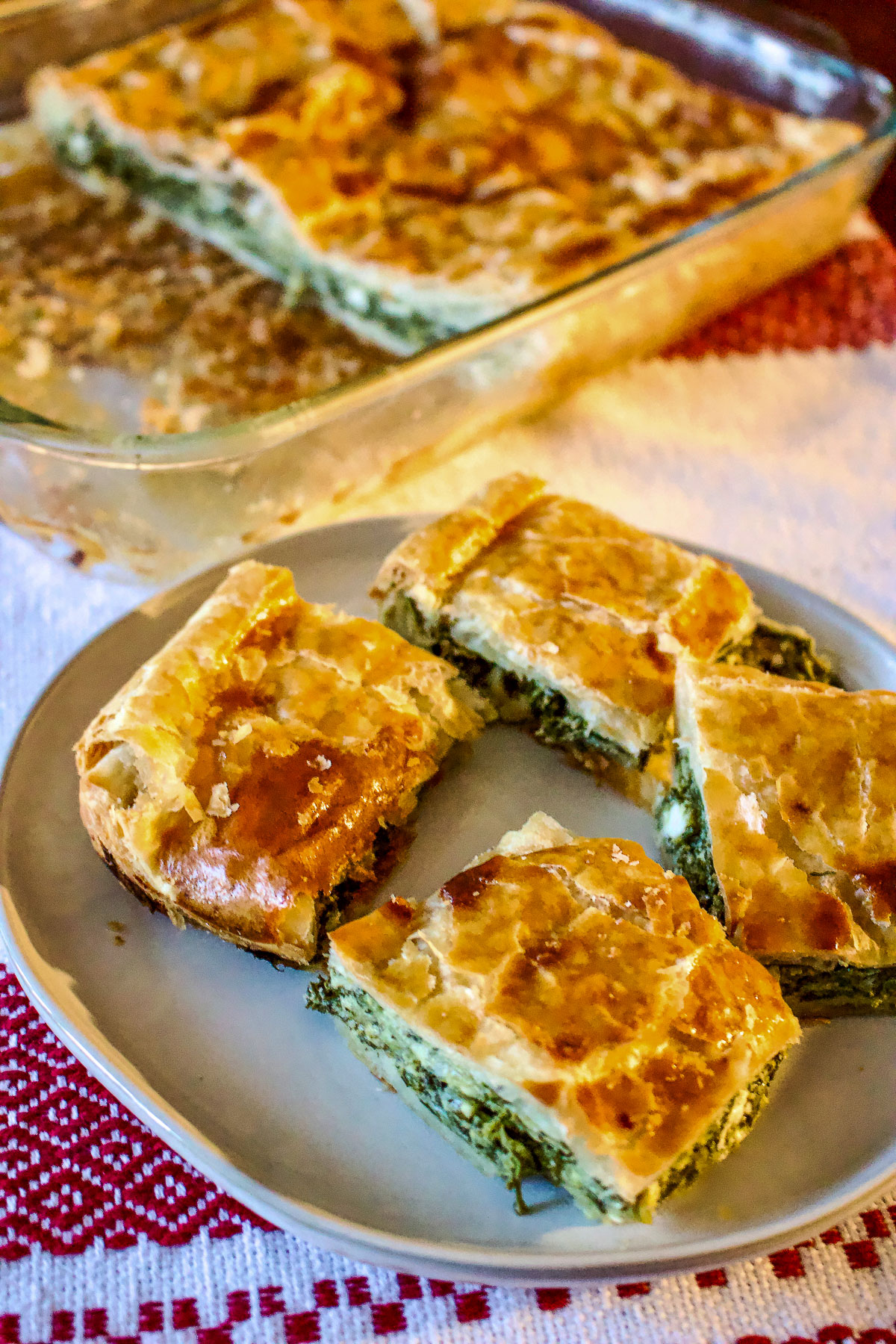 Jump to:
Why I like this recipe:
This Spinach Feta Cheese Pie is an absolute treat. The distinct blend of spinach, onions, and leeks, coupled with aromatic dill, invigorating mint, and savory feta cheese, creates a combination of flavors that will keep you coming back for more.
And the best part? Even my meat-devoted husband, not typically a fan of feta, gave this dish two thumbs up!
But there's more - these crisp, golden pieces work wonderfully as crowd-pleasing party appetizers too!
When serving this as a main dish, I love to accompany it with a vibrant tomato, cucumber, and feta salad.
It makes for a deliciously simple and balanced meal that's brimming with zest and taste. Trust me, it's a must-try!
Is this the famous Greek Spanakopita?
While this Romanian-style Spinach and Feta Cheese Pie might remind you of Greek spanakopita, trust me, they're two unique dishes.
One key difference is the pastry used - instead of traditional phyllo dough, my recipe calls for puff pastry. And what sets it apart, even more, is the inclusion of leeks and mint, an unusual but flavorful twist.
One of the fantastic things about this recipe is its versatility; it's an all-season superstar. Opt for fresh spinach, mint, and leeks in the spring, and switch to frozen spinach and dried mint in winter.
The steps are straightforward and easy, resulting in a dish that's incredibly satisfying.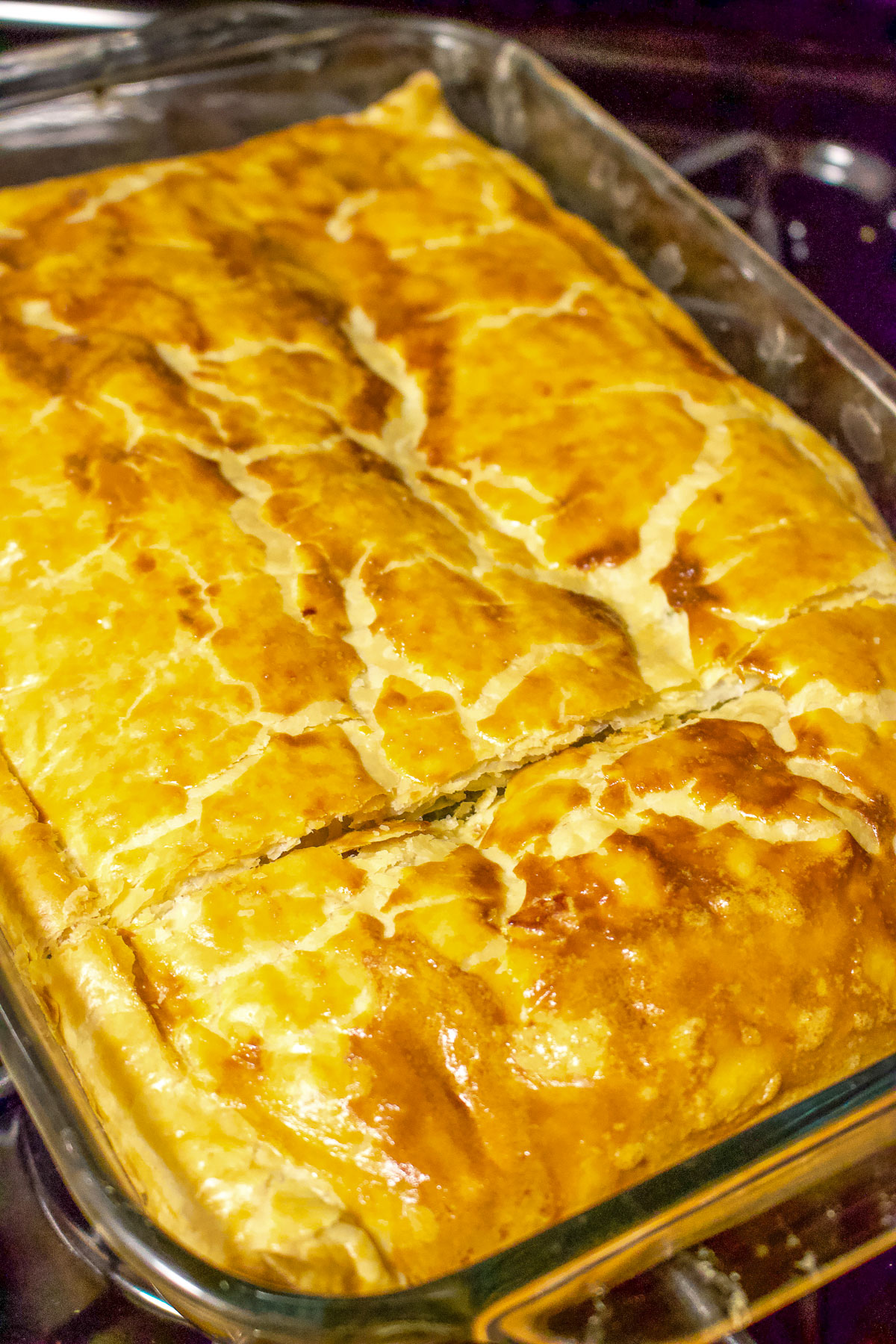 One essential step in my recipe is pre-cooking the spinach and leeks. This isn't about personal preference alone, but to prevent a soggy pastry base – a common issue in many pies. By cooking these veggies beforehand, I eliminate excess moisture, ensuring a crisp pie.
And let me express my love for puff pastry - it's a real kitchen lifesaver. Always stocked in my freezer, it opens up endless possibilities, from appetizers to desserts, making it a cornerstone of my culinary creativity.
More recipes with puff pastry:
Ham And Cheese puff pastry pockets
Cabbage Puff Pastries Triangles
Romanian Farmer Cheese Pastries
The pie is baked in a 9x13-inch baking pan. It has a layer of puff pastry on the bottom, the spinach and feta cheese filling in the middle, and another layer of puff pastry on top.
Baked for about 45-50 minutes, or until the top is golden, this delicious pie is cut into squares and served warm or cold based on your preference. Totally holidays worth it!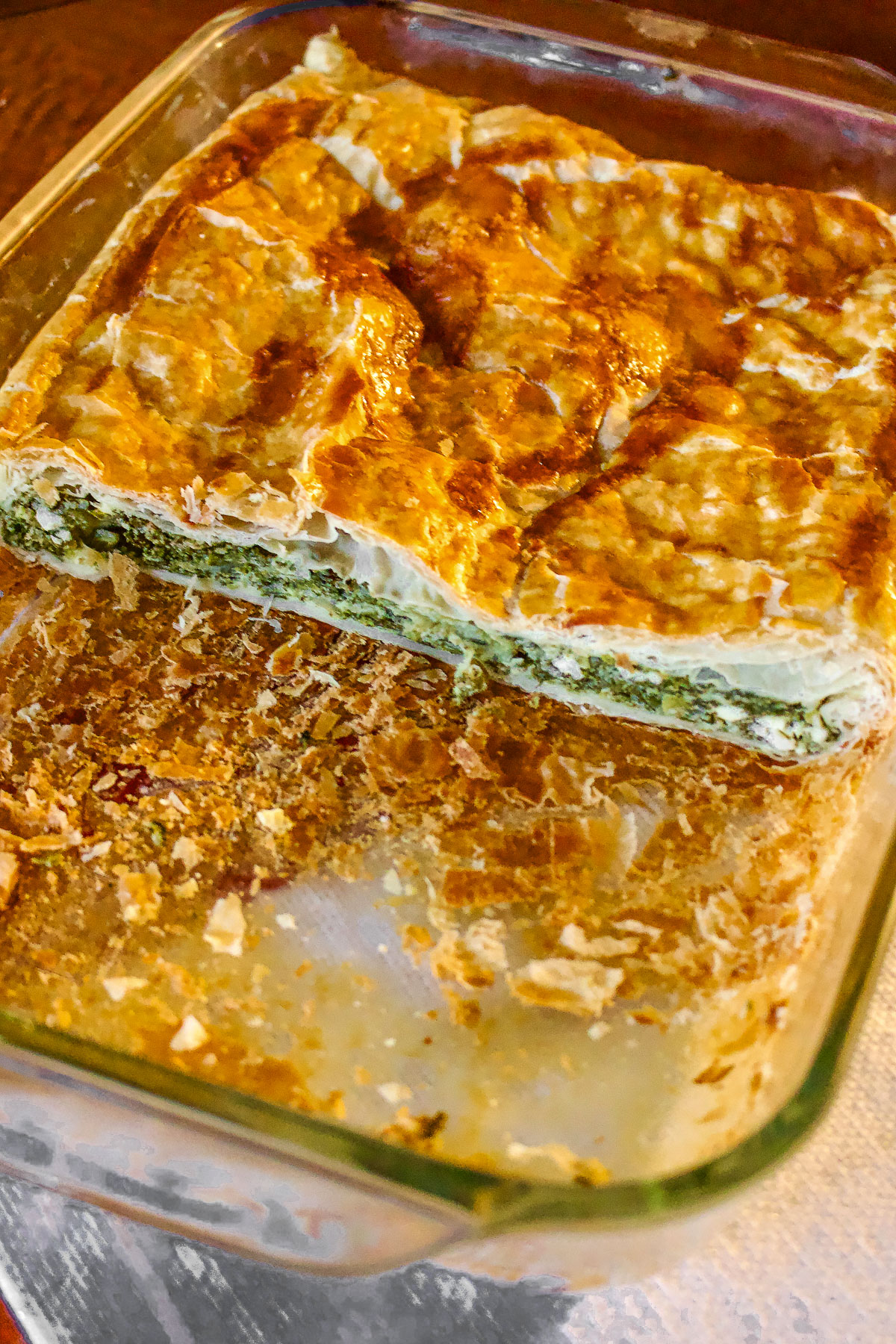 No matter how you eat it, it is a delicious dish that can also be served as an appetizer for dinner, a side dish, or a main meal for a vegetarian. Be creative and enjoy it!
How to store this spinach pie:
The leftover Spinach and Feta Cheese Pie can be stored in an airtight container in the refrigerator for up to 3-4 days. Make sure to reheat it in the oven rather than the microwave to maintain the pastry's crispiness.
This pie reheats well. If you're planning to serve it later, allow it to cool completely before storing it in the refrigerator.
When you're ready to serve, reheat it in a preheated oven at 350F for about 10-15 minutes or until warmed through. It can be a great time-saver when planning for dinner parties or meal preps.
Recipe Faqs
I'm not a fan of dill and mint. Can I omit these herbs or replace them with something else?
The dill and mint do add a unique flavor profile to this recipe, but if you're not a fan, feel free to omit them or replace with herbs of your choice.
My pie bottom turned out soggy. What did I do wrong?
To avoid a soggy pie bottom, make sure to cook the spinach and leeks before adding them to the pie. Cooking helps to get rid of the extra moisture in these vegetables, preventing the pastry base from getting soggy.
Can I use a different type of cheese if I don't have feta?
Yes, you can. While feta adds a unique tangy flavor to the pie, you can substitute it with other cheeses like goat cheese or ricotta. Keep in mind that the flavor profile will change slightly based on the cheese you choose.
I don't have puff pastry. Can I use phyllo dough instead?
While my recipe specifically uses puff pastry for an easy pie, you can certainly use phyllo dough if that's what you have on hand. Be aware that phyllo dough is thinner and requires careful handling. Also, you may want to layer several sheets for a sturdier pie.
More recipes to enjoy:
Craving more? Subscribe to The Bossy Kitchen to get new recipes and a newsletter delivered straight to your inbox! Stay in touch on Facebook, Twitter, Pinterest, and Instagram for all of the latest updates. Don't forget to use the star rating and leave a review.
📖 Recipe
Spinach Feta Cheese Pie Recipe
This Spinach Feta Cheese Pie is a rustic recipe that is made with puff pastry. A wonderful, relatively easy recipe to make, suitable for vegetarians, this pie is made with spinach, leeks, onions, dill, and mint. 
Print
Pin
Rate
Ingredients
17.3

ounces

puff pastry sheets

or one package

16

ounces

spinach, frozen

2

medium onions

10

ounces

leeks

fresh or frozen

3-4

tablespoons

vegetable oil

1

cup

feta cheese

3

eggs

1

bunch dill

1

bunch of mint leaves or ½ teaspoon dried mint

½

teaspoon

salt

½

teaspoon

pepper

1

egg lightly beaten for brushing the pastry
Instructions
Defrost the puff pastry sheets according to the package.

Preheat the oven to 350F.

Chop the onion and leeks.

In a skillet, heat the oil and add onions and leeks. Saute them until they become translucent.

Add the spinach, salt, and pepper, and saute until soft.

Remove from the stove and let cool for a few minutes.

Add chopped dill and chopped mint to the composition and mix well.

Also, add eggs and crumbled feta cheese.

Mix everything to combine.

Place one puff pastry sheet in a 9x13-inch baking dish, on the bottom.

Add all the vegetable mixture to the pan and spread it evenly.

Place the other puff pastry sheet over the filling to cover it.

Brush the top of the pastry with the egg and poke the top of the pastry using a fork.

Place in the oven at 350F and bake for about 50 minutes or until golden brown. (could be 5 mins more or less)

Slice it into squares and serve it cold or warm.
Nutrition
Serving:
1
g
|
Calories:
340
kcal
|
Carbohydrates:
26
g
|
Protein:
8
g
|
Fat:
23
g
|
Saturated Fat:
7
g
|
Polyunsaturated Fat:
4
g
|
Monounsaturated Fat:
11
g
|
Trans Fat:
0.03
g
|
Cholesterol:
66
mg
|
Sodium:
397
mg
|
Potassium:
335
mg
|
Fiber:
2
g
|
Sugar:
2
g
|
Vitamin A:
4081
IU
|
Vitamin C:
15
mg
|
Calcium:
130
mg
|
Iron:
3
mg